Creating workspace for a new employee can be arduous in any office. When tasked with helping a client make room for over a dozen new interns, contemporary furniture brand Herman Miller had to think strategically. Luckily, the company's Live OS technology was already in place to collect a range of usage data in the office, including which work areas were most underutilized during the summer months.
"Using the Live OS dashboard, we identified the exact minute during this period that the most desks were in use," says Chris Hoyt, a Live OS manager at Herman Miller. "With this information as a guide, we created a plan for adding 15 new summer interns to the space. As a result, we comfortably accommodated both the interns and the other residents of the office."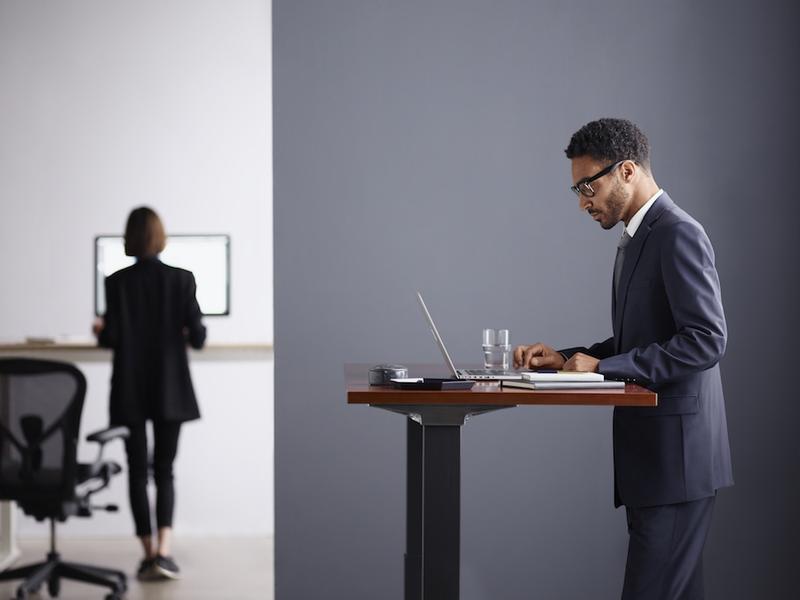 It's 2018. The consumer is no stranger to the Internet of Things (IoT). We access it daily via smartphones, vehicles, even our home appliances. Companies implementing high-tech offerings, from Herman Miller's Live OS automations to Pinterest's Shop the Look tool, promise an optimized consumer experience, but user preferences aren't the only thing these modern tools are remembering. In the age of data collecting, the question has to be asked: How does the manufacturer benefit?
Data-Driven Furniture
By Hoyt's estimate, commercial interior design should be built to last seven to 10 years before it is ready for a refresh. "By then," he says, "the place no longer supports the work that is happening."
Among the leading interfaces of the next-generation office is Herman Miller's Live OS technology. Launched at NeoCon in 2017, the sensor-enabled tool is designed to help organizations better understand how their office spaces are used. Users can set their sit and stand height preferences, as well as posture and wellness goals within an app, which then connects to any enabled piece of furniture—an office chair or adjustable desk. When activated by a movement, the cloud-connected sensor responds to the user's set preferences (i.e., an employee stands up, and the desk rises to her set height level). All usage information is then stored in the product's dashboard.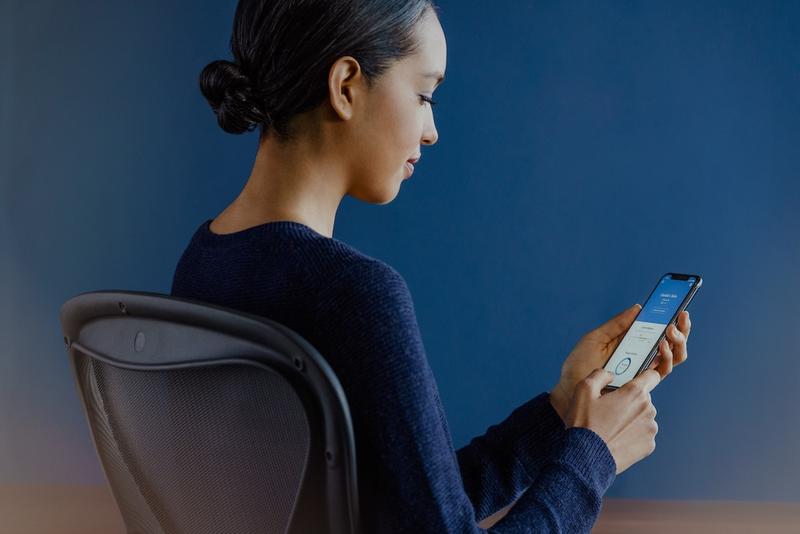 That stored information is what Hoyt calls "proof points" for determining efficiency and effectiveness in the workplace. The benefits are twofold: Users can transition seamlessly at the desk and around the office, while organizations are able to collect real-time data on how their workstations are being used. Data gathered in the latter can then be used to improve office design and help inform and control operational costs.
"Live OS experiences and data helps point out trends and patterns which allow you the insights and proof points to make changes much sooner that can respond to the rapid change of workstyle behaviors that are now happening," explains Hoyt.
Just imagine the look on Bill Stumpf's and Don Chadwick's faces if you had told them decades ago that their co-designed Aeron office chair would someday automatically adjust the user's workstation. In the fall, the model will be the latest Herman Miller offering equipped with the technology.
What's in it for Herman Miller? "Looking forward, as we continue to collect data on how products are being used and identify patterns in the workday, this evolving data will help us design new products to fit the needs of tomorrow's workforce," says Greg Bylsma, president of Herman Miller North America.
Alex Cammenga, senior technology manager at Herman Miller, adds, "Data can provide powerful insights that inform everything from design to execution and strategy. As the collection and analysis of data becomes more and more accessible, the responsible use of that capability will become a differentiator—from delighting customers to identifying product needs to making operations, manufacturing and sales more efficient."
All the Likes
Data can drive product development, which some furniture companies are hoping will turn into customer satisfaction. Cloth & Company relied on data to develop a furniture line sold on Amazon; using the popular search terms used by its online customers ("global" and "hunter green," for example), the brand developed a 13-piece collection with Apartment Therapy that launched at High Point Market in April 2017.

With the help of its strategic consumer input and a digital printer that "spits out 100 yards an hour," Cloth & Company has been able to produce custom fabrics for a client list that spans Target to One Kings Lane and even a few designer capsule collections in between.

"This is a part of the business that's changing every single minute," Cloth & Company co-founder Christiane Lemieux told Business of Home. "We want to grow organically, so it's about creating a community around design."
Click-to-Buy
Herman Miller isn't the only one making room for new hires—nor is it the only brand capitalizing on data. Earlier this summer, The Home Depot announced that it would be hiring approximately 1,000 new technology professionals across its Atlanta, Austin and Dallas tech centers. Along with streamlining the big-box chain's in-store and online shopping visits, supply chain and delivery experience, the newcomers will help expand The Home Depot's digital tools.
First on the list the recently launched collaboration as a beta partner for Pinterest's Shop the Look tool, which launched in 2017 and takes customers "from inspiration to discovery to sale in one experience." The platform capitalizes on consumer search behavior by placing shoppable markers on product featured in the images. (Sound familiar? Similar resources have been tested on Instagram and Houzz.) To date, consumers can shop more than 100,000 home decor products from The Home Depot on the platform.
"With the rapidly changing retail environment, this is easily one of the most exciting places to work in technology," said Matt Carey, EVP and chief information officer of The Home Depot. "Our team is building some of the most advanced software anywhere to help customers shop whenever, wherever and however they want."
According to a recent AdWeek report, Pinterest's Shop the Look Pins receive double the click-through rate of a standard pin. What do those numbers mean for The Home Depot? Sales, sure—but also a real-time focus group of insight into the products and styles most relevant to its consumer.
The digital upgrades seem to be working. For several years, beginning in 2013, The Home Depot opted out of opening more of its large-format stores to invest instead in e-commerce and its delivery methods. In response to the upgrades, in 2016, the publicly traded company witnessed its most profitable year in its history. Now that's a look most design companies would be interested to shop.