Designed to help users "respond to people's changing needs, empower them to work better, and activate your workplace strategy," the cloud-connected Live OS spans three aspects: furnishings, an app and a dashboard. How does it work? Sensor-outfitted work surfaces deliver data-based insights on how employees interact with their work environment. Live OS links Herman Miller furnishings, including sit-to-stand desks and fixed-height desks, use sensors that are connected to the cloud via a secure network. The desks sense the people using them and send information on their usage (such as preferred postures for standing desks) to the cloud.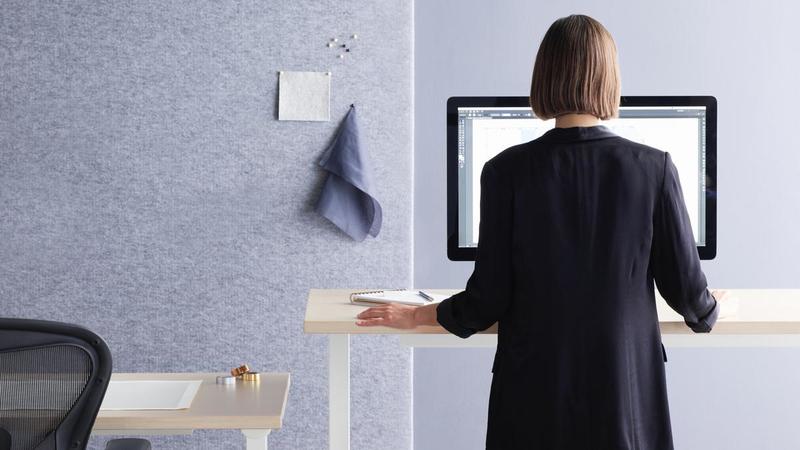 "Live OS is an example of how Herman Miller continues to evolve to better serve our customers as they increasingly look to the workplace to drive their own business transformation," says Greg Bylsma, president of Herman Miller North America. "With decades of experience in human-centered design, we're introducing services like Live OS, to help our customers create workplaces that empower, energize and perform."
Some of the applications: Users can tap a single button to activate their preferred desk height; settings can also send employees reminders to switch their postures; the system's dashboard will also analyze the data collected from users to share workplace performance data with the company in question.
"With the data insights captured through Live OS, organizations can better measure and manage workplace strategy to optimize real estate usage and improve employee experience," says Ryan Anderson, Director of Commercialization for Live OS. "Our initial testing indicates that employees using Live sit-to-stand desks have become more active, transitioning between sitting and standing six-times as often as previously recorded. We're excited by these early results as we seek to improve comfort and encourage people to adopt healthier behaviors in the workplace."
The Live OS system is available currently in the North American market.