The 50 States Project is a yearlong series of candid conversations with interior designers, state by state, about how they've built their businesses. Today, we're chatting with Charlottesville, Virginia–based designer Jennifer Glickman of Glickman Design Studio about the client phone call she always aims to avoid receiving, why she tweaked her markup after she started getting shopped, and the time-saving power of letting the wrong projects go.
When did you first know you wanted to be a designer?
I was pre-dental in undergrad at the University of Virginia, and I was failing all my pre-med classes—but I was also taking classes at the architecture school and was excelling at those. It was supposed to be just for fun, but I [began to] see this path in front of me that was developing and I realized that my passion for architecture and interior design could be a career option. I come from a long line of dentists, so I just always thought, That's my path to success. But once I realized how [design] could be a professional career, it created this really exciting picture for me.
What did making that shift look like in your life?
That shift was interesting. At that point, as an undergrad, I still kind of reported to my parents. I had to go back and tell them, "Hey, I'm not gonna be a doctor—I'm going to be an artist!" How does that fly? But once I got into an interior design master's program, it just reaffirmed that this is what I was meant to do. I went to the New England School of Art & Design at Suffolk University in Boston. I was starting over at foundation level—it was very thorough, and I needed all of that. And I enjoyed that it was so technical.
Once you graduated, where did you go from there?
While I was wrapping up my master's degree, I got a job at Ann Beha Architects, a really well-respected local architecture firm. The firm did mostly institutional work, especially higher-education spaces, and I was their in-house interior designer. I was working on a team of 40 or so architects—it felt like this really exciting, but also overwhelming, position that I had to live up to. It was such a wonderful experience, and the architect who hired me became a lifelong mentor.
You started your own business a few years later. What made you want to pivot?
I got laid off when the recession hit in 2008 and 2009. That's what led me to start my own firm—nobody was hiring at that time. All of a sudden, all of my friends were laid off—everyone was well-educated but nobody could find a job in architecture. I just started marketing myself, saying, "I can be a consultant for you on the interiors portion of this or that project," and [the work] built up over time and became a business. But that experience at the architecture firm opened the doors to other firms being clients when I started my own business.
How did you get that consulting side off the ground?
It was sink or swim. A friend of mine who owns her own small architecture firm offered me part-time work, and I think that planted the seed. I started offering that to other firms, and it developed organically. It wasn't overnight—it started at my dining room table and I just let it grow slowly over the years. By the time I left Boston in 2017, my firm had six designers. It grew to a point that I thought was maxing out for my personal preference.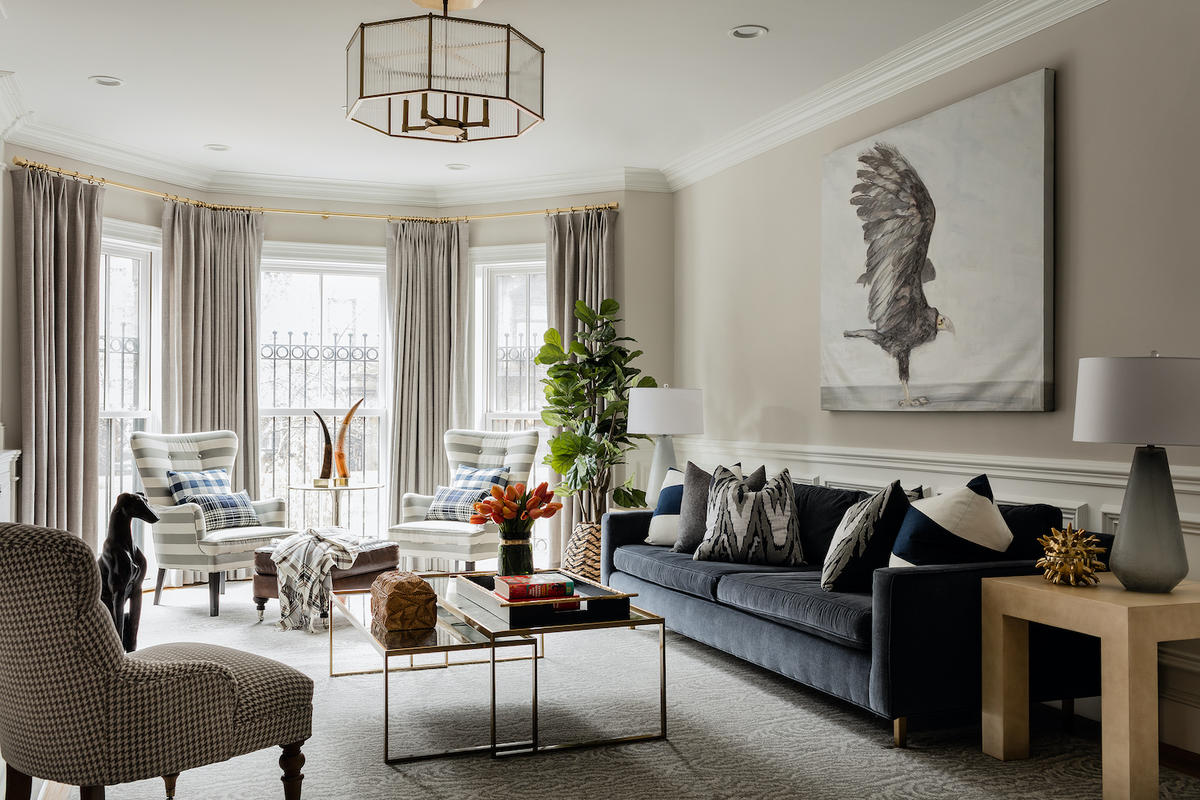 Michael J. Lee Photography
Was it all still consulting work for architecture firms?
No, we were also designing projects of our own. The split varied—some years, most of our revenue would come from large projects. [For instance], we worked with an architecture firm that was building a brand-new building at a well-known university one year, and because of the scale of the project, that became the biggest chunk of our revenue [that year]. But then the following year, we had residential clients that were gut-renovating their interiors or building new. It swayed back and forth between the two.
What is it like to bounce between institutional and residential work?
The demands are very different. With institutional work, we're meeting with a board, so it's a team of people. There are codes to keep in mind. There is usually an architectural firm that is our client, and the school is their client, so we have two layers of clients that we have to report to. There are a series of approvals: getting the concept or scheme approved by the architect, and then taking that approval to that actual board or the school.
When I'm working with a residential client, it's so personal. I was just speaking with a potential new residential client this morning and we were talking about how many kids they plan on having in the future because we're going to think about that when we design their bedrooms. I like the challenge of being able to switch gears and think about those two very different types of projects with very different demands. It keeps us on our toes. But at the same time, we have to balance how much we have on our plate. Because of the switching back and forth, we have to make sure that we're always thinking about the details—that we're always sharp and fully engaged.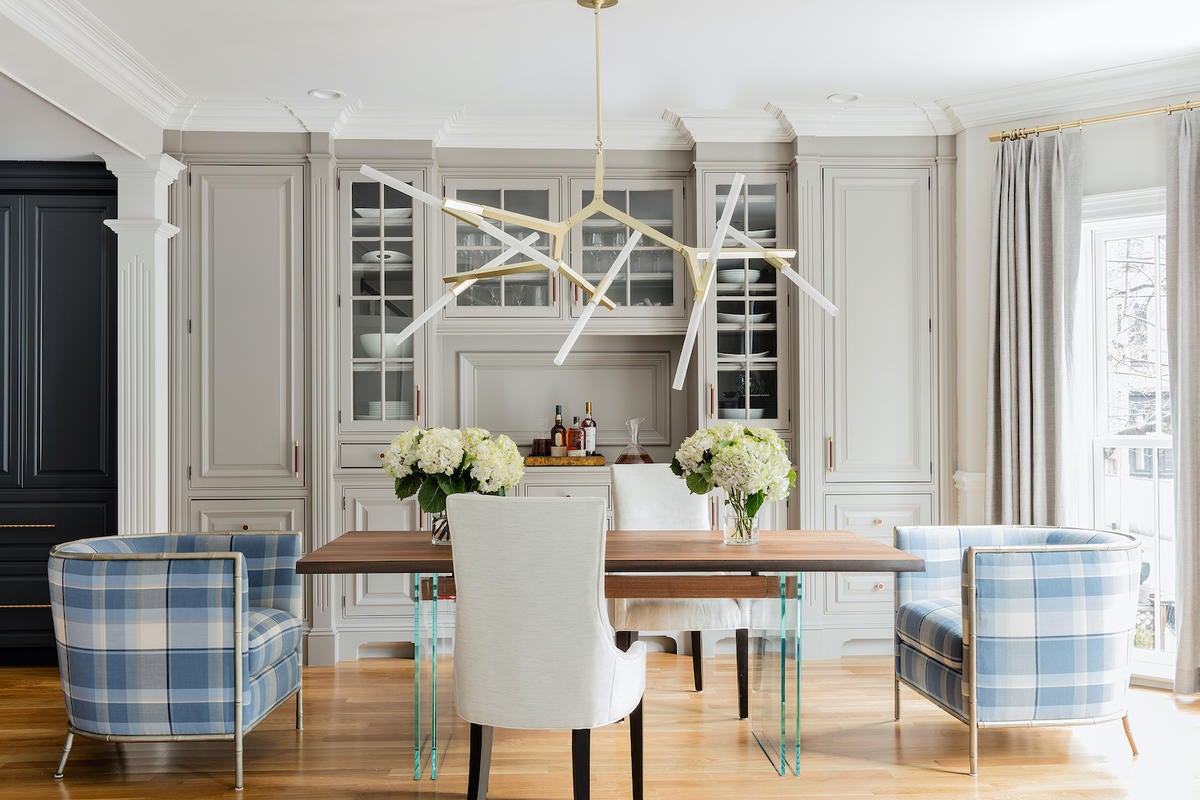 Michael J. Lee Photography
When you moved in 2017, how much of your business did you bring with you?
My husband and I relocated to Virginia to raise our family down here, but the goal was to be able to fly back and forth between Virginia and Boston in this transition period. But I quickly realized how unrealistic that was with a newborn, so I shifted gears and focused more heavily on starting over here in Charlottesville.
What did starting over look like?
Before we decided that this is where we wanted to move, I wondered, "Am I a little too modern for Charlottesville?" We flew down here several times so I could network, and I set up meetings with residential firms to see what the market is like for residential clients. I would pack these trips—they'd be two-day trips, and I'd have one maybe every other week for a period of time, so I knew that it was viable by the time we decided to make the move.
When I moved down, I had this wonderful article—my first big national piece—come out in House Beautiful. But it was still starting over in terms of getting my name out in the market. It was definitely humbling to hit the pavement again and let everyone know I'm here—it felt like the very beginning, when I first started my business.
What does your firm and team look like now?
Right now, there's just two of us: myself and one designer who works for me. We're slowly growing, though COVID has definitely dampened that a bit. It'd be great to build up a little bit more, but I don't know that I want to get back to the size I was in Boston, because at that point I wasn't designing as much as I was managing a firm. So, somewhere in the middle between two people and six people.
What was the moment when you felt the tipping point between, 'I'm a designer' and 'I'm a manager'?
It was somewhere in the range of four to six designers working for me that I realized I was spending a lot of time on managing business insurance, health insurance plans, payroll and invoicing. I realized that I wasn't designing nearly at all.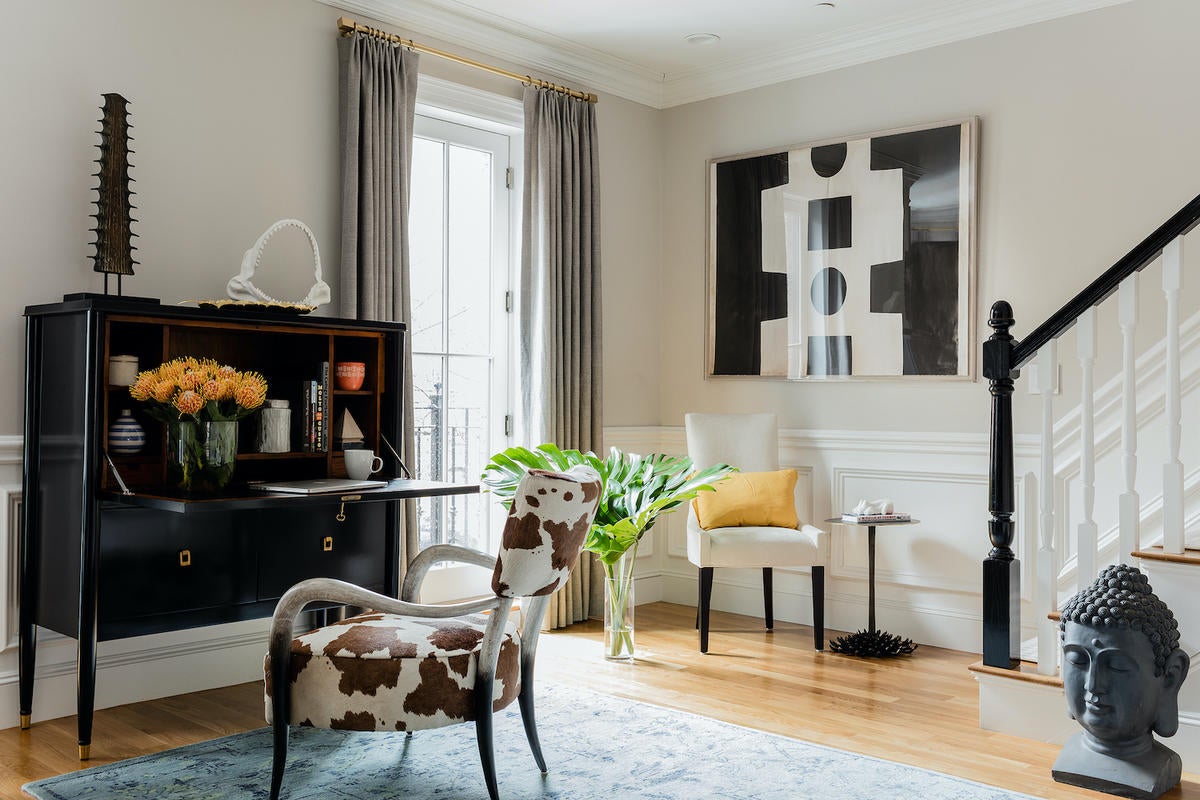 Michael J. Lee Photography
Did you always hire other design talents, or do you also hire support staff?
Hiring support staff is something that I struggle with. I always want to make sure that I have the revenue to cover the support staff—a marketing person or an office manager—because their time is not always directly billable. Their time creating invoices might be billable, but not all of their 40 hours.
I'm always very hesitant about hiring support staff—sometimes to a fault, because I end up doing the work myself. I think over the years I've realized they end up paying for themselves eventually, but I always end up hiring designers first. I'm quick to realize when it's time to take on another designer, but less quick [about adding] support staff.
You said there's two of you now. How many projects are you working on typically?
We're in the five to six project range, though the scale varies. Right now, we're working on a large country club renovation, a smattering of homes and a few institutional projects of various levels. We're still at the point where the phases of each are staggered enough that between the two of us we're fine—we're not at the point where we need a third person. But if [timelines] had started to align, I think with six projects we could need a third person. It depends on the scope of the project, too—I find that the smaller projects need more hand-holding.
Is it because the clients are so worried about the budget?
Just two weeks ago, I had a potential client [tell me] they wanted an office in their basement because they're working from home now. The basement was completely unfinished, just studs, and they wanted us to select furniture; design some built-ins, a closet and some hidden storage; work with the contractor to plan out the electrical locations; and design how to finish the ceiling, because there was some HVAC jogging in and out. There was a lot getting jam-packed into this room, and all of that added up to our time to help design these things. I wrote up the proposal, but when the client saw it, they said, "Wow, that's a lot of time for one space." I tried to explain why—because we're focusing on one room and this room has a lot of demands—but instead of pushing back and saying, "Let's see how we can make it work," I just had to say, "I totally understand, it's not a fit. Best of luck." I just knew at that point that it was the best narrative for both of us, because I think if I tried to make it work, he would get frustrated along the way or I would, and it just wouldn't be the best. Once I realized that learning what the right fit is actually benefits my firm, it's been really fulfilling—and felt better, I think, for everyone in the end.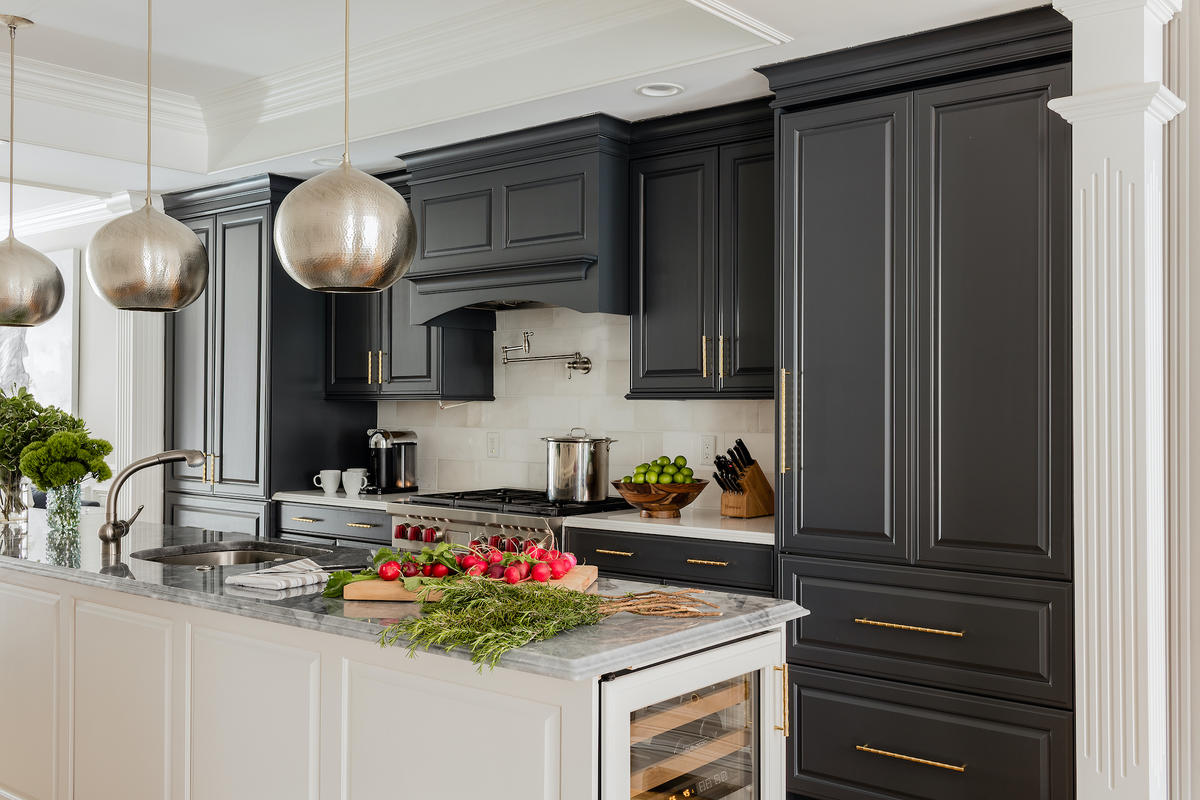 Michael J. Lee Photography
When you moved to Virginia, did that change the kind of work you were doing?
Not really. Charlottesville has such a beautiful landscape—as in the actual landscape, but also architecturally. There are so many beautiful, historic homes here built by famous architects. In that way, it is very reminiscent of Boston, where there are these beautiful, historic brownstones that we got to design in. The way we design is a blend of traditional, transitional and a little bit of midcentury. I like to layer styles thoughtfully in a curated space, and I think that has carried over very well into Charlottesville.
You mentioned when you first moved you were trying to figure out if your look was too modern for the city. I'm guessing you found out that's not the case?
I discovered that I could find what I was looking for more often than I thought. With all of these historic estates here in Charlottesville, I was worried that traditional interiors were the majority of the market here. But I was pleased to find that that was not the case.
How do most of your clients these days find you?
In Boston, maybe I'd just been there so long—I had this great system of referrals after being up there for 14 years. Maybe it's just because I haven't been down here as long, but I find that I'm getting people who come across my website because maybe they bought a new house, they need an interior designer, and they started Googling. When they call, they've gone through my website more thoroughly and they bring that up in our first call or email. I hear that more here than I did in Boston.
Right now, it's about half referrals and the other half from Googling and finding my website. I've been here four years now, so it's getting to the point where architects and friends are starting to spread my name around when they hear that someone is looking for an interior designer.
Especially with so many leads from Google, how have you approached your website and social media?
I redesigned my website when I got down here, and I revisit it every couple of years, and of course add projects. But my social media—I'm admittedly not just not good, I'm bad at it. I feel like that's one of those support staff positions that I should hire for! Some people are so good at it day to day as they're traveling through site visits or putting together a board online, but I'm just so head-down when I'm at work, the last thing on my mind is to post on Instagram! I need to get better at that. I'm just so focused on getting drawings done, I don't even think about it.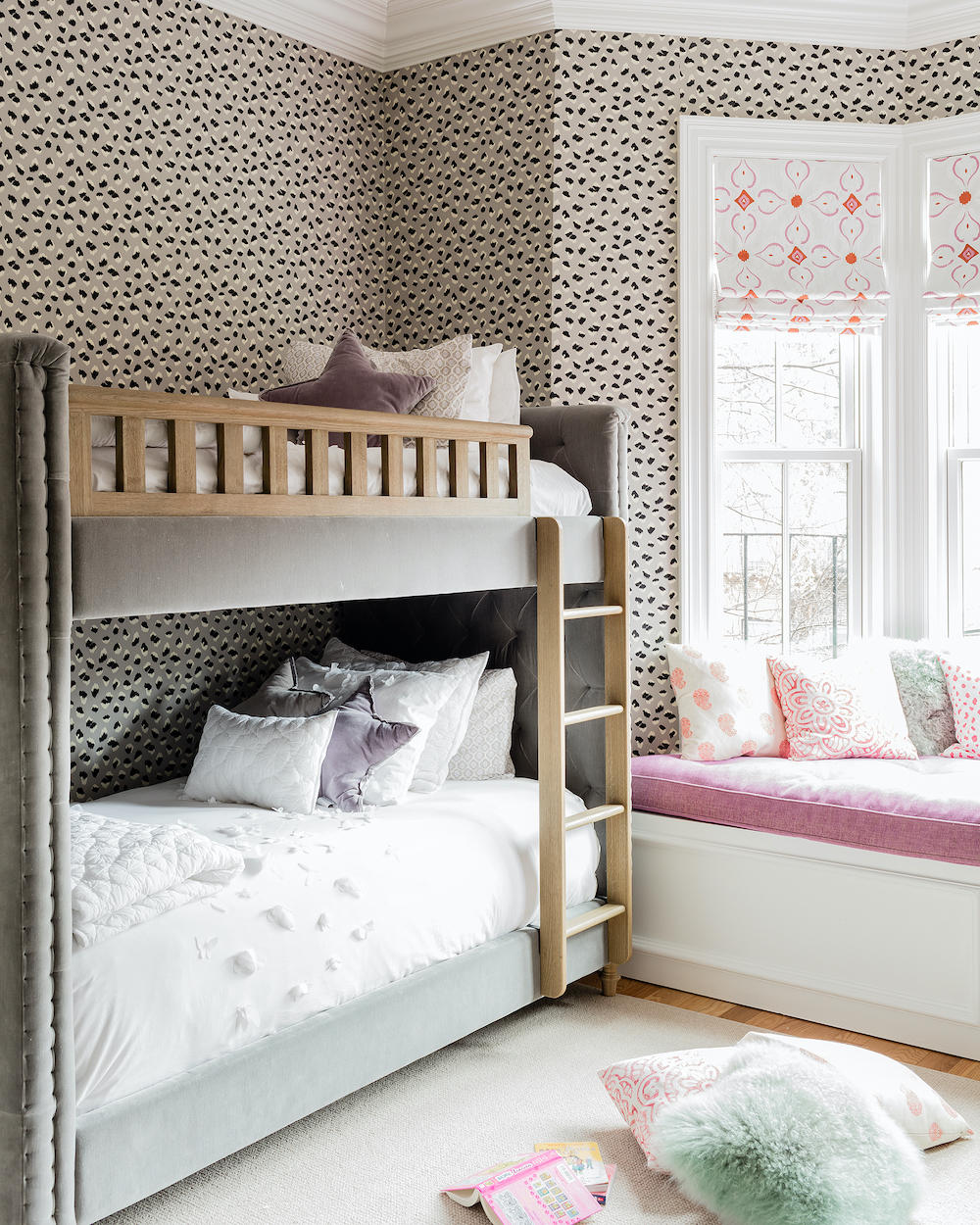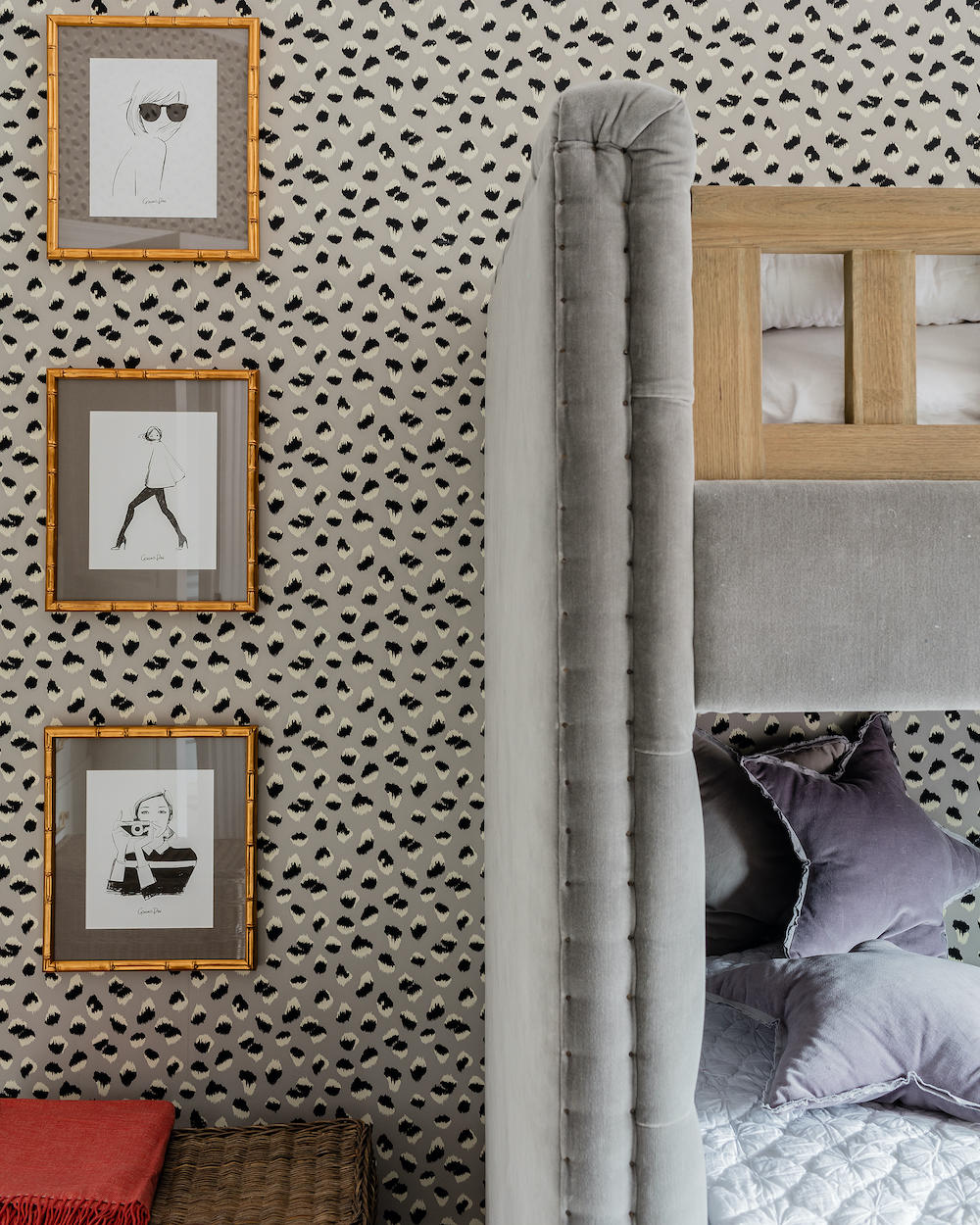 How did you develop your business plan?
I have a couple of mentors who have been great resources for me along the way; I've also hired consultants to help either develop or tweak my business plan along the way. I tweak it as I feel like times are changing—for example, five or six years ago, I noticed that sources that used to be trade-only were starting to become available on the internet, and my clients were finding them. Where I could once source something like a Schumacher wallpaper and it was only available to designers, clients would start to say, "Hey, I just found this on the internet and I can buy it for less than what your markup includes." I had to revisit my whole markup strategy at that point.
Did you change your pricing structure in response?
I did. I know this is an ongoing conversation amongst designers—I see this question pop up so frequently online. For me, personally, when I saw that happen a few times—and as much as I tried to explain the markup to a client, it always became a challenging conversation. I ended up talking to a consultant who specialized in working with interior designers, and we rethought my markup because of that.
Was the goal to shift how much effort and energy were spending talking about the way you bill with your clients?
Oh, my gosh, completely. I had the most difficult conversation with one client trying to explain the markup. He kept referring to it as a "finder's fee" that he was paying when I sourced things; I told him, "No, [it's because] I'm not billing you for the time to place or track these orders. That's what the markup is covering."
But it never sunk in?
It never sunk in for him and he always felt like I was charging him an extra fee. I think it was after that that I was finally like: Let me revisit this so I can just take this conversation out of my day-to-day life. Maybe some people have clients who aren't as concerned about that, or clients who aren't home Googling. It's always the clients where one [partner] is at home—and I don't necessarily mean a stay-at-home mom. For me, it's also been a husband who was working at home and had more flexibility to hop on to some website than he could if he was at work. I just had one of those, who was always finding things on Etsy. You can get Schumacher and Kravet on Etsy now!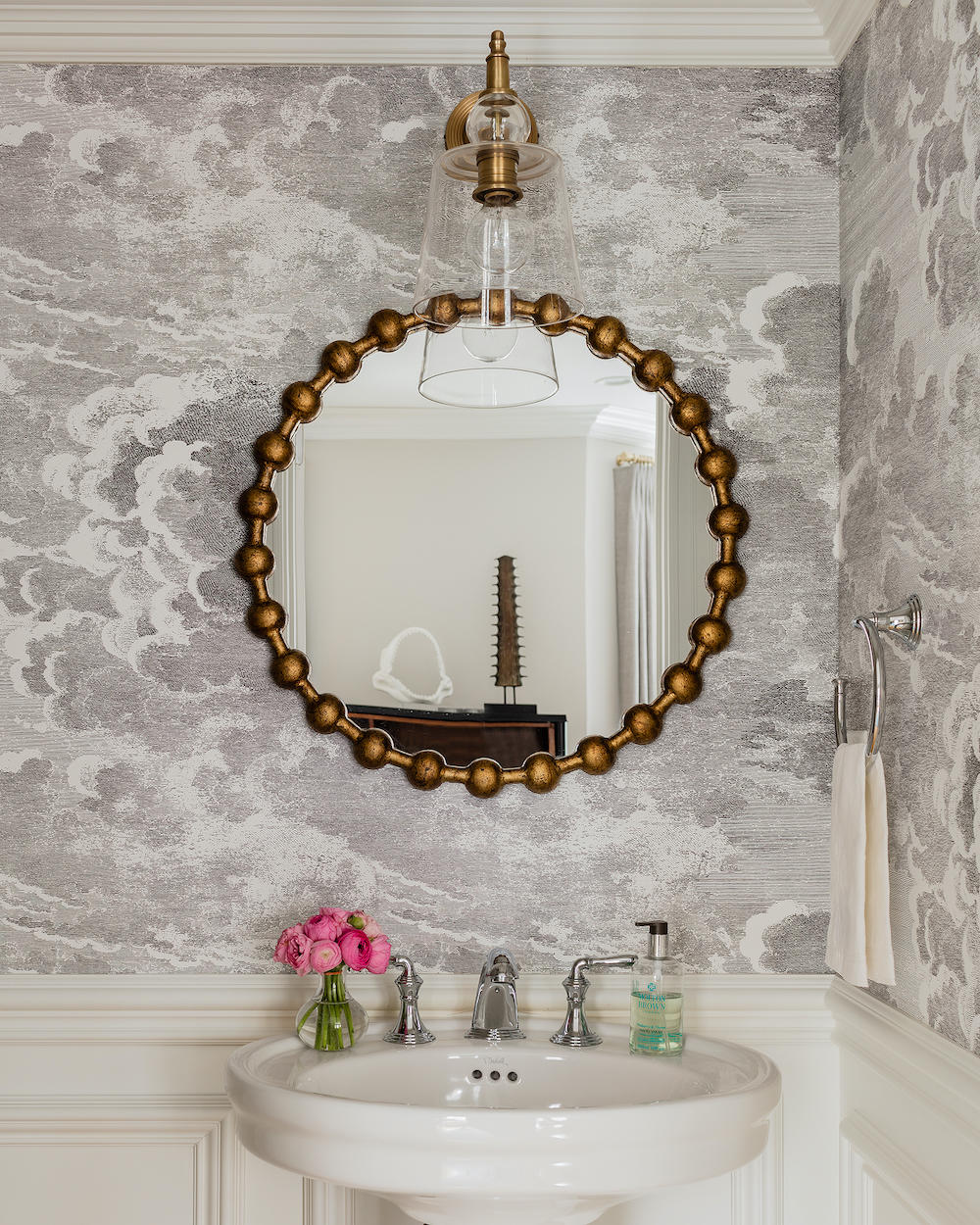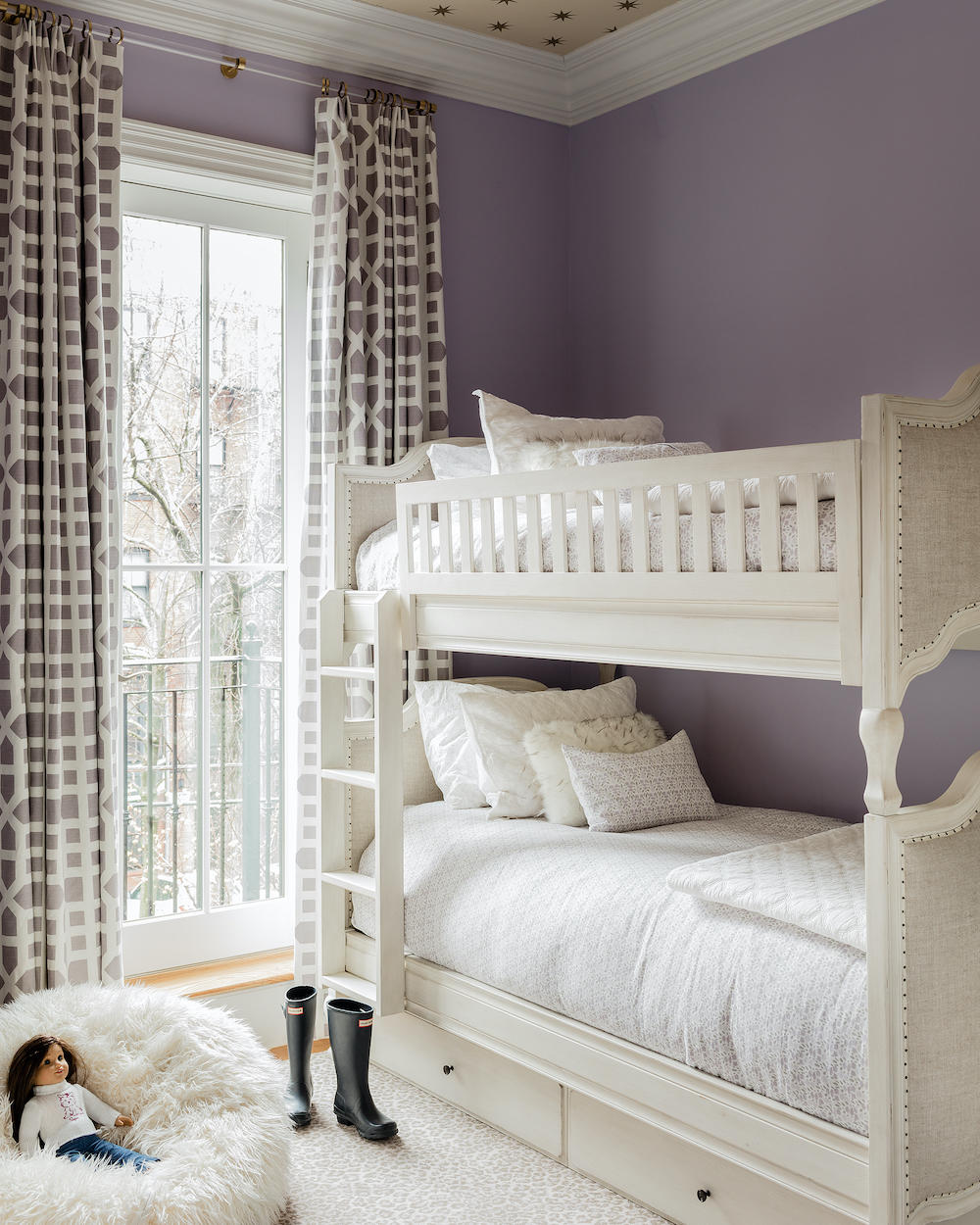 And there are design destinations like Perigold that are specifically for trade brands to get online. Does the availability of so much online change the way you source?
Don't even get me started there. My husband works for Wayfair, so I get the employee discount at Perigold and that is dangerous for me personally. It is so good.
I just bought a piece for myself from Worlds Away on Perigold—it used to be one where you have to find your local vendor or rep and buy through them. Now you can find those products on several websites—it's all accessible. What it changes is that I can easily buy stuff online now—it makes it more streamlined. Before, I'd have to find out who my local rep is, ask them all the questions, get a quote, wait for them to get back to me. That took time and more steps. Now, I can log in as a trade member to some websites and see my trade pricing really easily—Waterworks does that, and it saves steps.
Do clients sometimes push to buy the item they've found themselves?
They do. And sometimes if the trade discount isn't that great, I'll offer for them to buy it themselves off a website. Even though they're paying list price, the difference between my price and list price is still less than they'd pay me to buy it, track it, and manage the install.
And they'll do the install themselves?
Right. It's like we do their whole house, but when we get to their office, I send them links and they do it. It'll be a blend.
Do you feel like you're losing money when you offer it that way?
I mean, yes, I'm losing money, but I'm happy to work with the clients if it's a blend like that. I don't design a project where I only send the client links for everything and tell them to buy it themselves—usually part of the reason they hire me is to help them take care of it. But every once in a while, if I have a client who has one member of the family that is working remotely or home all the time, we'll do that for a couple pieces.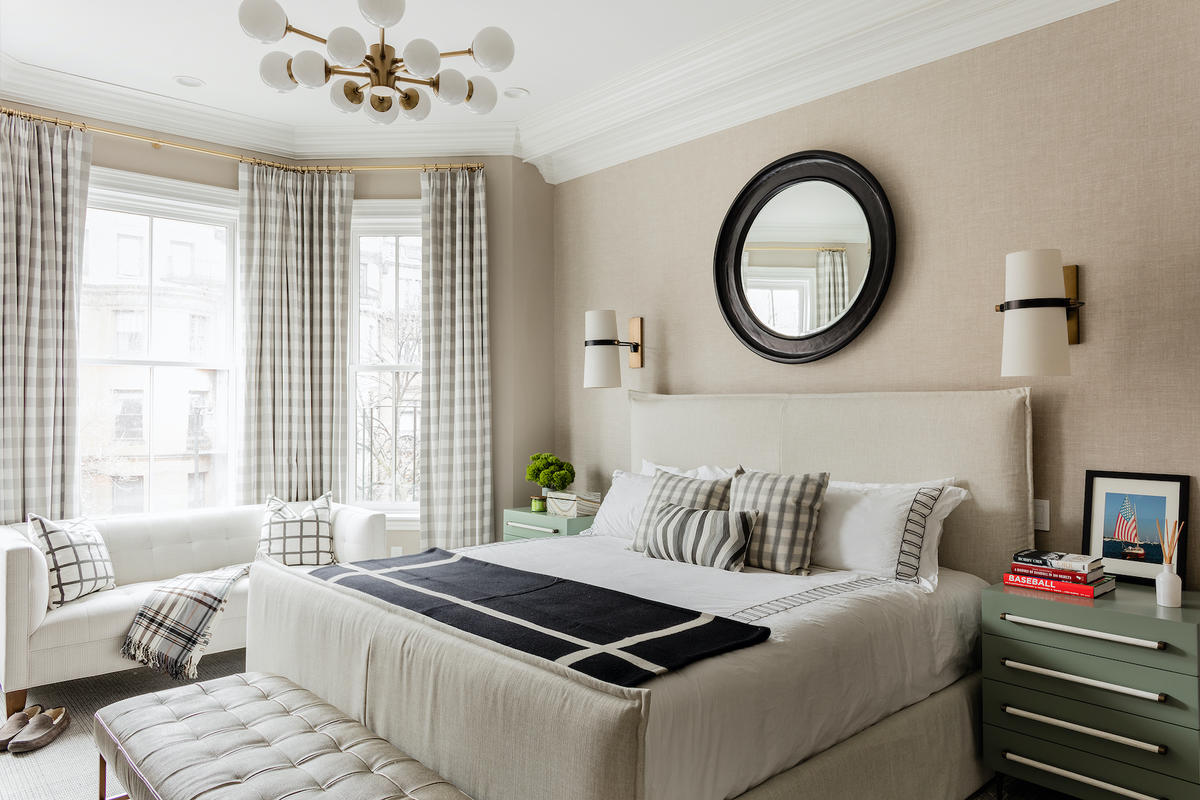 Michael J. Lee Photography
Tell me a little bit about the design community in Charlottesville. What is it like?
There aren't as many interior designers, because we're a smaller community, but I've met a few of them and everyone is so nice. I just got a lead recently for a project, and when the client emailed I could tell right away that what they were looking for was outside of anything I've ever done before, but I knew of a designer who I thought could be a great fit locally and I connected them. I think, just like Boston, there's a nice camaraderie amongst the designers rather than a huge sense of competition.
Did moving change the way you shop?
The resources that we use are mostly online, so it's pretty much the same. Maybe there were a couple more brick-and-mortar showrooms that I could visit easily in Boston, but the shopping is pretty similar using the same resources. Maybe we lean a little bit more heavily on the traditional side of our mix down here than up there, but I would say that's a very slight shift.
Do you have a separate set of resources for the commercial and residential work, or do those cross over?
It's 100 percent separate. I'm having an entirely different set of conversations when I'm designing a commercial hospitality space, and it's an entirely different set of resources that I'm using. For example, the country club we're working on [includes] a couple of restaurants and some lounge spaces, which makes it feel similar [to residential work] in some ways, but it's also very different. I was having conversations with my reps for that this morning, saying, "This client is going to keep this furniture for 20 years, so I need to make sure it can withstand sea salt," because it's on the coast; there are also different codes to follow, so the furniture has to hold a different weight capacity than residential. I think that part of the fun challenge in designing commercial, especially a hospitality space like this country club, is how to make it look and feel like a residential space but meet the codes of durability that you need for that commercial environment.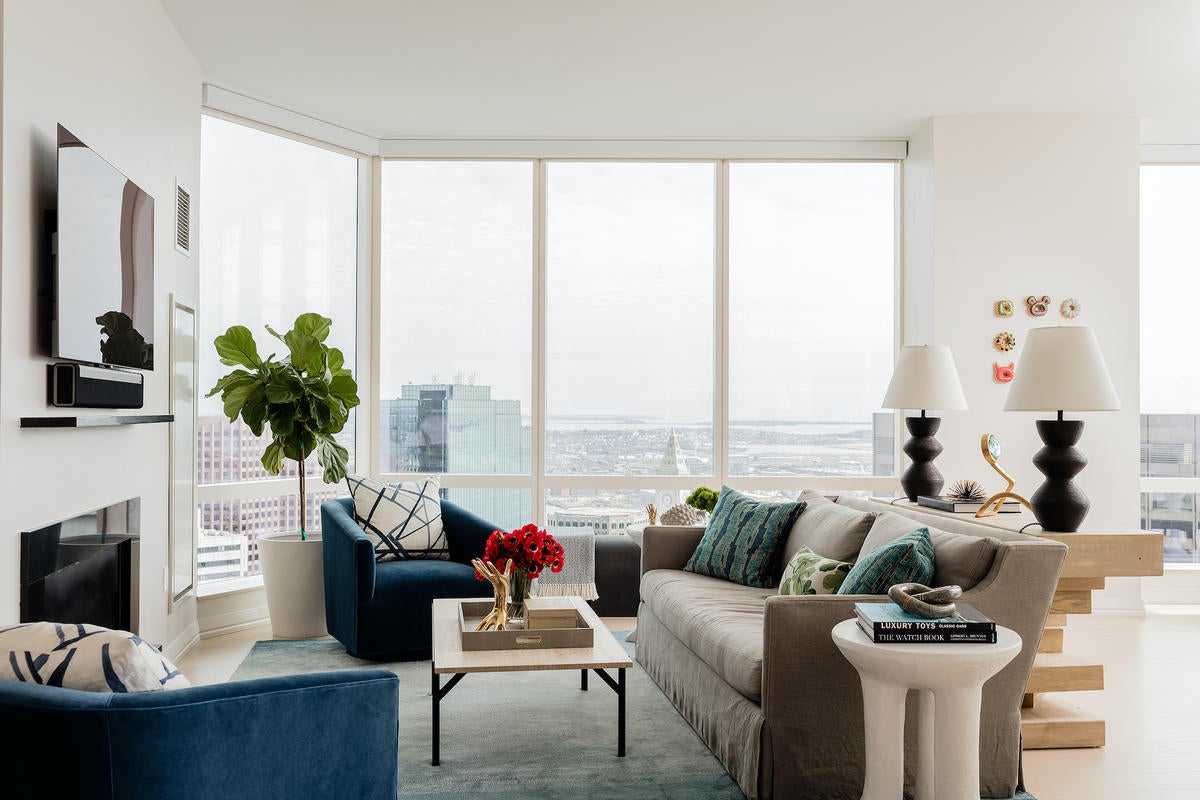 Michael J. Lee Photography
So many residential brands have launched contract divisions or performance fabric lines lately. Has that made a difference, in your experience?
In my experience, it hasn't. For this country club, I was looking at these gorgeous lounge chairs from William-Sonoma Home. Even though they have a contract division, it's just residential furniture that can meet some of the weight requirements and some of the durability requirements; it's not normally as durable as furniture from a hospitality-grade manufacturer. It looks pretty, but I had to pull that out of my project this morning for that reason. I was looking at some Serena & Lily pieces, too, and after I talked to the reps about it, some of the pieces I was looking at worked and some of them didn't.
I think it depends on the project, too. This particular client, they're going to use this furniture for 20 years, versus maybe a client who has the budget to replace their furniture more frequently. But in general, I find that my clients for institutional and hospitality projects want to maximize their budget—they don't want to replace the furniture that frequently. And as the designer, my goal is that I don't ever get the call [where they] say that the furniture failed—that it's stained or it didn't hold up well, or the finish degraded. I think about that call as I'm designing those spaces.
I'm also thinking about that fact that if there are teenagers—like in a high school—they're going to use the furniture much differently than we do as adults. I even have a fit test component of my design phase for schools, whether it's elementary, middle or high school, or even colleges, because [students] always use the furniture differently than we do, and I want the clients to see that, too. We have the students come in, sit-test the pieces that are the final contenders. That helps us narrow it down to the winners.
What does that process look like?
Oh, it's so funny, and every time it's so different. One time I was working on a private school just outside of Boston. I set up the sit test in a furniture showroom and we had all the final contenders lined up. The headmaster of the school brought in his sons as part of the test group. One of the sons gets in one of these lounge chairs, and when he sits, he plants himself down really hard and spreads his leg out. Then the other son gets behind the chair and yanks the handle that's sewn to the back of it as hard as he can while his brother is sitting in it. Everyone cringed, but it didn't rip the handle or break the chair. That led to the approval of that chair.
Even the way that boys use furniture is different than girls—the girls will gather, all of them on one piece of furniture. One would be sitting on the seat pad, one would be on the arm, one would be sort of leaning over at the top. It's always enlightening and fun.
As you look ahead, where do you see the most opportunity to grow?
I have always wondered if I wanted to pick a side—if I want to just focus on just residential or institutional work. I enjoy the two so much that I haven't made that decision yet, but if I were to pick one, I wonder if that would lead to accelerated growth, or maybe a different path entirely within design. If I focused on residential, I'd love to one day get into designing some sort of line that involves patterns, like wallpaper or fabric. If I just focused on residential, maybe it would allow me the time, energy and focus to get into that.
Do you feel like having your attention split has held you back in some ways, then? Or is it just a guess that it might be that way?
I haven't felt like I've been held back in any way, because the projects we're working on have been so rewarding that I've continued on this path, but there's always the "what if?" I question it because I don't see a lot of [designers like] me out there, but I like switching gears between the two types of projects.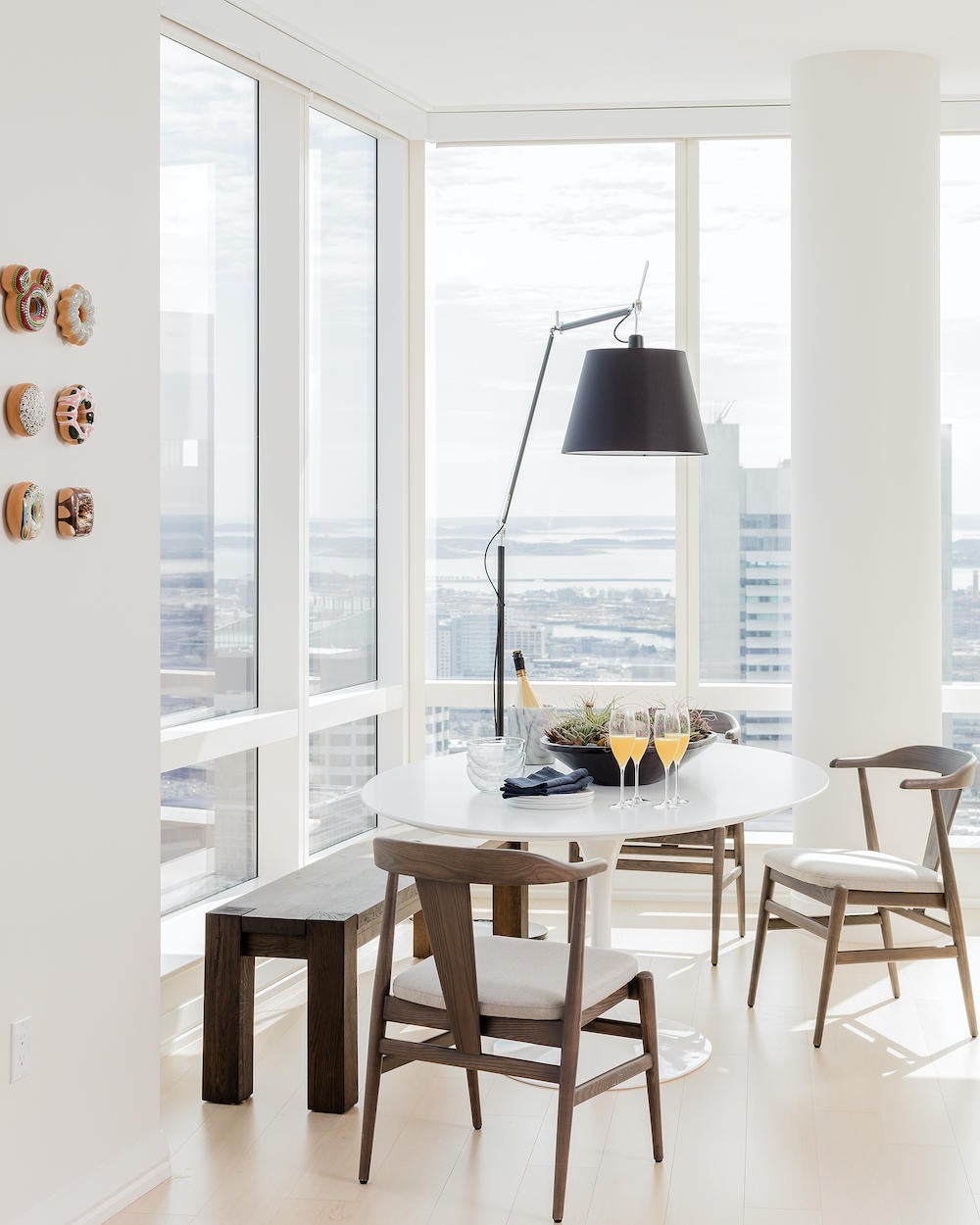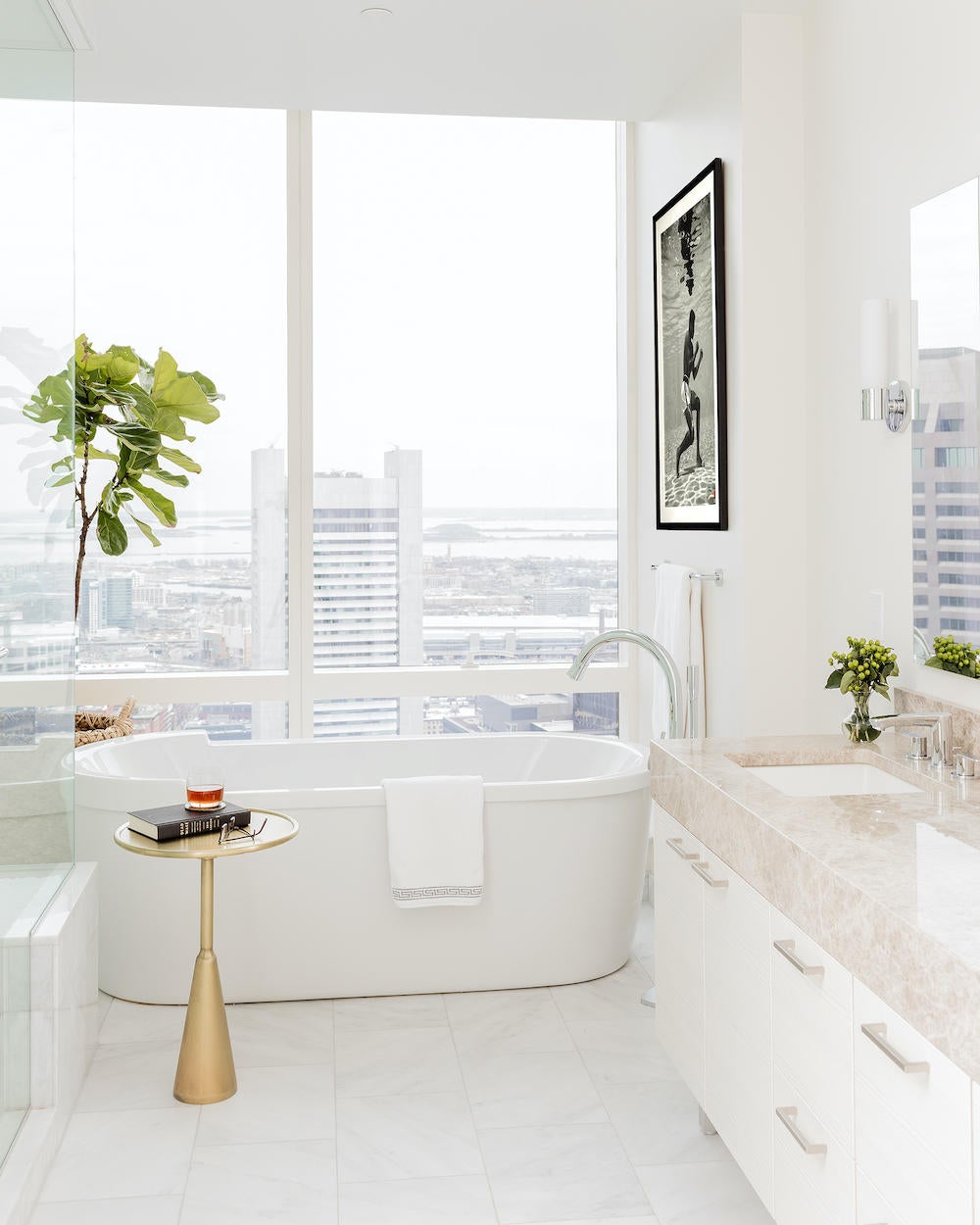 Are there specific challenges that come with having those two halves from an operational perspective?
It probably took me more time to get some of my logistics set up. It's two different kinds of proposal writing; I had to make sure my insurance covered both types of projects; and when I hire, I have to keep in mind that I need someone who can either learn more about one and has experience in the other, or, even better, find someone that has experience in both.
It's just an extra layer every time you grow.
Definitely.
How has COVID changed the work that you're doing, or the way you're approaching projects?
Thinking about how the demands of our day-to-day are changing—like, now that everyone's working from home, how does that change our workspaces at home and our residential environment? But also, we're still working on school projects. We're still working on office projects. How does that change how we renovate an office or how we fit out a new office or a school?
If it's a commercial project, like an office, or an institutional project, we have to think about [whether or not the client] wants to have two options for the space: "Do you want to have the non-COVID plan and the COVID plan, or just one or the other?" It's so hard [for everyone] to determine. Once they [distribute] this huge vaccine, how does that change the future? How soon do we go back to our work environments? It also changes the materials. I'm working on a community college here right now, and we're looking at antimicrobial and bleach-wipeable materials. I'm laying out furniture plans with fewer couches and more individual seating. It's a more flexible design—COVID has definitely changed it.
With the residential clients, we've had a lot of people saying they want a home office that's more permanent, not just a desk where they can work on nights and weekends.
What keeps you inspired?
Keeping up with all of these developments is always really fresh and inspiring to me. In the commercial world, we're thinking so heavily about what makes furniture and environments healthier—what you're breathing in and what you're touching, what's rubbing off on your skin. I think that directly translates into my residential projects. Vinyl is such a horrible chemical to have in any interior environment, and schools are thinking about making their environments more healthy for their students and their teachers—and I think about that now when I approach a residential project. Maybe vinyl is more wipeable and family-friendly, but I don't want to bring that to my residential client now, because I have all this knowledge from my commercial work. It bleeds over, and being armed with that—it feels exciting and powerful and like such a great benefit to bring to my clients.
To learn more about Jennifer Glickman, visit her website or find her on Instagram.