For the average social media user, once an image is posted, there's very little ownership of it. People can screenshot, repost and otherwise repurpose that image however they want. For the design industry, that culture has presented an interesting conundrum. Sure, it's flattering for someone to repost your work, but if you aren't properly credited—or, worse, someone claims the work as their own—there's not much recourse available besides asking the account to take the picture down or reporting the violation to the social media platform.
"You can't search for images on Instagram like you can on Google, so, often designers don't even realize that their work has been reposted by Beautiful House of Instagram or whatever," says Laurie Laizure, founder of Interior Design Community, one of the design industry's largest Facebook groups. "If someone doesn't tag you, you have no way of knowing. It's a messy situation."
But that may change soon, as Facebook recently announced plans to expand its Rights Manager tool, previously available only to major publishers, which helps users combat copyright infringement and monitor where their images show up across Facebook and Instagram. To access Rights Manager, Facebook page admins can submit an application for content they've created and want to protect. The image rights holder must upload a CSV file with all the image's metadata. They also need to specify where the copyright applies, and can leave certain territories out. Once a copyright claim has been filed, the owner can monitor where the image shows up on Facebook and Instagram and choose whether to let an image stay up or issue a takedown and have it removed.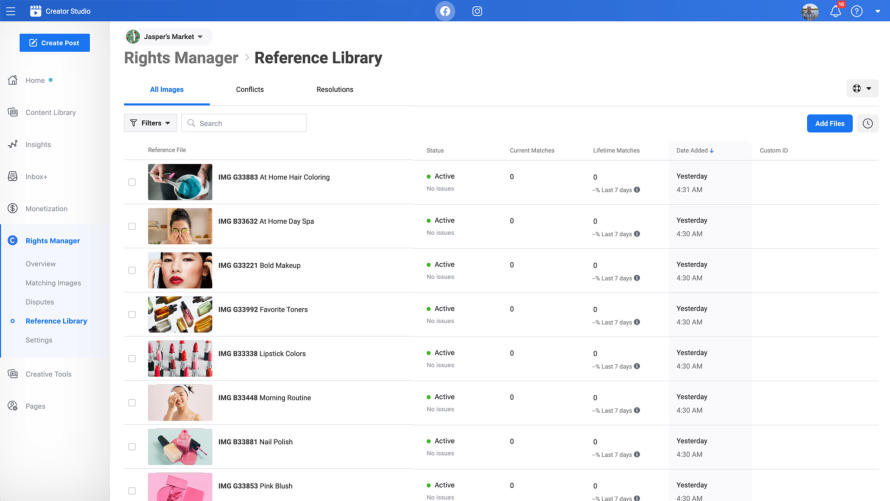 The tool may appeal to designers who have long been frustrated by the rampant uncredited sharing of their work on social media. "I think it could be a helpful avenue for people who have been having their work stolen," says Darla Powell, a Miami-based interior designer and founder of social media marketing agency Wingnut Social. "It's not an easy enough function where people could go crazy, copyrighting everything, but if you really are being ripped off, it's good that there is a path where there wasn't before."
However, more aggressive copyright enforcement measures could be a double-edged sword, as they may deter people from sharing other designers' work, which is a prominent way designers gain influence nowadays. Think of images from showhouses that go viral in the design world, which can raise a designer's profile and lead to opportunities like licensing deals. If people are afraid to share work that isn't their own, does that landscape change?
Powell points out that the founding idea of social media is sharing, so limiting what and how content can be shared is an interesting pivot. "I just hope it doesn't discourage people from sharing work that inspires them that's properly credited," she says. "We'll have to see how this impacts social media as a whole."
Laizure echoes Powell's concerns, adding that since many design firms rely on sharing work that inspires them to keep their Instagram accounts active, it could force designers to post less frequently. "I do think it moves Instagram in the right direction, because it discourages these Pinterest-like accounts that just aggregate images without crediting original creators," she says. "Time will tell if it's a function people care enough to use regularly, but to have the ability to take control in this way is a big deal."
Homepage photo: Shutterstock