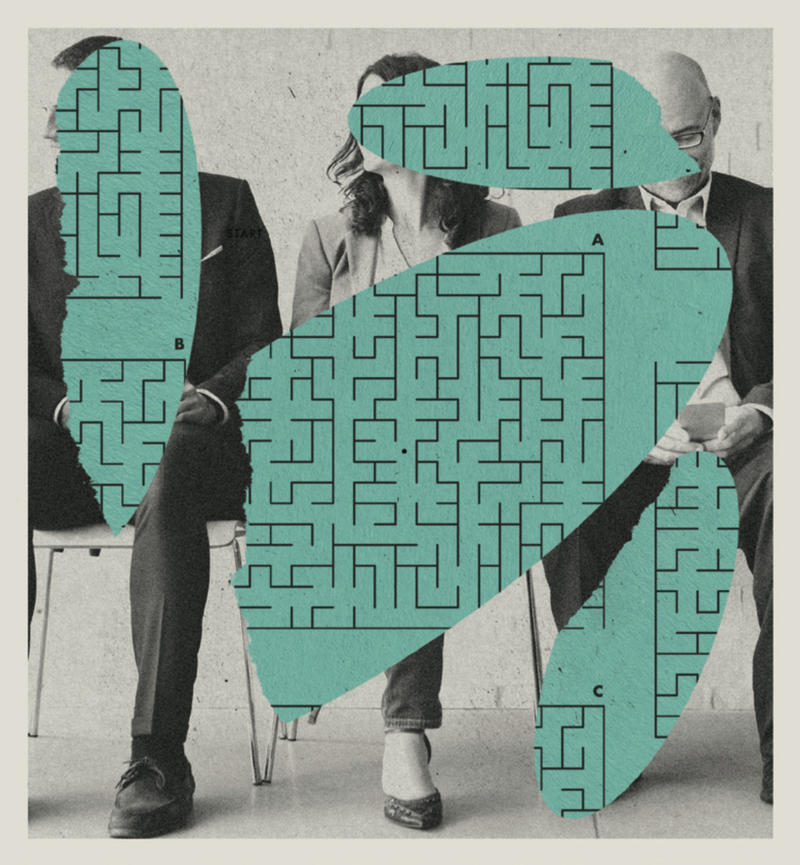 One evening earlier this year, a group of interior designers gathered in the offices of a prominent Manhattan firm. The names in the room would be familiar to anyone who follows the trade; more than a few regularly grace the pages of national shelter magazines. The closed-door meeting (one reporter was allowed in) opened with a solemn ritual: a round of show-and-tell. One designer brought a lamp he was working on for a licensing partner. Another shared a new source, a maker of inexpensive wrought iron shower doors. A ceramic lamp was produced and politely critiqued. The high-powered group had gathered not to plot the next color of the year or orchestrate the downfall of shiplap. Instead, they had come to learn from each other.
Networking can often feel like a dirty word—and more than that, it's a lot of work. For thousands of designers across the country, finding a community, whether in person or online, has become a lifeline.
How long is too long for a contract? How often should you post selfies to Instagram, if ever? How do you deal with a client whose apartment is overrun by pests? How do you deal when the client is the pest? Many of the dilemmas that make up the fabric of daily work for designers aren't covered by a traditional design education. To solve them, design professionals either get good at googling, or turn to their industry friends. The only problem: A robust network is hard to come by.
"Our business can be lonely when you're the sole proprietor," says Gideon Mendelson, principal of his eponymous New York firm, echoing a common complaint. Most designers spend all day (and night) dealing with clients, contractors and staff—for many, months can go by without seeing a peer. Even those who are constantly bumping into acquaintances at showrooms note that it's rare to dig deep into the nitty-gritty of a business issue. "Discussing business details and finances aren't topics we designers are the most comfortable talking about with clients," says designer Bella Mancini. "You're mostly working in a vacuum. I wanted to formalize that conversation."
How to start an online group:
Pick your platform.  Facebook is the default platform for designer groups online, but Reddit also allows discussion threads, and a private Slack channel could make for a juicy group. Research options before you commit—changing platforms midstream is tough.
Pick your audience.  If you want to stand out and attract new members, it's a good idea to focus on a specific (but not too specific) point of view. "Interior Design Chat" would be an uphill battle, as would "Millennial Maximalist Interior Designers of Arizona."
Guard the gates. It's a lot less stressful to deny entry to applicants than it is to kick them out. Many designer groups on Facebook require users to answer a few basic questions before they join—it's a good start to weed out spammers and cranks. The more dedicated hosts take the extra step of vetting each applicant with a quick Google search.
Moderate, moderate, moderate. Prepare for members to shamelessly self-promote, fight among themselves, and generally make a mess—one you'll have to clean up. Enlist a few trusted partners to help moderate the group so you don't have to be on call 24/7.
Mendelson and Mancini are part of a growing group of interior designers starting monthly meetups to fill the void. Such groups are not entirely new. The Decorators Club, a century-old exclusive Manhattan institution, has long held regular gatherings, usually organized around a presentation by a brand or industry expert. The American Society of Interior Designers too provides opportunities for members to meet and connect, through its 46 regional chapters. Smaller, designer-organized meetups, however, have a more informal vibe that fosters direct communication—and they don't charge dues.
Mendelson started his group, Design Share, based on the semi-regular lunch dates he had with fellow designers Robert Passal and John Douglas Eason. "We would talk about whatever was on our minds," says Mendelson. "It might be how we structure our fees, how we're handling clients, how we're marketing. I started to think, It's so nice that we have each other to lean on, why don't we form a group?"
When they officially launched Design Share with a letter to prospective members in 2016, Mendelson, Passal and Eason were careful to craft a clear structure for the group from the beginning. Rather than a hodgepodge of beginners and veterans, they invited only experienced designers who were looking to focus on business goals, and they limited membership to roughly 10 firms. Monthly meetings were structured around a topic, with an organized agenda. Such structure, Mendelson reasoned, would keep the meetings focused and relevant.
Thus far, it has worked. Mendelson says the group has helped members—and Mendelson himself—fine-tune their business strategies. "When I started Design Share, I didn't have an Instagram account. I was late to the game," he says. "[Starting an account] has made a tremendous impact already: 70 percent of our new business starts with leads from Instagram." The group is also a good go-to for reliable recommendations on unusual resources. "Yesterday, somebody sent an email about a moth infestation, asking if anyone had dealt with that," he says. "I actually had a client who had the same problem, so within minutes I was able to send over a name."
Mancini's group also started organically, the product of a dinner with designer friends Lizzie Bailey and Kathleen Walsh. Her meetup is newer—founded in late 2018—and a little more exclusive: For now, only women are invited to join. Mancini wanted to create a welcoming space where female designers could discuss challenges that are often tied to their gender. "Many of us are moms, many of us are trying to juggle 1,000 different things. You have a presentation and then you have a kid who wakes up with strep—you work for yourself, your partner doesn't, what do you do?"
Aside from that demographic difference, both Mendelson's and Mancini's groups are remarkably similar. Even the conversations tend to follow similar topics: client management, marketing, social media and a transparent look at business strategy. (Mancini's first meetup was about branding; the second started with every designer who owns her own firm bringing a copy of their contract.) One notably taboo topic for both design groups? Design.
"We don't need help being designers," says Mancini, "but I've always been interested in being a better businessperson. I think we can help each other with the less-sexy side of the industry." Designers in her group rarely discuss aesthetics, except in a general way. Mendelson finds the same to be true of his meetup. "We all fall in love with the creative side, but the truth is, we are a service-providing business, and we've got to be managers and HR executives and marketing gurus. None of us went to school for any of that."
Though most designers start monthly groups to sharpen their business skills, there's a side benefit to meeting once a month with like-minded peers: camaraderie. Interior design is a strange little nook, with its own set of challenges that are largely opaque to the outside world—as anyone who tried explaining trade pricing to a civilian friend can relate. Being able to commiserate with others who share the same burden gives many peace of mind. As one designer who participates in a long-running meetup group put it succinctly: "It's my therapy."
Of course, therapy takes work—and so do meetups. In a world where everyone is busy every minute of every day, it's difficult for many designers to make time for a regular appointment; some groups fall by the wayside for want of attendance. Others have the opposite problem.
"It started as dinners, then we decided to meet at showrooms, then we met at design magazines' offices, and it kept growing," says Jayne Michaels, a principal (along with her sister Joan Michaels) of New York–based 2Michaels interior design. Her group, called Design Exchange, started in 2006; core founding members included the Michaels sisters, Amy Lau, Brad Ford and Adrienne Neff. "We'd discuss different topics each month, but it was fundamentally a support group. That's where we really bonded, by sharing problems."
Eventually, Michaels says attendance got too high, growing to 30 members at its peak. "It really did change the dynamic, going from that feeling of comfort to 'I don't know these faces.'" The group disbanded after a few years. Michaels looks back on the experience fondly, and would love to start another group—albeit maybe a smaller one.
Interestingly, one issue that never seems to trouble designer meetup groups is the threat of a lost job to a fellow member, or a stylistic trademark being stolen. Perhaps it's because designers are creatives at heart, not competitors, or it's a testament to the trust these groups have developed, but the designers we spoke with waved away any concerns. "We're here to support each other, not compete," says Mancini. "There are plenty of great clients out there."
In an industry largely defined by professional isolation, here's an intriguing possibility: What if you were constantly surrounded by peers? Founded in 2015 by the brothers behind Fortuny, Maury and Mickey Riad, Fuigo is a shared workspace in Manhattan's Flatiron neighborhood often described as "WeWork for designers." With a shared materials library and help from on-staff sourcers, the studio is crafted specifically around designers' needs. It also presents a singularly communal work experience, where just showing up for work in the morning leads to passive participation in a built-in professional network.
How to start an in-person group:
Think small. Too many designers in a group spells trouble. For one, it can become unwieldy to find space to meet. More importantly, a rotating cast of new faces makes it difficult to build trust. Send out invitations carefully.
Set an agenda. Though many groups benefit from a free- wheeling discussion, starting with a structure for each meeting helps foster open-ended talk. It's hard to get a great conversation going with, "So what do you guys want to talk about?"
Find common ground. A variety of perspectives is essential to a good group—it's not helpful to spend an entire meeting agreeing with one another. But it's also important that designers in a group have something in common. Too wide a range of perspectives can lead to overly general conversation.
Keep it relevant. Designers are already inundated with design inspiration and style tips—most aren't thirsting for more talk about color palettes or how to pick the perfect sconce. Instead, the best designer groups focus on the rubber-meets-road reality of doing business.
Part of Fuigo's appeal is flexibility—many designers come and go as their businesses change—so it may be too early to see what the long-term effect of communal working for designers will be. But even short-term Fuigo-ers say that it has had an impact. "I get inspired just by walking by people's desks and seeing what everyone is working on," says interior designer John Willey, who joined Fuigo last year. An experienced designer, Willey doesn't often find a need to reach out for daily advice. However, he finds the proximity to other designers to have a positive effect nonetheless. "Sometimes the perception of an interior design career is that it's all glamour, but in reality, the designing is only a portion of my day. You're dealing with creative struggles and meeting clients halfway. It's hundreds of emails and banal phone calls. So it's comforting for me to know that other people are dealing with the same struggles."
Fuigo isn't a panacea: Not all designers acclimate to a shared environment, some get more out of the communal experience than others, and casual conversations about new sources in the hallway don't replace the kind of deep dive into business practices that Mendelson and Mancini's groups take. Still, the model presents an intriguing vision for how designers can learn from each other by proximity.
Indeed, it's a concept others are exploring. Pasadena, California–based designer and influencer Jeanne Chung is considering opening a shared designer workspace in the same building as her popular home goods shop, Cozy Stylish Chic. Chung sees the appeal of a shared designer workspace as both practical—it's easier on traveling sales reps—and emotional. "Sometimes working from home, you're rather isolated," she says. "You want someone to bounce ideas off of. There's that sense of camaraderie that's missing." A relatively recent newcomer to design (she started her business in 2013), Chung sees networking as a must, and has been heartened by the openness of the community she's built around Cozy Stylish Chic. "It's a very collaborative environment in design right now," she says. "Not everything has to be such a big secret."
Of course, the vast majority of these groups aren't formed in Manhattan workspaces or at regular lunches with House Beautiful–approved friends—instead, they are started online. And although Instagram may be the social network of choice for most designers, the platform doesn't exactly lend itself to extended conversations and group cohesion. Heated debate, sure. (Hello, @theoldhousebeautiful.) But helpful networks? Not so much.
Designers largely turn to the relative privacy of Facebook groups to share tips, ask for advice and kvetch about their persnickety clients. There are dozens if not hundreds of designer-oriented groups on the network that cater to a wide variety of demographics and specializations. To name a few: Decorating & Interior Design Uncensored ("Design and Whine" is the group's unofficial motto); Mothers in Architecture, Design & Construction; and Interior Designers of Delhi (which boasts more than 30,000 members).
In some regards, online groups are not so dissimilar to in-person meetups. Laurie Laizure, founder of the widely read Interior Design Community Facebook group, has, like Mendelson and Mancini, tried to be careful about who she lets into her world—though in the outsized metrics of the internet, exclusivity means only 1,000 people instead of, say, 10. "We hand-pick everyone that's in the group," says Laizure. "We're trying to keep the membership limited to people who are going to contribute positively."
Laizure started the group in 2010 as a sideline to her custom wallpaper company. It has grown considerably and spread across multiple platforms—with a little over 1,000 members on Facebook and more than 90,000 Instagram followers. Despite the workload required to sustain it, the IDC is mostly a volunteer project.
Daily conversation in Laizure's group is similar to what might be discussed any given month at Mendelson or Mancini's meetups. Designers post requests for advice on sources ("Does anyone know where this fabric came from?") and pointers on business practices. Industry hot topics generate a fair amount of conversation, as do "You won't believe what my client did" stories. And like in-person groups, heavy moderation is key to a productive conversation. "We really don't allow any selling and we don't want people to promote themselves," says Laizure. "It's really just to learn from each other, but that takes management."
Still, there's no denying the obvious differences—and advantages—inherent to online groups. For one, you can participate from anywhere. For another, they're always on, and the variety of feedback is endless. "I can post something right now, and within an hour I may have 15 to 20 responses from all over the world where people are giving me advice or commiserating," says Laizure.
Another advantage of online groups: The threads are archived, meaning that an interesting conversation can be referenced later. The best designer Facebook groups are essentially living knowledge banks—for example, a quick search of the Interior Design Community for "vendor invoice problem" yields a huge range of in-depth conversations, many of which contain advice that would likely help a designer get out of a jam. Intimate as they may be, no in-person meetup group can offer the same frictionless convenience. Online designer groups offer the same seductive appeal of the internet at large—what you want, whenever you want it, just one click away.
A notable transformative power of online groups is their ability to circumvent established hierarchies to make connections. Susan Wintersteen, principal of San Diego–based Savvy Interiors is a self-taught designer who began as a hobbyist in 2002. She recalls getting the cold shoulder from a relatively sparse local community when she first started out. "Things in the design industry were very isolated then. Unless you were ASID [which, without a degree, she could not join], there weren't other designers."
Today, Wintersteen oversees a staff of eight, but she has always remembered that "feeling of being a little bit lost" early in her career. She tries to extend a helping hand to younger professionals—often designers she meets through a Facebook group maintained by project management software Ivy. Acquired by Houzz in 2018, Ivy started a Facebook group for its members in 2016. Exclusive to users of Ivy's platform, the group has members spread out across the country and is a source of daily debate, discussion and tips.
Wintersteen was an early adopter of the software and became an active participant in the Facebook group soon after it launched. The openness of the conversations taking place, with professionals willingly sharing the nuts and bolts of their practices, held an undeniable appeal for a designer who received a chilly reception from the powers that be in the early stages of her own career. After 17 years running her own firm, Wintersteen primarily uses the group as a way to pay it forward ("I'll see young designers asking 'Should I flip my discount?' and I'll reply, 'No, this is a business!'"), but she still occasionally finds useful tips for her own practice.
Online groups are also helpful tools for the geographically isolated or recently relocated. Liz Goldberg of design firm CarolynLeona recalls moving from Chicago to Raleigh and initially struggling to connect with the local community. "When I moved from Chicago, where I had lots of friends from interior design school, to North Carolina to start my own firm, I didn't immediately connect with the local community," she says. "Being here in the South was sort of a closed-door environment."
Like Wintersteen, she joined Ivy's Facebook group and was intrigued by the openness (and usefulness) of the conversation. She has mined the group's members for everything from tips on how best to navigate design markets to finding a maker for a 10-foot dining room table. Maybe most importantly, Goldberg found other Raleigh-based designers in the group and reached out. Now some of her online friendships have migrated offline, including a monthly lunch with another local designer to talk shop and meet with new vendors.
Laizure too has made many in-person friendships through her Facebook group, and facilitated hundreds more. "Our members have become friends—I've had so many designers tell me that the group made them feel less alone in the industry," she says.
It's easy to see why many designers in search of a tribe would turn to the internet first. But, like in-person meet-ups, social networks have pitfalls of their own. For one, even the most private of Facebook groups is only so private—it can be easy to forget that comments are trapped in digital amber, waiting for the wrong audience to stumble upon them. (Wintersteen neatly circumvents this issue by only posting more sensitive queries to a smaller, private group she has culled from the larger Ivy pool.)
Perhaps more importantly: Though the internet has stripped away old systems of power, it's created newer, murkier ones in their place. When designers chat in a Facebook group moderated by Ivy, the connections that are formed may be deep, lasting and personal—but they are, in a sense, owned by Ivy. And Ivy in turn is owned by Houzz, a company that has had a contentious relationship with the design community at times.
Concerns may also apply to the network underpinning the conversation—Facebook itself. Laizure's experience serves as a cautionary tale. Her group originally started on Google Plus, then a burgeoning new social network. When the platform began winding down, Laizure was forced to start over and rebuild the conversation in a new environment. And though she's not worried about Facebook or Instagram disappearing, she wages daily battles with the algorithms that manipulate who sees what online. "The rules change constantly and that's hard to keep up with," says Laizure. "It's harder and harder to get real conversation to grow when the platforms limit your audience. They want you to do sponsored posts, which is great if you're going to be monetized. But it's not good for a free group of people who are just trying to have a conversation."
There's no perfect way to connect with and learn from other designers. Offline meetups can be a hassle to organize and maintain. Online groups have their own growing pains. But all of the designers we spoke with were glad they had made the effort. All had taken away actionable lessons for their businesses—and whether on Facebook or in a Manhattan showroom, all were surprised by their peers' openness and willingness to share. "The design industry as a whole is becoming far more collaborative," says Wintersteen. "In the past, we just didn't talk about these things with each other."