In a new series, What I Love, we're asking designers to build us a mood board of what's inspiring them right now.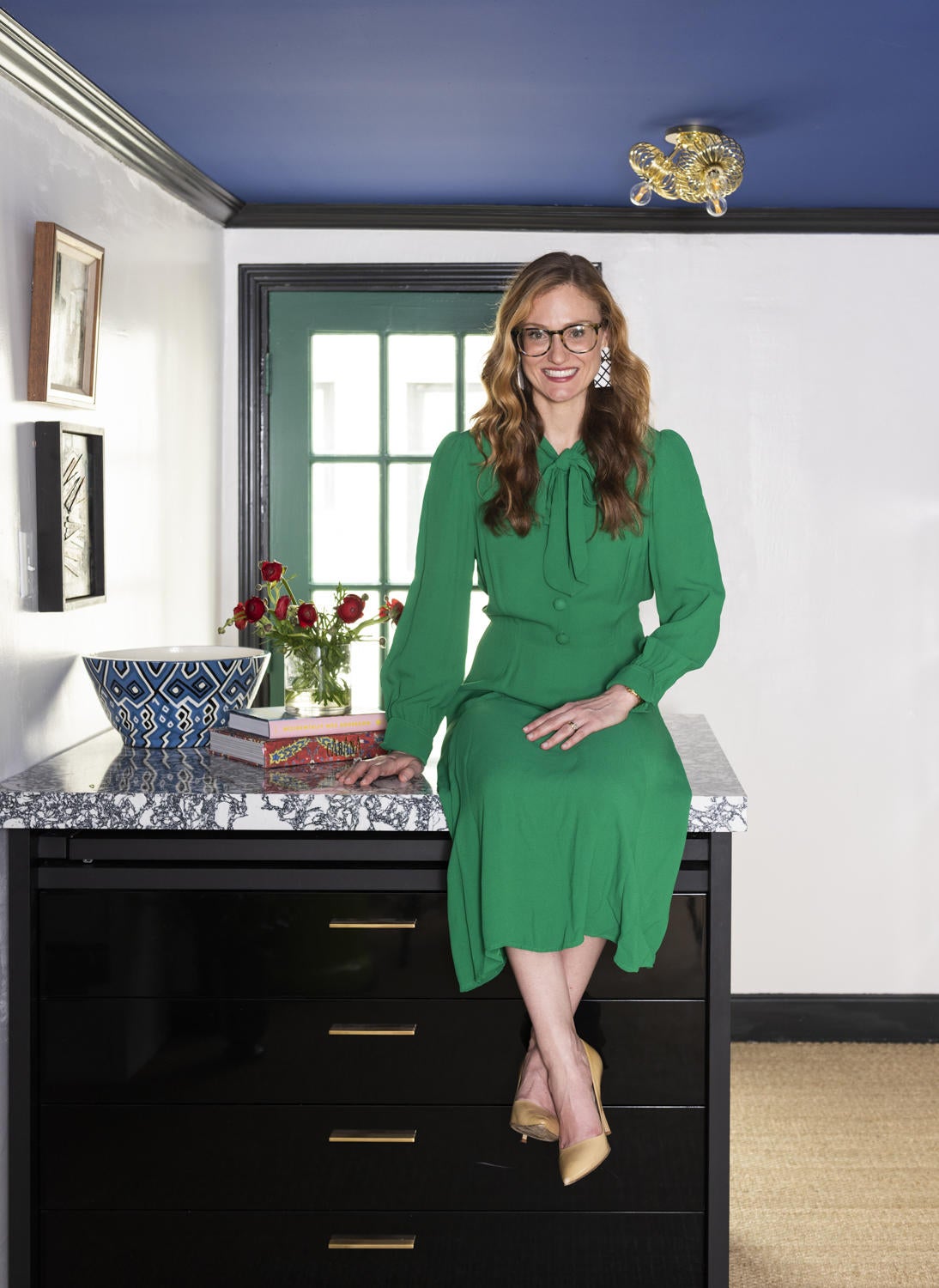 Courtesy of Emily June Designs
A self-proclaimed "wild card" in the Houston design scene, Emily June Spanos has made vibrant interiors filled with imaginative elements her business. "When I'm designing a home, I want it to feel joyful and inspired," she tells Business of Home. "I lean on cheerful colors to set the mood of the space, and then mix them with unexpected pops of pattern or texture to elevate the overall feeling."
Presently in the process of outfitting her own home, the Emily June Designs founder is turning to saturated shades, playful prints and fanciful vintage decor objects—many of which have been employed in her design projects. "When designing homes for my clients, I always generate these exciting ideas and find bits and pieces that I fall in love with," says Spanos. "Now that I'm designing my own home, I'm able to bring so many of those ideas to life through my personal inspiration board!"
True to form, the designer's current mood board is brimming with lively hues and energizing shapes that are nothing short of exuberant. "While there's a lot of pattern, there is a richness to the colors that keeps the overall mood playful yet sophisticated," she explains. "Despite having so many colors, they flow from one space to the next in a gentle manner."
Here, Spanos breaks down her flat lay—from bold black-and-white fabric swatches to bright yellow tile samples.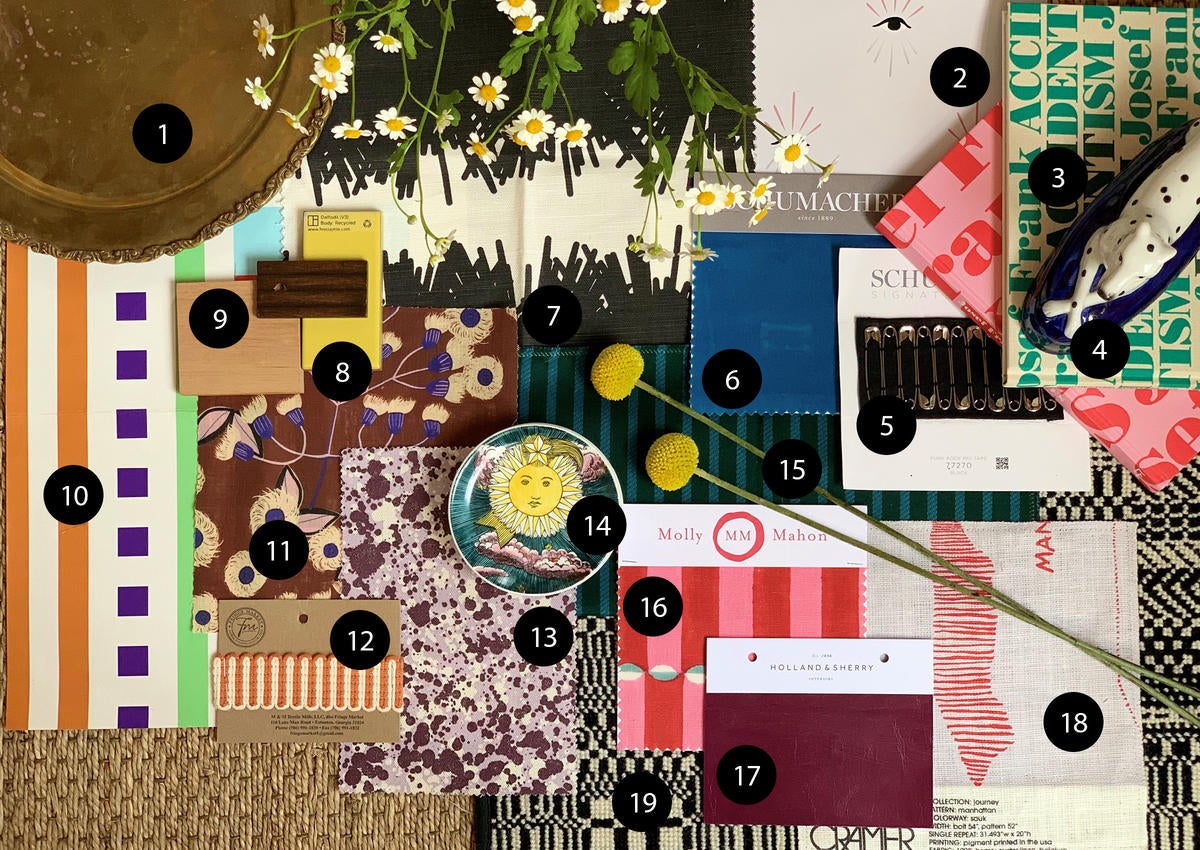 Courtesy of Emily June Designs
1. VINTAGE BRASS CHARGER
To bring a touch of warmth and texture to a space, you can't go wrong with an antique metal decor piece. "I love weaving vintage items into my designs, and brass in particular has an inviting effect on any interior," says Spanos.
2. ALEXANDRIA WALLPAPER in Hypatia — GROW HOUSE GROW
A graphic wallcovering with a neutral ground can energize a space without overpowering it. "I love the understated background and how the eyes create a pattern that only becomes evident once the wallpaper is installed," the designer explains.
3. JOSEF FRANK BOOKS
"Every home needs a wealth of books, and I love the colors and lettering on these," she says. "I always suggest selecting books on topics you or your clients love, and Josef Frank is one of my very favorite designers!"
4. VINTAGE DOG STATUE
A spotted Dalmatian sculpture provides Spanos with a dash of antique pattern inspo.
5. PUNK ROCK MIX TAPE 77270 TRIM — SCHUMACHER
"When I saw this trim, I knew I had to use it somewhere," says Spanos. "The juxtaposition of a formal drape with an unexpected, edgy trim adds character to any interior."
6. SOPHIA VELVET 68187 FABRIC in Caribbean — SCHUMACHER
"Velvet is such a luxurious fabric, and this bold cobalt color feels classic yet very cutting edge," she says.
7. BANG 177123 FABRIC in black — SCHUMACHER
"This black-and-white pattern reads as both abstract and striped," says Spanos. "When used to upholster large-scale furnishings or an accent piece, it's a neutral that really pops."
8. DAFFODIL tile — FIRECLAY TILE
Handcrafted in Los Angeles using domestically sourced materials (and zero waste), Fireclay Tile offers "the most exquisite colors and unique shapes."
9. WOOD FINISHES
"My designs are generally centered around the bold use of color, and I turn to the warmth of deep wood tones to help balance everything out," Spanos explains.
10. DIABoLO — THE PATTERN COLLECTIVE
Teeming with geometric shapes and vivid hues, this graphic mural complements a variety of color palettes and patterns.
11. ACACIA RUST FABRIC — KRISTY STAFFORD
For a traditional floral motif with a whimsical twist, Spanos recommends this eye-catching earth-toned print.
12. TUNISIAN TAPE IN MANDARIN — FRINGE MARKET
For Spanos, a striped trim with undulating edges offers a playful spin on classic fabric tape. "This cute zigzag design reminds me of a sophisticated rickrack trim from my childhood crafting days."
13. QUARTZ QUAR-004 UNION FABRIC — FERMOIE
"I grew up in the 1980s, and this fabric totally calls to mind splatter paint," she says. "However, this colorway feels sophisticated without feeling dated."
14. 1960s FORNASETTI COASTERS
"These are a very special vintage find I picked up at an antique show, and they are the perfect example of weaving in pieces you already own and love," says Spanos.
15. SUNBRELLA 6765 ENERGIZE FABRIC IN JUNGLE — PINDLER
If you're looking for a fabric that can withstand kids, pets or the outdoors, look no further than striped Sunbrella upholstery. "I love 100 percent solution-dyed acrylic fabrics for their durability and the fact that you can clean them right up with some bleach," she explains.
16. LUNA 179280 FABRIC IN PINK RED — SCHUMACHER
Combining pink and red hues in the same print is no easy feat, but this hand-blocked print pulls it off beautifully.
17. LUCIDO LEATHER IN ORCHID — HOLLAND & SHERRY
"Leather has such a lovely texture, and this one from Holland & Sherry is so soft and supple," says Spanos.
18. MANHATTAN SOUK FABRIC — CARYN CRAMER
Composed of 100 percent Belgian linen, this hand-designed fabric by Caryn Cramer features a pattern that mimics the shape of the island of Manhattan.
19. MATRIX #22068 CARPET — LANGHORNE CARPET COMPANY
"This black-and-white broadloom rug is bold yet neutral, and perfectly balances all of the surrounding colors and textures," says Spanos.
Homepage photo: A flat lay by designer Emily June Spanos | Courtesy of Emily June Designs