In our series, What I Love, we're asking designers to build us a mood board of what's inspiring them right now.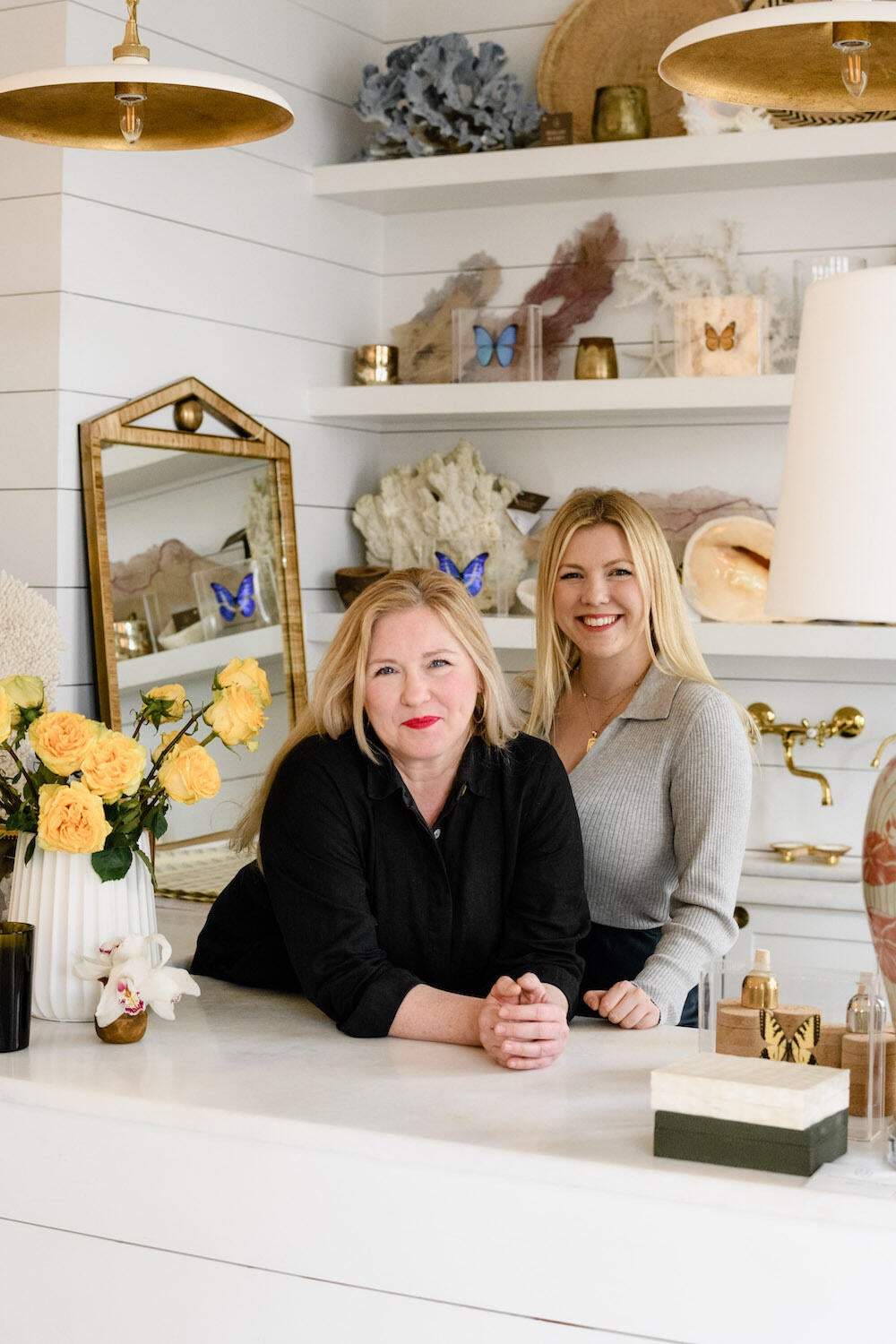 Above all else, Susan Bohlert Smith and Bo Massey are storytellers. The mother-daughter duo behind Santa Rosa Beach, Florida–based firm and retail store Bohlert Massey prefers to treat their clients as muses, building spaces that speak to their distinct interests and tastes.
Take, for example, their current mood board. Designed with a bohemianism in mind, the scheme teems with natural fibers and artisanal touches that read elegant, not "flea-market-esque," says Smith. "Our flat lay is inspired by global artistry, the Gulf of Mexico, and a love for rich colors and materials."
An enviable range of gradient tones and touchable finishes is what ultimately draws the palette together. "Natural fibers give texture to the space, while luxurious materials—like velvet, white oak and limestone—keep it feeling elevated," says Smith.
Here, she breaks down the details, from deep green linens to sheer curtain fabrics.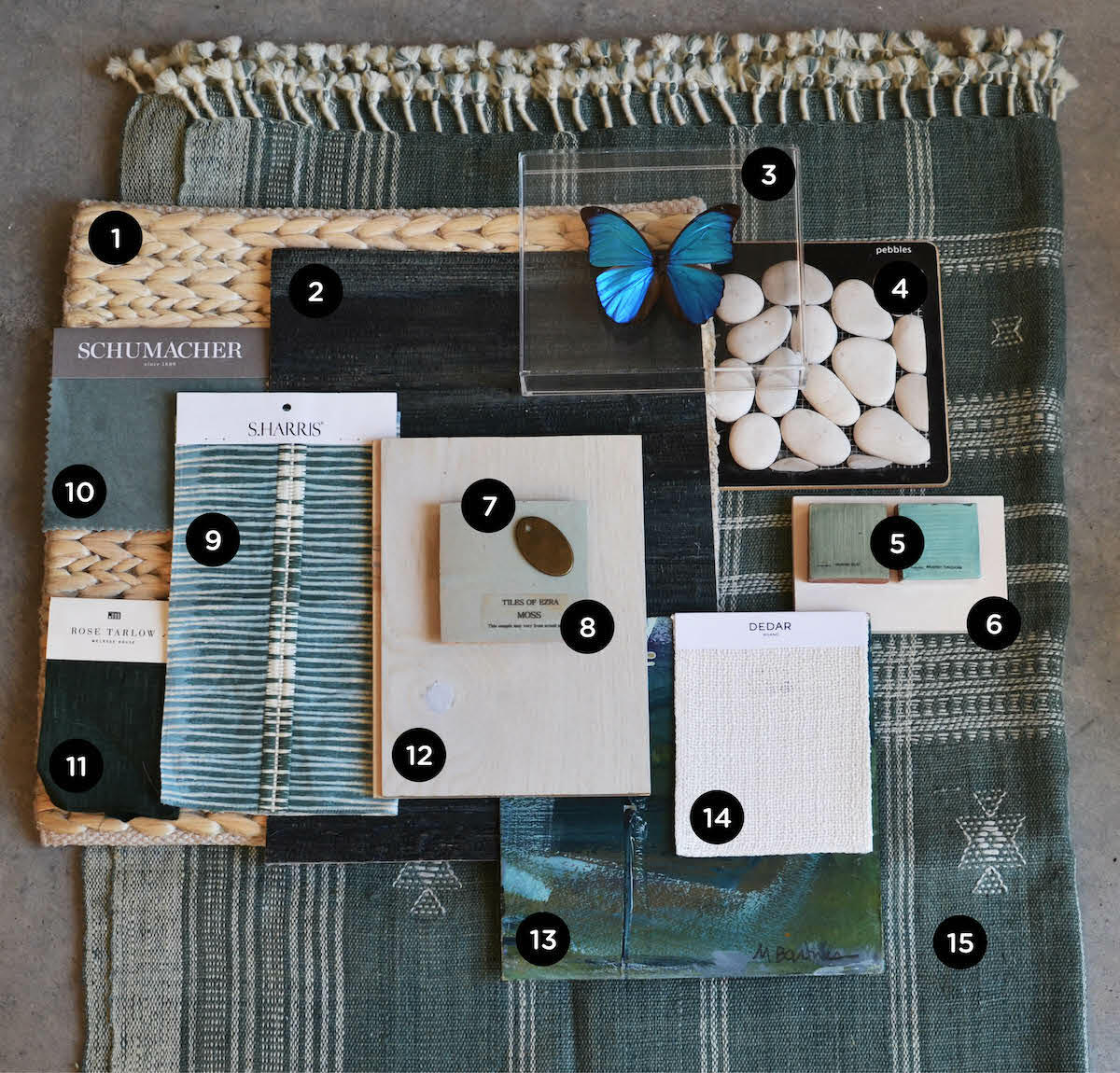 Courtesy of Bohlert Massey
1. Calista Rug in NLM05 by Jaipur Living
"We love to utilize jute rugs in our coastal projects because they feel right at home at the beach. This rug is a personal favorite because of its braided pattern."
2. La Palma Wallpaper in Peacock by Thibaut
"This is one of our favorite wallpapers—it almost looks like bark, and beautifully mingles teal and navy. Woven grass-cloth wallpapers are another way we like to bring natural textures to a space."
3. Blue Morpho Butterfly Framed in Lucite Box at Bohlert Massey
"One of our shop favorites. We are always inspired by nature and the beauty of a butterfly."
4. Perfect Pebble Tile in Antique Timor White Natural by Island Stone
"We love a pebble floor in a bathroom. It makes a bathroom feel spalike and casual, and feels great under your feet."
5. Hand-Painted Terracotta Tile Finish Samples in Brushed Eilat and Brushed Turquoise by Tabarka Studio
"Another way we like to bring character into a new house is by incorporating hand-painted terra-cotta tile. These are perfect in Florida because of the Cuban, Mexican and Mediterranean influences seen throughout the state."
6. Saint Tropez Limestone by François & Co.
"A limestone counter feels more rustic than marble and is very durable."
7. Brushed Bronze Finish Sample by Rocky Mountain Hardware
"A living finish is so important to give a new space character and age. Rocky Mountain Hardware's bronze plumbing and door and cabinet hardware is always a favorite in our office. Their fixtures are rich and heavy."
8. Moss Zellige Tile by Tiles of Ezra
"This hand-formed zellige tile—with its irregularities in shape and glaze—is another way to add an organic feeling to a bathroom or kitchen if used as a backsplash."
9. Bahari Fabric in Coast by Fabricut
"Anything with embroidery always has a lot of personality, but we like how graphic this pattern is, while not being too bold. The subtle embroidered stitch running down the center is a lovely and subtle detail."
10. Rocky Performance Velvet Fabric in Sea Glass by Schumacher
"We like to incorporate luxe accents—like a small cotton velvet pillow—into our projects to help balance the more organic and rustic textures in the room."
11. Glacis Fabric in Juniper by Rose Tarlow
"Pulling from the teals in the wallpaper, we love mixing a deep green linen with the other fabrics."
12. Maria Wood Flooring Sample by François & Co.
"We've been loving a white oak floor that is almost white, especially in contrast with rich dark elements like the deep teal grass-cloth walls."
13. Original Abstract Painting by Marion Barnes at Bohlert Massey
"The textures and colors in this abstract blend well with the other elements in the room."
14. Atelier 1930 Fabric in Bianco by Dedar
"This white textured sheer fabric will pick up other light elements in the room like the floor, rug and crisp white bedding we plan to use."
15. Hand-Loomed Indian Throw in Slate at Bohlert Massey
"Another way to add texture and color into the scheme."
Homepage photo: A flat lay by Susan Bohlert Smith and Bo Massey | Courtesy of Bohlert Massey Interiors