In Business of Home's series Shop Talk, we chat with owners of home furnishings stores across the country to hear about their hard-won lessons and challenges, big and small.
This week, we spoke with Susan Bohlert Smith and Bo Massey, a mother-daughter duo who run Bohlert Massey, a full-service design firm as well as a home goods store in Inlet Beach, Florida. Over nearly 20 years and through two locations (they moved last summer to a space with a better layout and adjacency to new developments), Bohlert Smith has offered clients and customers a richer, more layered conception of coastal aesthetics via antiques, original art and worldly textiles. A few years ago, postcollege, Massey joined the business, first reluctantly and then passionately. As a third-generation furniture peddler, did she have any choice? Here, the pair discuss the peculiarities of their region, how they're battling its typical aesthetic and why their customers are cuckoo for coconuts.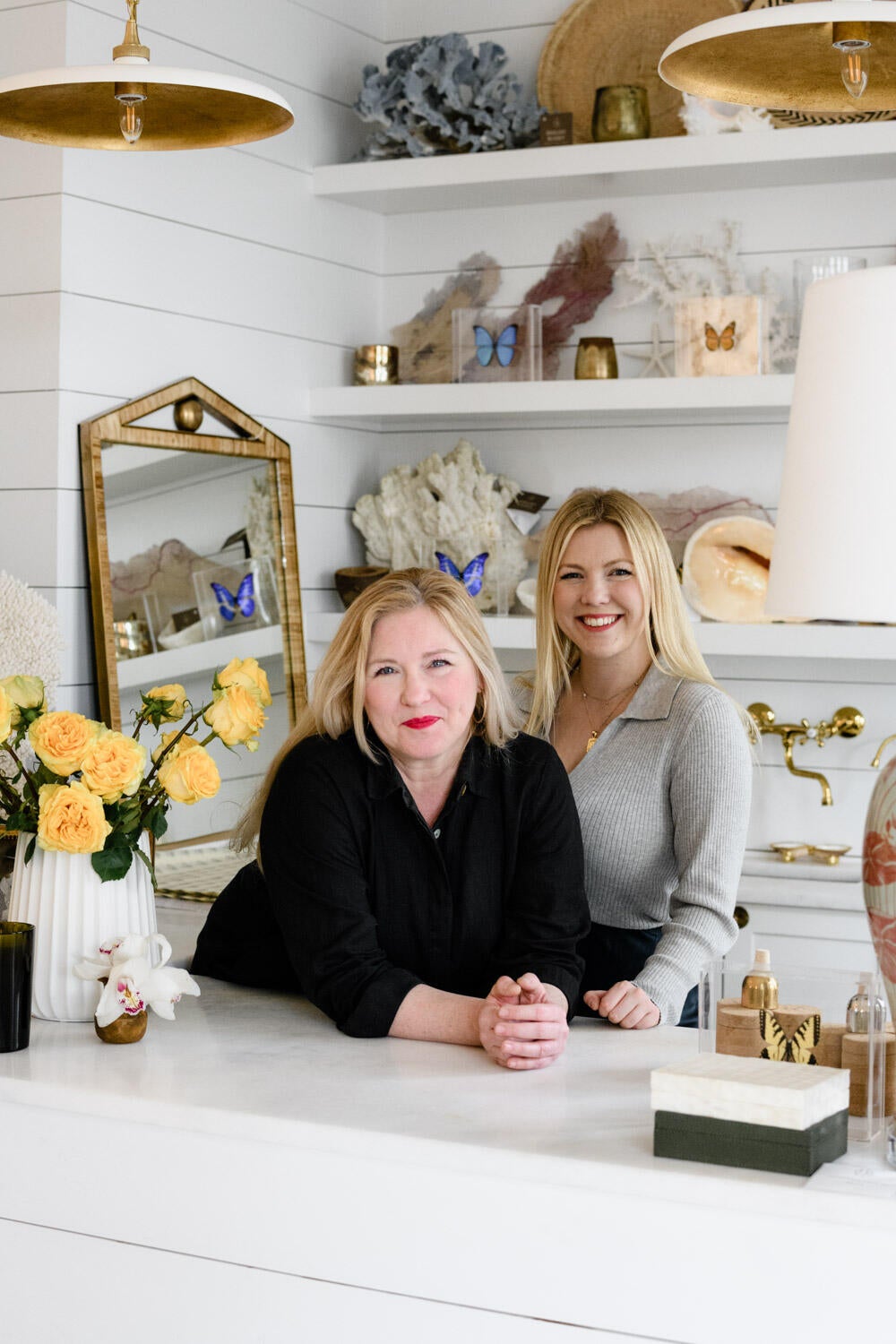 What were your professional backgrounds before the shop?
Bohlert Smith: My first job, right out of the University of Alabama, was working for an interior designer in Santa Fe, New Mexico. While I was there, I also worked under a restoration artist who had a little sideline of specialty decorative finishes. I began to combine both—painting and finishing as well as design. Once we moved to Florida, I just did the design and art. Because it's a small area, we decided that we needed a resource for ourselves—there's not a lot going on in the way of design centers in this area. We launched our store here in about 2003.
Massey: My entire life, we had a shop. I grew up working in the shop in the summers and after school, and working in the design office. After I graduated from college, I made the decision to come back home and become my mom's business partner in the store and the design business. We do all of our buying and designs as a collaboration between the two of us now.
Bo, did you always think that you would follow this path? Did you have that eye, or did you rebel against it at all?
Bohlert Smith: Brainwashed, she calls it. I brainwashed her.
Massey: My mom always says, "Why do you like all the same things that I like?" and I'm like, "Well, you know!"
Bohlert Smith: I wanted you to get out of my head.
Massey: For the majority of my life, I thought that I would not have a shop or join the design business, because anybody in the industry knows how much energy goes into both of those things. It's physical energy and emotional energy. When you're watching that all the time, it seems like such a big undertaking to be so personally connected with your customer and your client. And of course you think, "I'd like to be independent and carve out my own path." But as I got older, and because my mom and I are best friends, going back to the beach was very appealing.
Bohlert Smith: She told me for years that she was going to be an attorney. I tried not to have my heart broken. It was like, "Well, I guess we need a family attorney, too."
Massey: I have gotten a lot of independence, because there's a lot of trust and respect with the two of us working together.
Bohlert Smith: At such a young age, I could let her have free rein. We always check with each other with the purchasing, but if Bo has to go to a market or an antiques-buying trip, I trust her 100 percent, because she's always seen how I like to do things.
Massey: My mom's mom also had an antiques store my entire life, so I got it on two sides. My grandmother wanted me to go work for her.
Bohlert Smith: There was a little tension in the family about that. I just don't think Bo had a chance.
How long have you been on board now?
Massey: About four and a half years.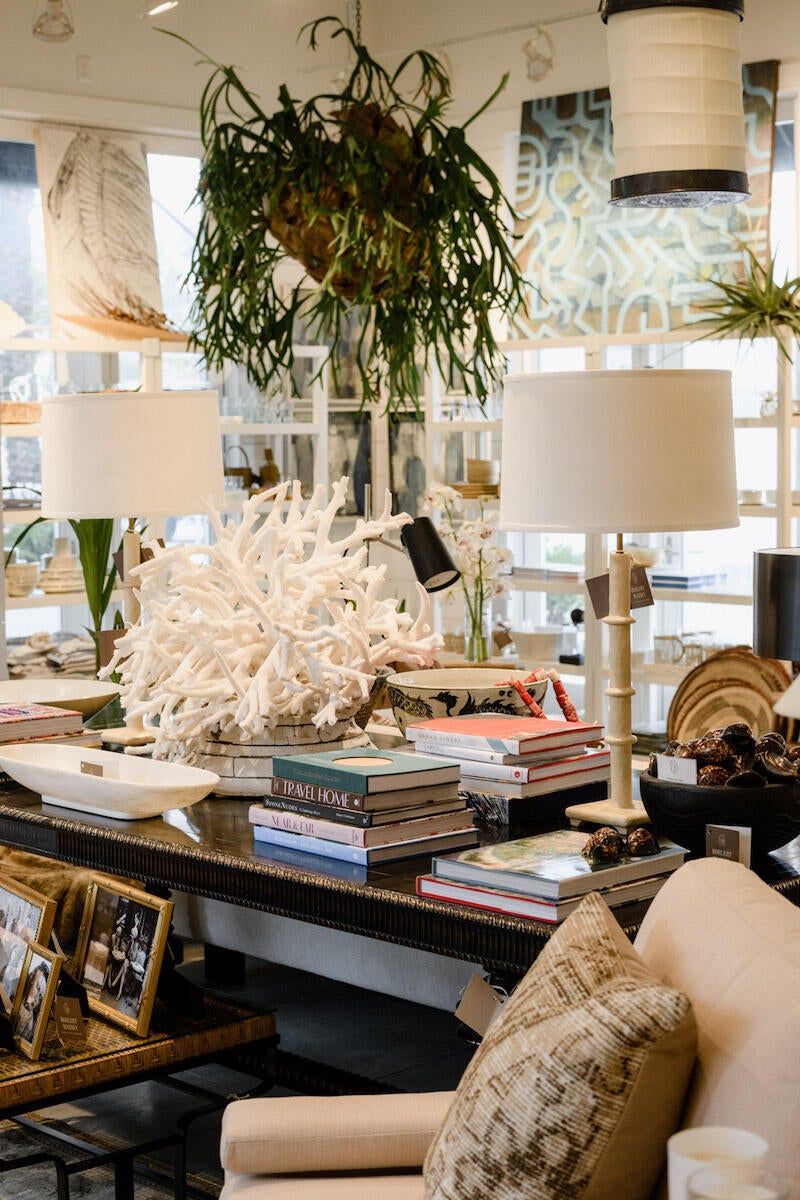 What is the vibe of the store?
Bohlert Smith: 'Eclectic' is so overused lately, but we're very eclectic. We like it if you wouldn't think to put the items together. We focus a lot on texture, authentic materials, luxury. It feels timeless: coral mixed with a Lucite table, an old Persian rug and a 1970s modernist painting.
Massey: One of our big things is huge pieces of coral. The mixing of eras and styles is even more heightened now that my mom and I are doing all the buying together, because we're two different generations.
Bohlert Smith: There's a sense of the past that's been updated by the more youthful generation. If you inherited a house that has your grandmother's antique rugs, and then you have a more youthful generation come along and amp that up with something that's very irreverent—like, "I can't believe they have that big crazy quilt thrown over the sofa."
Massey: We try, especially because we're in an area that is a lot of white slipcovers and soft colors of the ocean, like gray and light blue. We just like more personality than that. And that's what we always try to remind our clients and our customers: Your house is supposed to be a reflection of you. It's more interesting when you have items that aren't just out of a showroom, factory-made. It's important to us for there to be a hand of an artisan, or a story.
Can you tell me about a favorite vendor of yours?
Massey: We carry a French hand-blown glassware company, Laurence Brabant. They do some vases, but mostly it's serving pieces, and they almost have a scientific feel. They do these decanters that look like—
Bohlert Smith: Something that came out of a strange lab but more imaginative.
Massey: Honestly, the things that we're most excited about are the vintage, antique and one-of-a-kind pieces we source from all over the world. We are constantly driving our big delivery van around, loading it up so full of stuff that we can barely drive.
Bohlert Smith: We're afraid to brake.
Massey: We're luxury schleppers.
Who is your typical customer?
Massey: So this area is almost like a southern Hamptons. We're between Destin and Panama City Beach, which are kind of cheesy places. But then this pocket is a stretch of high-end communities dotted along Highway 30A.
Bohlert Smith: If people vacation here or have bought a second home here, they stick a 30A bumper sticker on their car, just to let people know.
Massey: It's a high-end customer, and most are over 40. We have a lot of designers in our store on behalf of their clients; I would say it's a 50-50 mix of designers and end users. But most of the designers that shop with us are from out of town.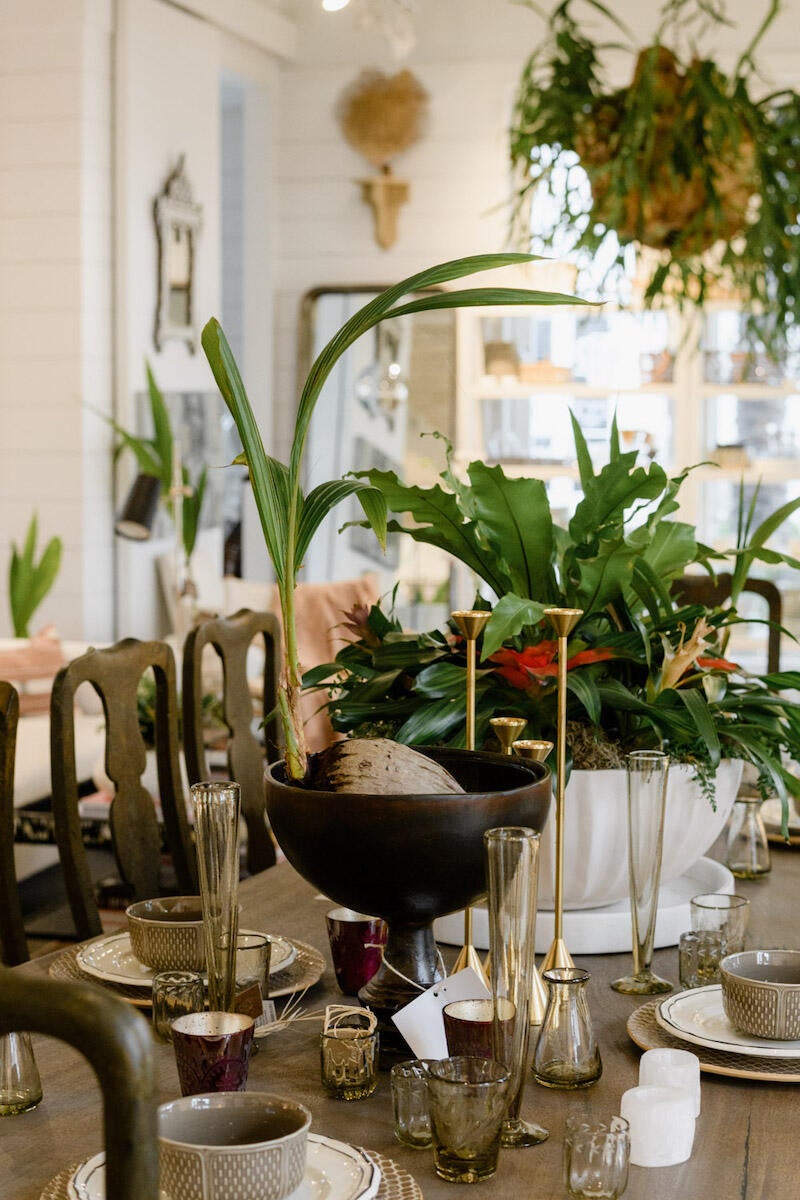 What is an object that you can barely keep in stock?
Massey: Sprouting coconuts! I think we've been selling these coconuts for, like, 15 years. It sounds ridiculous.
Bohlert Smith: They've started growing into a plant, but because of where we are, you can't really plant them in the ground. They wouldn't thrive here, but they make great indoor plants or potted plants.
Massey: You keep it sitting in a dish of water. People go crazy for them. I mean, if we're out of stock—
Bohlert Smith: Women have acted rude to me over them. "But I have driven here to get a coconut. What do you mean, you don't have any coconuts?!"
Massey: We ship them all over the place. They're $85 a piece. They make the best housewarming gifts, because they're so easy to keep alive. They are a delight. They literally make people's days.
Susan, is there any advice you would give yourself if you could go back to opening day?
Bohlert Smith: Not to buy too heavily on any one thing, because then you don't have the ability to tweak and shift when you see something wasn't as well received. And not falling to the safe side and going vanilla just because that's what the public wants. You have to be bold enough to bring something new to the table, and then be confident that people find it refreshing.
Will you tell me a little bit more about how you push the customer? Because I've spoken with other coastal store owners with the same problem, fighting the gray driftwood look.
Bohlert Smith: We have to educate our design clients as well as the store customer. It's explaining to them, without coming off pretentious or braggy, that what's exciting is something unique—a new perspective—instead of having what everybody has.
Massey: We really like to create a narrative: What type of coastal environment are we trying to create? There are coasts throughout the world you can reference. People connect coastal with neutral—
Bohlert Smith: But it hasn't always been like that. It started years ago, when Maison&Objet did a big wave of gray, but that look has been popular for years now, all the way to when Restoration Hardware ran big with it. What people aren't understanding is—that was dated 10 years ago.
Massey: They feel like, "I have my antiques, my color, and my velvet and my silk, at my house in Birmingham or Atlanta." But we encourage people to go outside of the all-neutral look, because we don't think it has enough warmth for someone to really feel like it's their second home. Warmth and texture and a story give the house more depth, make it feel more like a home, as opposed to just a rental.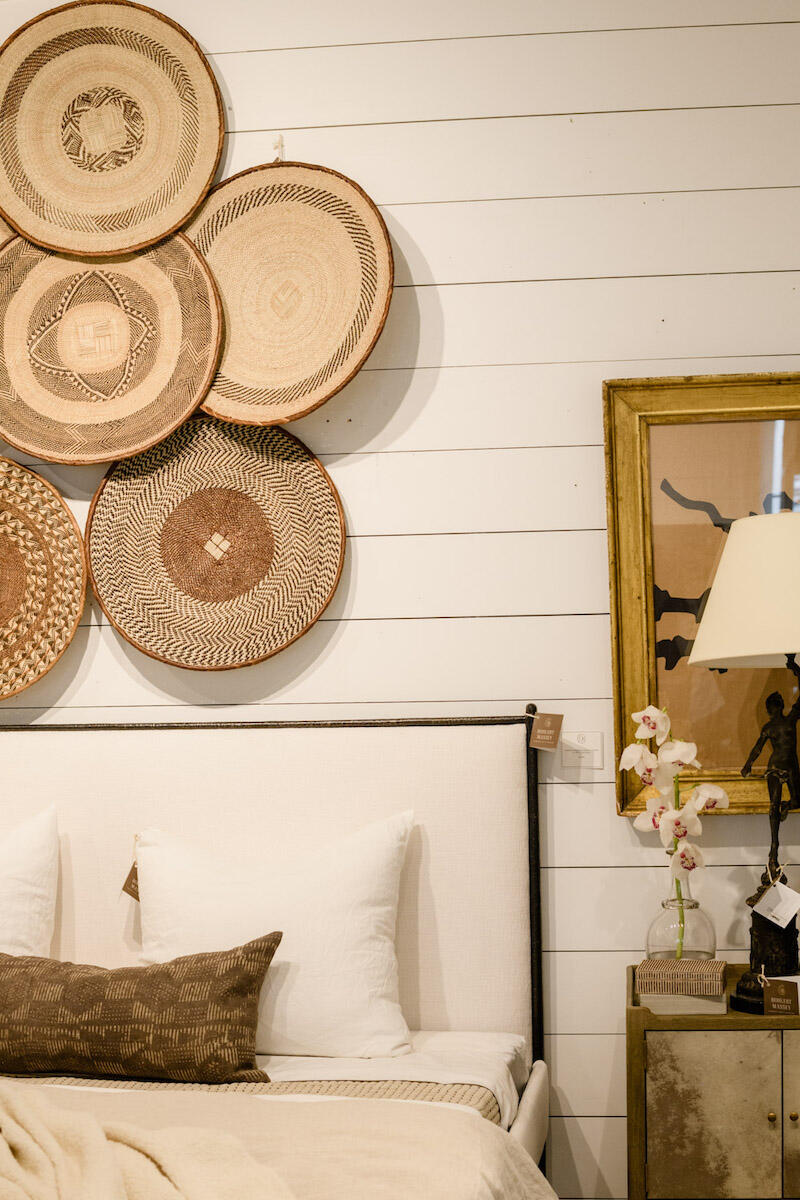 So that's an aesthetic challenge. What's a business challenge of this area?
Bohlert Smith: It is a beach community. It's seasonal. Our season runs from March through September.
Massey: We've been able to grow, because when we moved here, we were in the boonies. There was nothing here. It's impossible to talk about this without talking about Seaside, which is an internationally recognized community that's won design awards and is just a huge draw. It's put a big emphasis on design. Seaside is one of the original examples of: You have your grocery stores, office, school, everything is walkable. You don't have to leave your community. It broke ground in the 1980s, and now these other towns have followed Seaside as an example, and so there's a higher-end feeling for design. People put an emphasis on hiring an architect, and that does make our customer a little more sophisticated. There's been a tremendous amount of construction in the last years, and that's great—you've got all these people coming to the area excited about designing and decorating their homes. They're coming to this area, because they're interested in aesthetics.
What is your favorite day as a shop owner?
Bohlert Smith: When we do a turnover, or when we have new merchandise come in. When we've just come from a buying trip where we pack the van to the ceiling, and totally revamp and change everything up.
Massey: Styling is always the most fun. Also we get fresh flowers once a week—so putting out the fresh flowers.
And of course, I have to ask, what are some of the difficulties or pleasures of working with your mother and daughter?
Massey: Our biggest challenge is making sure we're taking time to talk about things that aren't work. It's hard to have a weekend and spend time together as a family and not talk about work.
Bohlert Smith: And we're not just glued at the hip. She's on one project site; I'm on another. She may do a meeting with one client; I'm meeting with another client.
Massey: What's made our relationship successful is that she has given me a lot of independence and respect, allowing me to really feel like my opinion is just as important as hers.