Richard Mishaan has been in business for 25 years. On the eve of his anniversary—celebrated with a party earlier this month at Yves Restaurant in Tribeca that hosted the likes of editors Amy Astley, Margaret Russell, Michael Boodro and designers Alex Papachristidis and Campion Platt—Mishaan delves deep into the lessons learned (listen up, young designers!), his career highlights thus far, and how much (or how little) his design aesthetic has changed in the years since his firm's founding.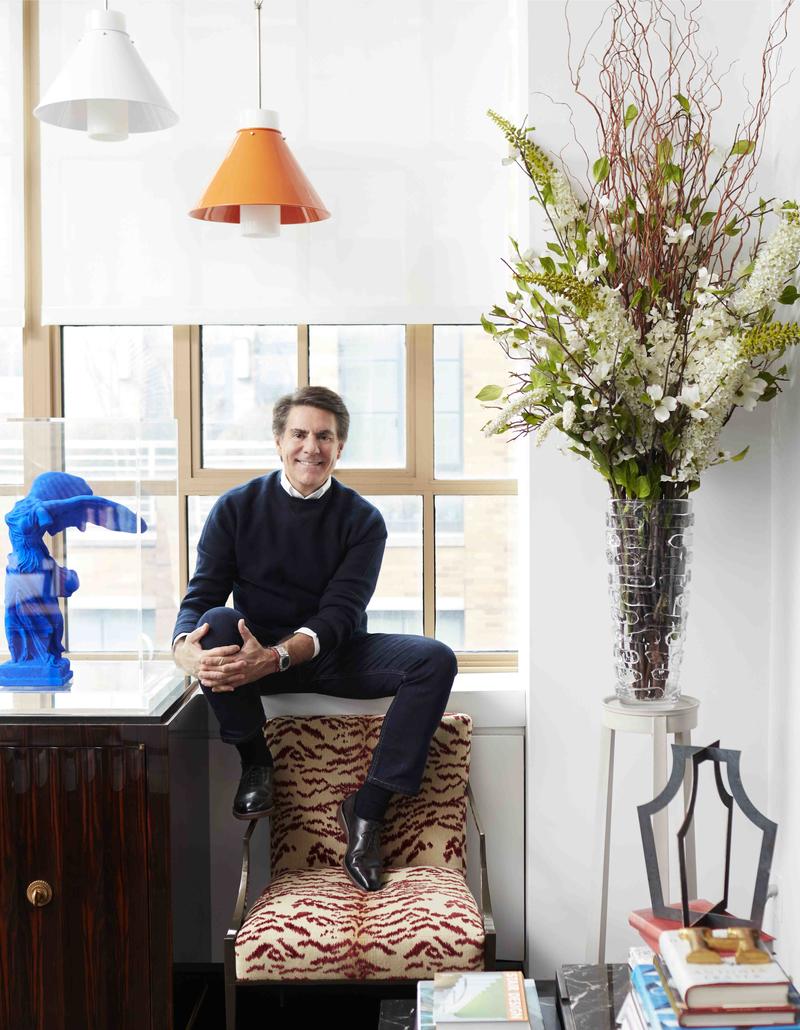 Walk us through some of the highlights of your career thus far.
I have been very fortunate to have had a wide array of career highlights, and it reminds me that good things come to those who work hard. Some of the highlights have been confidential properties along Fifth and Park Avenues, two of my favorites, as they were very early on in my career and incredibly eye-opening.
After that, I had an opportunity to work one-on-one with the owner of a townhouse, my first in the city, and we enjoyed putting together our vision over the course of many months. As I progressed, I hit milestones such as working with the president of Donghia on furniture and with Kips Bay Decorator Showhouses, both of which contributed greatly to my future projects, as I then moved onto my first hotel, which ended up being the suites of the St. Regis in Manhattan. It's definitely been a variety of successes, and I am grateful for all of them!
How has your business evolved?
I would say it has evolved on a very nonlinear path. For example, I worked in fashion for 10 years before starting my own firm, and I am so happy that I did—it allowed me the confidence to make all design decisions on my own, and this has clearly carried me through my life as an interior designer for homes, retail and commercial spaces, as well as hospitality venues. Every project brings me in a new direction, and for that, I remain excited and eager.
How, if at all, has your aesthetic changed?
I wouldn't necessarily say that my aesthetic has changed, it is simply more refined. I have been responsible for giving context to clients' collections and have made it a point to execute their vision, as I have further made it a point to not let my signature style, which I truly don't think I really have, override that of my clients.
What would you tell designers just starting out?
First, I would tell them to listen to every word uttered at the first client meeting held; it is the most invaluable information you will get out of them, and it will be the purest exchange that you encounter during your collaboration. Also, it is important to realize that many client requests can border on impractical/impossible budget-wise, so one would need to keep a clear head when planning out a client's desires. Lastly, never feel as though you have to rush to answer a question. Sometimes ... I will reply, "Let me give this scenario some thought," and I then come back with a clearer response than had I answered spontaneously.
Tell us about your latest projects—like the bespoke collection with Baxter and the Cartagena project.
I am so excited about my collaboration with SA Baxter: We are producing a Richard Mishaan Design line of hardware based on men's cufflinks and jewelry techniques. The project is elegant and bold, as I try to be, and I am happy to work with Scott Baxter, who has brought not only a vision and a resource to our industry, but also by bringing jobs back to New York State. The craftsmen working with SA Baxter are as qualified as the ones on the Ponte Vecchio in Florence who work to produce jewelry for the major houses. In addition to this, we are also busy designing new restaurants, hotels and residential projects.