Whether you're building a massive resource library for your firm or just looking for a new kind of tile, sourcing materials can be a serious drag. There's the hassle of sifting through endless options online, creating dozens of new accounts, digging up a rep's contact information—and then keeping track of everything, all while running a business. (Surely more than one designer has forgone requesting a new sample simply because of a lost password.)
Fortunately, there are tech-powered services that help bring order to the chaos. Typically, these sourcing platforms skew toward commercial designers (where there's more volume of material, hence more money to be made on big orders). However, residential designers can certainly benefit, as well. Here, we've outlined what each service is bringing to the table.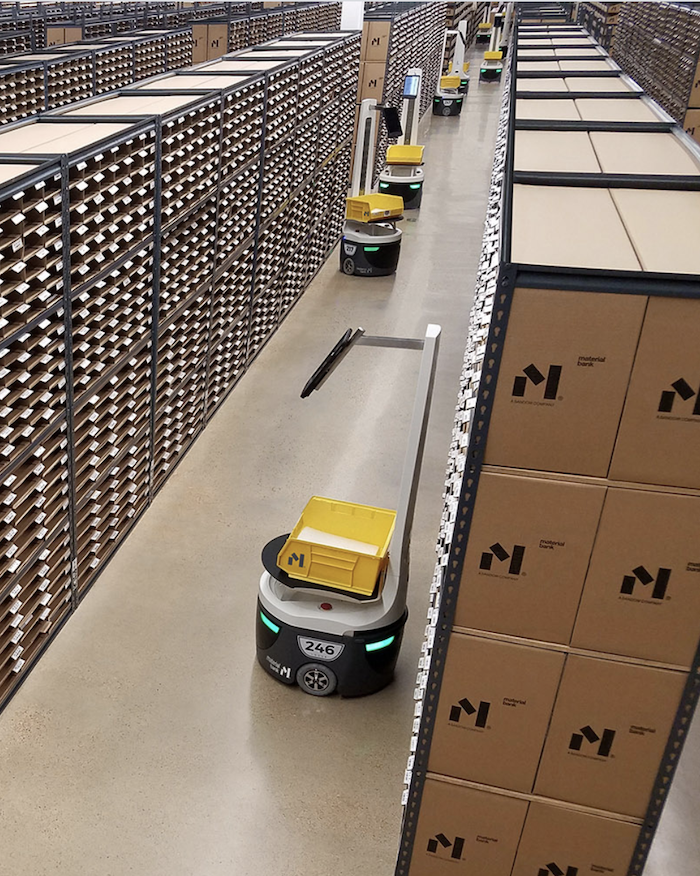 Courtesy of Material Bank
Material Bank
What it is: Founded in 2018 by Sandow CEO Adam Sandow, Material Bank is a massive sample library, housed in an enormous facility near Memphis, Tennessee, and operated at least partially by robots (for real). The platform represents more than 300 brands in categories ranging from fabric to tile to flooring to trim.
How it works: Designers create an account with Material Bank (there's an approval process) and can then browse a library of materials. If you place an order for a sample by midnight EST, it will arrive via FedEx the next morning. Samples are packaged in a single box and come with a return label. The platform also connects designers with reps.
What it costs: Nothing—it's free.
Word on the street: "It's been a lifesaver during the pandemic," says Southeast Florida designer Nicole White, who uses the service to send samples both to her own office and to clients. Pasadena, California–based designer Jeanne Chung agrees. "I already had a pretty good library, but I've been using it to try new things quickly, and it works great," she says.
Source
What it is: Originally called Krowdsourced, Source was founded in 2018 by Portland, Oregon–based entrepreneur Nicole Schmidt, a former sales rep and interior designer. Source is a vast digital library of materials—the platform boasts more than 135,000 products from over 1,700 brands—and is targeted at servicing the commercial design industry. Though users do request samples via the platform, unlike Material Bank, Source itself doesn't house materials or fulfill requests in most cases; instead, it simply makes a connection between designer and brand.
How it works: At its core, Source is a giant database of product information that designers can search with a variety of filters. Want to find phthalate-free white flooring options? Simple. From there, the platform connects designers with local reps, who answer questions and fill sample requests. Those tools are free. Source also has a premium tier, which assigns the customer a dedicated librarian who can perform research and make recommendations. Premium tier customers who live in Portland can also get same-day sample delivery for materials the company keeps in stock—a program Source is hoping to roll out in other cities in the future. There is a catch: The platform is for commercial designers only, and Schmidt says that Source vets designer applicants to make sure they've done some contract work, but designers who do both commercial and residential can use the service for their residential projects.
What it costs: The basic tier is free. The premium tier is $350 per month.
Word on the street: "I can ask for caramel-colored leather and their staff knows every caramel-colored leather at every price point, with every possible variation," says Portland, Oregon–based designer Brittney Herrera. "I love that they'll pull stuff for me that I might not have thought of. It's a real personal connection and a relationship."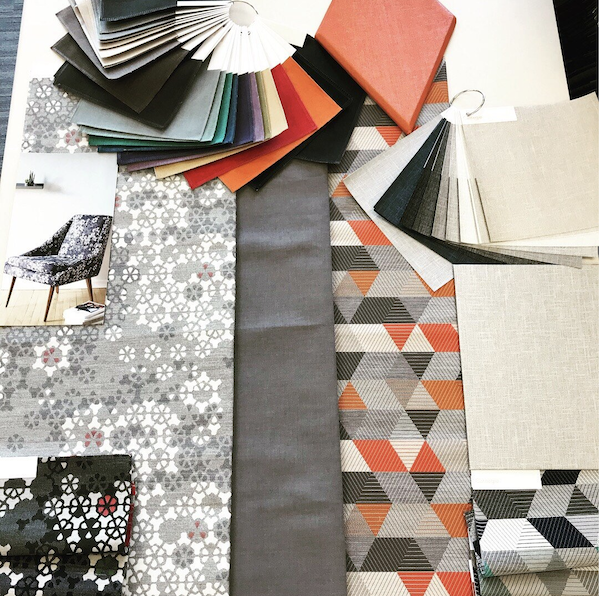 SpecSimple
What it is: Originally founded in 1992, SpecSimple is far and away the longest-lasting digital sourcing platform for designers. Today, the core product is a platform that creates "virtual libraries" for designers. However, the company also maintains a consulting service that helps design firms create and maintain physical libraries, as well. (SpecSimple created the materials library for the New York School of Interior Design, as well as the now-defunct design coworking office Fuigo.)
How it works: Designers create an online portal that allows them to centralize information from their favorite vendors, connect with reps and request samples. The platform tracks products from a jaw-dropping 23,000 vendors, and the goal is to give designers a suite of tools that helps them narrow down what they're actually looking for. For a cost, SpecSimple can also provide users with research support and assigned reps.
What it costs: There's a range of pricing options, from a free version to a couple thousand dollars per year.
DecoratorsBest
What it is: DecoratorsBest isn't really a "sampling service" per se; it's an e-commerce platform that sells designer fabric online. However, while the site will sell to anyone, it has a trade program catered specifically to designers. As such, it's a fairly convenient way to look at a wide range of fabric in one place—and request samples.
How it works: Designers create a trade account (the site asks for membership in a trade association like the IIDA or ASID, or a design degree) and can then request samples for most of the represented brands. The manufacturers themselves actually fulfill the requests. For certain lines, designers can also request CFAs.
What it costs: For the average consumer, samples are $5. For designers, they're free.
Do you use another sampling resource that we should know about? We'd love to hear from you.
Homepage photo: Shutterstock.com