DecoratorsBest may have started as a way to bring to-the-trade fabric and wallcovering brands to consumers, but founder Barbara Karpf has always had designers in mind. After all, she was an interior designer for 20 years before launching the e-commerce site in 2004, and intimately understands the major pain points designers work through every day.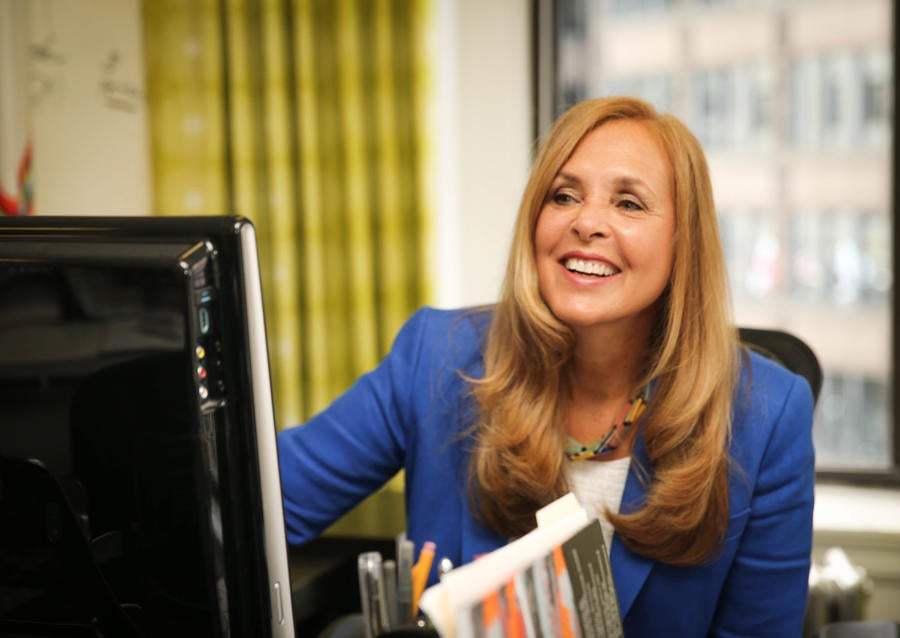 Courtesy of DecoratorsBest
"One of the hardest parts is execution and the back-order minutia," says Karpf, who was named a 2020 Visionary by House Beautiful. "Everything is built on details. If that little piece of trim doesn't arrive, you can't make the sofa. You're stuck. You need a central place to keep track of it."
She has spent the last 15 years working to make DecoratorsBest that go-to resource (and one-stop shop) for designers, continually reinvesting profits in the company to build a platform that is much more than just a place to buy fabric by the yard. From superb customer service and free shipping for trade accounts to a streamlined ordering process and unmatched product recommendations, here are five ways DecoratorsBest is changing the game for designers.
1. The search system is built with designers in mind.
At its core, DecoratorsBest is an e-commerce platform with more than 250,000 products, so the basic search function is one of the most important elements of the site. A designer is able to easily and quickly find what they're looking for, and get on-point product suggestions if they're not sure. This manifests in curated recommendations and extremely detailed filters—for fabric alone, there are 16 color choices and 60 categories, ranging from toile and metallic to conversational and boho.
Karpf explains that most companies use an algorithm that pulls recommendations based on what other customers have liked. "It works for fashion because if you're wearing a blouse, you're wearing a blouse. But in our industry, you have multiple uses for the same product," she says. "So if I'm looking at a wallpaper, and you're looking at the same one, you might want it in your powder room, and I might want it in my bedroom. What we look at after that is totally unrelated. It would be useless for both of us."
Instead, DecoratorsBest built a completely customized search system that shows products with similar colors, patterns and uses. "It's based completely on the product you are looking at, not what other customers have looked at," explains Karpf.
2. DecoratorsBest can be a back office for designers.
Every designer knows that placing and tracking product orders is one of the most time-consuming parts of the job. It requires copious back-and-forth communication—and even then, pieces still sometimes show up incorrectly. But with a DecoratorsBest account, all of that is taken off a designer's plate. "They can research, order multiple brands and get knowledgeable representatives to help follow up, all in one place, at the click of a button," says Karpf.
Designers can also order samples and CFAs—a service that most other platforms don't offer—and if there's a problem with an order or something doesn't arrive on time, DecoratorsBest will follow up with the brand on their behalf. Trade accounts also benefit from free shipping on every order.
3. It is a one-stop-shop to streamline the ordering process.
Karpf likes to compare DecoratorsBest to a virtual D&D Building: "If you're going in to see one brand, you're going to stop to see others," she explains. With hundreds of brands under one digital roof, designers don't have to hop from site to site to find products and place orders, and they don't need separate accounts with each individual company.
"If you want to order from Scalamandré, Stroheim and Kravet, you can do it all in one place," says Karpf. "That's a huge time-saver."
4. Designers will find new products every day.
Much like the platform offers a one-stop shop for multibrand orders, it's also the best way to stay on top of new collections and products from hundreds of different brands. There are currently more than 8,000 new fabrics and 1,400 new wallcoverings available on DecoratorsBest, as well an expanding collection of furnishings, decor, accessories and soft goods.
Products are added every day, and designers receive alerts about these offerings via an email newsletter. "As soon as we have images, we send them out in our newsletters," says Karpf.
5. There's a highly educated customer service team.
DecoratorsBest cuts no corners when it comes to customer service. Beyond promptly answered phone calls and a texting service for requests and questions—both of which DecoratorsBest offers its trade customers—every employee is equipped to answer any question. Karpf sees to it herself, as she personally trains every new hire.
"We call it DecoratorsBest 101," she says. "They know the difference between a CFA and a sample, and the purpose for each." No matter who a designer speaks to, they will receive the same level of expertise. "We want to give designers the best service possible so that they can be freed up to do what they do best—design!" says Karpf.
This story is a paid promotion and was created in partnership with DecoratorsBest.
Homepage image: The Tongli print in the Peony colorway by Brunschwig & Fils | Courtesy of DecoratorsBest