Bay Area interior designer Leah O'Connell had long nurtured a dream of starting her own textile line. Here, she tells us how a trip to Ireland—and some pandemic downtime—finally got her started. 
I know a lot of designers start a room by picking rugs first, but for me, it's textiles—they're just what makes me happy and the reason I love interior design. I wanted to start my own fabric line for the longest time, but it was one of those things you put off and put off. I had gotten used to thinking I was never going to follow through with it.
Right before the pandemic, I was lucky enough to go on a trip to Ireland, where I stayed in some incredible places, like Ballyfin, a hotel crafted out of a restored country estate. There's something special about those houses in the British isles. As grand as they are, they're so casual, unpretentious and intimate. You walk in and feel like they're giving you a hug. I was so inspired, and I came back from that trip thinking that I wanted to try and create that feeling over here.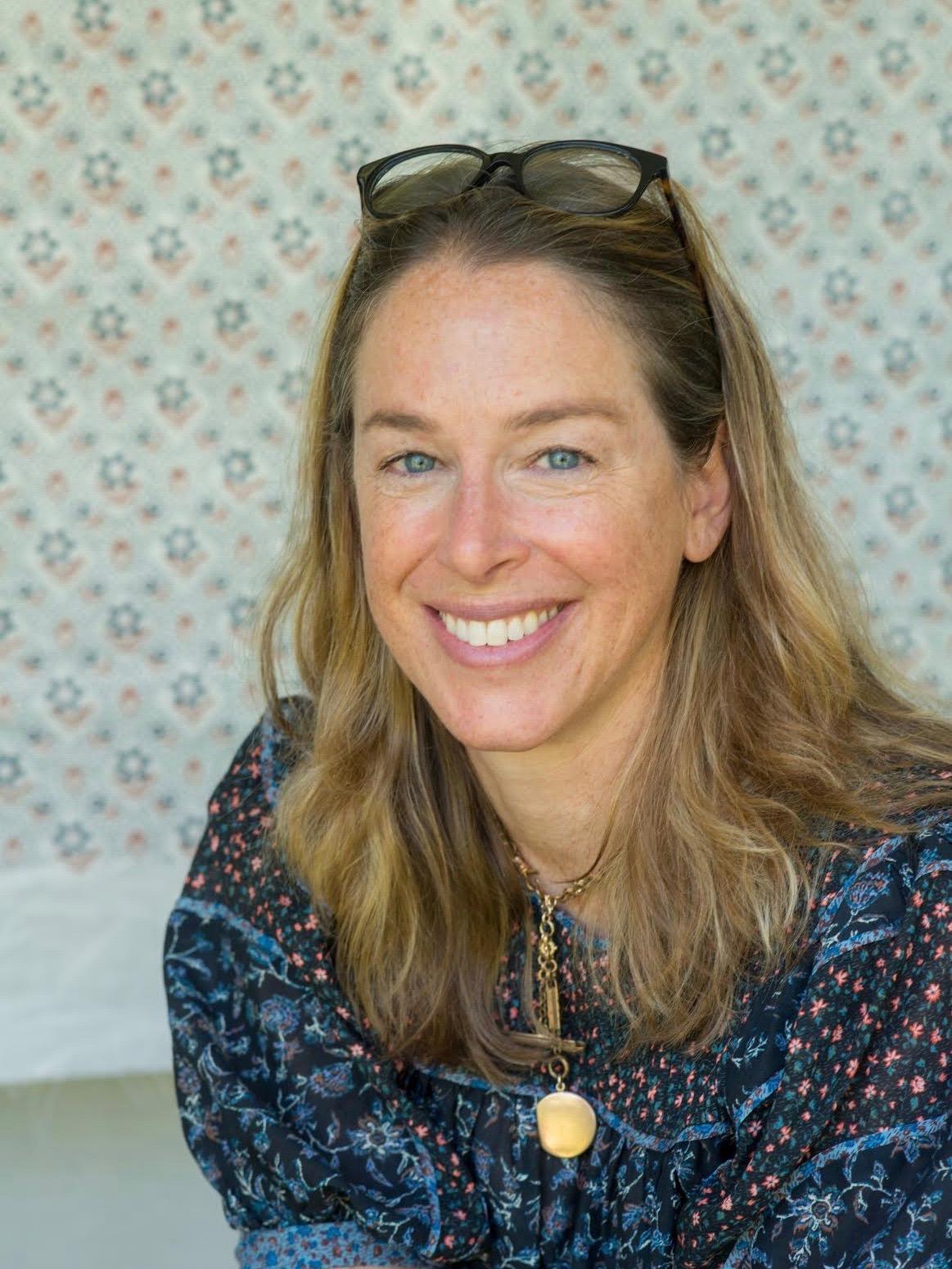 Courtesy of Leah O'Connell
I called my friend Orli Ben-Dor [a design-publishing veteran and the creative director of Los Angeles–based Hollywood at Home and Peter Dunham Textiles] and asked her, "Would I be crazy to try and start my own line?" She was like: "No. Do it." So off I went. This was right as COVID was starting to get serious. It was a scary time, but there was this short period where design projects were on pause, so it was a perfect opportunity to have something to really focus on. When I sat down to gather inspiration for the collection—I know this sounds silly—it only took me about 10 minutes. I have a huge collection of both antique textiles and photos I've taken over the years, and I knew exactly what I was looking for when I started digging into my archives: old Irish, French and English patterns.
I was connected with Lisa Miller, a textile designer in Santa Monica, California, who works with a lot of great interior designers on their collections—she's something of a textile whisperer. She's incredible. I dictated what I wanted and directed the collection creatively, but she gets all the credit for executing the actual patterns. I worked with her on a per-design basis to generate the final pattern, including the separations and the color for production.
In terms of the timeline, it's tricky. Some of that first collection actually took a year from start to finish, but a lot of that had to do with the pandemic. The mills were all shut down, and then one of the companies we were working with in Italy went bankrupt, so we had to start over. I think under normal circumstances it would have gone a lot faster, but the pandemic just keeps slowing things down. Right now, I have a new collection designed, but getting linen to print it on is another story. There was also a learning curve at first. I learned a lot about the science of how repeats are executed, which is very technical. I also had to learn about color: how it varies when it's applied to different grounds, and in different contexts. All of it was great fun to learn about—it wasn't a hardship—but it does take time at the very beginning.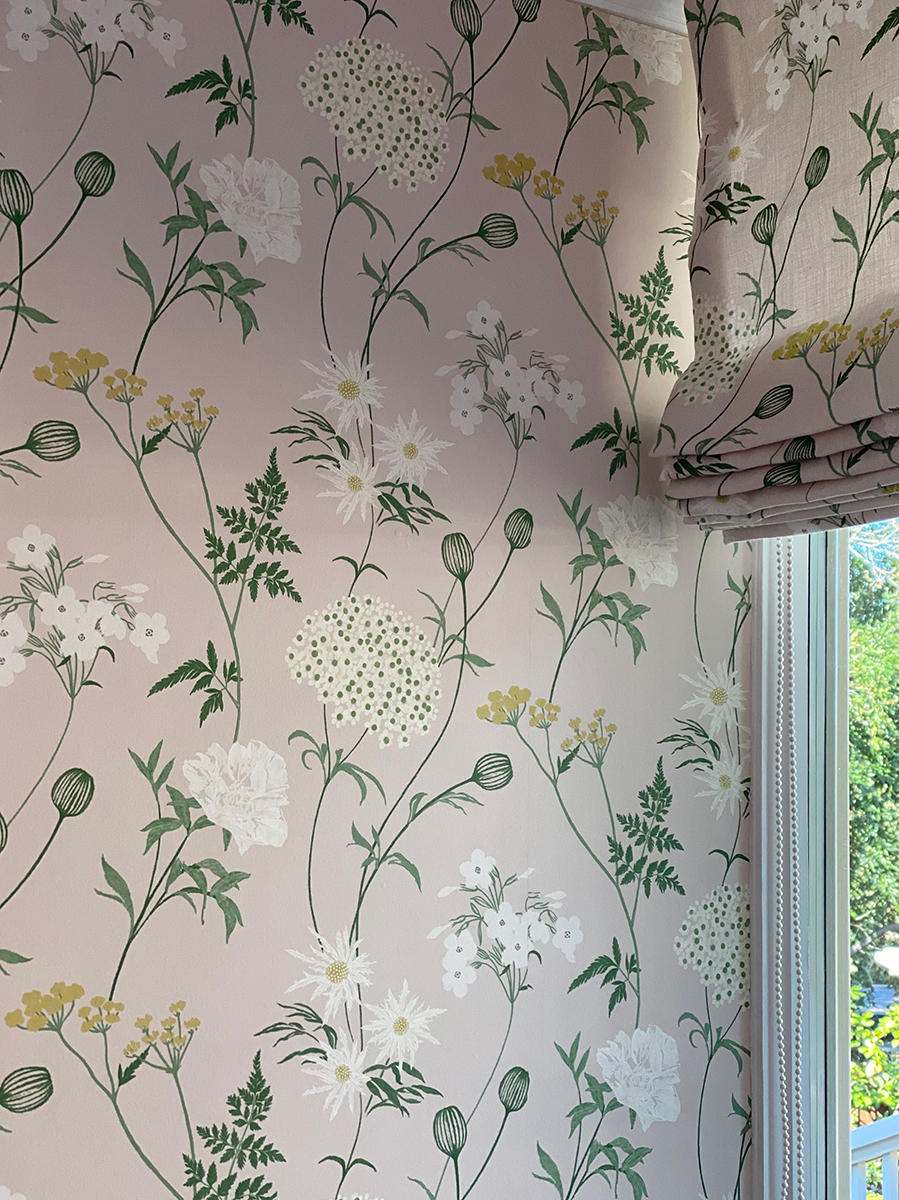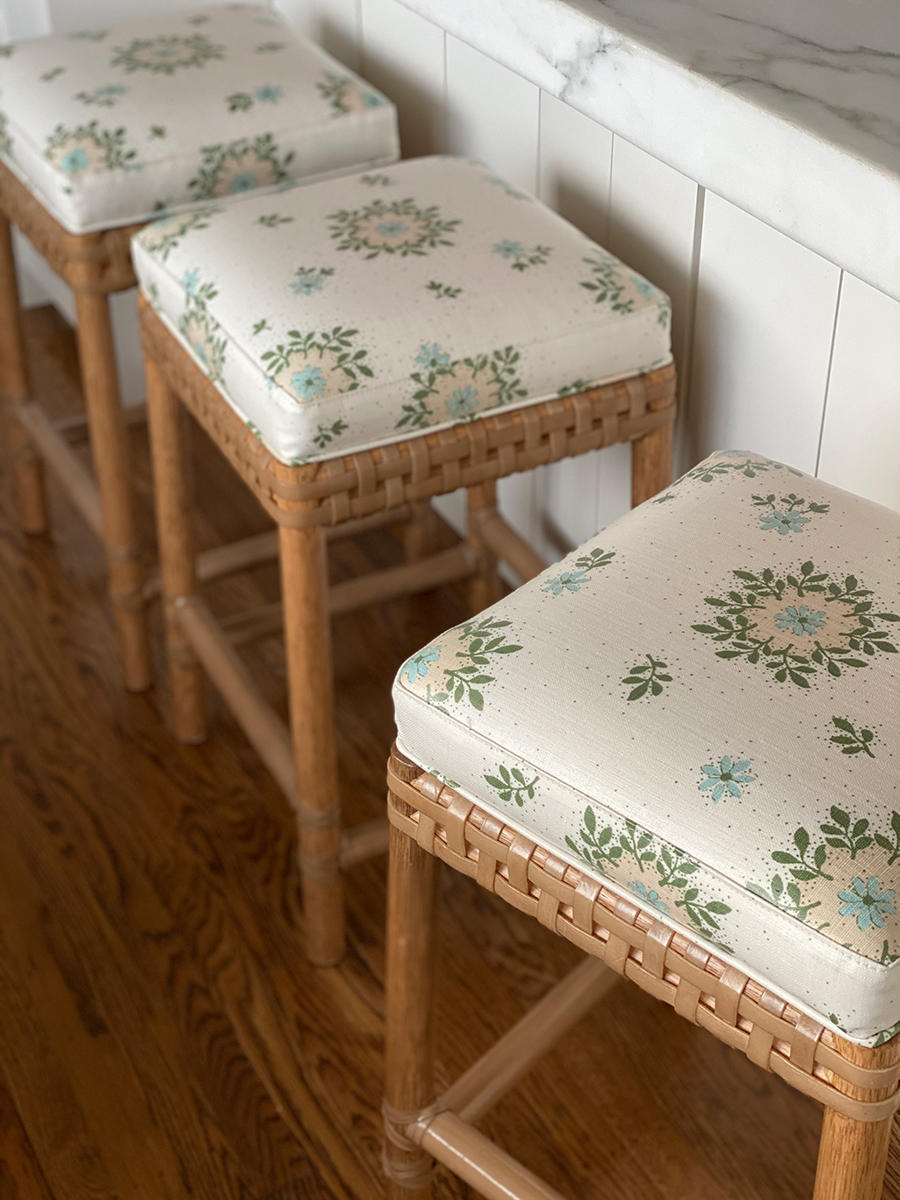 Another learning experience was around digital printing. I love organic, handmade stuff, and I had wanted to see that in these textiles, so I thought I'd only be doing screen printing. My assumption was that digital printing was less authentic to the designs. But some of the designs I had in my collection weren't possible with screens, so Lisa dragged me kicking and screaming to try digital printing, and I came to love the flexibility. It makes it easier to do small runs, and you can do custom colors for a client without a huge hassle. The technology and the technique have really been perfected—a lot of the time, people can't even tell the difference between digital and screen now. Only half of that first collection was digitally printed. The next collection I'm working on is all digitally printed.
When the collection was finished, I started reaching out to showrooms about representation. I knew early on that I couldn't be in a big showroom with hundreds of lines—I'd just get lost. I had a very specific idea of who would be a good partner, and I was careful to wait for people I knew would be a good fit. A few didn't have space right off the bat, but I waited it out and it paid off. A lot of that outreach was through Instagram DMs. I have found that Instagram is great for building relationships with people—you feature their work on your feed, or just chat with them in the comments, so then when you reach out about something professional, it's not exactly a cold call. I've been really lucky so far. I'm in four showrooms at the moment. I'm looking to get into more, but the places I'm in are perfect for me.
Now that the line is up and running, I have a remote textile manager who I hired to run the business side of it—she handles the sample fulfillment and manages the day-to-day stuff. It's an interesting side effect of the pandemic, but I feel like COVID has really normalized hiring a team that's spread out all across the country. I'm in the Bay Area, my textile manager is in Florida, Lisa is in Los Angeles and she has her own designers in New York—none of us are in the same spot, yet together we're making this line work.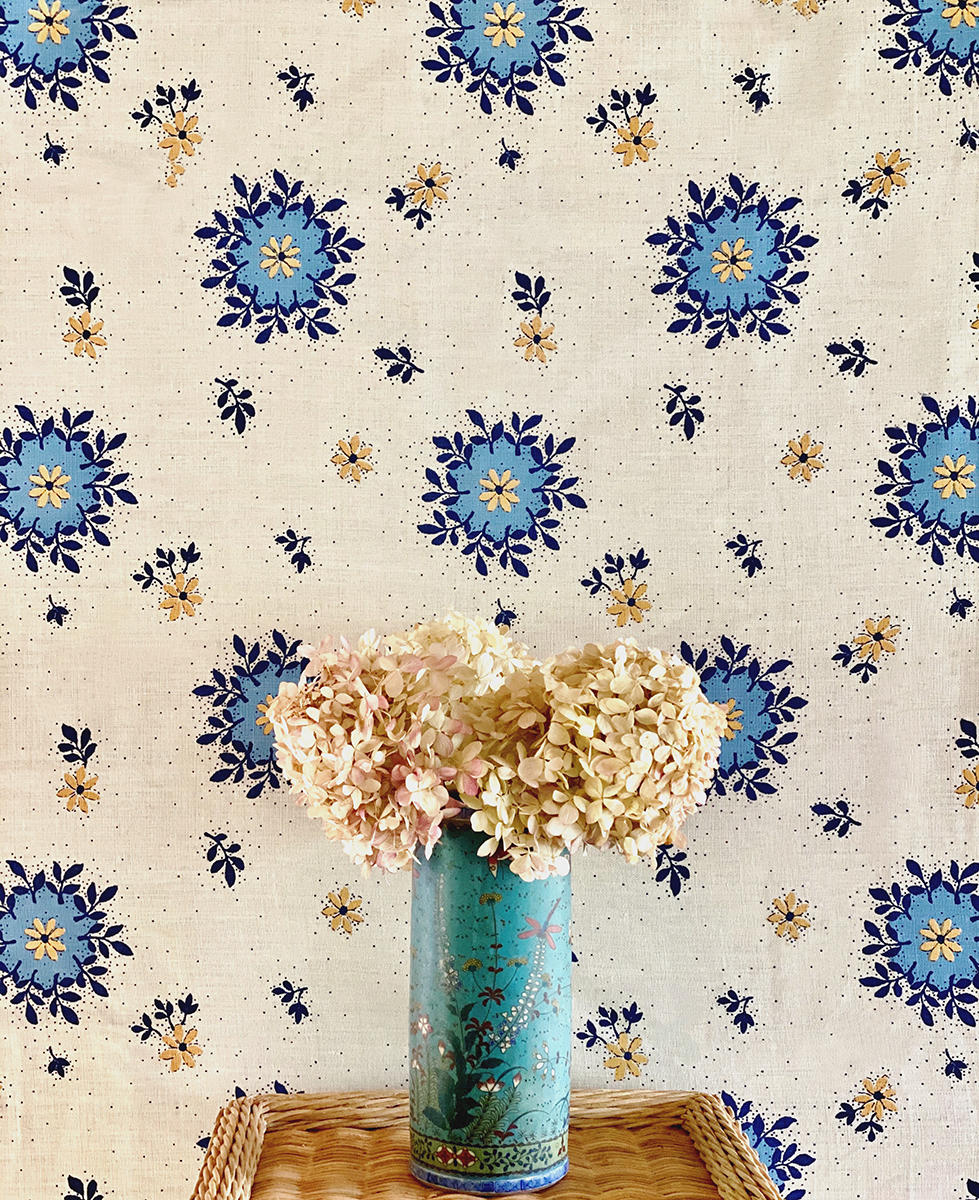 Courtesy of Leah O'Donnell
There are a lot of hidden expenses. The whole thing has ended up costing about five times more than I thought it would. In the beginning, when you're doing the design work, you can spend a lot because of the way the process works. Just shifting one flower from blue to red seems like a small change in theory, but it can be time-consuming and expensive because you have to fix not just the final design but the separations. Thankfully, once you learn that stuff, you're much more efficient the next time around.
Samples, too, are a huge expense. In my design business, I would often walk into a showroom and grab 20 memos as part of a normal visit. I'm not thinking, Wait, each of those memos costs the brand $8! But you feel that expense when you're the one sending out the samples. You have to maintain a good amount of yardage in stock when you're a line represented in a showroom, and then there are all of the shipping costs. It definitely adds up.
The expense of it all is one of those things where, if I had known everything at the very beginning, I might have just stopped there. But I'm glad I didn't. Part of it is that I just love textiles so much that it's very rewarding. Then, of course, I am making sales, and that's growing—though I think it will grow more once the pandemic is really over and I can start visiting showrooms and promoting the line more. I also can use the collection in my own projects, though I try not to push it on clients.
There are other benefits too. I've learned a ton of new skills. I'm doing these four big homes in Montecito, California, right now for a client, and I created textiles specifically for that project. That's the kind of thing I wouldn't have tried before, but now it's in my toolkit—and some of those patterns are making their way into my next collection.
While I love my career as a designer, it can be insular. We're a small team and will never grow beyond that because I like doing the work myself, but it can feel isolating. Textiles are the opposite. I've made all these connections while putting together a line and getting it out into the world, and it feels like I'm part of a community. I love that.
Homepage image: An assortment of fabrics by Leah O'Connell offer an updated twist on traditional patterns. | Courtesy of Leah O'Connell