Brand Boost, creative outlet or 401K? Design licensing has never been hotter—or more misunderstood. We tap the experts to guage the field.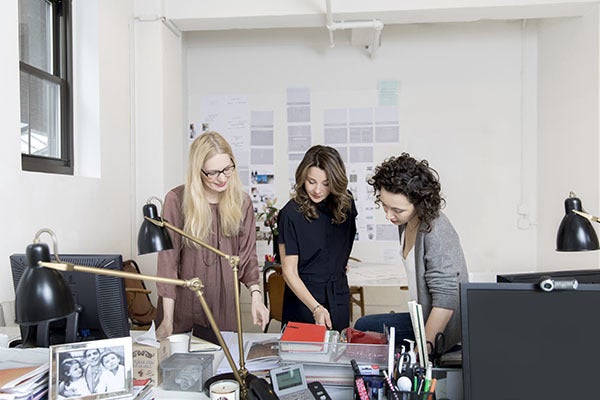 Kate Verner + Associates
In January of 1999, Céline Dion floated onstage at the American Music Awards to accept the award for Best Pop/Rock Female. Millions of women and emotionally available men wept when Leo slipped away from Kate into the freezing black oblivion at the end of Titanic. Only the French Canadian songstress could articulate the feeling.
Hearts and CDs skipped a beat—"My Heart Will Go On" had officially become the love lorn anthem of the decade. That same month, our matte-lipped Y2K society was about to experience an epic hit that would have even wider reach: The Michael Graves Collection for Target. When Graves presented his zippy toaster and Spinner Whistle Teakettle, everything changed. Utility could look cute. The name Graves was mentioned with the same confidence as Lauren, Karan and Klein. An aspirational distance had just been shortened, and design was now a healthy part of a complete mass-consumer diet. For the average American kitchen, style could be had that same day for $24.99. For a prescient group of designers and agents, the desire for new licensing partnerships was ignited. Look what was possible.

When Graves presented his zippy toaster and Spinner Whistle Teakettle, everything changed. Utility could look cute. The name Graves was mentioned with the same confidence as Lauren, Karan and Klein.
The design trade has been in the licensing game for years, but it's always been an intimate affair. It takes relationships to get the deal and relationships to get the word out. Within a design community of concentric circles, it can be maddening if you feel shut out, but invigorating when you connect. You could have admired a fellow designer's portfolio for years, and there she is, at the launch of her new fabric collection ready to make your acquaintance, white wine in hand. The design industry has a way of cutting those six degrees of separation in half. What is lost between the canapés and gift bags is how much work goes into launching a licensing line. It is a Herculean effort. Design ideas, egos, financial expectations—everything is subject to a rude awakening. Even with an arsenal of branding expertise, Nate Silver–style market data and the ultrafine filters of Instagram, nothing is guaranteed. Twenty-first-century design licensing is calculated creativity. It is the earnest promise that in exchange for an extraordinary amount of effort, time, humility and collaboration, success might be possible, just not right away. A licensing deal is a unique covenant that both parties liken to nuptials. It asks one unflinching question: Are you marrying for love or money? Only a few designerslive happily ever after. We take a look at the long walk down the aisle.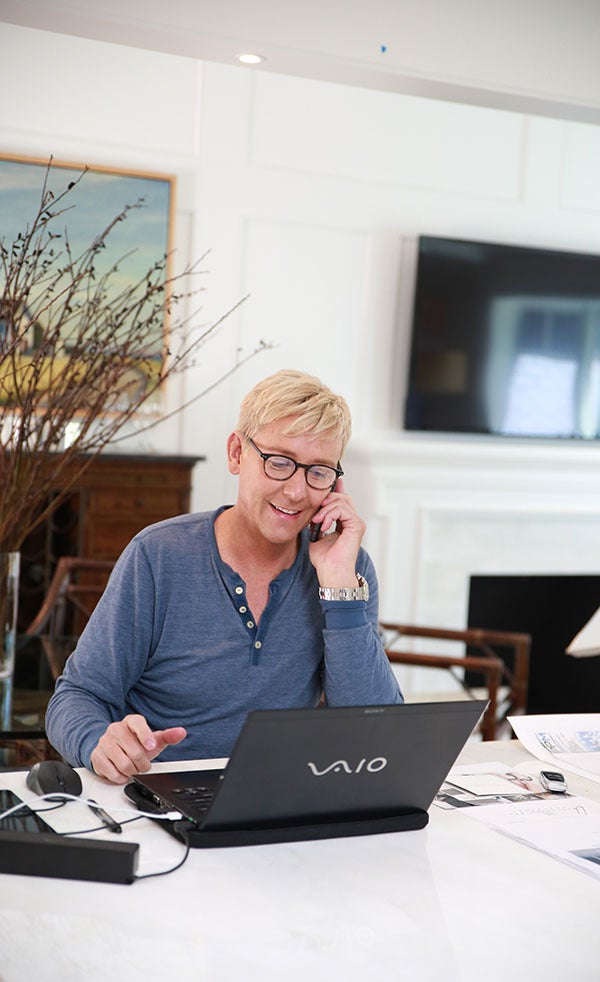 PERSONALITY TEST During October's High Point Market, Christine Phillips was a panelist on a licensing presentation.The mic had just been removed; she stepped down and was immediately approached by designers. They had heard about her time at Kallista and her boutique PR and licensing firm with clients like Anthony Baratta, Julia Buckingham and Barclay Butera, whom she's worked with for 12 years and on roughly a dozen of his licensing partnerships."Designers get so excited, and they come up to me and say, 'I would love to do a fabric collection,' or 'I would love to design furniture.' I laugh and tell them, 'Well, everyone wants that!'" Without question, design licensing is in a boom cycle. The industry has no shortage of fresh cuts across every category. "Licensing has become viral at this point. Everyone wants to be working with someone," said Kate Verner, a licensing expert whose namesake New York firm specializes inthe design trade and represents clients like Barry Dixon, Laura Kirar and Frank Ponterio—all the luminaries who make it look easy. The reasons why certain designers land licensing deals are subjective. Talent and a confident design perspective will advance the cause, but few qualities can compete with the It Factor. That elusive magic is what moves candidates from the maybe pile to the short list."Every single talent is different," said Phillips."What people do not understand is that so much of this depends on your marketability with the manufacturer, your point of view, and how your style will bring a fresh perspective to their already existing lines. At the end of the day, what manufacturers really look for is return on investment. They can love a person to death, but the really successful ones are the manufacturers who evaluate clients and talents based on what volume they can do and how much they can recoup from their initial investment. If you're putting one, two or ten million dollars into someone's name, you want to get it back in spades."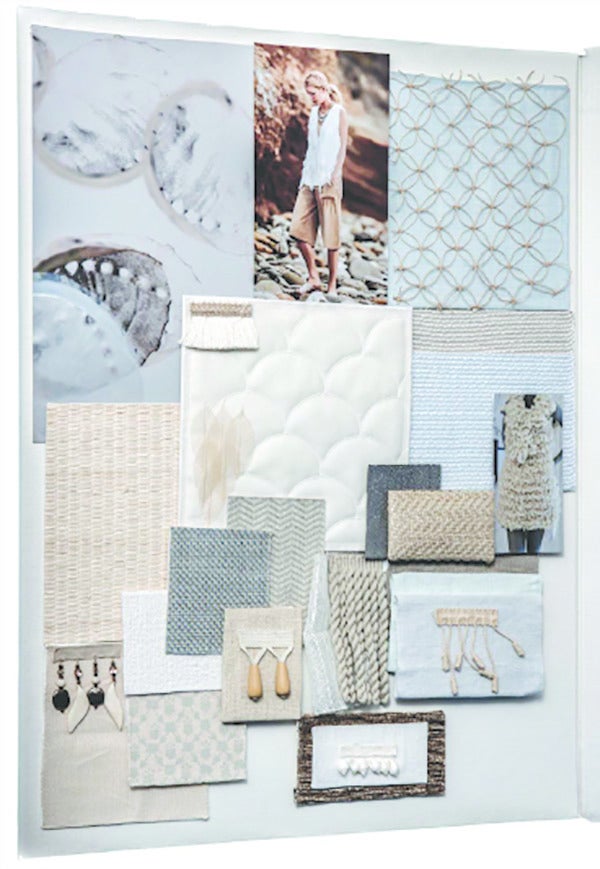 As the design industry has evolved, designers can do more to have a broader reach. Thanks to digital, all that cachet can be measured, which provides excellent intel for potential licensing suitors. It also means designers have to be self aware enough to know where they fit in. "You have to identify where your brand has the most exposure," said Verner. "It's challenging as a trade-valued name to find footing in the general consumer marketplace unless you have media based brand equity." One of the prevailing misperceptions is that a designer's style will resonate in both trade and retail communities. In other words, that dream of becoming a lifestyle design brand needs to be initial investment. If you're putting one, two or ten million dollars into someone's name, you wantto get it back in spades."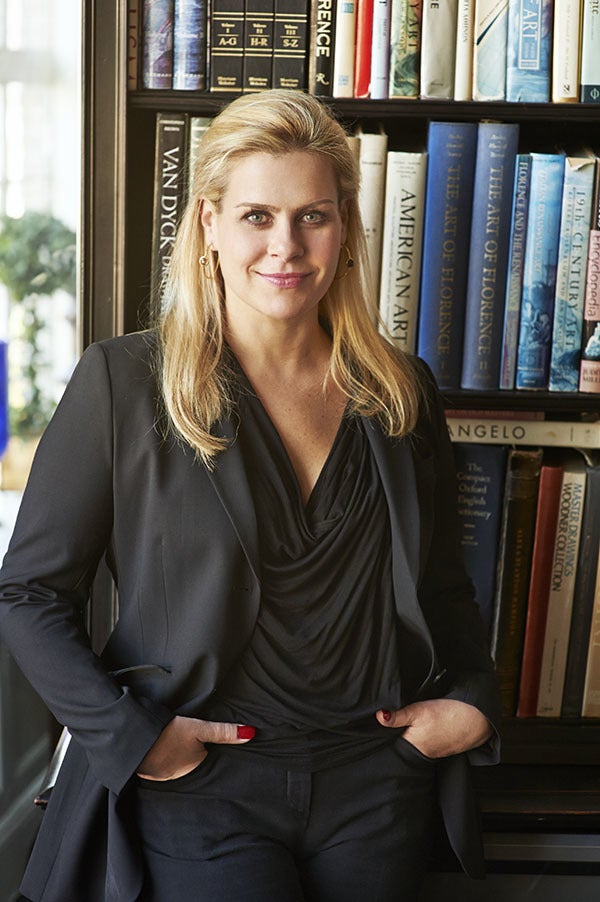 As the design industry has evolved, designers can do more to have a broader reach. Thanks to digital, all that cachet can be measured, which provides excellent intel for potential licensing suitors. It also means designers have to be selfaware enough to know where they fit in. "You have to identify where your brand has the most exposure," said Verner. "It's challenging as a trade-valued name to find footing in the general consumer marketplace unless you have media based brand equity." One of the prevailing misperceptions is that a designer's style will resonate in both trade and retail communities. In other words, that dream of becoming a lifestyle design brand needs to be in 2006 because I felt there was a place in themarket for accessible stylish pieces that couldbe added to a room to give it some character.
Licensing allows me to design smaller accessories that, because of large minimum quantities, I may not be able to do with Bunny Williams Home. It also allows me to venture into categories like rugs and textiles. Adding licensed collections to Bunny Williams Home affords me the opportunity to really have a lifestyle brand."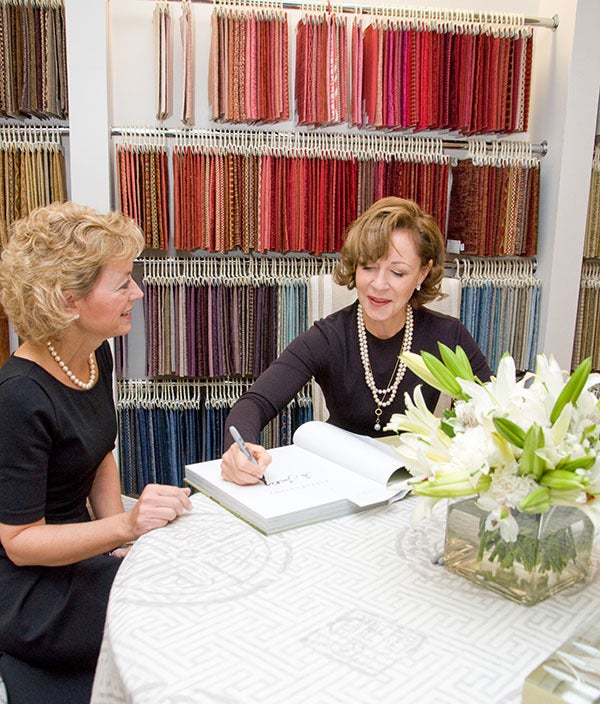 Jennifer Potter, chief operating officer at Bunny Williams Home, describes the brand's retail offerings in a broader context: "Our objective, through manufacturing, has always been, and will always be, to educate and bring Bunny's wealth of experience and knowledge to a larger audience through our products. The consumer market is hungry for information, and there are endless sources of it, some good, some not so great. By offering our collections at retail, we hope to be known as one of the better sources for inspiration and design."
Kravet's licensing program began in 1993 with trimmings by Mark Hampton. Today, it hosts over 30 designer licensees and constantly has new collections in the works. Every nine months, the company has a strategic licensing meeting to evaluate its entire program, according to Beth Kimless Greene, executive vice president of marketing and strategic branding at Kravet. "By taking on a licensee, it challenges our creative development teams and merchants to think a differentway conceptually. So, you marry the points of views of these different licenses to make sure that they're part of your branding, but beyond that, it gives us a focus and a direction that we might not have hadwithout that brand in our arsenal. So when we evaluate a potential license, we ask, 'Do we need the brand? Do we need the look?'"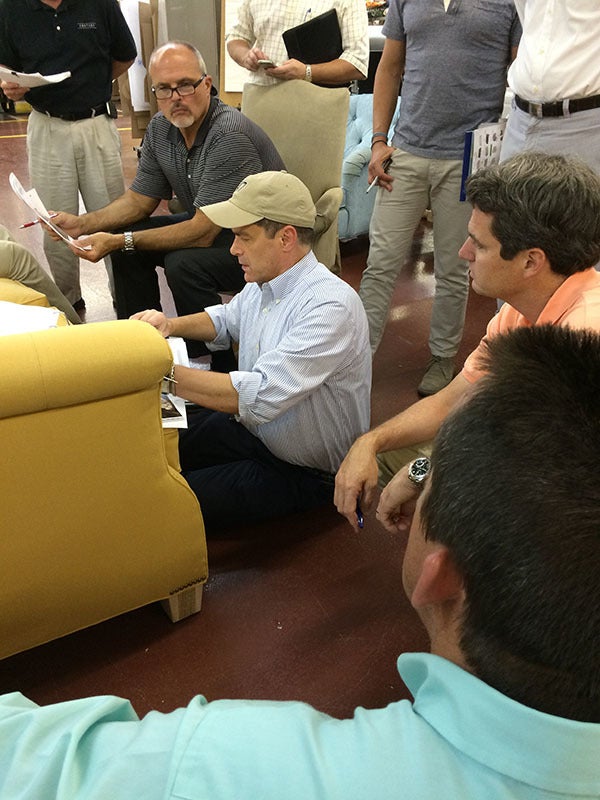 Looking at Kravet's A-list roster, Greene walks us through some marquee collections: Barbara Barry had multiple home licenses and a very recognizable name to the trade when she came to the company; Barclay Butera had a strong retail presence and multifaceted pointof view; Diane von Furstenberg was a fashion icon who was ready to move to the home; Kelly Wearstler had a specific point of view and an amazing following; Candice Olsen and Thom Filicia were talented designers and recognizable television personalities. Influential manufacturers are also eyeing emerging talent and keeping the door open for the right partners. Alex Shuford III, president of Century Furniture and CEO of RHF Industries, mentioned the company is in licensing talks with a hip, younger studio (though he couldn't reveal more). While Century has design headliners like Thomas O'Brien and Windsor Smith, it is also thinking of different ways to structure licensing partnerships—maybe it's too soon to meet the parents, but it's cool to go steady for a while. Shuford cites Barrie Benson, an up-and-coming designer from Charlotte, North Carolina, who has a non-exclusive arrangement with Century sister brand Highland House for her collection of seating and case goods.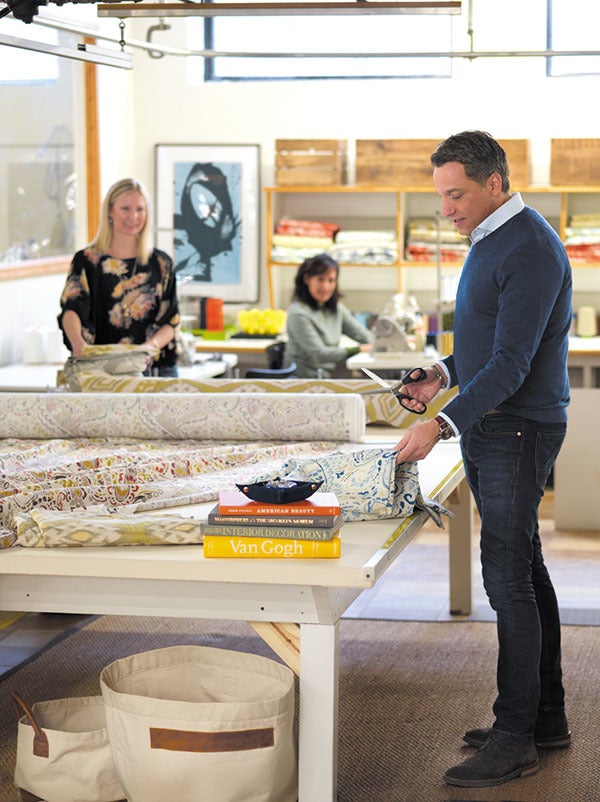 "Barrie is a delight and has a really refreshing point of view," said Shuford. "A lot of times, designers who are really beginning to build a body of work and product might not have 70 designs that are ready to go primetime. Maybe they have nine, and it's like, don't do the B side of the album where you're forced to do another 15 songs that all stink.
Just take the nine good ones and put out something. We're trying to have those conversations and get to know those people and be creative on the contractual side of licensing so it gets both parties what they need and want."
COMMITMENT ISSUES If there are any commandments in licensing, the first one would be: Don't expect riches. While confidentiality agreements, privately held company policies and polite society in general prevented us from obtaining sales figures, we have some well-advised estimates. "One ofthe pieces of advice I give early on to designers is, 'You're not going to get rich licensing product.' This is not that game," said Shuford. "If you've got these hopes and dreams of, 'Hey, I've worked hard asa designer for years and now I'm just going to sit back with a sketchpad,' there's just not enough money or margin for that to happen. It can provide you with some passive income, and that passive income can be pretty valuable, but it's not always enough for designers to live and keep them in a lifestyle they've become accustomed to."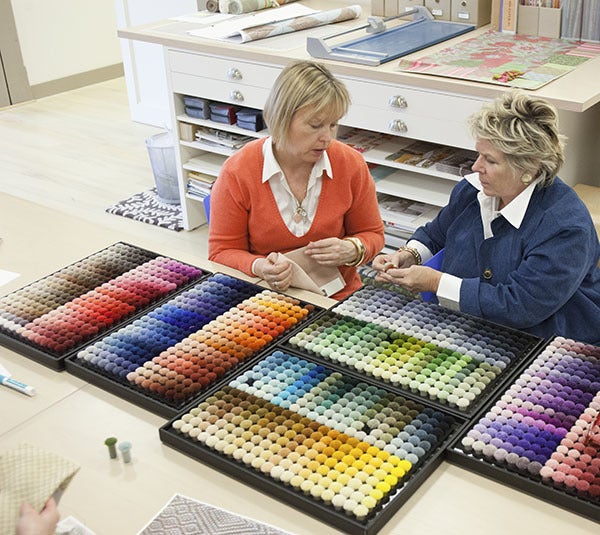 So is it a retirement plan or a side hustle? The answer is: It depends. Insiders caution designers to have conservative expectations. "In general, a good license designer is going to make somewhere equal to what a sales rep's commission would be," said Shuford. "The furniture sales professional is anywhere from four to six percent. And the license designers are typically in that range; certainly if you're Ralph Lauren, you're higher, but if you're more of a regional name, then you're goingto be on the lower side. The world of furniture licensing isn't a 15 to 20 percent world."
For a sizeable company, industry experts estimate that licensing royalties are, on average, in the single digits. Payment is based on wholesalesales, not retail or designer net. During a recent Editor at Large LAUNCH Summit in Atlanta, royalties were the hot topic in Verner's licensing presentation, but there are no easy, one-sizefits-all answers. She said, "People always ask me, 'What's a typical royalty rate?' And I say, 'What are the estimated annual sales? What are the terms of your agreement? Does the agreement include advertising and marketing?' If you're working with a manufacturer who's only going to sell $50,000 worth of product annually,then you're going to want a higher royalty rate than one that's going sell $5 million or $100 million's worth of product. So you always have to approach it from the stand point of trying to understand what the manufacturer plans to commit to in terms of the scope of the project and what they are forecasting annually for sell through. A designer can have an educated discussion about the appropriate royalty rate." Factors like sales channels, reach, category, trade or retail all play a significant role. Another misconception in licensing is that a designer can only license their brand once into one category (i.e., furniture, lighting, rugs, etc.), Verner explained. While it's more common in Europe, many designers have licensed their designs with multiple brands in a category type but not necessarily a sales channel. Sales channels are diversified by wholesale, trade, contract and retail, which means licensing opportunities existat various levels.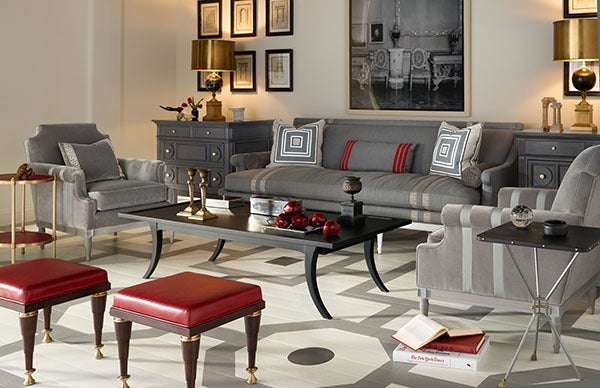 Traditionally, furniture, fabric and lighting are the most financially rewarding, high-performance categories. Tabletop is extremely competitive and challenging for a number of reasons, said Verner. "In tabletop, not only have sales channels changed, but designers and consumers are buying more eclectic mixes from numerous outlets. We have found that more and more, smaller, independent outfits are owning this space, which makes the annual sales smaller, and results in a small royalty." Similarly, she said, "Department store distribution is no longer the leading sales channel that it once was. "Even with forecasting and sales projections, a new licensee has to be ready for the unknown. "What is interesting isthat people need to understand how really successful your licensing collection needs to be to make money," said Bunny Williams. "Royalties are very low. And it is going to get harder to make money in licensing as the market floods with more and more designer collections."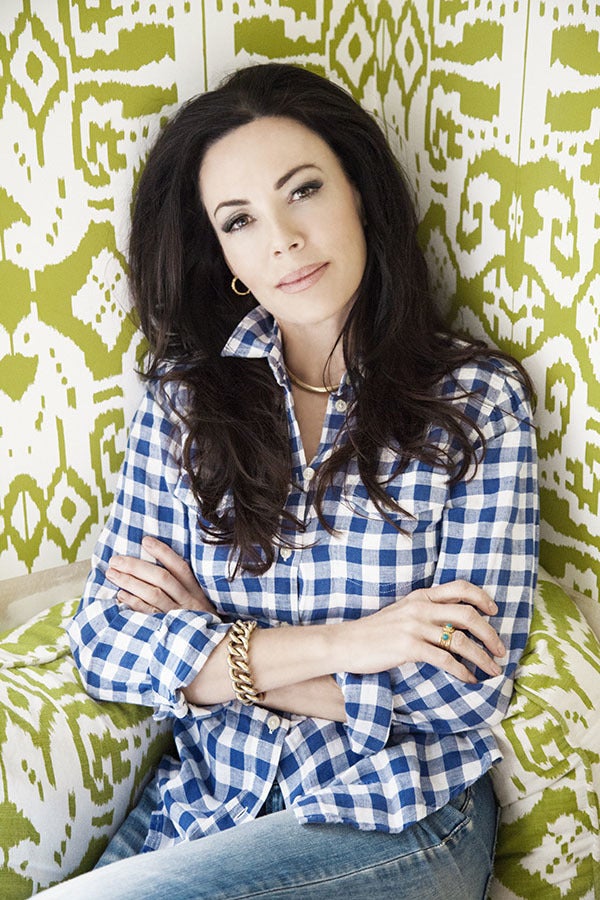 Designers have to be committed to licensing as a process. "It is a long-term venture," said Phillips. "There is no such thing as an overnight sensation, and it might be one or two years before you start seeing significant returns. It could be five, six or seven years before you start to see viable income." "From a numbers perspective, you don't go into licensing products to the trade specifically to make tons of money," said Kravet's Beth Greene."You go into licensing to help build yourself as a brand. You're moving beyond being an interior designer and more into becoming a brand. The royalties are between 3 and 7 percent, and that's based on the current integrity and strength ofthe brand name. Fashion companies that come into our industry are so muddled and confused when we tell them the estimated sales for a year one launch: It's completely opposite of what you would earn doing a more commodity consumer product like sunglasses. It's not retail; it's trade."
SHOW AND TELL Creating product is the ultimate high for an interior designer. The closest hit is usually a custom piece crafted for a project. Licensing offers that same thrill on someone else's dime. "The majority of the horsepower and investment lands in the lap of the manufacturer," said Phillips. "So I always want my clients to be humble and grateful for their partnerships."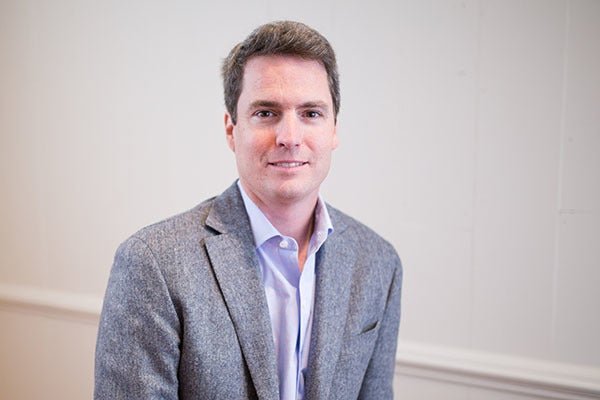 Napkin sketches, rough concepts and magazine tear-outs don't cut it for that first meeting. In short, you have to bring it. "Manufacturers engage in licensing with designers for a few reasons," said Verner. "A designer's affiliation with a licensee's brand can bring attention to a manufacturer that may not have formerly been a destination for the design community. In essence, it's marketing. Manufacturers like to engage with designers that have a different point of view than their own in-house design team, thus delivering desired proprietary product." As design businesses, licensors are looking for new ideas and stylistic approaches. They don't want a retread of their own collection, or vague notions. A designer's product idea needs to be crystallized enough to make an impact.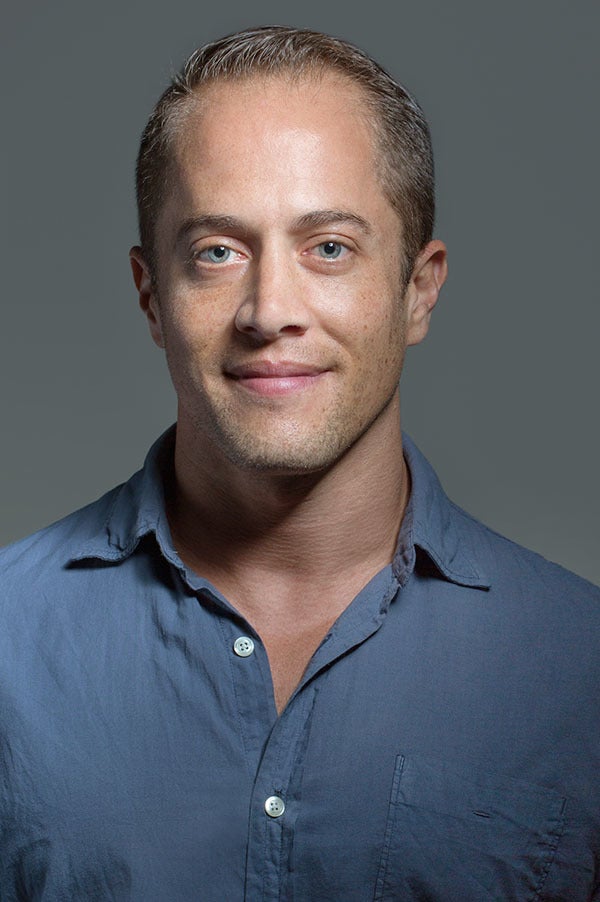 "When looking for a licensee, we look for designers and brands that can add something new and different to our product offerings," said Ian Gibbs, co-founder and chief creative officer of The Shade Store. "Our partnership with Robert and Cortney Novogratz stemmed from an organic relationship.
They had been using The Shade Store in their projects for years. They are great clients and friends, and the desire to collaborate came naturally. We were drawn to their use of bright colors and bold patterns, because that is something we didn't previously offer." That familiar buzz-kill "Manage your expectations" is never more true (or more valuable) than with licensing. Lauren Urband, the Los Angeles–based founder of The Consultancy PR, oversaw media relations for Kelly Wearstler when she debuted her boutique in Bergdorf Goodman and launched licensed collections for The Rug Company, Sferra, Lee Jofa and Pickard, as well as a one-off collaboration with Paperless Post. From a marketing and PR perspective, Urband said, "A license collection is a conversation piece, and a reason for publications to talk about that designer and see their point of view rendered in a different way—through product versus a room setting." Verner underscores the need for media outreach."It's so important that the licensing agreement includes marketing and advertising terms to support a launch and sales efforts. In order tohave a successful introduction, and more importantly,meaningful sales, the offering needs to have a voice within the home decorating world.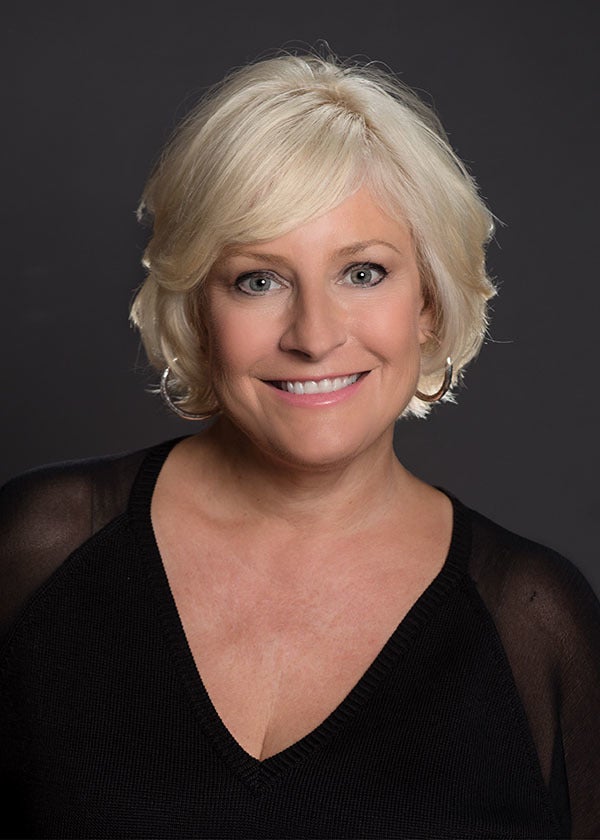 Without the product having adequate exposure, it's like a tree falling in the woods with nobody to witness it: Does it make a sound?"More than anything, it helps to be a good client. "Before reaching out to a company about licensing, an interior designer needs to be a client first," said Greene. "One of the first things we do is look up your sales—it gives a sense of who you are as a designer and how you engage with our product." Windsor Smith was a top customer of Kravet's Custom Carpet program. Month after month, the L.A. designer was designing new carpets, which caught the company's attention.
They had a look at her designs and felt they would be an ideal "adjunct offering," said Greene. Today, Smith's Kravet partnership features nearly 40 rug designs and a fabric line of graphic prints and plains.Sometimes a partnership is destined to be. In 2007, Alexa Hampton was pregnant with her sons and taking a bath when she had a design epiphany. "I was lying in the tub looking up atthe ceiling and thinking to myself, 'Why do all flush mounts look like boobs? Why can't someonemake a non-boob flush mount for the masses?'" Hampton had five killer flush mount idea sright there. She excitedly did a binder's worth of drawings and then contacted Andy Singer, the founder of Visual Comfort, whom she had not engaged before. The drawings were sent and a contract came back to Hampton's office in short order. That flush mount series was a smash, and Visual Comfort is one of 14 licensing partners in her portfolio. Hampton insists that it doesn't always work that way. "Please do not take me as some sort of licensing prodigy," she said. "I've knocked on doors that have not opened. And that's part of the process too."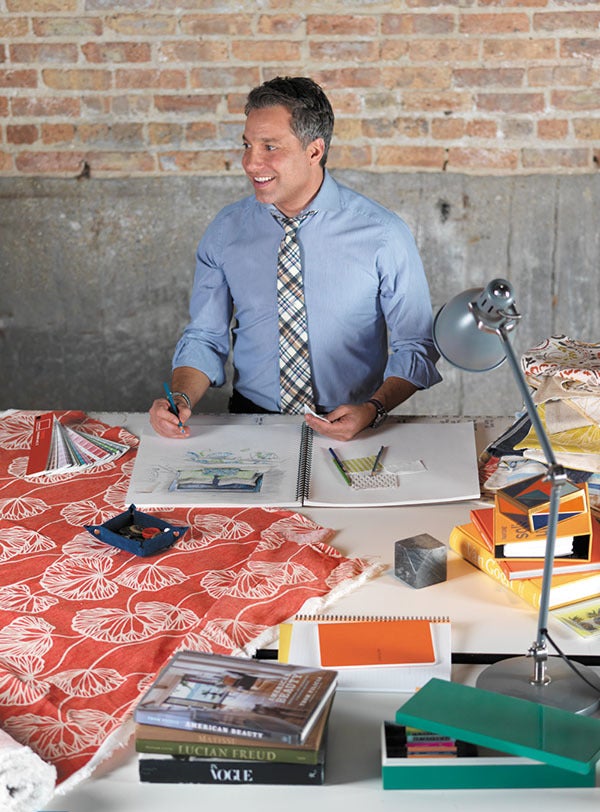 GETTING BUSY Every page of a product catalog represents an elaborate process that takes roughly 12 to 24 months from the initial meeting to the collection debut. The investment in time and resources is substantial on both sides, and it begins the moment the contract is signed. Designers are responsible for submitting detailed design intent drawings to their partners. For a lean team, that's an all-hands-on-deck scenario: It means pulling an associate or two off of an existing project. If an interior designer firm isn't geared up for that, the work needs to be outsourced to a specialist who can meet the technical requirements. "Making something custom once is very different than designing for production," said Verner. "A manufacturer will lend their support in creating shop drawings, but the critical design details can be omitted in production if the initial design ideas are not geared toward a manufacturer's materials, processes and production." Thom Filicia has a dedicated, in-house team for this side of his business, and he is as involved as can be in the process. Bunny Williams's office has around five people actively working on licensing partnerships at any given time. The team is engaged in renderings, CAD, product development oversight, creative direction, sample approval and relationship management.

A LICENSING DEAL IS A UNIQUE COVENANT THAT BOTH PARTIES LIKEN TO NUPTIALS. IT ASKS ONE UNFLINCHING QUESTION: ARE YOU MARRYING FOR LOVE, OR MONEY? ONLY A FEW DESIGNERS LIVE HAPPILY EVER AFTER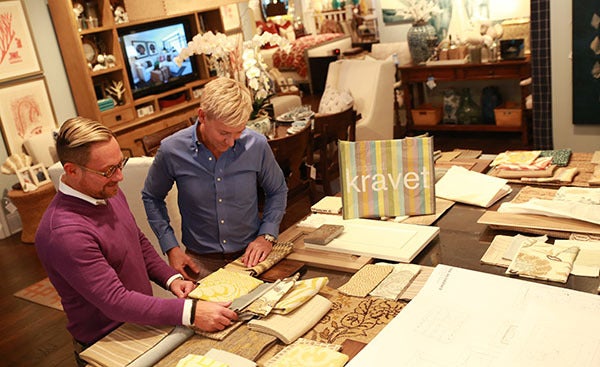 Designers also have to be available for their manufacturers at all times—it's a real relationship. Anthony Baratta, Phillips's client, did a 40-piece collection for Thomasville last year. It was a very considered interpretation of his classic, all-American brand, which both parties knew would capture a lot of attention. Every meeting, every detail, every product review about a turned leg or a finish needed tending to. "There is no magic involved," said Phillips. "Once you get the deal, you have to be ready to work hard and bring the goods," which includes being mindful of schedules. "If we need to make a decision on a finish or material and a designer isn't getting back to me, it's not getting made." This is all before the collection launches. Designers are also needed for sales training, personal appearances and more to support the collection in designated territories.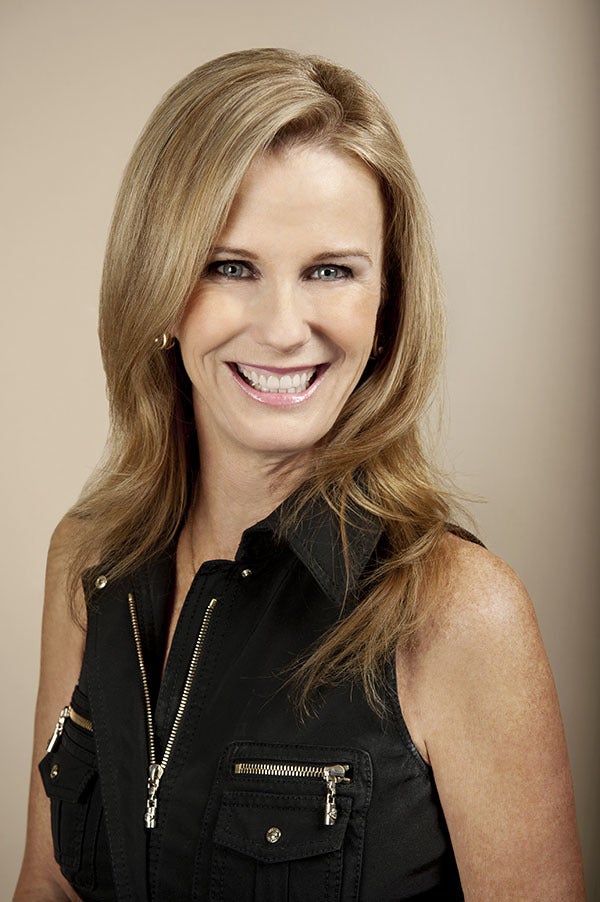 Licensing, like dating, can also be bruising to the ego. Alex Shuford asks new licensees if they get offended easily. It's partly a joke, but it's a reminder that not every day will be bliss and admiration. Ideas will be rejected, reconceived and reimagined in order to fit within a manufacturer's costing model. Maybe bone-inlay would look gorgeous on a piece, but the price point won't support it, or the sourcing effort hits a snag, or the prototype falls a little short."We figure, roughly, it's about $10,000 per item to just get it launched," said Shuford."That's a rough estimate. If you figure, on average, it'sbetween $10,000 to $15,000 an item to get it to a trade show and in a catalog—that doesn't count inventory and that doesn't count ongoing marketing efforts—a licensed collection is a seven-figure deal, in its typical size, by the time you've poured all your investment into it. That's the whole idea of planting and harvesting: If you're making a seven-figure bet on something, you've got to expect that you can get enough of a return to pay you back for that; and if you're not going to get it in year one or year two, you have to get it in those subsequent years. Harvesting from the hard work from up front."
Los Angeles designer Mary McDonald is a million-dollar name (wink, wink) and she views licensing from a veteran's perspective, aware of all the challenges. "Sometimes contracts get shifted, which might not align with your agreement, and to salvage the effort both parties put in, all generally go with it even if divergent from all initial intents," she said. "Or sometimes you find that the ideas you have developed that are a success in the world are quickly reproduced in surprising ways by others, as well as the opposite—one sometimes being accused of not being the true inventor of 'the chair,' so to speak. It has all sorts of sticky potential going all ways, about who inspired what and when, coming from all directions. You may be accused of mimicking and be mimicked at the same time."
With so much on the line, there is a temptation to design product based entirely on what will sell, or what product void needs filling. "I have learned that I should not focus on trying to think what might be a best seller," said Hampton. "I think the design should simply be what is most beautiful, what excites you—that's what people want to hear from a designer anyway. In my case, they want to see something that looks like something I sincerely love. Skip Rumley at Hickory Chair is always saying, 'Would you have it in your house?' And I think that's a good benchmark."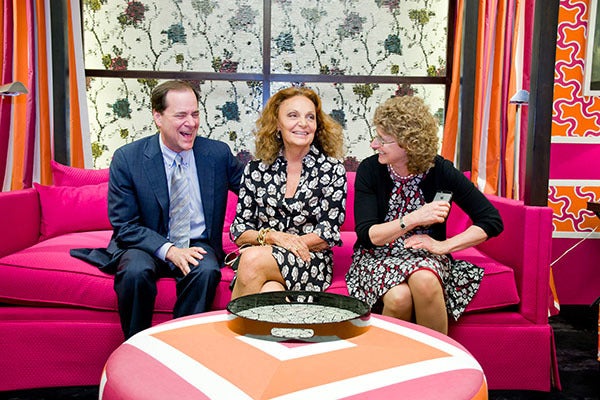 Bunny Williams also designs from instinct. "Often, the thing you design that you love the most isn't the most popular. You can't take it personally," she said. "Often, the things that sell best are the simplest. You might be looking for unique, but not so many people are. It's always surprising what sells best! It's rewarding to have people come up to me and say, 'I bought your rug' or 'I bought your china.'" Mary McDonald also regards these instances as true high notes: "You can really have a hit product that is iconically yours, you really can reach out globally, and sometimes people stop you in airports with how they used one of your products and it really enhanced their life." Her desire to venture into licensing was purely creative. "I was attracted to having the ability to create things I actually wanted for myself or for homes that were not limited by client parameters," she said. "It is the ability to express yourself for all the spaces in your head that no one person would ever have the time to create in the same year. Sometimes it is just a matter of looking for something you have had made custom that is really missing from the marketplace you find." McDonald's design impulses proved to be spot-on. "I designed my super-wide Schumacher trims to replace custom embroidery down the leading edges of curtains as well as the skirts of sofas," she said."It was such ahit, I see many design companies have done it since then. Most everyone has 6- to 8-inch super-wide tapes. No one had it whenI did it three or four years ago. It was always custom."

"I THINK THE DESIGN SHOULD SIMPLY BE WHAT IS MOST BEAUTIFUL, WHAT EXCITES YOU—THAT'S WHAT PEOPLE WANT TO HEAR FROM A DESIGNER ANYWAY. IN MY CASE, THEY WANT TO SEE SOMETHING THAT LOOKS LIKE SOMETHING I SINCERELY LOVE."
Sue Firestone, founder and principal of high-end L.A. design firm Smith-Firestone Associates (SFA Design), is embarking on her first licensing journey after a 40-year career at the helm of her company. This summer, her furniture collection will debut with fourth generation trade company A.Rudin. "I'm doing itat my own pace," Firestone said. "Sure, I'll make money, but it's more for me to do something I've always wanted to do—something that is reflective of me that I haven't been able to do for my clients since I respect their signature looks." The line promises to meld her Malibu roots with her refined style. From 75 original concepts, she did 50 drawings. The A.Rudin team narrowed down the upholstery and casegood concepts to between 22 and 25 for prototyping, and the collection will debut this summer. Firestone also has a fabric line with Kravet coming out this year.
LOVE CHILD Even with the sleepless nights, revisions, guest appearances and nonstop pace, not one designer this reporter interviewed regrets his or her licensing decisions. As the ultimate union of commerce and creativity, these collections swerve past marketing and take on greater significance within the trajectory of a design career. Often the emphasis is on the look and style of a product line, but the value is in the experience."I thought it was a really exciting next layer of the business," said Thom Filicia, who takes a broad view of licensing. "For me, it was about loving design; loving being in design and just really wanting to challenge myself as a designer and understand more about the business. It's about having a holistic approach and seeing how a multifaceted, full-service interior design firm evolves today." For Alexa Hampton, who hilariously admits to having no hobbies outside of design, this creative outlet enhances her role as an interior designer and is also fun for her. "Wherever I've had success in licensing, it's come from the fact that I represent a trinity of personalities in relation to the product: I design them; I'm a decorator and I use them; and lastly, I'm the client."As the industry prepares for a year of new licensing launches, it's worth keeping in mind that we market-goers only see the end results of these labors of love. Even Céline was once just a girl with a dream. Now she's selling out the Colosseum at Caesars Palace. Anything is possible.