Not sure if you should hire a stylist for your next shoot? Here are five reasons to find the budget and take the plunge.
Letting go can be difficult. When you've spent a year or more on a project—creating mood boards, pulling swatches, shopping for months, texting with the client at all hours, and waiting for everything to finally arrive—asking another professional to come in and tweak your completed work sounds like a kind of torture. Not to mention, you have to pay them handsomely for that privilege!
At first glance, hiring a stylist might seem like an unnecessary step, particularly for someone who is, by definition, a creative expert. New York–based designer Billy Ceglia got his start as a stylist for Ralph Lauren, so when he turned to interiors, he was pretty sure he could manage the final styling himself. Yet, though he was certainly capable, he found himself frazzled at every photo shoot. To his delight, working with stylist Frances Bailey helped smooth out the process. "When we started collaborating, I had the epiphany that you can be both [a designer and a stylist]—but you can't be both on the same project," he says. "It's two totally different mindsets."
A stylist can also become a beloved partner. In preparation for her forthcoming book, Wonderland: Adventures in Decorating, Chicago designer Summer Thornton has called on New York–based stylist Mieke ten Have again and again. "We wanted to have a consistent aesthetic and mood for the whole book," says Thornton. "She and I see eye to eye. I can say 'over-the-top dream-world dinner party,' and she gets it, or I can say 'cleaner, edgier, modern,' and she knows what I mean by that, too. I think my styling is good, but hers is exceptional."
Of course, any new contractor and financial commitment needs to be carefully weighed—but once you find the right match, many designers say, you'll never look back. As Thornton points out, "The only problem is, once you start using a great stylist, it is very hard to go back to doing it yourself!" Still unconvinced? Here are five reasons you should work with a stylist.
1. They have different goals from you.
A designer is hired to create a vision—and, ultimately, a home the clients will actually live in. A stylist's job is to make a great photograph, full stop. "The stylist can come in and say, 'We don't need 10 chairs in the dining room,' whereas, as the designer, you're like, 'But the program for this project said that they needed 10 chairs!'" says Ceglia. "It takes a hot second to wrap your mind around that."
The adjustments a stylist makes have little to do with how the clients live, because stylists do not exist to please the clients. Interior designer Joy Williams, of Chicago-based Joyful Designs Studio, has also had a stylist chuck around major pieces on set. "I don't necessarily think that the way that they styled the furniture  would be how the homeowner would live in the place," she says of the rearranged room, but it made for a winning photograph. Similarly, she has watched as a stylist considered how the narrative of a space would play out in a magazine's layout. "We had used color on the bedding and they changed that to white, and then they wanted to tone down some of the pillows," recalls Williams. "Those changes were in relation to how the room read against the adjacent room through a doorway or hallway—they didn't want it to clash with the other room."
Just as designers and architects often don't take kindly to unsolicited opinions about a project (think: the contractor or nosy neighbor who's full of feedback), stylists should be allowed to do what they do best unencumbered by advice. In short, hire a pro and let them do their thing. "I spend 200 days a year designing full houses, millwork details, custom hardware and wallcoverings, but stylists really focus on one niche—styling!" says Thornton. "They hone that skill and are experts at it, so they can do it faster and better than I can, because they practice it daily. We get more shots, and the shots are better, when we use a stylist."
2. They think like photographers.
The contours of a space don't always translate on camera, but your stylist will know exactly how to make it work. It may seem counterintuitive, but you want an expert who will collapse your designs—pushing tables and chairs into awkward-looking angles that make no sense in person but feel intimate and inviting in two dimensions. "I see my space in 3D all the time," says Newton, Massachusetts–based designer Vani Sayeed. "You bring in a stylist because they're going to visualize your space in 2D."
In the age of Instagram, far too many of us fancy ourselves photographers. But professional stylists often got their start working on set for design magazines or for a retailer's creative campaigns and have a stronger ability to frame a photo and ease composition. "Considering the room from the camera's angle, rather than from a design perspective, is a totally different point of view," says New York designer Ariel Okin. "A good stylist doesn't change the room to fit their aesthetic preferences; they keep your work intact but make it engaging for the camera, without making a scene feel impractical or fake. That's what makes a photograph go from pretty to wow." (You'll never shoot without one once you try it, she promises.)
Even with years of working on photo sets behind him, Ceglia has sometimes been shocked as he watched a stylist dip back and forth between the camera and the set, making small adjustments as they go. "It's always surprising how cluttered everything looks in a photo. It's their little tricks of, 'Oh, if you put this table at a slight angle,' suddenly the whole entire room opens up," he says. "You see the picture and you're like, 'Oh, right. There it is—breathing room.' For whatever reason, if the camera puts on 10 pounds, the camera also adds 500 knickknacks."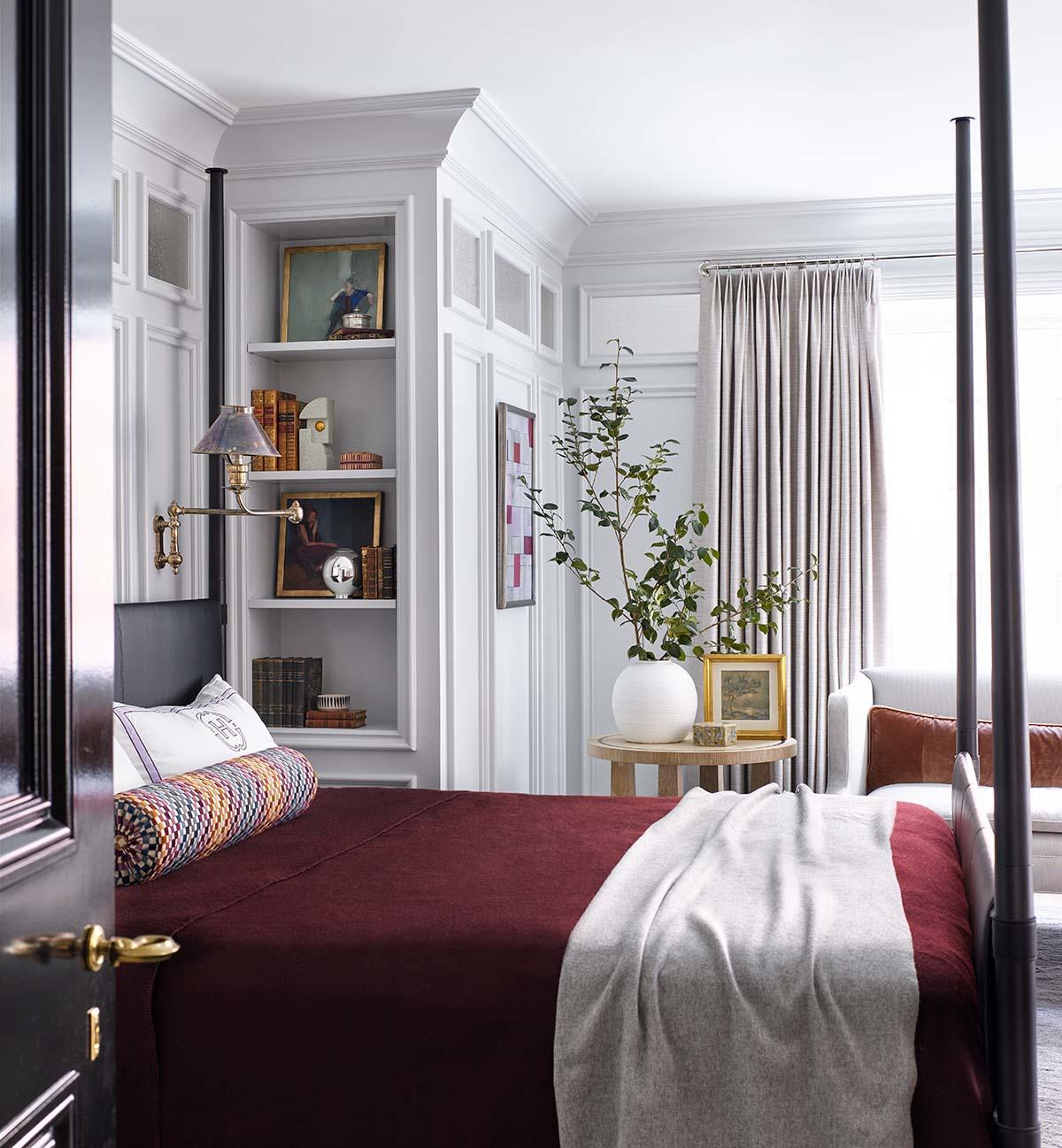 3. They rough things up in just the right way.
The secret sauce of a stylist is not just an ability to compose, but also their skill at breaking things down. "A good stylist makes things look perfectly imperfect, which is more challenging for me to do," says Thornton. "They put books slightly off-kilter, their flowers are quirky rather than prim and proper—they make the home feel lived in." But it's more than shoes flopped by the door or a throw scrunched just so over an armchair. "They know when and how to push you beyond what you could do on your own," she adds. Which, yes, may mean contradicting or adapting your finished product.
For her first experience working with a stylist, Williams hired someone with a vibe far afield from her own. "I use a lot of color and pattern in my projects, and their style was just different—more minimalist, cleaner lines—but I think that actually helped," she says. "Sometimes you want someone to say, 'Well, maybe not in this location—we don't need to go for the max here.'"
And brace yourself: They can (and do) tell you what's not working, at least within the context of the photograph. "It's really nice to have a set of fresh eyes who can view the space and give honest feedback and ideas," says Sayeed. That needn't be earth-shattering, by the way. "They'll come in and say, 'Pink flowers are dated. Let's bring succulents in for a more contemporary look.'" Those tiny details are the real fun of working with another aesthetic expert—and can leave a lasting impression. Sayeed vividly remembers seeing a stylist use ginger root in a kitchen vignette at Maison&Objet in Paris in fall 2019. "It just added so much visual interest," she says. "And now I see ginger root everywhere!"
4. Their attitude (and hands) are nice to have on set.
A photo shoot can be surprisingly physical for everyone on set—after all, the furniture doesn't exactly haul itself into place. "Even if you think that everything is pressed and steamed and polished to within an inch of its life, in a photograph, everything looks horrible," says Ceglia. "A stylist knows all of the tricks to make pillows look plump and how to fold the duvet. It's amazing the skill set that they bring to a project that you generally wouldn't think that you needed." Plus, he adds, they can help you rearrange your clients' personal photographs and replace the piles of paperwork on their desk once the project is over.
Beyond the practical, stylists also tend to be among the most ebullient folks alive, sweeping into a space with joie de vivre and armfuls of peonies. "They all have such personality," says Ceglia. "That is the crux of working with a stylist: They shift the energy of a project, and it shows in the photographs."
5. They expand your network.
The best reason to hire a stylist is to get great photos, but there are side benefits too. Many stylists are connected to magazines or book publishers—often because they used to work there themselves. "It's an insurance policy. Your photographs will get more attention when you're putting them up for publication," says Ceglia of submitting to magazines. "The stylist could be like, 'Oh, you know what? I know seven people there and they'll take [a look at the project] because I touched it.'"
Even if landing on glossy editorial pages isn't your end goal, hiring a stylist is a good investment. "I thought, 'This is a legitimate business expense that I need to consider,'" says Williams. "'If it will make my portfolio look better, read better—and if the person has the pulse of what editors are looking for—it would help.' From a cost-benefit analysis, I'd definitely do it again."
Homepage image: A minimalist kitchen by Billy Ceglia and styled by Frances Bailey pops with the addition of a striped throw draped over a chair. | Brittany Ambridge