Interior Planning: Taking Care of YOU So You Take Great Care of Your Clients 10 a.m. – 11 a.m. | Alden Parkes Seminar Room, 200 N. Hamilton St., Suite 110 No better way to put it: Stress can ruin your business. How do you manage it? Kim Kuhteubl, an author and brand manager, talks about how you can release stress through establishing boundaries with clients and developing time management skills, with the greater goal of better serving clients and reclaiming joy. There will be a book signing after the event. (0.1 CEU)
Painted Design Solutions 10 a.m. – 11 a.m. | Suites at Market Square Seminar Room (SAMS T-1014) Learn the lingo and the ins and outs of decorative painting to understand the nuances of working with painters in this presentation. (0.1 CEU)
Budgeting for Art from the Start 10 a.m. - 11:30 a.m. | Zoe Bios Creative Showroom, 108-110 S. Elm St. Getting clients to invest in art can be tricky, but projects just aren't the same without it. Meet Aspire Design and Home for breakfast as firms including Bridget Bearl Designs, The Curated House, Cloth & Kind, Haus Love, Hibner Design and Marshall Erb Design discuss how to approach art.
European Legacy: Global Perspective and Modern Sensibility 11 a.m. – 12 p.m. | Conarte Showroom, 827 W. Green Dr. Italian design has been the Western world's foundation ever since Romans laid their first brick; Spain added onto that foundation, incorporating Eastern elements. High Point Market's first international panel focuses on Italian and Spanish design, with Gary Inman, Fabio Rizzolo, Gaetano De Cataldo, Hans Rolink and Germano Cavalli.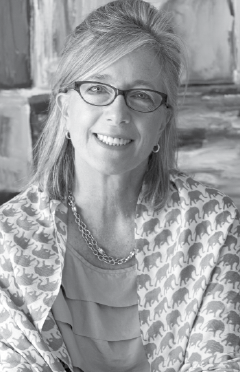 Flower Magazine Designer Panel 11 a.m. – 12 p.m. | Universal Furniture, 101 S. Hamilton St. Flower magazine editor in chief Margot Shaw hosts a panel with interior designers Richard Keith Langham and Paloma Contreras, along with Jennifer Boles, blogger-author at The Peak of Chic. RSVP here.
Recipe for Success 11:30 a.m. – 12:30 p.m. | Suites at Market Square Seminar Room (SAMS T-1014) Learn about the ins and outs of pitching and how to attract editors, how press can affect your career, and how to use your coverage to get better business at a panel featuring Barclay Butera, Amy Flurry, Nick May, Christine Phillips and Jane Dagmi. Book signings to follow. (0.1 CEU)
HFA's Next Generation Now Lunch With Leaders 11:30 a.m. – 1 p.m. | Home Furnishings Association-HFA, Plaza Suites, Floor 1 Big-name industry leaders are opening their busy schedules for lunch mentoring sessions with next-generation home furnishings professionals. What will you ask them? Register here.
Design Viewpoint Series Tech Tools: Reviews From the Designers Who Use Them 12 p.m. – 1 p.m. | High Point Theatre, Transportation Terminal, 210 E. Commerce Ave.  Learn how you can use technology to make your business more productive and better manage clients. LuAnn Nigara of A Well-Designed Business moderates a designer panel featuring Kelli Ellis, Phyllis Harbinger, Corey Damen Jenkins and Laura Thurman discussing software they recommend. (0.1 CEU)
Courting the Small-Space Client With Libby Langdon 12:30 p.m. – 2 p.m. | KAS Rugs, IHFC G-270 Join the designer as she shares insights on why small-space living is on the rise, who these consumers are, and the best way to design for their needs. She also debunks the myth that the small-space dweller is only in urban areas, when in fact they are in every community across the country. 
Designing Women of the World 1:30 p.m. – 2:30 p.m. | Suites at Market Square Seminar Room (SAMS T-1014) Aspiring globetrotters, take note. Panelists Adriana Hoyos, Tina Nicole, Toma Clark Haines, Sandra Espinet, Aviva Stanoff and moderator Deb Barrett discuss how to incorporate travel into the design process. There will be a reception and book signing following the discussion. (0.1 CEU)
Replacements Ltd. Presents: Eddie Ross, Mix Master 2 p.m. – 3 p.m. | Alden Parkes Seminar Room, 200 N. Hamilton St., Suite 110 Designer and House Beautiful contributing editor Eddie Ross discusses how to work vintage goods into modern interiors. (0.1 CEU)
Social Media Mavens' Top Tips 2 p.m. – 3 p.m. | Universal Furniture, 101 S. Hamilton St. Don't lose yourself in your feed! Adam Japko of Esteem Media leads a panel with Shayla Copas, Natalie Reddell and Lori Paranjape on social media trends. RSVP here.
Fabricut Furniture Launch Party With Vern Yip and Pulp Design Studios 2 p.m. – 6 p.m. | Fabricut, Market Square Tower, Suite 403 Celebrate Fabricut Furniture's launch, the introduction of Vern Yip's and Jaclyn Smith's wallcovering collections for Trend and the new Fabricut Quick Ship Panel program. Beth Dotolo and Carolina Gentry of Pulp Design Studio join the festivities.
Luxury Comes Home: Global Design in a Modern World 3 p.m. – 4 p.m. | Burton James, 310 N. Hamilton St., Floor 1 Designers Cynthia Spence, Patrick Sutton and Sandra Espinet will discuss clients' desire to capture the five-star look of resorts and hotels in their daily lives. Plan to linger and celebrate after the program as Sutton signs copies of his stunning new book, Storied Interiors: The Work of Patrick Sutton, and Espinet does the same for her lush Barefoot Luxury: Mexican Resort Living.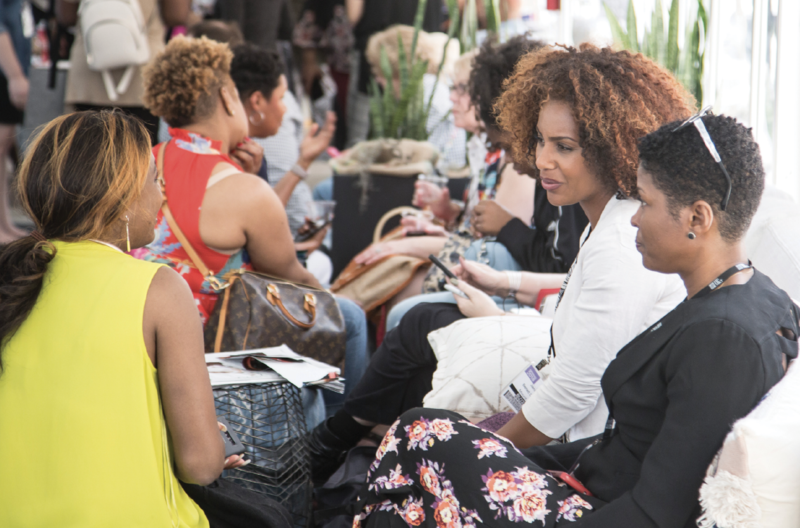 Courtesy of High Point Market Authority
Black Interior Designers Network Sunday Soiree 3 p.m. – 5 p.m. | Mitchell Black/Couture Lamps Showroom, IHFC, G-263 Come celebrate and network at this biannual gathering hosted by Mitchell Black, a BIDN sponsor. 
Crypton Pooch Pop-up 3 p.m. – 5 p.m. | The Point, Commerce Ave., next to the Transportation Terminal Relax with some furry, four-legged friends at this pop-up, which has comfort dogs available for cuddling. For every picture posted with #cryptonpoochpopup, Crypton will donate to Elite Canines Comfort Dogs.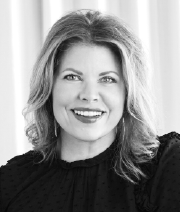 Denise McGaha Collection Debut 3 p.m. – 5 p.m. | Currey & Company, IHFC, M110, Main St. Meet the Dallas design star and see her new collection of lighting and furniture for Currey & Company.
Tony Duquette Collection Launch and Book Signing  3 p.m. – 5 p.m. | Hickory Chair, Market Square, MS-348, 305 W. High Ave. The debut of the Tony Duquette Collection, Maitland-Smith's latest neoclassical collection, will also feature a presentation and book signing of Hutton Wilkinson's latest, Tony Duquette's Dawnridge. Duquette mentee Wilkinson bought and renovated the Dawnridge estate after the renowned designer passed away in 1999. RSVP here.
Inside the Designer's Studio With Madcap Cottage 3:30 p.m. – 4:30 p.m. | Suites at Market Square Seminar Room (SAMS T-1014) In a format based on Inside the Actors Studio, Jason Oliver Nixon and John Loecke, founders of Madcap Cottage, discuss design tips and trends, as well as share personal insights on their aesthetic and their clients. Meet the duo and get your book signed after the presentation. (0.1 CEU) 
Kravet Celebrates 100 years 4 p.m. – 6 p.m. | Kravet, Market Square, Suite 217 Toast to a century of Kravet fabric and furnishings with the launch of the book Inspired Design: 100 of the Most Important Designers of the Past 100 Years.
Art and Artisans at Bernhardt 4:30 p.m. – 6:30 p.m. | Bernhardt Furniture, IHFC Design Wing What better way to celebrate artisanal design than with a cocktail party? Bernhardt and Luxe Interiors + Design will play host with hors d'oeuvres and drinks, as artists display their jewelry, sculptures and more. And you might just win your favorite Bernhardt design.
Photos courtesy of event organizers.