Tucked into an 800-square-foot storefront in a gray courtyard building on North La Cienega Boulevard, Hammer and Spear's cozy showroom sits in sharp contrast to the sun-drenched style of its neighbors. Inside, sleek brass shelving units from Amuneal, a Klein Agency couch, Mary Little's textural paintings, and pottery from Caroline Blackburn punctuate the cavelike space, its walls washed in dense charcoal. Yet in the year and a half since Kristan Cunningham and Scott Jarrell opened the second branch of their Arts District shop, the wife-and-husband duo have seen astounding growth. Already, they are considering expanding into a larger space.
That doesn't seem to surprise their landlord, Lee Stanton, who opened his antiques shop on the block in 2003. Soon after Hammer and Spear opened their first store in March 2013, Stanton discovered it cloistered in the lobby of a building on South Santa Fe Avenue, just down the street from the Southern California Institute of Architecture. (SCI-Arc, housed in the former freight train depot for the Santa Fe Railroad, is a physical and spiritual anchor for the downtown Arts District; many of Southern California's most influential architects have some tie to it.)
"I immediately fell in love with what they had and their style," recalls Stanton of his first visit to Hammer and Spear. He frequently braved the 40-minute, 10-mile drive east to the Arts District to pick up gifts for friends, well before blue-chip gallery Hauser & Wirth's arrival put a polished sheen on the area. Thanks to an inventory that freely mixed vintage pieces with the work of the neighborhood's growing band of craftspeople, each visit to Hammer and Spear offered up a new, arresting find. "I said, 'We need something like you over on the west side, in the La Cienega Design Quarter,'" he recalls, referring to the consortium of to-the-trade shops that he founded 10 years ago and led until 2018. "Their response was: 'You know, we're a little overextended right now.'"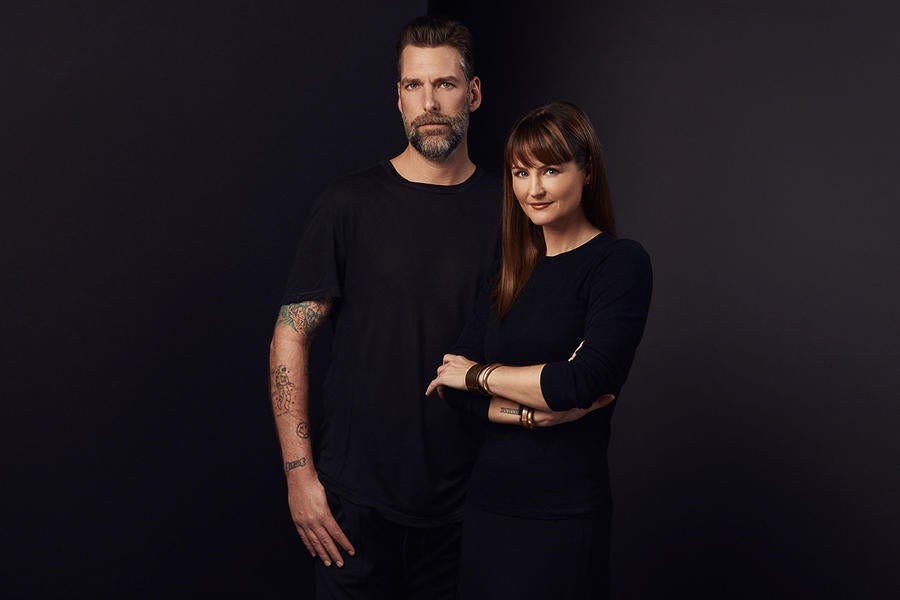 "It just didn't make sense to us at the time," says Cunningham, an interior designer most recognized for her 10-season stint as the host of HGTV's Design on a Dime and as the resident design expert on Rachael Ray's morning show. The couple had decided to open the shop one morning—not on a whim, exactly, but on a fast-tracked timeline. They had already weathered more than a decade in Los Angeles, Cunningham hosting 150 HGTV episodes and Jarrell working in promotions at 20th Century Fox. "We woke up and thought, 'Life's short. We've got to get cracking on this dream and not wait until we retire'—which was the original plan," she says. Her vision drove the shop's design, a futurist-meets-primitive aesthetic anchored by a strong sense of materiality. "We are a design showroom that's curated by a designer," she says. "My goal is always to find the things I'm not finding for my clients and put them into context." (Cunningham also leads Hammer and Spear's full-service design-build studio. Recent clients include Toms founder Blake Mycoskie, whose wife, Heather, discovered them through the store.)
Stanton, known for his tenacity, wasn't deterred by the couple's initial disinterest. "When I was president of the LCDQ, I really wanted to bring that [kind of] fresh energy to the corridor," he says.
The events of spring 2015 set the wheels in motion for his wish to come true, when Sam Moradzadeh, CEO and creative director of rug gallery Woven, reached out to Cunningham and Jarrell to ask if they'd be interested in creating a window for his 10,000-square-foot Melrose Avenue showroom as part of the LCDQ's annual Legends event. That year, the theme was "Where Muses Dwell," and the duo looked to their Arts District neighborhood for inspiration. The idealized loft they created showcased Woven's floor coverings by subbing them in for a tiled backsplash and the stone top of a table base, but it was their selection of case goods and accessories culled from Hammer and Spear's coterie of L.A.-based makers—a bed with a jagged-marble headboard from (wh)Ore Haüs Studios, curvy gold stools from Jason Koharik, pendants from Neptune Glassworks—that got people talking.
"We're dark, we're masculine, we're so not like La Cienega. We're not light and bright, and we don't really have that typical California aesthetic."
When husband-and-wife design duo Jason and Katie Maine moved out of the shop next to Stanton's soon after, Stanton once again made his case to Cunningham and Jarrell. This time, they bit.
"We wondered, 'Are we missing a huge opportunity here?'" says Cunningham. By that time, Hammer and Spear had expanded to include the window-fronted real estate of their building. "We were getting designers from Santa Barbara, from San Diego, from wherever, and the majority of our monthly sales were to the trade. 'Why are we not opening a showroom where the trade shops?' [we thought]. 'Maybe we should we dip our toe in this water.'"
Los Angeles, in many ways, is defined by an east-west divide—a schism perpetuated by congested roadways that can turn mere miles into hours behind the wheel. The divide is also aesthetic. Decor on the moneyed Westside (enclaves, like Santa Monica and Pacific Palisades, that are west of the 405 freeway, as well as the adjacent B's—Beverly Hills, Brentwood and Bel-Air) traditionally responds to the indoor-outdoor lifestyle forged by Southern California's temperate climate. With single-family homes centered around pools or beaches and buoyed by the area's greenest acreage, its style is casual and relaxed. In contrast, the Eastside (encompassing recently gentrified areas like the Arts District, Silver Lake and Highland Park), with its industrial buildings and homes of more modest square footage, trend moodier and more urban.
When they opened their doors on La Cienega in March 2018, Cunningham and Jarrell suddenly found themselves straddling the two worlds. "We're a downtown brand—it's what we're known for," acknowledges Cunningham. "We're dark, we're masculine, we're so not like La Cienega. We're not light and bright, and we don't really have that typical California aesthetic."
But as they approach two years in the second shop, it seems that any concerns they had about fitting in were unfounded. Business has grown by 25 percent annually, with most of the company's trade transactions now running through "West," as the La Cienega space is known among staff. Case goods are generally the domain of this annex, while the downtown shop's sales are tipped toward smaller items. "We wanted to make it as easy as possible for designers to shop with us, and West helped solve that," says Cunningham.
At the same time, the LCDQ shop's limited footprint means Cunningham and Jarrell must carefully choose what to showcase. "West is kind of a living billboard that points to the DTLA showroom," explains Jarrell of the outpost's smaller, curated scope. But in expanding, the couple intentionally structured staff salaries to help integrate the two locations. "None of our retail team works on commission," says Cunningham. "If they hit numbers, they collectively get a bonus, but the point is that they help each other. So something might originate in West Hollywood, with Gabby [Raglione, manager of the La Cienega space] introducing a line to a designer, and then the next weekend, the designer and their clients come downtown so that the client can see more of what's available."
Raglione chalks up Hammer and Spear's allure to Cunningham and Jarrell's aesthetic, honed over many years—and necessitated by many moves. The two now inhabit a bowstring truss building near the Santa Fe Avenue location, have lived all over the city, from a faux French Normandy castle on the Venice canals to a Buff & Hensman post-and-beam house in Pasadena. "Each time we moved, we'd take our favorite pieces with us," says Jarrell. "So we might be mixing traditional pieces with midcentury pieces." The elimination of color and the propensity for dark hues and distressed finishes, now a signature, served to unify disparate elements.
The store's inventory is also a driving factor. Many of the brands it carries are exclusive within the Los Angeles area. Often, Hammer and Spear is their sole representative on the West Coast (as is the case with Philadelphia-based Amuneal or Parisian jewelry brand Parts of Four). Even known brands find new appeal under Cunningham's guidance. "The way that we put them in context feels fresh and exciting," says Raglione, citing Portuguese industrial designer De La Espada as an example: "I've had people say, 'I had no idea it could look so edgy.'" Modernist designers like Jane Hallworth, Jamie Bush and Cliff Fong—known for their monochromatic, collected sensibilities—are frequent customers. But so too are classicists including Madeline Stuart and Kathleen and Tommy Clements, who are drawn in by the local L.A. artists Cunningham unearths via what Raglione characterizes as her "Mad Hatter" research: "She's always trying to find more."
"I think the thing I respect about them is that they represent local artisans," says Stanton. "I wanted to see that diversity and encourage people to get out of their rut. People tend to think, 'Oh, you have to get glass from Italy,' when we have a lot of talent right here!"
For Cunningham, success on La Cienega is especially meaningful. "Coming from the world of budget and DIY design, I think I struggled for a long time with feeling worthy of being part of a community that I had so long admired," she says. "Being part of the LCDQ has changed that so much for me."
Homepage photo: Hammer and Spear West | Jonathan Ventura