It's admittedly a work in progress, so don't mind any stray debris: A brand-new kitchen and bath center, designer offices and open-all-year hours of operation are either en route to or already set up at the Las Vegas Design Center. While Market may bring the big names and bright lights, it unfolds just a handful of days each year; the secret sauce for some is the center. Composed of the first two floors at World Market Center, it's open weekdays all year long and spans 100 brands and about two dozen showrooms (Christopher Guy, Global Views, Four Hands, Kravet, Vanguard, Visual Comfort, et al.) It's now undergoing a reimagination that designers will witness firsthand this Market. 
It's a fitting moment for a revamp. The Las Vegas Review-Journal reports that home prices in the city are escalating at nearly the quickest rate in the country. Builders are bringing in record numbers as well as the highest volume of sales in the last decade, and the median price of previously owned single-family homes (aka, the largest segment of the market) is on the rise by 16 percent over last year. The Las Vegas metro area has done "a complete 180" since the design center first opened at the beginning of the recession, says Cain Brodie, marketing director of International Market Centers, which owns World Market Center. And that, he says, is translating into an influx of designers.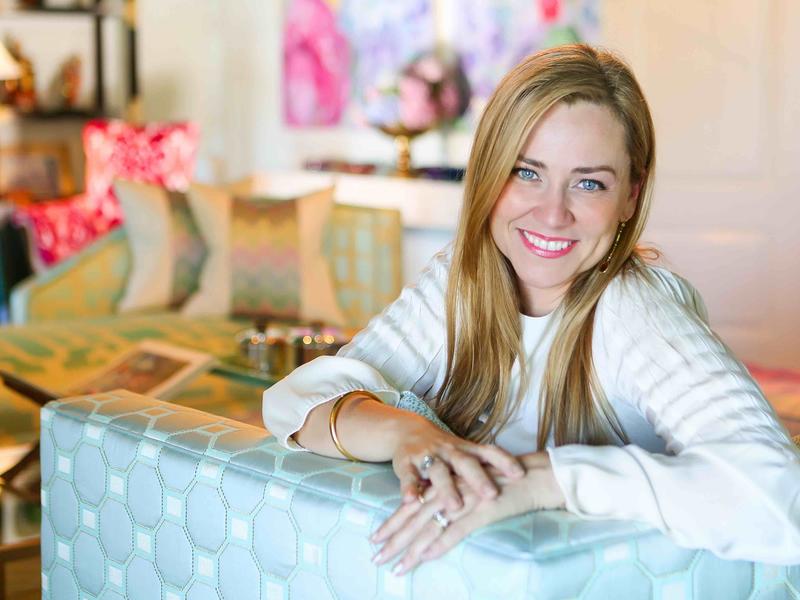 New Resources  More designers means a demand for more resources. One of the more obvious ones that had been missing from the Las Vegas Design Center was a kitchen and bath section. Born of designer feedback, The Kitchen & Bath Resource Center opens in August with a distinctly local bent: It is debuting vignettes created by designers who work regionally and nationally, using resources from a number of local kitchen and bath distributors, along with info on where to buy the featured products. On-hand descriptions will alert potential clients to the name and location of different products and services used in the vignettes.
Priority Access Access in the off season (i.e., those 200-something days of the year when many showrooms go dark) is a compelling issue for Joanne Tatem, owner of Urban Chic Home Furnishings, who also manages Vanguard, Eastern Accents, Charleston Forge, and MT Company. Tatem and Lee Hershberg, vice president of gift and home leasing at International Market Centers, are working to keep more doors open; this Market, on the second floor of Building A, Tatem is producing an Urban Chic showcase, which will feature four lines: Interlude Home, Art and Frame Source, Loloi Rugs, and Howard Elliott. (The last two previously had a Market-only presence.) The showcase will remain open year-round. "We're building as much of a one-stop shop for designers as possible," says Tatem. "It's definitely a work in progress, but we're getting there." 
Product Placement "It became clear we needed to get another three to five medium- to high-[end], transitional-type case goods upholstery companies with a versatility of fabric and product selection," says Hershberg, who started quizzing local designers over a year ago on what they wanted in the design center. "They didn't need the 20,000, 30,000, 50,000 square footage of High Point—just a 3,000- to 4,000-square-foot footprint, enough to enable designers and their clients to sit-test and touch product." Occasionally the footprint is even smaller: A new Designer Showcase Program lets manufacturers who don't have a yearlong presence in the center participate in 100- to 200-square-foot shoppable showcases that are open all year. "The requirement is that their showrooms stay fully furnished," he says. Designers can bring their clients to the unmanned showcase; the client picks out what she likes from, say, Arteriors, Oly, and Bungalow 5. "We will escort them to the showroom, turn the lights on, open it up—just like a homeowner or client would shop or research product remotely, it allows them to do it in the physical space of the manufacturer. See it, sit in it, touch it, get scale physically."
Designers First Underlying the initiatives is an effort to remind designers that they're a priority. In 2009, the LVDC's consumer access policy, similar to that of most design centers in the U.S., meant more liberal admission for non-designer visitors. Today, the center is still open to consumers, but upon entering, they are given visitor badges, receive an orientation, and are introduced to an on-call designer. While they can buy product at sample sales, they are required to buy any other product via a designer. (Most of the off-market showrooms welcome designers visiting with clients. Designers, Tatem explains, should "know that they'll never disclose their designer-discounted price unless they ask us to. Call ahead and let them know, 'This is the information I want my clients to have or don't want them to have.'") Creature comforts like pop-up dining concepts will appear during this Market, while designer offices and daily-operating restaurants will open by the end of the year. 
"A big misconception is that the center sells to the public," says Tatem. "We are constantly striving to make sure that we're focused on protecting the design trade. They need to know that it's their space, it's a safe space, and no one's going to go around them and sell directly to their customers."
West Coast turned Southern designer Michelle Workman continues to shop Vegas—both on and off season. She shares her tips: 
Resimercial options: Zuo Modern and Sunpan are the high-end designer's picks for projects that blend the best elements of both commercial and residential design. 
Favorite finds: Workman is the first to admit her partiality. "My very favorite is, of course, Dillon-Wells, since they carry my Facet Collection for French Heritage, but I also love going to Phillips Collection. They are always fashion-forward and easy to work with."
Off-season visits: "If you don't call ahead, you may find that the showroom you expected to be open is closed. But the convenience of having a design center when you need it can't be beat," she says. "A good number of showrooms will open in the off-market if you schedule a visit with them, even if they are not usually open."