Your go-to schedule for High Point Market.
Universal To The Trade Designer's Lounge
October 18, 12 p.m. – 6 p.m.
October 19 – 22, 9 a.m. – 6 p.m.
Universal Furniture, 101 S. Hamilton St.
Relax and recharge in Universal's 2,000-square-foot designers-only workspace. Hit the Beauty Bar for hair and makeup touch-ups. Order a drink. Check your luggage. Charge your devices and take advantage of free Wi-Fi. RSVP here.
The Designer Rage for Georgian
October 18 – 22, 4 p.m. – 6 p.m
Whitehall Antiques, Market Square, Ground Floor
Come by for a chat with David Lindquist, one of America's foremost authorities on 18th-century Georgian furniture. With modern and traditional designers alike generously sprinkling rich mahogany furniture throughout their latest designs, this is a time to explore pieces and understand the design and construction points of importance of the Georgian craze.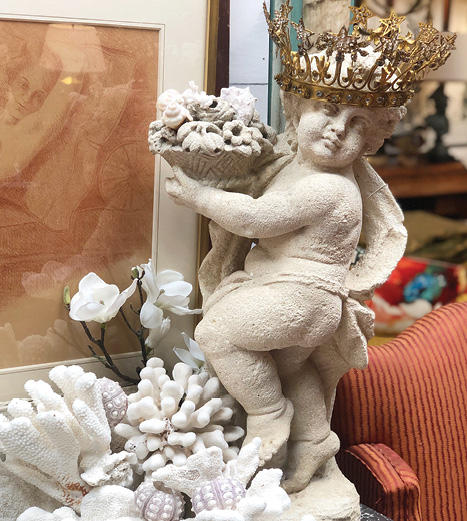 Courtesy of the Antique & Design Center
Bubbly & Biscuits Brunch
October 19 – 20, 11 a.m. – 1 p.m.
316 W. Commerce Ave., Ground Level
Enjoy a glass of bubbly with some Southern brunch favorites as you begin your adventure in discovery at the Antique & Design Center on the Ground level of Historic Market Square. You won't want to miss a single square inch of soul-nourishing goodness.
Dering Hall Walking Tours
October 19 – 20, 2 p.m. – 4 p.m.
Enjoy guided tours of the high-end collections premiering at Fall Market. Join Dering Hall staff on a can't-miss walking tour as you're led through some of their favorite showrooms. Meet the designers behind the collections, ask questions, and get a backstage pass to some of the biggest trends in high-end design. Space is limited; RSVP here.

Courtesy of LIllian August
A Breath of Fresh Air with Lillian August
October 19 – 21
309 N. Hamilton St., Floor 3
Come see the brand-new Lillian August Outdoor range launching at Market, which revamps the brand's favorite pieces for a bold and confident outdoor environment.
How Social Responsibility Grows Sales
October 19 – 21, 10 a.m. – 11 a.m.
UMA Home Decor, IHFC, W348
In this discussion based on UMA Home Decor's newest collection, African Treasures, find out how you can grow sales while giving back to communities across the globe.
The Crypton Patio
October 19 – 22, 11 a.m. – 4 p.m.
Off the main walkway between the Transportation Terminal and Showplace An outdoor oasis in the center of all the action (shown above), the Crypton Patio (sponsored by Crypton Home Fabric) is open for al fresco meetings, dining and relaxation (there will be hammocks!) between your more serious-minded Market stops.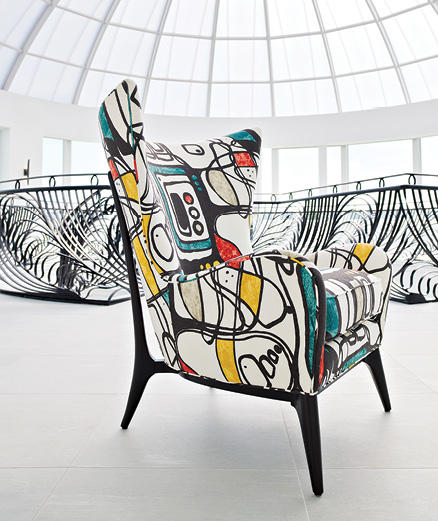 It's a Cosmo World
October 19 – 22, 3 p.m – 5 p.m.
UMA Home Decor, IHFC, W348
Tour the CosmoLiving home decor line and find out how you can attract a new generation of consumers and capitalize on social media influencers with Cosmopolitan, the largest young women's media brand.
Caracole Designer Lounge
October 19 – 23, 8 a.m. – 6 p.m.
122-C N. Hamilton St.
This Market, Caracole invites you to peruse its new introductions and relax in its Designer Lounge. This trade-exclusive enclave is designed to provide an elevated level of service and hospitality. Complimentary Champagne and truffles served daily. More info here.
---
Style Spotters Trend Tours
The Point (Commerce Ave., between S. Main St. and Wrenn St.
Enjoy a personal trip through some of the most stunning showrooms at Market with one of our trend-spotting gurus in a new, expanded format. On Saturday, Sunday and Monday morning, members of High Point Market's Style Spotter team will take off from The Point to introduce you to the showrooms they love to shop. Sponsored by Crypton and Studio Designer. Full schedule and RSVP here. 
Saturday, October 19, 9:30 a.m. - 11:30 a.m. 

Global Aesthetic: Laura Thurman 
Hospitality: Gary Inman
Sunday, October 20, 9:30 a.m. - 11:30 a.m. 

Antiques/Antique Reproductions: Eric Haydel
Designer-Friendly Furniture: Erinn Valencich
Monday, October 21, 9:30 a.m. - 11:30 a.m.

Textiles: Cynthia Ferguson
---
IMC's Designer Tours
Notable designers and tastemakers lead these intimate, hour-long tours through some of IMC's properties for a firsthand look at the must-see showrooms of the season. These longtime Market attendees might just help you discover your new favorite resource. RSVP here.
C&D Highlights Tour With Denise Morrison
Saturday, October 19, 11:30 a.m. - 12:30 p.m.
Tour will depart from the ground floor of Commerce & Design Building
Interior designer Denise Morrison will share her favorite finds in lighting, casual, home furnishings and more. The walk will end with an exclusive tour of the Visual Comforts showroom.
Made in America Tour With Bauer/Clifton Interiors
Saturday, October 19, 12:30 p.m. - 1:30 p.m.
IHFC, Floors 11 and 12
For those in search of products made in America, look no further! Designers Jeremy Bauer and Jason Clifton, co-founders of the residential, commercial and hospitality design firm Bauer/Clifton Interiors and owners of Frenchie's Floral Studio, will highlight the quality craftsmanship of the American-made goods found in IHFC. 
Contemporary Highlights Tour
Sunday, October 20, 11 a.m. - 12 p.m.
IHFC, Floors 10 and 11
Nashville designer Lori Paranjape, founder of Mrs. Paranjape Interiors + Design, will introduce attendees to IHFC's must-see items in contemporary furniture. 
Speed Stroll Through Suites at Market Square and Salon: A Taste of Morocco
Sunday, October 20, 4:30 p.m. - 6 p.m.
Suites at Market Square and Salon
At each quick two-minute stop, you'll see product, the latest trends and meet a representative from the company. After completing the rounds, head to the top floor for a reception featuring a Moroccan mint tea cocktail, Moroccan bites, and fabulous giveaways donated by exhibitors. 
Hamilton Highlights Tour
Monday, October 21, 11:30 a.m. - 1 p.m.
Tour will leave from the Eichholtz Showroom at 129 S. Hamilton St.
Christi Barbour will showcase her favorite showrooms in the Hamilton Wrenn Design District to spotlight what's new and trending in each building.
---
Suite Spot Tours
A must for anyone looking for what's new and innovative, join these industry insiders as they lead guided tours of the Suites at Market Square. Except Friday, all tours will depart from the top floor. RSVP here.
Suite Spot Tour of SALON With Ariene Bethea, Dressing Rooms Interiors
Friday, October 18, 3 p.m. - 4 p.m.
SALON, Ground Floor
Suite Spot Tour With Sandra Funk, House of Funk
Saturday, October 19, 2 p.m. - 3 p.m.
Top Floor
Suite Spot Tour With Gary Inman
Sunday, October 20, 2 p.m. - 3 p.m. 
Top Floor
Suite Spot Tour With Theresa and John Dorlini, Circle Design Studio
Monday, October 21, 2 p.m. - 3 p.m.
Top Floor
Suite Spot Tour with Evette Rios
Tuesday, October 22, 2 p.m. - 3 p.m.
Top Floor