Interested in building passive income into your business? Here's a guide to earning this way—and a reality check to help you decide which, if any, of these paths is right for you. (Hint: It's not as passive as it sounds.)
The first thing everyone tells you about passive income is that they hate the phrase "passive income." Mainly the "passive" part—as it turns out, it takes a lot of work. Still, for designers sick of earning a living by schlepping pillows around town, the prospect of making money while you sleep is a tantalizing one.
For much of the history of the interior design profession, passive income has meant one thing: licensing. And to be sure, designing products, branding them with your name and collecting a quarterly royalty check is still a viable way to make money. However, licensing opportunities tend to be concentrated at the very top, meaning designers with name recognition, a big social following, and (let's face it) good connections are usually first in line. For the majority of working pros, licensing in a big way remains out of reach. Enter the internet.
Most designers post on Instagram and update their websites because they're trying to get clients. But, whether it's through affiliate marketing programs and ad networks or selling courses and downloads directly, a growing number of designers are treating the internet as a source of revenue, not just a marketing tool. If people are coming to your website and buying something, and you didn't have to lift a finger, congratulations, you're earning passive income. Yet there is a good amount of finger-lifting that's involved in getting to that point. For many designers, the time and energy required to set up and promote passive income streams, all while running a bustling firm, will be daunting. Those who have cracked the code tend to see marketing to clients and bringing in passive income as two sides of the same coin: You are creating content to cast a wide net to draw people into your world, and some of them will pay for your services, others will buy an online course, and still others will simply count as eyeballs that you use to leverage a better ad rate.
If there's a unified theory of passive income, it's "Don't leave money on the table." How much money are we talking about? The most successful practitioners can bring in six figures on passive income streams alone. For most, it's less than that—in the realm of a few hundred to a few thousand dollars a month. But that's certainly not nothing, and designers who've found success say that it's a good way to hedge against slow periods, or to be more selective about which clients they want to take on when things are busy.
Besides, there's something a little magical about it. Claire Jefford, an Ontario-based designer who sells courses online, told me about a recent morning in which she presented a master bed and bath suite to clients, then walked out to her car, checked her phone, and saw that she had made $750 from her site while she was in the meeting. How cool is that?
Click for Commission
Affiliate marketing is often the first way interior designers flirt with earning passive income online, in part because the ecosystem is fairly built up and there are plenty of networks (rewardStyle, ShareASale, Pepperjam and Sovrn, to name a few) that make it easy for content creators to connect to brands. The other draw is that the basic idea behind affiliate marketing—earning a commission on product sold—closely resembles the "classic" interior design business model. Ironically, affiliate marketing is often the hardest way for designers to actually make money.
For the uninitiated, it works like this: A designer recommends a product online and provides a link to purchase. If the reader clicks the link and buys the product, the designer earns a small commission. Affiliate marketing programs have the benefit of being simple to understand—you say you love a rug, someone buys the rug, you earn money. The end.
Once you start digging in, it gets more complicated. To begin with, affiliate networks are becoming pickier about whom they accept. Often, applicants have to demonstrate that they have built up a sizable audience, regularly post content, and command engagement on social. Jenna Gaidusek, the founder of e-designer platform eDesign Tribe, says that sometimes it works best to go directly to your favorite retailers' websites—many brands will have their own affiliate marketing programs with lower barriers of entry.
However, even if you do get past the gatekeepers, the math can be brutal. Most brands hand out an affiliate commission ranging from 3 to 5 percent. Given that only a tiny fraction of your audience will end up buying through your links (that is, if they haven't found a lower price somewhere else), you need a massive following to make serious income from these programs.
Jefford experimented with affiliate marketing and found it to be a dud. "Years ago, I thought, Everyone's asking me where I get my ring light and selfie stick to make my videos, so I'm going to get affiliate links on Amazon," she says. "Over three months I literally made $13. You need to have the traffic before you go into affiliate links."
There are ways to make it work even without a kajillion followers. Gaidusek says that affiliate sales are most successful when designers fold the practice into their normal marketing efforts. "I tell people to make 10 concept boards using product from affiliate partners and post them to social," she says. "A beautiful board helps attract clients, but for the DIY audience who follows you but can't afford your services, they can purchase off the board and you make passive income." (Gaidusek's platform includes a concept board creation tool and a "shop" of products that all give designers a 10 percent affiliate commission.)
In yet another designer-friendly development in the world of affiliate marketing, last year saw the launch of a platform called SideDoor, which is aimed at giving designers a tool to earn a trade margin on affiliate links. Instead of the 3 percent one might earn selling from a big-box furniture retailer, designers can earn up to 30 percent selling brands like Universal Furniture, Caracole and Selamat.
SideDoor has its challenges, to be sure. The software is in its earliest incarnations and the site doesn't allow buyers to return goods. Because it also doesn't offer free shipping, prices often tend to come in higher than at big e-commerce sellers like Wayfair. Still, the idea that even designers without a mega-following could earn a serious paycheck from affiliate marketing is a compelling one. "Designers are tastemakers in every community locally and nationally, they have big followings on Instagram—then they get circumnavigated and shopped, which shouldn't be the case," says SideDoor founder Lynsey Humphrey, who sees the platform as another avenue for designers to make the sale.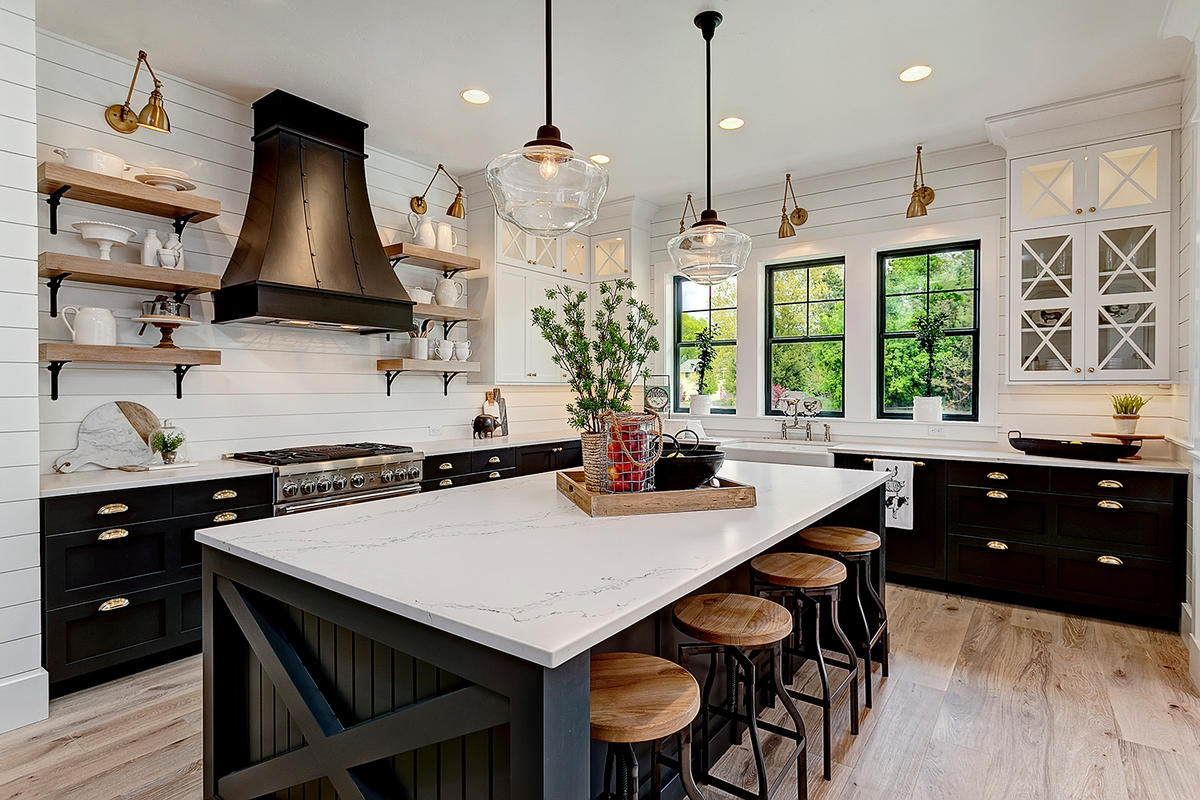 Doug Petersen Photography
Download Some Dough
For designers sick of fielding Instagram DMs with questions about sources ("What's that paint color?" "Where's the rug from?"), digital downloads are a clever way to monetize expertise. What are they? Simply put, they're anything that can be packaged on your site as a digital file and bought individually. Usually, that means short e-books (often in PDF form) on how-to subjects. For example, Texas designer Carla Aston uses her site to sell a wide range of downloadable guides, from "The Backsplash Bible" ($12) to "How to Choose Perfect Flooring for Your Home" ($15).
Sometimes digital downloads are a little less "how-to," and a little more design-y. In 2016, designer Emily Clark began posting images on social media from a concept house she and her husband, Clark & Co. Homes co-founder Dan Clark, had designed in Boise, Idaho. The project, called The Heartland, garnered a rush of attention on Pinterest, which led to more inquiries than the firm could take on. "We found we were answering a barrage of similar questions regarding sources from The Heartland and where they could be found, and it was taking up quite a bit of staff time to answer those questions on a daily basis," says the designer. "[We] knew then that we had an opportunity here—we couldn't build for everyone, but we could put together study plans to get people started."
The Clarks have developed a few downloadable designs, including a simple layout of the house with no dimensions for $25, and a more detailed plan with elevations and basic dimensions for $499. Quickly, both versions began flying off the online shelves—to date, Clark & Co. Homes has brought in $60,000 in digital download sales alone.
Emily Clark has since developed more digital downloads, including design specifications (lists of finishes, paint colors and hardware) for The Heartland's kitchen. While she doesn't want them to distract from her firm's core in-person work, she's interested in exploring just how far digital downloads could go: "With how fast things are moving virtually these days, it wouldn't be a huge leap for us to begin creating completely virtual concept homes with shoppable links and downloadable plan sets."
Sell Your Skills
Online classes are similar to digital downloads, but a little more involved—and instead of a quick lesson or a list of furnishings, you're selling a skill. As a result, the production value tends to be a little higher. Creating courses often involves video production, sophisticated graphic design, and the use of online platforms like Kartra or Teachable that offer a Swiss Army knife of business marketing tools.
Courses are the most complex passive income product to create, but they're often the most lucrative. Jefford sells a popular one for interior designers called "Rock the Initial Consultation" that costs $497. For the same price, color expert Maria Killam sells a class on choosing exterior paint colors. "I often advise designers to start with passive income by developing an online course," says Leslie Carothers, founder and CEO of digital marketing and custom publishing consultancy Savour Partnership and a passive income evangelist. "You get the most bang for your buck."  
As with all passive income streams, it's important to know who the audience is for an online course: consumers or your fellow designers. There are far more consumers out there, so the potential revenue ceiling is higher. Create a hit course that appeals to thousands, and you can rake in a pretty penny. However, the per-course price for the average homeowner tends to be lower, as you're generally targeting a DIY audience. (If they had a bigger budget, they'd hire you directly.)
Selling a course that appeals to other designers means a much smaller potential audience, but the price points can be higher. "B2B consumers are [more] likely to invest in their business, as opposed to a DIY-er," says Jefford, who earns most of the passive income from her site (roughly $100,000 annually) from online courses geared toward interior designers.  
Another reason why many designers develop courses aimed at their peers is that there's simply less competition. There's plenty of content, a lot of it cheap or free, aimed at helping homeowners with DIY projects. There's far less material out there dedicated to helping designers streamline their workflow, take better pictures, or learn a new 3D modeling trick.
Gaidusek has gone as far to create an entire virtual "university" dedicated to housing online courses largely created by designers, for designers. The platform, eDesign U, even has a virtual campus in 3D—visitors can tour a sunny quad and take in digital buildings on their way to an online class.
From Assets to Ads
Everyone knows what banner ads are—those sly little links that pop up in the margins of a website, selling you products you didn't even know you wanted. Hosting these promotions (often called "programmatic ads" in the media business) are probably the most fraught way for designers to earn passive income. Weirdly, they're also the easiest.
There are two reasons why most designers don't host banner ads on their site. The first is they simply didn't know they could. However, the bar to sign up with advertising networks is lower than you might expect. "[Programmatic ad network] Mediavine only requires you to have 50,000 sessions in the past 30 days," says Carothers. "There are a lot of interior designers who have that already, and if you don't, you can use Pinterest and other means to drive traffic to your site."
The second reason is a little squirmier: Banner ads are often perceived as tacky. The thought of a potential client coming to their website and seeing an ad pop up for heartburn medication has surely spooked many a designer away from the concept. That's a mistake, says Carothers.
For one, designers have more control over the nature of programmatic advertising than they think. Most networks will allow you to have some say in the types of ads that your visitors will see (no guns or weight loss products, for example). You also can control exactly where the ads will go on your site. Carothers recommends that designers create distinct areas of their website, including a portfolio for potential clients and a blog for followers. By placing ads only on the blog, you monetize your content and avoid turning off people who are interested in hiring you.  
Even so, for many designers, the taste factor makes banner ads a no-go. Just know that you may be the only person whose taste is offended. "I tell designers this a lot: You may not like the way this looks as a designer, because you have a very highly developed aesthetic sense," says Carothers. "But the truth is, consumers don't care. They're used to seeing programmatic ads on every major website out there."
Designers who have placed banner ads on their site tend to agree. All had initially been skeptical of the idea, but few had actually seen a drop-off in the quality or volume of their incoming leads. "I have more work than I can handle, so if it is turning people off, it doesn't matter," says Des Moines, Iowa–based designer Jillian Lare, who reports earning a little over $2,000 a month on programmatic ads. "I've monitored my own behavior and I honestly don't even really see ads as I'm reading blogs. It's kind of hilarious that they pay me money for this."
"I was worried for sure, but the more I thought about it, if people have a problem with it, you're giving out free content!" adds Jefford, who says she averages around $800 a month on programmatic ads. "As soon I started doing ads, I was like, Why didn't I do this before?"
There are plenty of technical skills to master along the way, but the biggest obstacles to earning passive income have to do with mindset—in essence, designers have to unlearn a lot of what has worked for them so far. We explored a few key concepts here.
Homepage image: An entry foyer from The Heartland project by Clark & Co. Homes | Doug Petersen Photography