Leather 101: Interior Designer Breakfast With American Leather and Bison 8 a.m. – 9 a.m. | American Leather, Showplace, 5th Floor This breakfast event will offer an IDCEC-approved course for interior designers to learn more about designing with leather. Specific takeaways include: The history of leather making, how the tanning process works and how to distinguish between different types of leather. (0.1 CEU)
Design's Role in the Healthy Home Movement 9:30 a.m. – 10:30 a.m. | Surya, Showplace, 4100 Hosted by Sherwin-Williams and Shane Jones, president of the Carolinas chapter of ASID, this course will focus on paint technologies you can specify to help improve the quality of your client's home. (0.1 CEU)
Instagram for Interior Designers: Rules, Tools and How to Work the 2019 Algorithm 9:30 a.m. – 10:30 a.m. | Wendy Concannon Photography, Suites at Market Square, G6006/6004 Join social media guru and Design Influencers Conference emcee Stacy Kunstel of Dunes and Duchess as she presents the ins and outs of growing an Instagram following, working the rules of the new algorithm, and developing a brand identity that stands out on a platform with more than 1 billion users. Photographer Linda Holt will also weigh in on how to perfect your photography on your iPhone—from removing unsightly electrical plugs to improving lighting.
The Nuts and Bolts of Editorial Photography 9:30 a.m. – 11 a.m. | Suites at Market Square Seminar Room (SAMS T1014) Kathy Wall, president of The Media Matters, Lynn Terry of Hoffman Publications, stylist Frances Bailey and photographer Lincoln Barbour discuss art direction and consumer editorial photography. Learn what it takes to showcase your design projects and how to build a portfolio with the kind of photography that will get your work chosen for trade and consumer editorial reviews. Breakfast bites will be served. (0.1 CEU)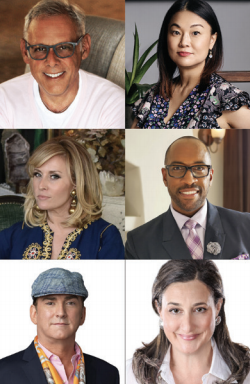 American Design: Preserving Our Past, Charting the Future 10 a.m. – 11 a.m. | Global Views, IHFC, D220 Historically inspired entertainment is at its peak: Broadway's Hamilton, Starz's Outlander, and PBS's Victoria capture our imagination with their atmospheric historical settings. Williamsburg and Global Views welcome moderator Marina Case and panelists Anthony Baratta, Young Huh, Ron Woodson, Jaime Rummerfield and Gary Inman as they consider the relevance of historic buildings and decor to today's interiors. Gain insights from how their design visions draw inspiration from America's past.
Getting Your Dreams in Print: How to Publish a Book 10 a.m. – 11 a.m. | Universal Furniture, 101 S. Hamilton St. Ever wanted to put your designs in print? Join Designers Today editor Jane Dagmi and designers Shayla Copas and Christopher Kennedy for a discussion on what it takes to publish a book in the world of interior design. RSVP here.
Living Your Ideal Lifestyle 10 a.m. – 11 a.m. | Alden Parkes Seminar Room, 200 N. Hamilton St., Suite 110 Traditional Home senior style editor Krissa Rossbund moderates a panel with designers MA Allen, Jean Liu and Libby Langdon that tackles how you can help your clients achieve the lifestyle they want to live. Q&A to follow. (0.1 CEU)
How to Frame Your Silk Scarf 11 a.m. – 11:30 a.m. | Wexel Art Displays, Showplace, 2335 Gorgeous silk scarves are art pieces in their own right. Come for a framing and hanging demonstration with an Hermès silk scarf—and don't forget to drop your business card off for a chance to win the scarf at the end of the show!
The Ins and Outs of Performance 11 a.m. – 12 p.m. | Century Furniture, 200 Steele St., 2nd Floor Atrium How does your knowledge of performance textiles stack up against industry standards? Learn the ways you can achieve performance without sacrificing beauty from Patrick Shelton and the Inside Out team. (0.1 CEU)
Trials and Tribulations of a Traveling Designer 11 a.m. – 12 p.m. | Universal Furniture, 101 S. Hamilton St. Join Nick May of The Chaise Lounge podcast as he leads a discussion about succeeding as a traveling designer. Chad James, Nina Magon, Susan Jamieson and Benjamin Johnston will share lessons learned about managing business on-the-go, including executing long-distance projects, sourcing materials and product in remote areas, connecting with reliable contractors and craftspeople on location, showcasing your travels for increased social following, and ensuring that your local clients are satisfied while you're away. RSVP here.
Design Using Color Theory to Create Healthful Lifestyle Settings 12 p.m. – 1 p.m. | Watermark Living, 205 S. Main Street Learn about the benefits of integrating color and the selection and specification of performance fabrics in lifestyle designs from Sunbrella's experts. By the end of this CEU, participants will have a deeper understanding of how color influences emotions and behavior. (0.1 CEU) RSVP here.
Designer Viewpoint Series: Leveraging Social Media to Market Your Business 12 p.m. – 1 p.m. | High Point Theatre, Transportation Terminal Led by Jennifer Quail of i+D magazine, this panel of social media leaders—Justina Blakeney, Bria Hammel, Lance Jackson and Courtney McLeod—will share their expertise leveraging social platforms to reach customers and build a brand. Complimentary boxed lunch provided. (0.1 CEU)
Getting Your Work Out There: Real Talk About Publishing in the New Media Landscape 2 p.m. – 3 p.m. | The Point, Commerce Ave., between S. Main St. and Wrenn St. Should you post that project on Instagram or hold out for a magazine feature? The rules of publishing are changing by the hour, and this session promises to get you up to speed and then some! Join journalist Sophie Donelson and interior designer Erin Gates, author of the New York Times bestseller Elements of Style as well as Elements of Family Style (April 2019), for a candid discussion about how best to publish your work in print, social and digital.
Home Staging: How to Successfully and Strategically Add to Your Business 2:30 p.m. – 4 p.m. | Suites at Market Square Seminar Room (SAMS T1014) Learn from home staging professional Jennie Norris, who explains why you should add staging to your business. Norris will also cover the definition and history of staging, the similarities and differences with a traditional design practice, and how to make the business model work for you. (0.1 CEU)
Providing Custom Design Collaborations for Your Clients 3 p.m. – 4 p.m. | Zuo, IHFC, G582 Leading interior design experts share how to make your designs stand out without breaking your clients' budgets. RSVP here.  
Demystifying Performance in Design: Residential, Resimercial and Hospitality 5 p.m. – 7 p.m. | Norwalk Furniture, IHFC, M108 Designers Denise Wenacur, Jessica Duce and Gary Inman will share what role performance materials and textiles play in their current design projects in a panel moderated by trim expert Jana Platina Phipps.
IFDA Selects Mixer and Awards Reception 5 p.m. – 7 p.m. | The Point, Commerce Ave., between S. Main St. and Wrenn St. The International Furnishings and Design Association brings its popular exhibitor awards program, IFDA Selects, to Spring Market. Join this mixer as IFDA recognizes and celebrates exhibitors in 10 different categories.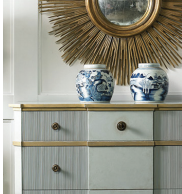 Courtesy of Hickory White
Third Night: Southern Soul 5 p.m. – 7 p.m | Hickory White, 309 N. Hamilton St. Hickory White celebrates Southern soul as part of the Hamilton Wrenn Design District's Third Night gala.
Universal Furniture: In Good Company 5:30 p.m. – 9 p.m. | 101 S. Hamilton St. Join Universal Furniture for its semiannual celebration of Market, featuring cocktails, hors d'oeuvres and live music from Lulu the Giant. RSVP here.