Two New York designers take sides over shiny, lacquered walls.
Nick Olsen

Nick Olsen Design
I love the bits of sparkle that lacquer adds—it reflects light, as well as all the pretty contents of a room. That reflective quality of lacquered walls seems to expand a room of any size and provides a depth that can't be achieved with simple paint. I love lacquered walls in a dining room or den, which can feel both cozy and luxurious at the same time. I'll often lacquer a living room ceiling for an element of surprise, especially if it isn't dotted by recessed lights. Although I've seen other designers use white lacquer beautifully, I tend to gravitate toward richer jewel tones for dramatic effect, or blues and greens to mimic the ocean. I always mix a variety of textures in any room, so I wouldn't necessarily use a lacquered dining table in a room with glossy walls, but there are many contrasting textures—like chalky plaster furniture, for example—that look incredible against lacquer. No disrespect to Leyden, but I'd encourage him to live a little—and ask if he's afraid of his own reflection! Lacquer may not be appropriate for every project or client, but its origins date back to 7000 BCE—to me it's timeless and glamorous.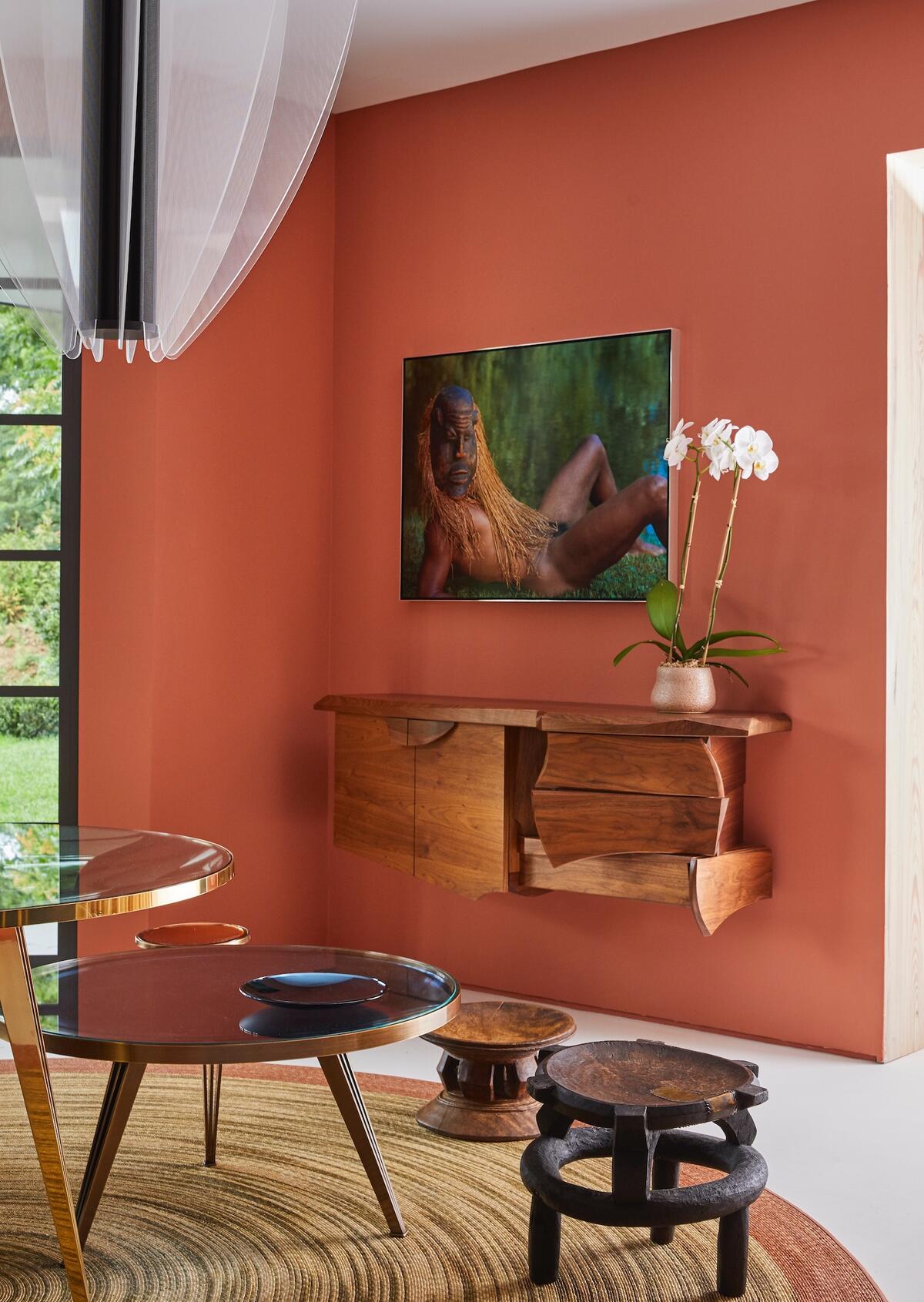 Leyden Lewis

Leyden Lewis Design Studio
For me, it's always flat, matte walls. Despite the sexiness of a perfectly executed lacquered wall, light catches every little imperfection, drawing attention to tiny flaws that would otherwise go unnoticed. If walls are coated properly, a flat-finish paint produces a helpful illusion of perfectly smooth walls. The beauty of flat paint is also in the purity and intensity of the color it creates. With lacquered paint, any surrounding colors will be reflected onto the wall, creating an impression of variations in the wall color. The limited reflectivity of flat paint, on the other hand, means that the walls will exhibit a more consistent, deeper color. Flat paint can also be used to create the perception of an enlarged space. Because light is absorbed by flat paint, walls appear to visually recede from the viewer, expanding one's experience of the room—an effect that also allows artwork to pop. Finally, there is a formality to a space adorned with completely lacquered walls that can make a person who enjoys a more casual existence feel out of place in their own home. How do you want to live?