For Alex Proba, unfamiliar mediums and unexpected collaborations have paved the way for a portfolio that knows no bounds.
For most of Alex Proba's upbringing, art was largely absent. Before settling in Germany, Proba's parents, both doctors, escaped the communist regime in Poland to offer their children a chance at a better life. The result was a household that was, as Proba puts it, "science-based and non-creative." Some of her happiest moments were spent alongside her grandmother, a former florist who helped raise Proba and her siblings and spent most days in the garden.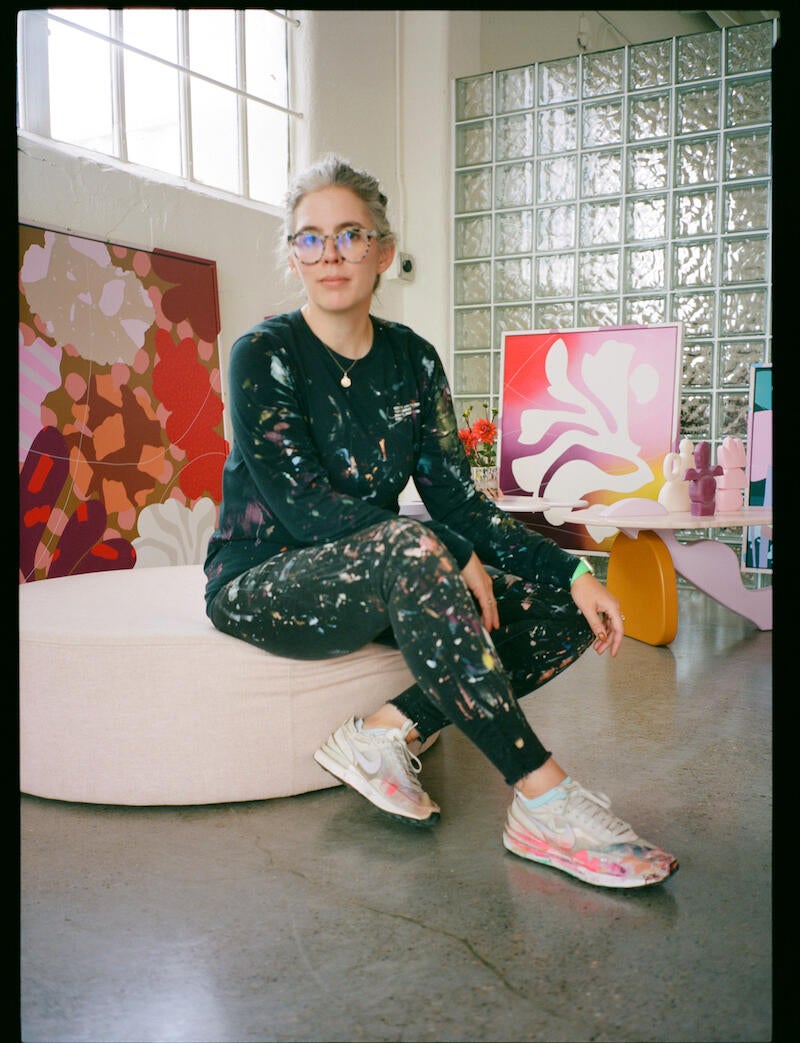 Parker Fitzgerald of Ransom LTD
When Proba was 15, everything changed. She shipped off to Ohio for an exchange year, and found herself in an alternate reality: living among a family with a major interest in art and design, including a host mother who was a former designer for DKNY. With their encouragement, Proba began her own art practice, and took a particular interest in painting. "That was the first time in my life where I was like, 'I can do that,'" says Proba. "When I went back home, I didn't stop."
The next few years were an explosion of artistic exploration for Proba, who studied architecture and graphic design in Germany, worked briefly at an architecture firm in New York, then returned to Europe to earn a degree in furniture design at Design Academy Eindhoven in the Netherlands. By then, yet another slice of the industry had caught Proba's eye: the fast-paced world of branding, which seemed like the perfect fit for the multidisciplinary artist's creative temperament. She returned to New York and spent several years on the in-house design teams at startups General Assembly and Kickstarter, then worked with big-name clients like Target and Oscar Health as design director for the branding agency Mother. In 2013, Proba, whose legal status in the U.S. was dependent on work visas provided by her employers, started a side hustle to get her creative juices flowing again. At the time, Instagram was fairly new; Proba decided to join the platform as a way to keep herself accountable to a small following of family and friends as she challenged herself to create a new digital poster daily for a year. "I told myself, every day when I come home, I can at least do that," she says.
Word travels fast on the internet, but images travel even faster. By day 100, Proba's project had garnered an explosion of press coverage, and the audience admiring her work—surreal, abstract images in saturated hues, all displayed in digital collages—grew into the hundreds, then thousands. As she began taking commissions and teaming up with other artists and brands, Studio Proba grew into a formidable presence. Within the same year, Proba also launched her own collection of items called Proba Home: a variety of furniture, wallpaper, rugs and soft goods depicting reconceptualized versions of the colors and motifs featured in the original poster assortment.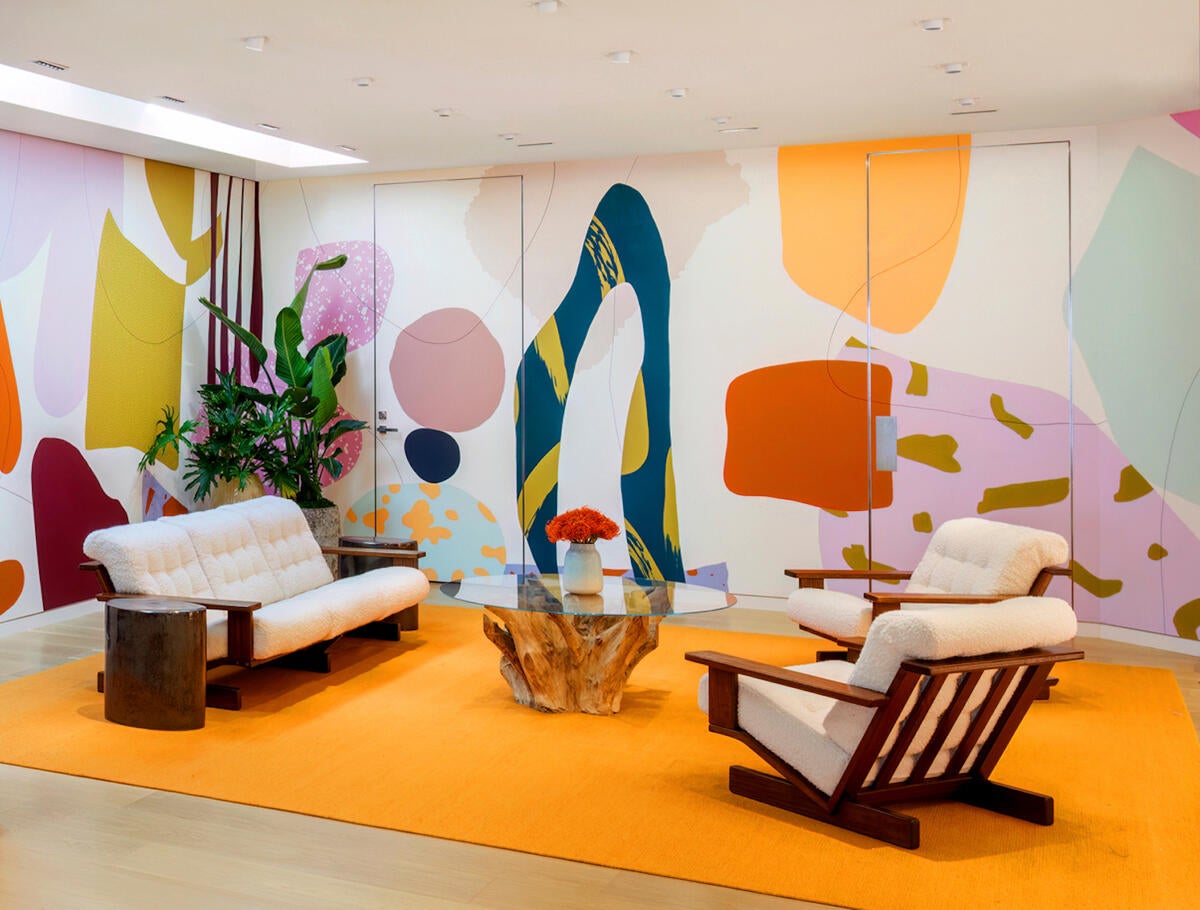 Courtesy of Louis Vuitton
By 2018, Proba was able to leave her day job as an art director at Nike to pursue the venture full-time. Since then, her oeuvre has expanded in unexpected directions, like last year's debut of Proba Paws, a line of pet accessories rendered in the designer's signature style. Beyond that, her work has spanned art, murals, sculptures, furniture, spaces and branding, including a vast number of collaborations—ranging from a colorful bespoke refrigerator for Samsung Electronics to a sneaker collection with Duliss Shoes to a Rodeo Drive storefront display for Louis Vuitton, where she designed a custom trunk for the brand's 200th anniversary celebration. The last year has also seen the artist collaborate on a line of unisex pajamas for Nufferton, tiles for Concrete Collaborative and a desk set for Areaware.
Despite working across a variety of mediums, Proba's creative process always starts by hand, with initial ideas rendered as collages, paintings or sketches. When gathering inspiration, she describes herself as "anti-swipe," forgoing social media as a source. "It makes your work not as strong because there's no way that you're not influenced by it," says Proba. Instead, she draws largely from nature and her own memories—including places like the gardens her grandmother tended during her childhood, which become her signature floral patterns, colorful palettes and curved lines. 
Now, Proba's sights are set on tackling more new terrain, including fresh collaborations and mediums that seem off-the-wall—literally. One of her biggest recent achievements is the design of custom commissioned swimming pool tiles, which together form a mosaic work. "That was on my list for a long time as a canvas that's been neglected," says Proba. "Picasso and Hockney did something back in the day, but after that no one really focused on it much." 
This year, she has three more pools in her project pipeline, along with an upcoming collection of high-end furniture for an Italian company, murals and a potential large-scale sculpture installation. The continued challenge of new mediums keeps her on her toes, which is just how she prefers it. "I like doing the unexpected ones," says Proba of her upcoming projects. "Those are definitely my wins—the harder it is, the better." 
Homepage image: Proba designed an evocative pool mural in Palm Springs | Madeline Tolle