Whether it's creating Europe's first underwater restaurant, building an entire eatery out of cardboard or pioneering a new paradigm for seating arrangements, restaurant designers are exploring a whole new frontier.
The best restaurants tend to share a couple of key qualities—chief among them, phenomenal food and an extra-inviting atmosphere. Today, designers have more ways to achieve the latter than ever before. Although patrons might not think they are looking to make themselves at home when dining out, designers are harnessing a host of noteworthy residential trends in order to spark an emotional experience and create the illusion of private areas within a large, open room.
Some of the essential innovations in this sector seem simple at first glance, but can fundamentally transform the diner's experience. Changing where and how we sit is one such evolution. "We're seeing a lot of experimentation in how seating is arranged," says Adam Farmerie, principal designer at New York–based design firm AvroKO, which has created dozens of high-end restaurant concepts from San Francisco to Hong Kong. "More than any specific stylistic direction, [seating changes] may be the strongest trend in restaurant design at the moment."
In Farmerie's view, the seating shift was ignited by a growing interest in making restaurants feel like an exceptional version of your own home. One example? Taking a high-low approach. "Designers are mixing table heights more than ever," he says. "They're using not just dining and bar-height tables, but adding in breakfast heights and mixtures of soft and traditional hard seating. As a result, restaurants are starting to mirror the types of varied seating we might have in our homes, becoming at once subconsciously familiar and comfortable."
Incorporating eclectic materials and shapes also helps break up a space, creating the illusion that you're in your own separate area, even if there are no walls around you. A space that feels simultaneously open, airy and cozy might sound like a paradox, but it's the goal of designers like Caroline Grant and Dolores Suarez, co-founders of Dekar Design and the creative forces behind hotspot eateries like Bobo, Claudette and Rosemary's in New York. In the new outpost of health food cafe Mulberry & Vine in Brooklyn's Dumbo neighborhood, the duo was confronted with a wide-open space—and tapped into the hallmarks of their residential design work to problem-solve. "We created three distinct eating areas, as we would in a home," says Grant. "There's a velvet banquette for large groups, smaller cafe tables with rattan chairs draped in faux-sheepskin throws, and a bar area with stools that's similar to how we would treat a kitchen island."
It makes sense: When do you feel more at ease than when sitting on a kitchen stool sipping coffee or nibbling on a snack and chatting with family or friends? At Cabra Cevicheria, a casual rooftop Mexican restaurant at the Hoxton Hotel in Chicago,
AvroKO incorporated wooden stools at a counter with a view of the open kitchen, where cooks bustle, dishes clatter cheerfully, and a bright, hand-painted porcelain backsplash sets the casually lively scene. Such communal seating is by no means new, but has reached a point of ubiquity that now surpasses trend—the new baseline, without which restaurants risk coming off as formal, or even old-fashioned. Artful curation, too, is crucial for setting a certain tone. Suarez says of Roey's, which opened in Greenwich Village last year: "We gave [it] a colorful tile floor and exposed ceiling beams with hanging plants to give the feeling that you are on an outdoor terrace in Italy. In contrast, the main dining room has reclaimed wood flooring and custom Moroccan mosaic tile tables to give the sense you are in a farmhouse kitchen." The firm also opted for different kinds of lighting in each area, including rope-hanging lanterns, pendant lights and wall-mounted fixtures that help set each of the spaces apart—yet the overall effect is warm and cohesive.
For Barcelona-based designer Francesc Rifé, whose work spans commercial and residential spaces, lighting was critical to the successful recent redesign of Sucede, a restaurant inside the Caro Hotel in Valencia, on the east coast of Spain. Built amid the remains of a 12th-century wall's exterior facade and watchtowers, the eatery invites visitors to dine among 4,400 square feet of ruins. "We [draw] attention to the old wall through strategic integrated LED lighting," says Rifé, who also used skylights and vertical openings to let in natural light. "The aim was always to create an emotional space, to make invisible energies palpable."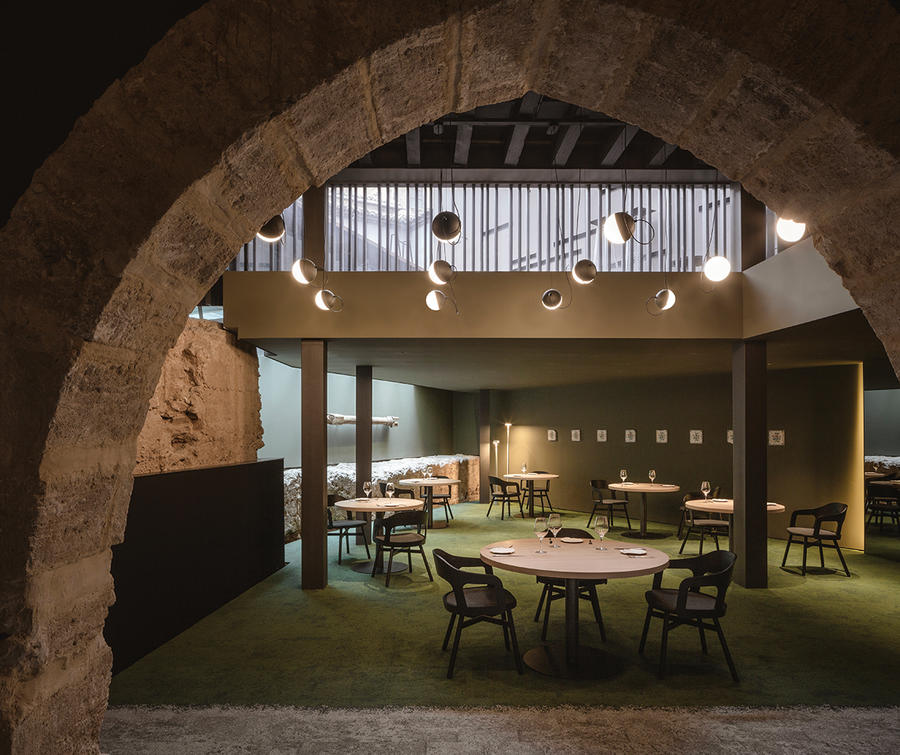 In order to evoke that energy, Rifé adopted a concept of "rigorous neutrality" that called for subtle touches: green carpeting and paint to complement the original walls without upstaging them; smoked gray glass that offers a peek into the cellar; art and ceramics dating back to 16th-century Valencia; and spare, simple furnishings. The menu, too, is an ode to the region's past, with dishes like honeyed mussels, figs and trout bread, and quail and sea-cucumber stew.
With so many breathtaking elements working in concert at Sucede, Rifé's challenge was to enhance without distracting. To accomplish that, he called on his expertise with adaptive reuse, a design process that repurposes existing buildings. Beyond aesthetics, the practice is inherently compatible with two other current design movements: sustainability, through upcycling and minimizing waste; and biophilia, which increases human connection to nature through design. "For me, it has always been important not to try to completely change the space in a project—that would be frivolous," says Rifé. "I have never understood design as a show. Any new addition to Sucede had to develop a deep dialogue with the place's history without trying to transform everything."
Whether by balancing past and present, or meeting the demands of a communal space without sacrificing intimacy, restaurant designers are taking diners to new places with simple aesthetic choices. "People love to feel transported into an experience," says Suarez.
KNOW THE RULES
The 600,000-plus restaurants in the U.S. must adhere to a variety of regulations imposed or recommended by various organizations, including the Americans With Disabilities Act (ADA), the North American Association of Food Equipment Manufacturers (NAFEM), and state-specific food retail and service codes.
Per the ADA, restaurants should create clear pathways so that people using wheelchairs, mobility aids and service animals can easily navigate self-serve stations, counters, seating areas and restrooms. Tabletops should be no higher than 34 inches above the floor, with 27 clear inches underneath so wheelchair users can maneuver comfortably.
NAFEM provides specific space recommendations for different types of restaurant operations (e.g., 11 to 14 square feet per seat for table service; 18 to 20 square feet per seat for counter service) and also offers a standard method for measuring and reporting the environmental impact of food-service equipment.
Where you're designing a restaurant matters, since the rules vary by location. Each U.S. state has its own public food-safety governing body, which sets the regulations for everything from paint (in Chicago, for instance, commercial kitchens require light-colored paint on walls and ceilings) to restrooms (New York eateries must provide one single-gender restroom for every 75 customers of that gender, with 30 inches of space around every toilet).
Trend Alert
In a world that loves to dine out, it's no wonder that there are seemingly boundless design concepts to match the millions of restaurants around the globe. Here are two of the most innovative.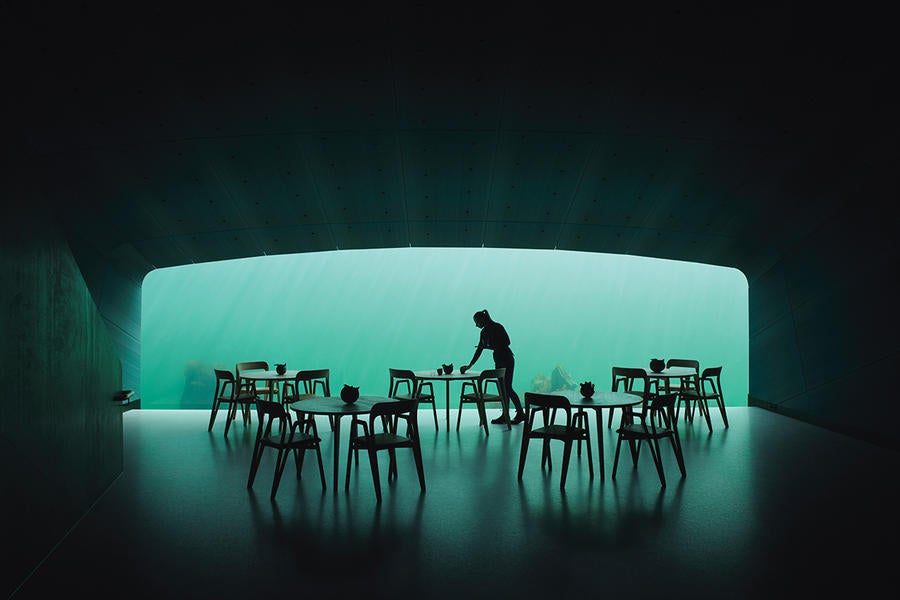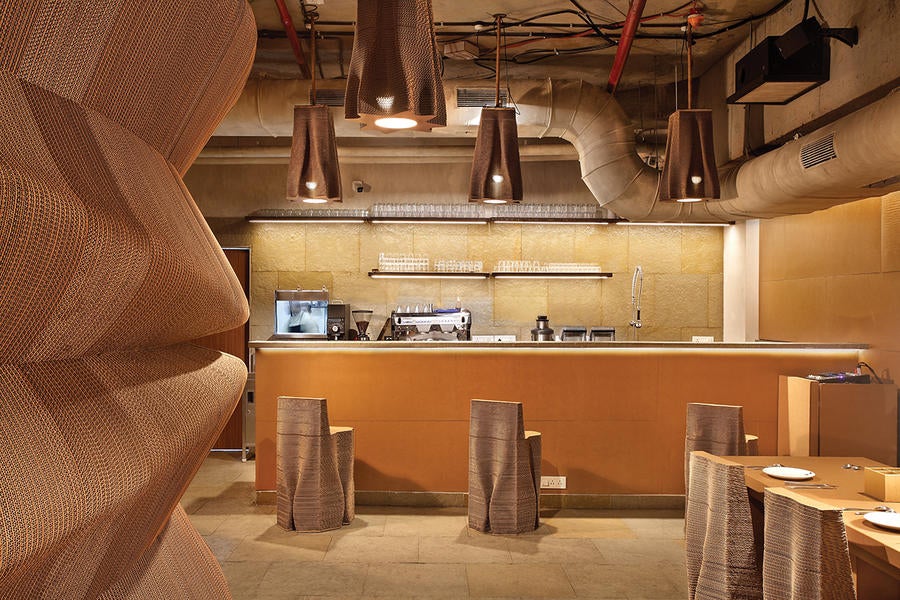 16 Feet Under: Biophilic from the inside out, Under was designed by Oslo-based firm Snøhetta and recently opened its doors in the town of Lindesnes on Norway's southern coast. The menu boasts sustainably sourced local wildlife, and the building—a half-sunken concrete monolith—is intended to integrate into the environment by becoming an artificial reef for limpets and kelp.
Paper-Thin Walls: Sustainability soars to new heights at Cardboard Bombay, a cafe that opened in Mumbai this spring. The restaurant's interiors, created by local architecture firm NUDES, are constructed almost entirely of cardboard— which is not only biodegradable, but also lightweight, sound-absorbent and durable, thanks to a wax waterproofing treatment.
Homepage photo: Courtesy of The Hoxton, Chicago