Dining outside in the city of sin 
Valley view-boasting patios and refreshing craft cocktails are at-the-ready for a tired designer's respite during Market. Plus, these eateries' designs pack a punch.
Enjoy cocktails made with all-natural juices on Bandito Latin Kitchen and Catina's outdoor patio. One of the year's most anticipated openings, it is serving up Latin American–inspired dishes in a 4,000-square-foot space with a Mexican twist. The industrial-inspired space was designed by owner Kent Hartman in conjunction with Punch Architecture, a Las Vegas–based firm. 
Studio Munge, an Ontario, Canada-based design firm, is the mind behind Libertine Social, Sean McClain's gastropub. The design was conceived around a character who embodied the Libertine spirit, brought to life in the restaurant through the open-concept kitchen and intimate bar area. The patio incorporates the iconic Big Wall of Body Parts, for which the restaurant's Mandalay Bay Resort and Casino location is known.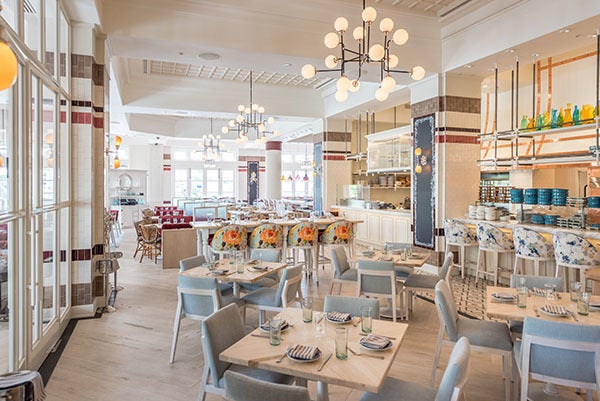 Tuscan fare paired with wine from Napa, Sonoma and Italy is the highlight at chef Brian Massie's Bottiglia, also a product of Studio Munge. The outdoor patio is kept cozy with a fire pit overlooking the desert, while the dining room is donned with bright floral prints, evocative of the restaurant's surroundings. 
From the collaborative power of two of Las Vegas's top hospitality firms, Simon Hospitality Group and Titan Brands, Standard and Pour sets out to honor late chef Kerry Simon. The gastropub was Simon's last project before his passing and has a bright and open atmosphere with views overlooking the entire valley.* 
Keep your eyes peeled and make your reservations ASAP: By next Market's time, the Gordon Ramsay Hell's Kitchen restaurant at Caesars Palace will debut in the former home of Serendipity 3. Designed by New York–based Jeffrey Beers International, the celeb chef's latest outpost will encompass a nearly 2,000-square-foot elevated outdoor patio.
*Editor's Note: Standard and Pour unexpectedly closed after publication.