It's easy to get lost in High Point Market's abundant offerings, but a good map can help.
Treasure hunters rejoice! Navigating High Point has never been easier. We've highlighted every showroom featured in BOH's Designer's Guide to High Point Market—plus other key buildings and notable debuts—so you can explore the best of each neighborhood. If you need extra guidance while you're out and about, look for the corresponding map colors and motifs on the way finding signage posted throughout Market. 
For a complete list of exhibitor showrooms and addresses, visit High Point Market's exhibitor directory here.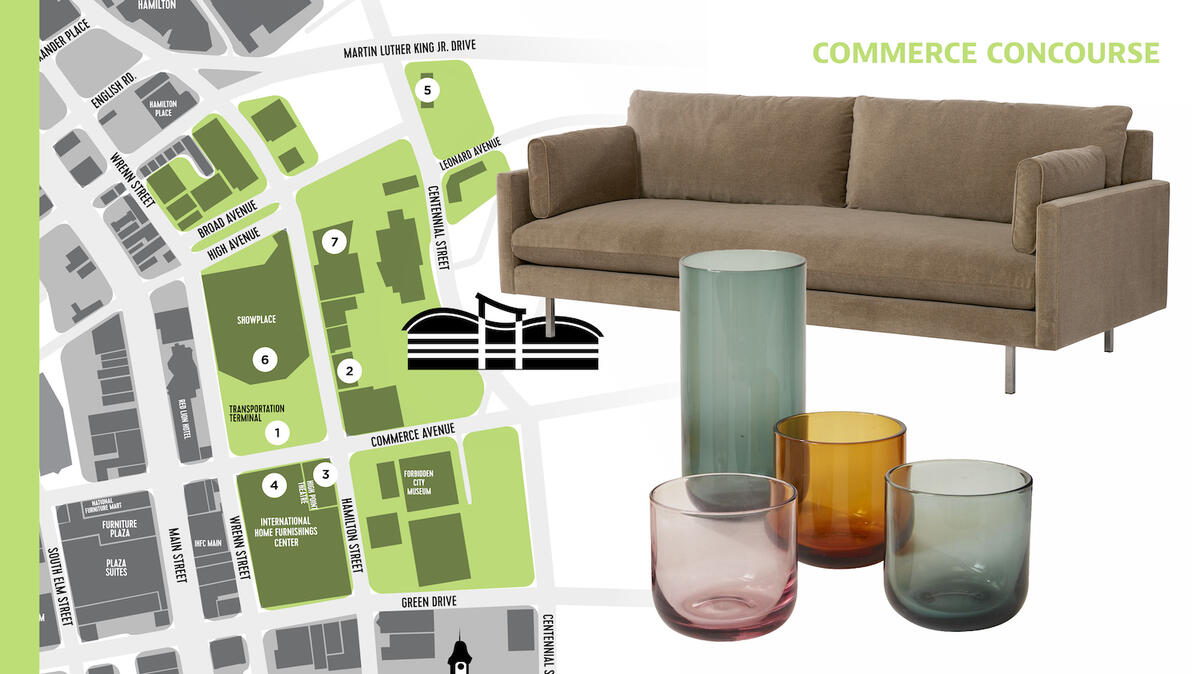 Map: Courtesy of High Point Market Authority. Products: Courtesy of brands
Hooker Furnishings kicks off Market in its new showroom on the third floor of Showplace. While you're there, don't miss the Atlas sofa (above), a khaki-hued cutie clad in cotton-blend velvet that mimics genuine mohair. Before you leave the building, stop by American Leather (Suite 5000) for a quick break in the super-comfy channel-tufted Cirrus Comfort Echo recliner. While perusing the vast offerings at the International Home Furnishings Center, seek out these two gems: the Katsura decorative pillow in Emerald, a jewel-toned dreamboat adorned in a whimsical flora-and-fauna motif from
Ryan Studio (IH-400); and Accent Decor's Las Positas drinkware (above), a colorful line of mouth-blown glasses that moonlight as minimalist vases (H-309).
On the map: 

1 | Center Stage
2 | Eichholtz (129 S. Hamilton St.)
3 | High Point Theatre
4 | IHFC (210 E. Commerce Ave.) 
5 | Odette
6 | Showplace (211 E. Commerce Ave.)
7 | Universal Furniture (101 S. Hamilton St.)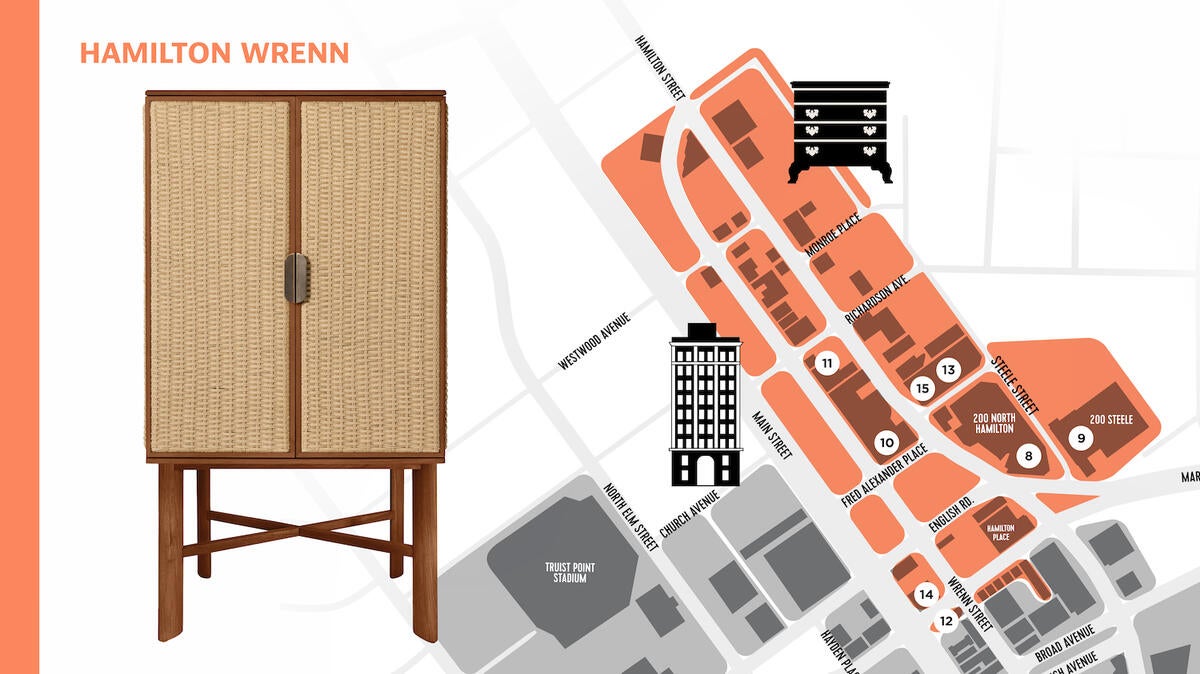 Map: Courtesy of High Point Market Authority. Products: Courtesy of brands
At Made Goods (in the Bank on Wrenn), find the Vanna bar cabinet (above), an oak-veneered beauty with cord-wrapped doors and brass half-moon handles. Once you've regained your composure, head over to 200 Steele to see the Dirillo mirror by John-Richard (Suite 223), which boasts a bold blue-finished glass frame. As you make your way down Hamilton Street, step inside Wesley Hall to pore over the Erinn V. Collection of handwoven window coverings by Hartmann&Forbes.
On the map: 

8 | 200 N. Hamilton St
9 | 200 Steele
10 | 301 N. Hamilton St.
11 | Gabby/Summer Classics (333 N. Hamilton St.) 
12 | Julian Chichester
13 | Sherrill Furniture Companies
14 | The Bank on Wrenn
15 | Wesley Hall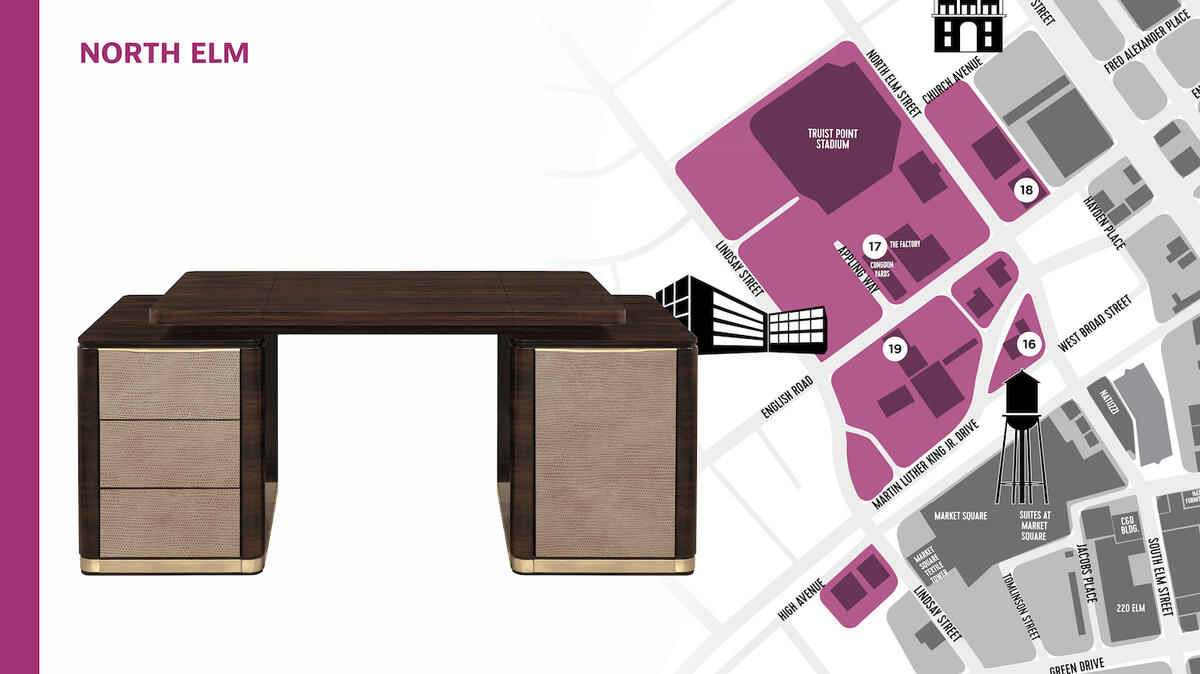 Map: Courtesy of High Point Market Authority. Products: Courtesy of brands
Do yourself a solid and stop by Hurtado to marvel at the Emerald vanity (above). Along with a lift-up mirror, the clean-lined piece features a soft-close door bedecked in leather and metallic accents. You and your clients can thank us later.
On the map: 

16 | Codarus
17 | Congdon Yards
18 | Hurtado
19 | Splashworks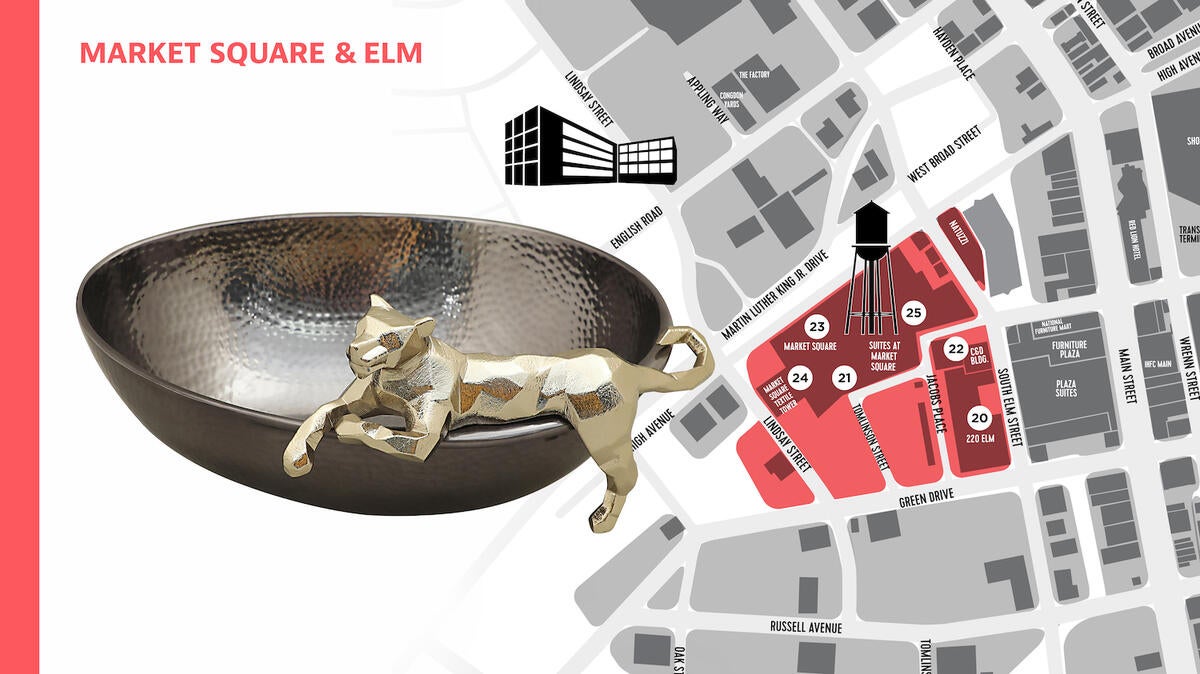 Map: Courtesy of High Point Market Authority. Products: Courtesy of brands
Step inside the Commerce & Design Building to bask in the glow of the rattan petal-shaped Tisdale pendant by Arteriors (Floor 1). Then make your way over to the Suites at Market Square to discover the Panther bowl (above) by Cloud9 Design, a sculptural vessel punctuated by a faceted puma figure (G-1025, G-2027 & G-6021). While you're in the area, carve out some time in Market Square to admire Thibaut's vibrant Queen Palm wallcovering in green and blue—its fabulous fronds will perk you up faster than a shot of espresso (Suites 254 & 260).
On the map: 

20 | 220 Elm
21 | Antique & Design Center
22 | Commerce & Design Building
23 | Market Square
24 | Market Square Tower
25 | Suites at Market Square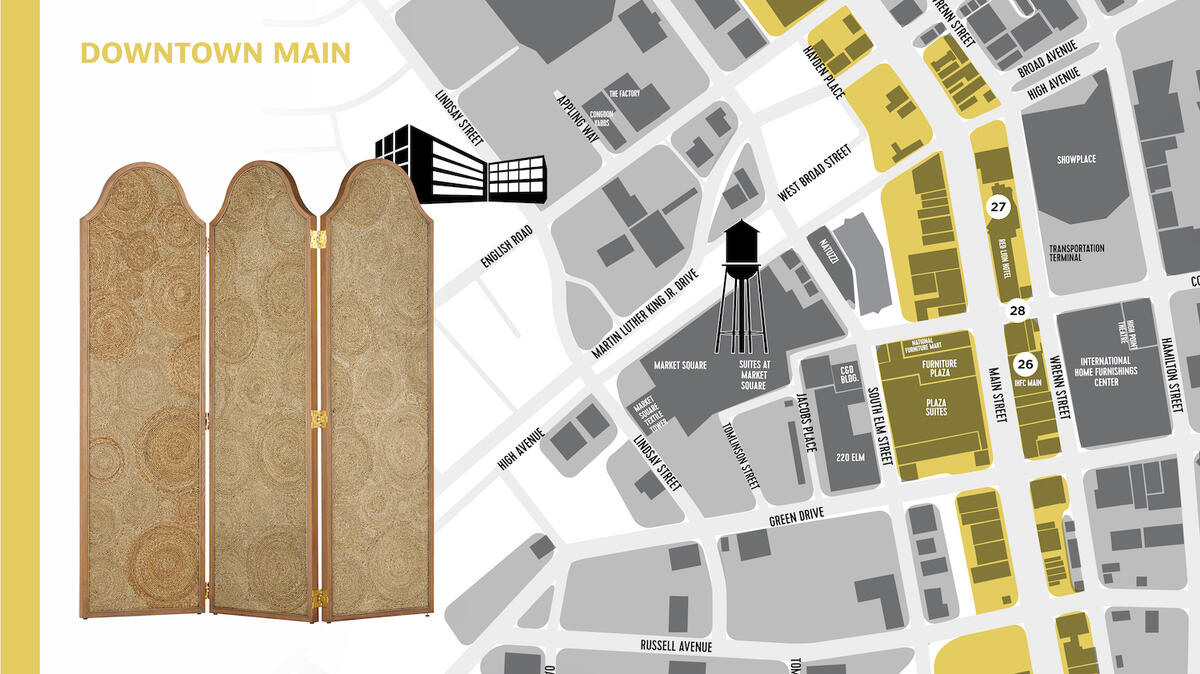 Map: Courtesy of High Point Market Authority. Products: Courtesy of brands
Don't miss the Sisal screen (above) by Marjorie Skouras for Currey & Co. The swirling rope-embellished stunner will be on display alongside an exhibition of two dozen vintage Mexican dresses from the Yucatán-based designer's personal collection of modernist Mexican textiles. While you wander up Main Street, check out the new Phillips Collection showroom, where you'll find the ultra curvy (and insanely cool) Clover coffee table.
On the map: 

26 | Currey & Company
27 | Phillips Collection
28 | The Point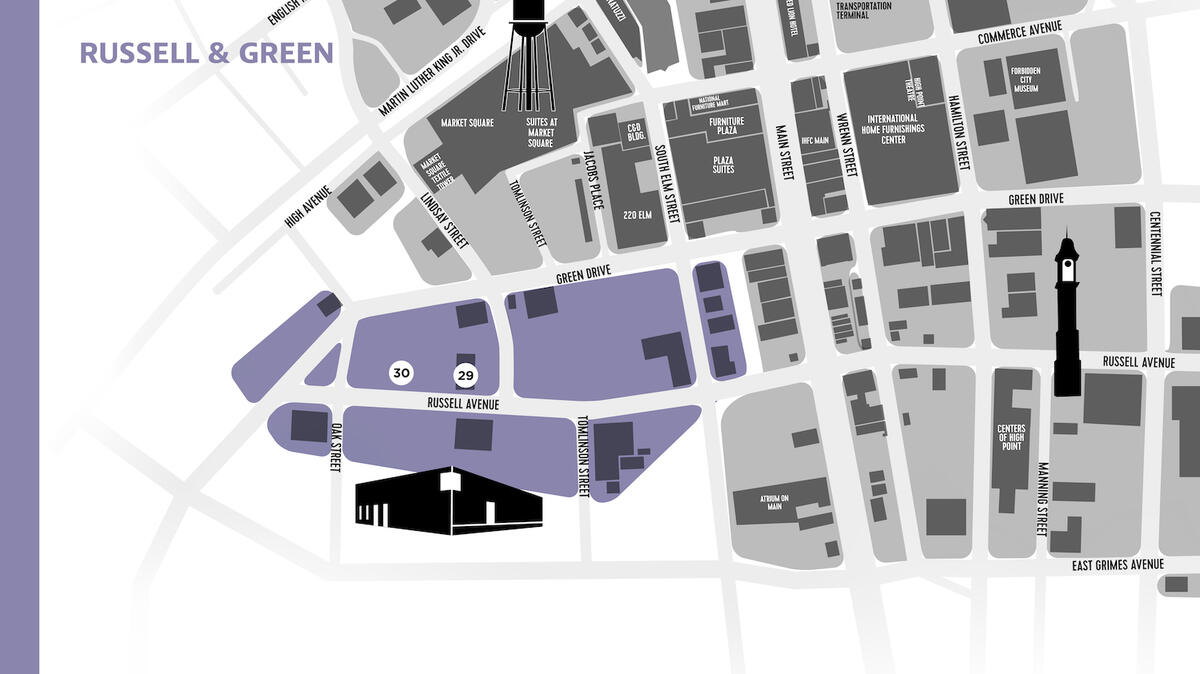 Map: Courtesy of High Point Market Authority.
On the hunt for something singular? Antiques destinations like 214 Modern Vintage or Chelsea on Green (which houses more than 30 vendors) offer a curated assortment of one-of-a-kind finds.
On the map: 

29 | 214 Modern Vintage
30 | Chelsea on Green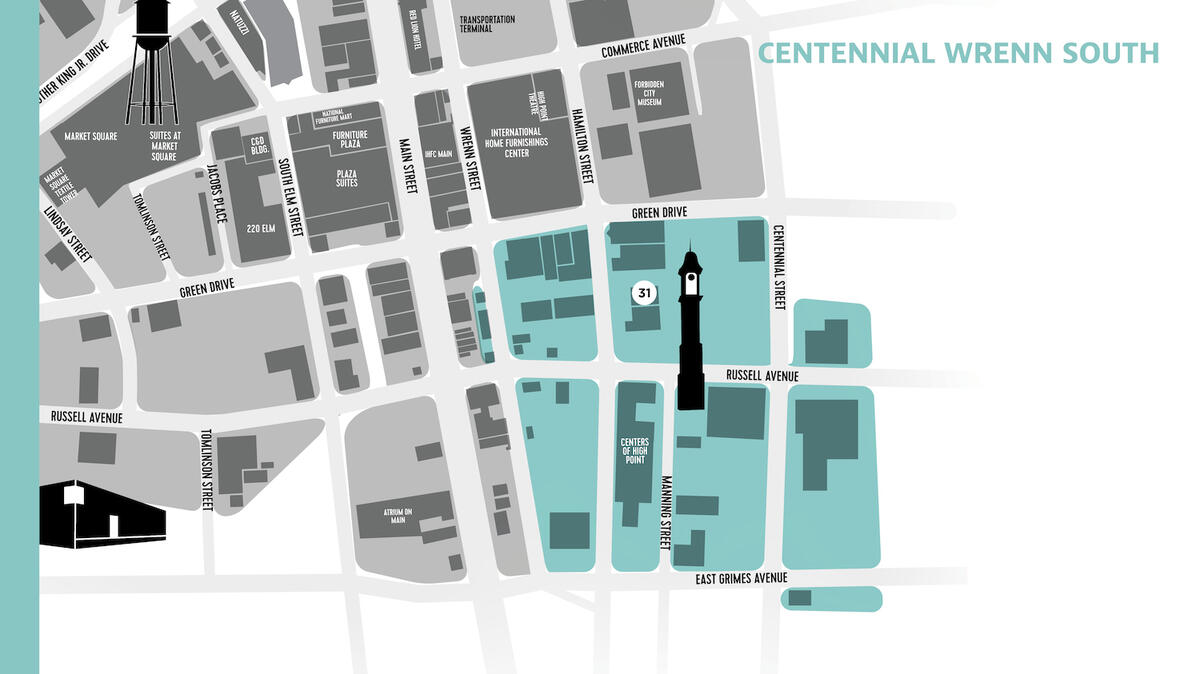 Map: Courtesy of High Point Market Authority.
The American Home Furnishings Hall of Fame debuts in its brand-new home this spring, with exhibits and archives charting the home industry's history and celebrating its legacy. Stop in to check out the new space—there's an open house on Saturday, April 22, at 1 p.m.—or pull up at the bar for coffee or cocktails all weekend long.
On the map: 

31 | American Home Furnishings Hall of Fame