Since the rollout of its trade program in early 2019, The Container Store has been on a mission to be a valuable resource for interior designers. The company's custom closet offerings have been a central piece of that undertaking, with the brand expanding from a single closet system, Elfa, to four—Elfa Classic, Elfa Décor, Laren and Avera—each of which includes an array of customizable features and finishes.
"The trade program has become such a fun aspect of our business," says Margery Hurlbut, director of marketing for The Container Store. "I think designers are discovering how much flexibility we can offer them when it comes to closet design and how we can really become like a member of their team, helping them do everything from planning to measuring and installing."
Natalie Myers, the principal of Los Angeles–based firm Veneer Designs, says that referring clients in need of closet systems to The Container Store has become standard practice. "I don't do closet design—it frightens me!" she says. "A lot of clients assume it's something that will be included when they bring me on, and I'm always like, 'No, thank you—but we can go to The Container Store!' Their systems look as good as if you hired a cabinetmaker, but I don't have to design them, which is my favorite part."
Myers discovered The Container Store's Avera line while working with a client, but quickly knew she needed it in her own home, as well. "It's an occupational hazard, when you see something you love in a client's house, then you want it for yourself," she says. She loved the finished result so much that she had the folding doors of her closet removed, leaving her Avera system in full view. "Now we have a system that's an architectural showpiece," says Myers.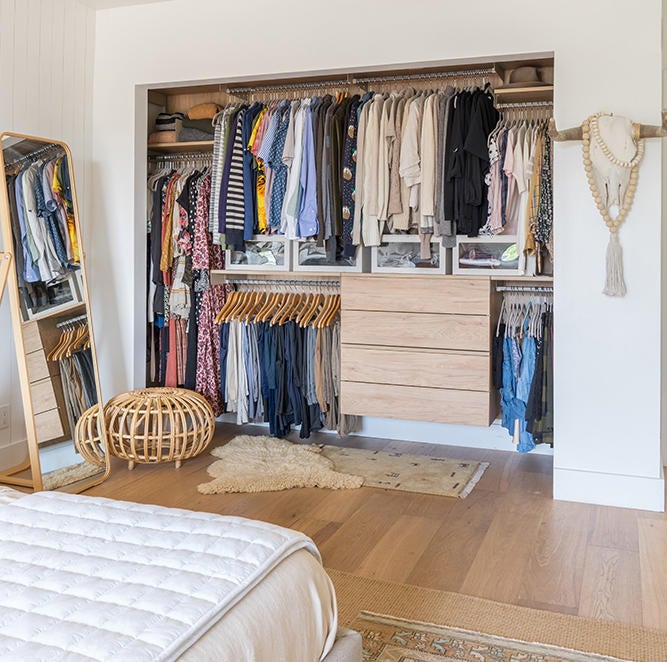 Courtesy of The Container Store
Designers who do love closet design have become Container Store enthusiasts, too. Lisa Adams, a professional closet designer also based in Los Angeles, views the retailer as a great fabrication solution for her business. "They have so many options for finishes and details that they are able to accommodate my designs," she says. "A lot of times, when you look at other closet systems, you notice that the panels don't touch the ceiling. But with the Laren system from The Container Store, I was able to do floor-to-ceiling cabinets complete with baseboards, trim, LED lighting and glass-front drawers. It was an easy process for me, and a great finished product for my client."
The Container Store is continuing to evolve and grow the benefits of its trade program in order to add more flexibility for designers and architects. Designers are now able to create entire systems virtually, without ever having to step foot inside a store. For designers who do want to shop in person, the company offers appointments for trade program members at local stores before opening hours.
For her part, Hurlbut loves seeing the different ways that designers use The Container Store systems in their projects. "Each of their spaces has its own personality," she says. "From the finishes they choose to the accessories they style the closet with, it's amazing to see how beautiful the projects turn out."
This story is a paid promotion and was created in partnership with The Container Store.
Homepage photo: The Laren closet system as designed by Lisa Adams | Courtesy of The Container Store