A data-driven approach to paint design has yielded a collection of three new Valspar Reserve exterior paints: Extreme Weather Paint + Primer with SunStopper Technology; Extreme Weather Paint + Primer with RainRelief Technology; and Extreme Weather Paint + Primer with SeasonFlex Technology. The SunStopper technology "serves as a sunscreen for homes in and around desert, including New Mexico, Arizona, Nevada, California and Texas," explains Valspar, while RainRelief technology is a mildew-resistant finish designed for humid, rainy regions like Washington, Oregon, Georgia and Florida.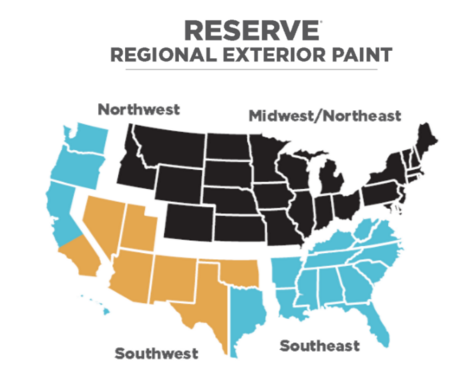 The brand's SeasonFlex paint is made for the Midwest and Northeast, which experience "blazing summers and extreme winters," and is designed to resist mold, mildew and algae. "This update to the Valspar Reserve line represents an unprecedented category innovation," says Heidi Petz, vice president of marketing for Valspar.
"We pursued its development after Consumer Insights found that homeowners were looking for a durable paint to address their area's unique weather conditions, and further research helped us to define three distinct weather zones comprising the nation. We are proud to provide such a high degree of customized solutions and are continually investing in formulations that raise the bar and set new standards for helping consumers achieve the best possible results, every step of the way."
The brand was recently given a J.D. Power customer satisfaction Award for exterior paint brands. The new paints are available in Lowe's, based on their regional location.