The "2017 Universe Study," a blind and independent research study focused on the interior design profession, was released earlier this week by Interior Design. Undertaken from May through June, the study focused on firms specifying at least $500,000 worth of products per year, and tallied the results of 3,200-plus responses.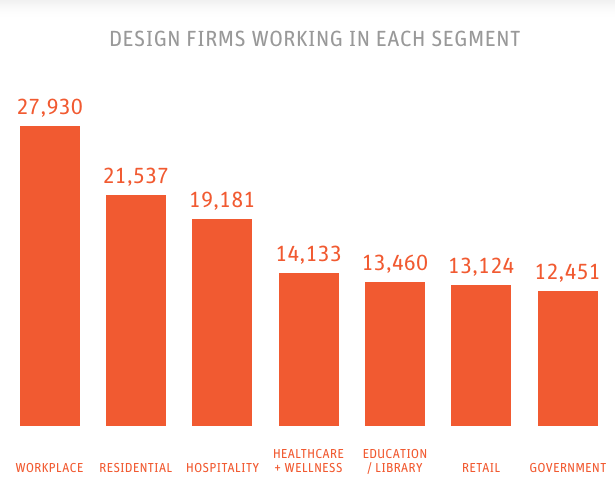 "The 'Universe Study' is the single most comprehensive body of research conducted within the interior design industry," says Carol Cisco, publisher, Interior Design. "The information gleaned from the designers surveyed is an incredibly valuable insight into the industry in its current state, as well as where it is headed in the future. Interior Design is incredibly proud to be at the forefront of this industry-defining research."
Among the findings? "An increase in both the estimated number of firms and designers in the Universe; a significant increase in the value of product specified annually ($77.95 billion) since the 2014 study; [and] a 98 percent optimism rating by designers surveyed."
The study found that the large majority of designers work across multiple segments, although the Workplace, Residential and Hospitality categories are the top three largest segments in 2017. The study also spoke to print, and digital, inspiration, noting: "Designers continue to rely on professional publications as the primary resource for inspiration; however, reliance on digital (such as social media and publication websites) has increased by 12 percent since 2014."
Syndicated with ASID, IIDA, IDC, CDECA, theMART and other associations, the study was released to the public for the first time ever this year. It focuses on categories including Profile of Interior Design Universe, Personal Profile of Interior Designers, Profile of Interior Design Firms, How Interior Designers Work, and State of Design Influence.
Learn MORE.