When designers think of "Made in America" furniture, their thoughts often drift to manufacturing hot spots like North Carolina or California, or maker hubs like Brooklyn and Rhode Island—all a far cry from the tropical shores of Hawaii. But in January of this year, Noho Home, an Oahu-based home brand, opened a micro-factory, a key move in the company's strategy to expand its footprint.
Noho Home was launched in Waipahu in 2018 by Jalene Kanani, a veteran of the furniture, fixtures and equipment industry—and a native Hawaiian. Kanani started her career in FF&E 25 years ago, and has been building out a portfolio of manufacturing operations ever since, the most recent venture being Noho Home. She founded the company in large part because though most people can vividly conjure up images of Hawaiian design, there are very few native Hawaiian brands or individuals bringing those products to the market. That's not to knock Tommy Bahama, but it is to say Kanani saw a ripe opportunity.
"There's great history here, and there's potential, but there's been a bit of a void, so that's what we've come to fill," she says. "What I quickly found is there were no readily available designs that spoke to our aesthetic, which might have incorporated our history, our culture, our flora and fauna. It was really hard to tell stories without the tools to do it. As a proud native Hawaiian, that just didn't sit with me."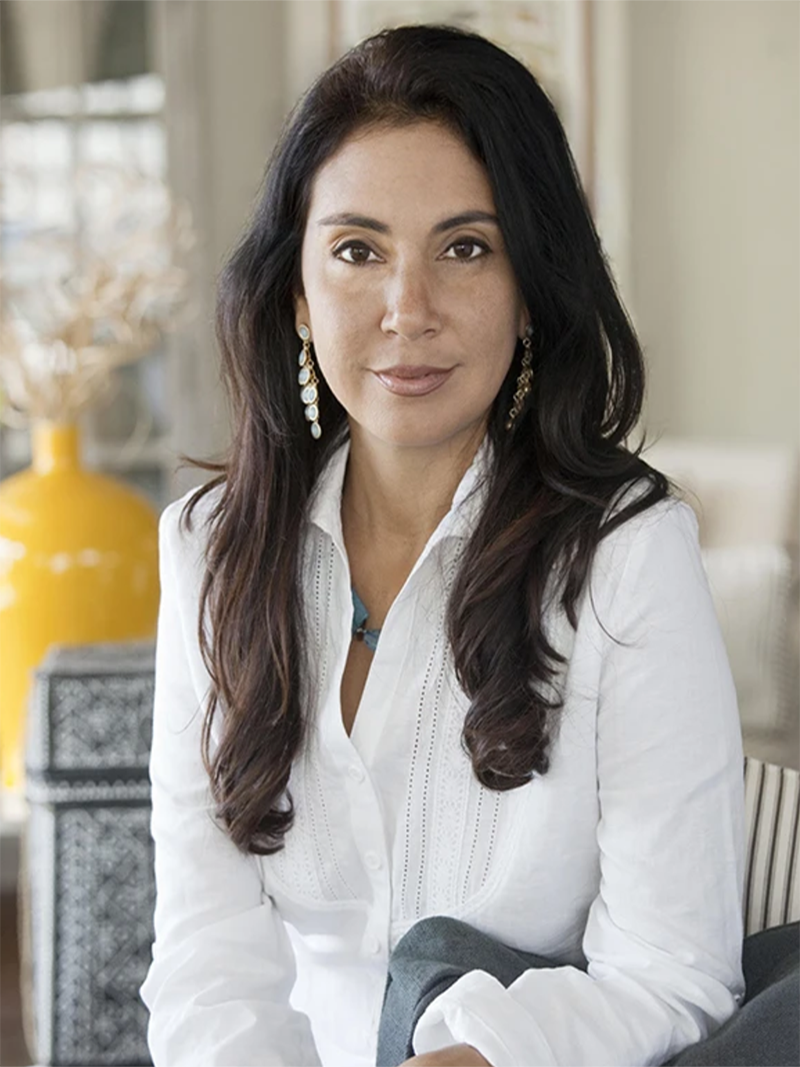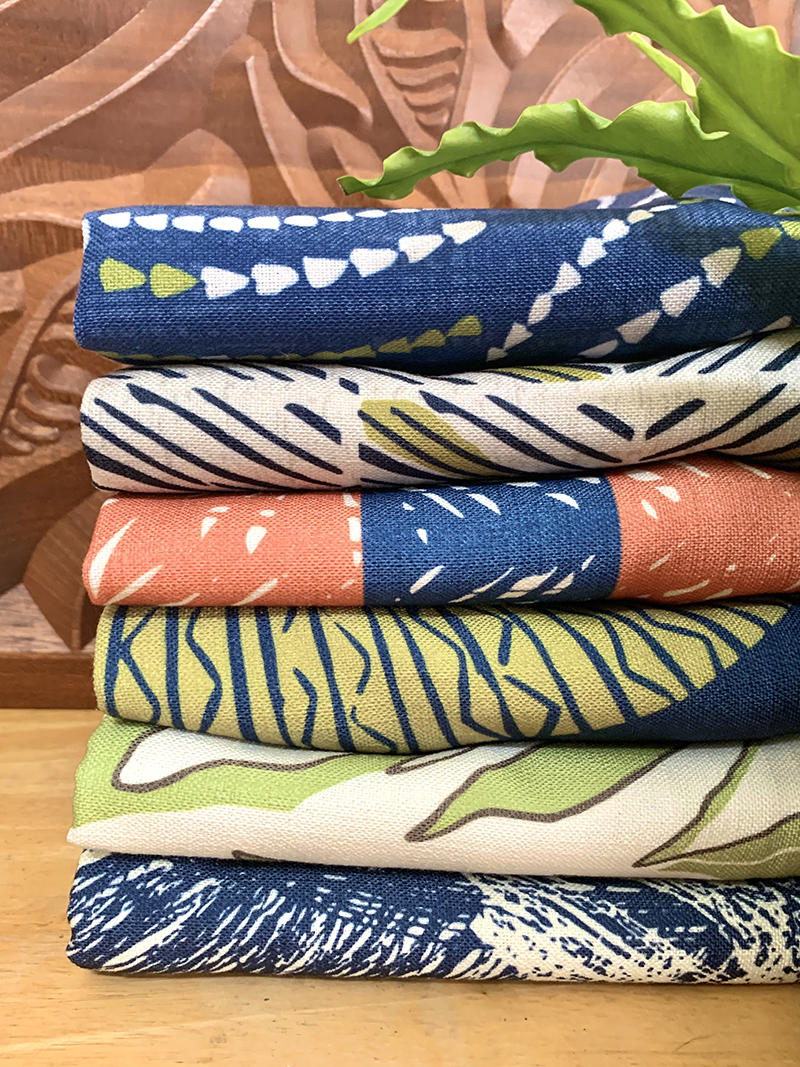 The brand started with bedding—sheets, pillows, duvets—but has since expanded into other soft goods, shower curtains and area rugs, with each item featuring traditional Hawaiian motifs. But back in 2018, Noho Home lacked the infrastructure to manufacture its products, so Kanani found herself working with custom manufacturers in the continental U.S. Long lead times and drawn-out communications led her to think of bringing at least some of the production to the island, a decision that may have come to fruition sooner had it not been for the pandemic.
With the micro-factory finally in place as of early 2021, Kanani and her team have overcome that obstacle. Now, she says, Noho Home can take a design from ideation to product in roughly an hour—which has not only increased her production capacity but also bolstered her creative process.
Noho Home stands as an e-commerce brand because Kanani aims to work as closely as possible with her consumers. "What I found in licensing is that you're distanced from the customer, so you don't get to tell the story," she says. "The distributor salespeople are the ones that are actually in front of the consumer. So even though we put a lot of thought and storytelling—what we call mana'o—into the designs and the products, it may not have been conveyed to that hotel, and they couldn't actually tell their narrative, either."
In addition to the emphasis on storytelling, opting for a D2C model allowed Kanani to more easily carve out a niche in the design space on her own terms. "I am self-funded, and starting in home decor has a high [financial] barrier to begin with, so I wanted to make sure it was going to be sustainable so we could grow." It wasn't long after Noho Home's launch that retailers began approaching, prompting the brand to quickly add a trade program for wholesale orders.
Naturally, there are plenty of obstacles that come with running a company and a manufacturing operation on an island nearly 2,500 miles from the next closest port. Logistics, workforce and machinery pose the three greatest challenges to Kanani's business. Because there aren't many local individuals with the know-how to operate, maintain or repair the machinery, training employees has been a significant hurdle. "You're buying your machinery from overseas, so to run [them requires] training, and that typically comes from your manufacturer. In the time of COVID, nobody can travel, and we don't have that workforce here in Hawaii," says Kanani.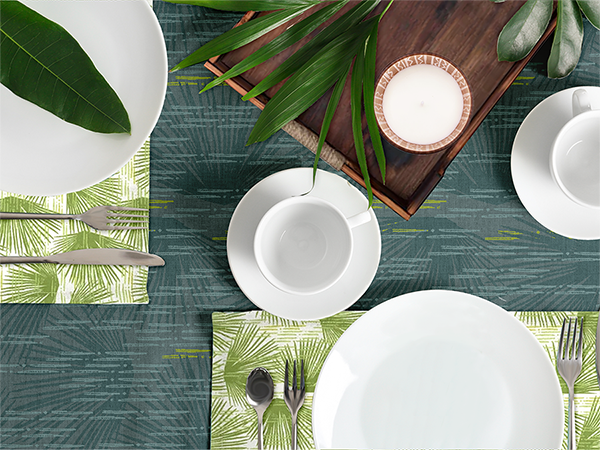 As a result, not all of the brand's products can be made in Hawaii. While a large part of Noho Home's business is workforce development, the company does rely on some mainland manufacturers to round out its product line. Through a partnership with a California-based manufacturer, Kanani is able to manage the production of those items that can't be made at Noho Home's headquarters—namely sheets, comforters and duvets, because the widths of those pieces exceed the size of the machinery on Oahu. The partnership is also a boon because it allows the brand to have some product in stock on the mainland, which saves shipping costs.
Despite the obstacles, Kanani feels that the new micro-factory is a key step toward elevating Hawaii's design economy, not only in relation to the rest of the world but among the locals, as well. "This new temperature of the marketplace really is demanding more authenticity in design," she says. Beyond Noho Home's products, Kanani has made a point of incorporating the Hawaiian language into as much of the brand experience as possible, from email communications to digital dropdown menus. "I consider my work to be sharing aloha and Hawaiian culture, and home is the medium for that right now," she says.
Homepage image: A living room styled with products from Noho Home | Courtesy of Noho Home