On May 31, Chicago's Design Center at the Merchandise Mart is debuting Digital by Design, a day of programming that was developed in response to designer interest in all things digital. The event will also introduce a rebranding for DESIGNHQ, the 14th-floor lounge formerly known as Lounge1447, open to professional designers only.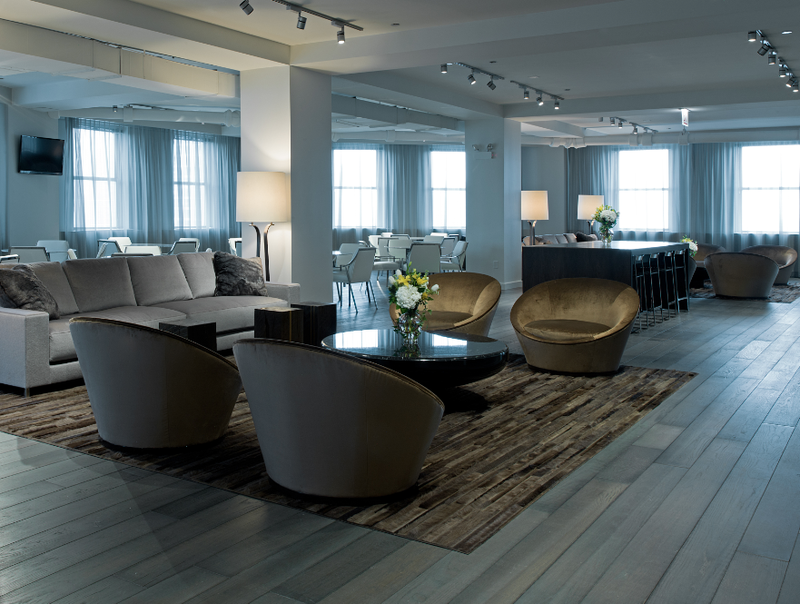 Digital by Design Day is the Design Center's first, and its organizers plan to run it annually. This year's lineup features panels on content creation; creating and managing a designer's online presence; Instagram-worthy interior photography; and the ins and outs of building a successful website.
The lounge debuts enhanced features including member-exclusive networking events, a concierge to help in planning, complimentary F&B options and charging stations. 
The full schedule, courtesy of the Design Center: 
10:00 a.m.
'Get Social: Creating Content With Purpose' (0.1 CEU)
With Claire Staszak, Centered by Design
Creating and sharing engaging content via blogs and social media channels has become a key part of marketing in the interior design industry. Luckily, interior designers often encounter rich opportunities to generate content, whether it's installation day at a job site or a day spent sifting through fabric samples. In this session, you'll learn practical tips for capturing and publishing content, methods for growing your web and social media audiences organically, and the most authentic and effective ways to engage with your following to ultimately grow your business. 
11:30 a.m.
'Owning and Optimizing Your Online Presence: A Digital Toolbox for Designers' (0.1 CEU)
With Arianne Nardo, editor in chief, The Business of Home | Aimee Wertepny, Project Interiors | Steve Somogyi and Filip Malyszko, steve + filip design | Sarah Vaile, Sarah Whit Interior Design
Online design and project management tools. Accounting software and smartphone apps that streamline a business partnership. The emergence of virtual reality in the interior design world. The future of interior design is now, and it's in the palm of your hand. This panel discussion will include a lineup of technologically savvy designers who will share strategies and best practices for industry professionals to truly own and optimize their online presence with the best tools, time-saving tactics and the latest technologies.
12:30 p.m.
Networking Lunch
Mix & mingle with other design professionals during lunch
1:30 p.m.
'In a Snap: Making Your Interior Design Photos Insta-Successful' (0.1 CEU)
With John and Maura Stoffer, Stoffer Photography Interiors
Although designers are visual people, there seems to be a disconnect in regard to photography, especially photography to be used on social media. When it comes to spreading the word about your interior design services, good content on social media is becoming even more important. Chicago-based interior design photographers John and Maura Stoffer will discuss the best ways to photograph your work in an appealing way using only your phone and how to make your brand irresistible on social media.
3:00 p.m.
'Demystifying UX & UI: Top 10 Missteps and Brilliant Ideas to Make Your Website Pop' (0.1 CEU)
With HYConnect's Lauren Sheehan, SVP, creative and digital director, and James Wynne, director of digital strategy
UX and UI experts from HYConnect will discuss website best practices and the latest trends, highlighting both user experience and user interface design fundamentals, along with the importance of goal setting, storytelling and search engine optimization. Learn tips and strategies and how to avoid common missteps, along with easy wins to help improve website performance and perceptions.
4:00 to 6:00 p.m.
DesignHQ Launch Reception
Join us as we celebrate the launch of the Design Center's DesignHQ, a members-only club dedicated to designers, architects and their clients, with upgraded amenities.