The office was full of pine trees.
It was December in West Hollywood, and the online interior design startup Laurel & Wolf was getting ready for a blowout holiday celebration. The company's co-founder and CEO, Leura Fine, had a taste for the theatrical, especially when it came to parties. She had arranged for dozens of live Christmas trees to be purchased from a local lot, carted into the company's offices and flocked with fake snow. For weeks afterwards, employees would find pine needles crunching underfoot. One had an allergic reaction to the trees and missed work.
Luminaries from the Los Angeles startup community were invited, as were well-known designers. There was an open bar, floral arrangements, a DJ, and—incongruously—a cartoonish life-size plastic reindeer and sled. All told, the party cost tens of thousands of dollars—extravagant for a small startup, but Laurel & Wolf had money to burn.
Three months prior, the company had announced a staggering $20 million round of funding from blue chip venture capital firm Benchmark. At the time, it was the largest single investment ever made in an interior design services business. The company was poised to transform the landscape of home decoration, offering affordable design to the masses and reliable work for designers.
Less than three years later, Laurel & Wolf was forced to sell its office furniture in a doomed attempt to make ends meet.
What follows is an investigation of the rise and fall of the disruptive interior design platform, based on interviews with designers, clients and former employees, many of whom were granted anonymity because they feared reprisal from the company's leadership. It's a look at the difficulty of bringing the interior design process online, the perils of venture capital, and a portrait of Fine, the company's mercurial co-founder and CEO.

Big Ambitions Take Hold
Leura Fine was, by her own admission, an unlikely tech CEO. Born and raised in a small town in Alabama, she studied English at McGill University in Montreal before moving to L.A. Her first job in California was as the personal assistant to celebrity burlesque dancer Dita Von Teese. Prior to Laurel & Wolf, Fine had never worked at a startup.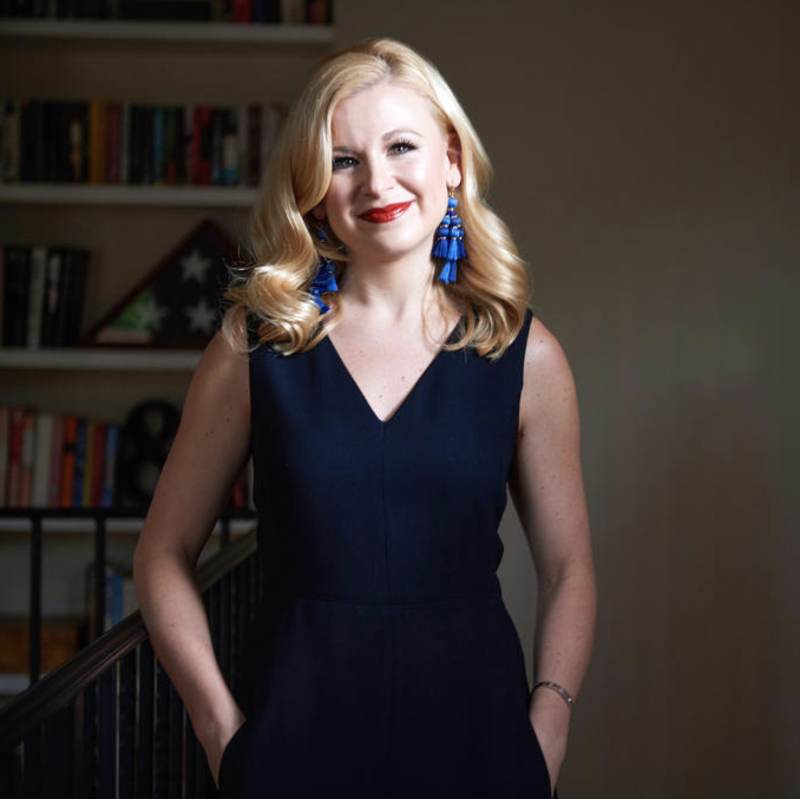 She was never guarded about her lack of tech experience—sometimes she presented it as a kind of strength: As an outsider, maybe she could see things more clearly than someone immersed in industry bias and jargon. "I always joke that I look terrible on paper [as a tech CEO]," Fine told the Mission and Values podcast in 2016. "[But] I have a great resumé if you're looking to hire an interior designer."
In fact, Fine's interior design credentials were somewhat shallow. Her primary professional experience in the field was working for British-born, L.A.-based designer Martyn Lawrence Bullard, whose firm she joined as an intern while taking design classes at UCLA. Fine showed ambition and drive, earning a promotion to the role of design assistant. She had a glancing brush with celebrity, appearing in an episode of the Bravo reality show Million Dollar Decorators, where she helped Bullard attempt to track down a missing fireplace. According to Bullard, Fine never advanced further, and left the firm as an assistant after three years.
Fine's solo design career was slow to get off the ground, though she did land another television appearance. In a 2013 episode of HGTV's House Hunters Renovation, she helps a couple in Southern California renovate a fixer-upper, spending a significant chunk of her screen time arguing with the homeowners about the finish on a kitchen countertop edge—a far cry from the glitz and high-stakes drama of Bullard's celebrity clientele.
On a blog Fine maintained throughout this period, she began musing about an e-decorating service she then called Decor/Aid. "Still feel that hiring a local designer is too expensive? Then do what we all do best and get on the Internet!" she wrote in 2013. "Designers in all parts of the country are expanding their design practices to include 'E-decorating' services. For a small amount of work on your part, you can receive complete room designs."
The concept of conducting interior design online was not new. Designers have long used digital tools, and by 2013, emailing with vendors or sharing a Pinterest board with a client was commonplace. But what if you could move the process completely online, creating a single platform for design, sourcing, purchasing, accounting—everything? A company that could perfect the experience could scale rapidly. Instead of taking on a handful of local clients, it could offer services nationally, even globally.
Armed with this concept, Fine began looking for people who could help develop it. Through her network, she connected with Brandon Kleinman, a young L.A. entrepreneur who had worked in marketing and strategy for Disney and TBWA\Chiat\Day. Kleinman helped shape Fine's idea into a business model. Together, they agreed to take on co-founding roles and hired a small team. In 2014, they launched a prototype.
In its earliest incarnations, the platform was simple. Visitors to the site would take a style quiz, which purported to calculate their design sensibility and match them with a suggested designer. The site was a cardboard cut-out: There was no real back-end, and Fine herself manually "calculated" the results of the quiz. It was a lightly deceptive but brilliantly inexpensive strategy for testing the market.
Though Fine and Kleinman's model would undergo twists and turns over time, the concept never strayed too far from early prototypes. It worked like this: Clients submitted pictures of the rooms they wanted designed, along with descriptions of their personal style and practical needs. Designers would compete to "win" the project by submitting proposals. The chosen designer worked remotely with the client to finalize a shopping list and furniture plan tailored to their space—all without a single in-person visit.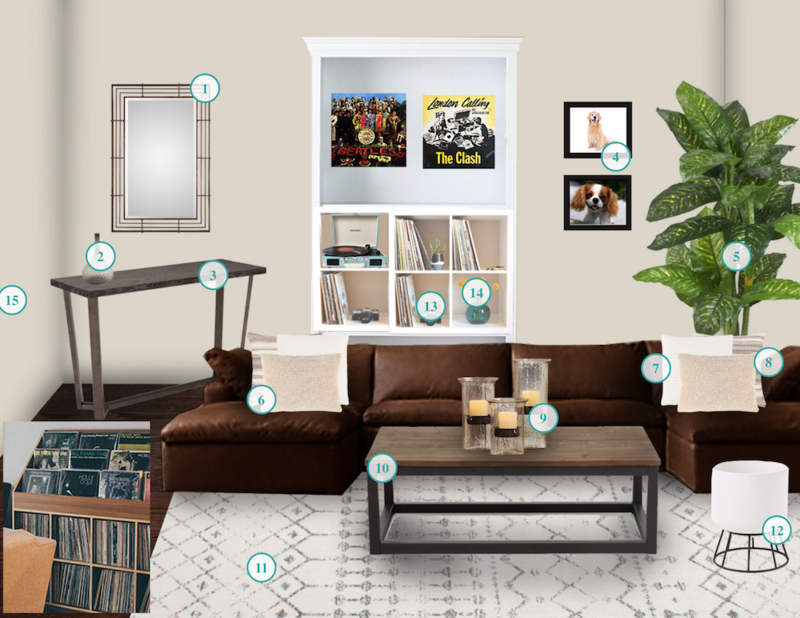 It was a stripped-down version of the classic design experience, for a stripped-down price. Originally, Fine and Kleinman charged $299 for the basic package (prices would fluctuate over time, but never radically). In exchange, designers were paid a cut of the fee. (The designer's share was lowered over time, but it started at 80 percent.) Purists might have sniffed that it wasn't real interior design, but it worked: Users flocked to the site.

When it came time to officially name the company, it turned out that Decor/Aid was already taken. Fine considered Huntley Row as an alternative (a reference to a street in L.A.'s design district) but eventually settled on Laurel & Wolf, a combined nod to the neighborhood Laurel Canyon and the iconic interior designer Elsie de Wolfe (though the "e" in Wolfe's name was lopped off unceremoniously).
Fine and Kleinman had the beginnings of a great idea—it would take money to turn it into a great business.

A Promising Pitch
Interior design is an archaic industry. With its opaque pricing and old-school inefficiencies, the business has long seemed ripe for tech-driven disruption. If a startup was able to swoop in, cut out the middlemen and bring design to the masses, it could make a tidy profit. Many of Fine's early interviews about Laurel & Wolf focused around this concept—she spoke frequently of "democratizing design" and updating a 100-year-old business for the modern era. However, even if a company were able to become a household name in client-designer matchmaking and earn a cut on fees, it would likely only be a multimillion-dollar business at best, and venture capitalists don't care about multimillion-dollar businesses. For speculative investors, the allure of online design has always been the $150 billion home furnishings industry looming behind it. If an innovator could scale interior design, it could charge significant markups on product and push retailers out of the game.

Fine had begun telling associates that Laurel & Wolf would one day be a billion-dollar company.
It was a version of this pitch that Fine and Kleinman began shopping around: Laurel & Wolf would start by conquering online design, then get rich selling furniture and accessories. ("The service unlocks the commerce" became a mantra.) The two made an excellent team. Kleinman brought digital product know-how and connections to L.A.'s tech and venture capital worlds. Fine was passionate about design and made a strong ambassador for the brand. A savvy media operator who interviewed well, she even dressed the part—seemingly always in heels and a cocktail dress, her hair and red lipstick photoshoot-ready, Fine was quick with jokes and talking points. She evoked a compelling mix of folksy can-do spirit and just-out-of-reach glamour, an ideal combination to reach Laurel & Wolf's potential customers.
Behind the scenes, she was a charismatic salesperson, capable of closing a multimillion-dollar deal with a Silicon Valley veteran on a 20-minute phone call. However, her enthusiasm in hyping the company sometimes boiled over into potentially risky territory.
A key component of Fine's pitch to investors, early employees and media was the depth of her design experience. In a number of early interviews, she said that she had been the senior designer at Martyn Lawrence Bullard's firm—"I was the senior designer at a firm called Martyn Lawrence Bullard design for a number of years where we did celebrity homes and hotels and castles," she told Working Mother Radio in 2014, a claim she repeated to numerous outlets. But while Bullard maintains that Fine started as an intern and left as an assistant, the discrepancy went unchallenged—at least for a while.
Within months, Kleinman and Fine had lined up a $1.1 million round of seed funding. In venture capital, the names matter almost as much as the numbers—and Laurel & Wolf had two big ones on board: Paige Craig, an early investor in Lyft and Postmates, and Tim Draper, a legendary VC known for his backing of Tesla, Skype and, more infamously, Theranos.
With the backing of well-known investors, an infusion of cash, and a growing client base, Laurel & Wolf was suddenly a hot property on L.A.'s startup scene. Fine and Kleinman rented out a cramped office in West Hollywood and put their small team to work building out a more sophisticated version of their prototype.

Contention and Chaos
Early days at Laurel & Wolf were busy and contentious. Kleinman and Fine butted heads, often at high volume. At first, the direction of the product was unclear. Should the company focus on developing an iPhone app? What about consolidating the various furnishing companies' inventory into streamlined data? Or what about focusing on a referral component? (Early on, one happy client referred every single one of her Gmail contacts to Laurel & Wolf, crashing the company's servers.)
Though Laurel & Wolf enjoyed its share of startup eureka moments and extracurricular high jinks—the company Instagrammed pictures of bowling excursions and dance classes—the atmosphere was often tense. Fine came across as upbeat in interviews, but behind closed doors, many employees came to fear her. She would excessively and publicly berate those who disagreed with her ideas, reducing some to tears. After only a few months at Laurel & Wolf, an early employee quit right before the company's first Christmas party, telling co-workers, "They have to know they can't treat people that way."
Morale problems didn't slow Laurel & Wolf down. Early in 2015, the company received its second round of funding, this time for $4.4 million. Kleinman and Fine were now overseeing a staff of more than 20. But though the company had hype and was bringing in clients, early employees characterize the business as something of a mess.
A crucial aspect of monetizing the site was to bring shopping in-house. If the company could control the buying process, it could start earning a margin on product—the key to turning a real profit. Though this component was at the core of Laurel & Wolf's strategy, former employees describe a jury-rigged process, with members of the buying team simply using a company credit card to purchase products online. A supposedly disruptive tech startup was hiring people whose core job function was to click "buy" on Pottery Barn's website.
A cobbled-together buying process also created its own problems, chief among them an accounting nightmare, with endless receipts, shipping costs and sales tax figures to track. What's more, because Laurel & Wolf was buying direct through retailers, only occasionally taking advantage of relatively slim trade discounts, its margins were razor-thin.
The company's internal operations were similarly chaotic: It was running without dedicated HR, internal accounting or a clear management structure. It wasn't until 2015 that Laurel & Wolf added its own logo to its email accounts. Just as pressing, the company's cramped office only had one bathroom. It was time to level up and find a new home.
Fine picked out a stand-alone building off of Melrose Place in West Hollywood, around the corner from L.A.'s design district. Two stories tall, with enormous floor-to-ceiling glass windows, the office was a prestige choice—the kind of space a company would pick once they had already IPO'd. Justified partially as a marketing expense to signal the company's ambitions, it was also an expensive one: Several former employees told BOH the rent hovered around $75,000 per month.
Fine called it Croft Castle, though the nickname didn't stick. And as it turned out, though the office boasted a glamorous address, it was something of a lemon. The front door had issues, so the building was often left unlocked. Parking was tight. More worryingly, sewage kept seeping up into the ground floor.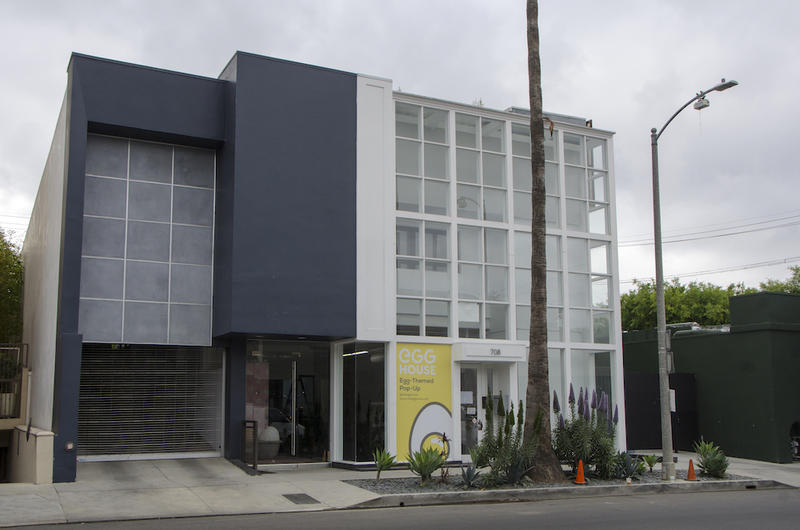 A Simple Plan Goes Awry, Prompting Designer Dropouts
Many designers loved working with Laurel & Wolf, especially in the early days. For some, it was their first significant professional experience, a chance to build a portfolio and get their feet wet. For others, it was a handy side hustle, a way to bring in extra income during slow periods.
Interior designer Julian Porcino recalls his early experience with the company as an exciting (and lucrative) period. "I was making $7,000 plus per month when traveling through Europe and working 20 hours a week, doing something that I enjoyed," he says. "I probably did, in the span of four or five months, about 60 projects. I would work with people all across the country with all different styles. I found it exciting and it helped me grow."
In Laurel & Wolf's first incarnation, a few designers were invited to create proposal bids to compete against each other to win a client's business. For digitally nimble and decisive designers like Porcino, making a bid could take as little as 45 minutes. The problem was, most designers weren't like Porcino. It would take many three to five hours to make a bid—some as long as 12.
After investing so much time in their bids, if designers failed to win a project early on, they often quit the platform in frustration. The irony was that many would spend just as much time developing proposals for "real world" projects that went nowhere, without complaint. But something about the ephemeral nature of designing online led to a high dropout rate—without a tangible connection to the potential client, for many it just didn't seem worth the hassle. As a result, Laurel & Wolf had trouble matching designers to projects; some clients who paid for the service waited weeks before their projects began.
So the company attempted to simplify the bidding process. Instead of requiring a comprehensive proposal, Laurel & Wolf asked designers to create a mood board. These were easier, but still often took hours to complete, and more designers quit. The new system also had the unintended consequence of driving away designers like Porcino, who suddenly had much more competition for each project.
What seemed simple in the beginning—connecting eager clients to talented designers—was proving to be a constant struggle. Former employees described an endless game of tweaking the company's platform in an attempt to keep designers happy and engaged.
Problems at the Top
Compounding the problem was what one employee called a "paralyzingly flat" management structure: No significant decision was made without Fine. Her participation, former employees say, was often stress-inducing. As a boss, she blew hot and cold; when she liked an idea, she loved it. If she didn't, it was worthy of derision—until a competitor adopted the same tactic, at which point making the change became an emergency. Fine would make demands, former employees say, that felt unmoored from practicality, and she changed her mind quickly. (One described a week in which the pricing for design packages changed almost daily.) Generally, Laurel & Wolf's former employees describe the experience of working for Fine as a disorienting mix of micromanagement and neglect.

In two years, Laurel & Wolf had gone from a speculative blog post to a company that employed 60 and facilitated design projects all over the country.
Fine's executive style carried beyond Laurel & Wolf's walls and into the company's recreational activities. In 2015, she organized a talent show to support a local charity called "LA Tech's Got Talent," and corralled a small team to participate. To the surprise of many, this was not to be a low-key affair. Fine had hired a professional choreographer to create a dance routine to a medley of hits, including "Watch Me" by Silentó. Participants were required to attend several weeks of early-morning rehearsals at the choreographer's studio, learning to whip and nae nae their way through the routine.
During the second-to-last rehearsal for the show, an argument erupted between Fine and the choreographer, who felt Fine was interfering with the routine. The conversation came to a boil, and the practice ended on a sour note. The next time the group gathered to rehearse, the choreographer was nowhere to be found. Instead, Fine began leading the stretching routine as the group exchanged confused glances—What's going on here? As it turned out, Fine had fired the choreographer. She led the rehearsal herself.
In videos of the performance, Fine can be seen front and center, executing the routine with precision and enthusiasm. Her employees awkwardly shuffle their way through the dance behind her, grinning at the awkwardness of it all.

Scaling up on Shaky Ground
Though many chafed under Fine's leadership, no one questioned her drive and ambition. In two years, Laurel & Wolf had gone from a speculative blog post to a company that employed 60 and facilitated design projects all over the country. Nor did anyone doubt Fine's sales abilities, especially after what came next.
Working from a pitch deck that leaned heavily on the aforementioned "service unlocks the commerce" angle, Fine began courting investors for a round of Series B funding in 2015. This time, she wasn't looking for extra cash to keep the business running, but a significant investment that could help Laurel & Wolf scale radically. Serious players were involved. Recode reported interest from Kleiner Perkins, the legendary Silicon Valley firm that backed Amazon and Google, and a former Laurel & Wolf employee remembers famed former Wall Street securities analyst Mary Meeker visiting the North Croft office.
In the end, Benchmark Capital won out. The venerable firm had invested in a murderer's row of Silicon Valley disruptors (Instagram, Snapchat, WeWork, Yelp, Uber, among others) and put down a reported $20 million to back Laurel & Wolf. At the time, it was the single largest investment ever made in an interior design services business (Modsy received a $23 million round of funding in 2017). Fine threw a party at her place to celebrate; a celebrity chef served rabbit tacos while employees discussed how everything was about to change.
It had been reported that Benchmark valued the company at over $100 million. Fine was thinking bigger; she began telling associates that Laurel & Wolf would one day be a billion-dollar company.

Fine threw a party at her place to celebrate; a celebrity chef served rabbit tacos while employees discussed how everything was about to change.
During this period, Kleinman left Laurel & Wolf. According to several former employees, the breakup was neither friendly nor particularly dramatic—there simply wasn't room enough for two founders. From then on, Laurel & Wolf was Fine's baby. In future interviews, she would omit Kleinman entirely when discussing the company's origins.
Though Fine had lost one partner, she had gained another. She and Paige Craig—one of the company's earliest investors—had started dating the prior year. Soon they would marry.

Growing Pains
Though Benchmark's investment was speculative, it wasn't based on pure hype. By late 2015, Laurel & Wolf had hundreds of happy clients. For many, the platform was their first experience with the interior design process, a chance to tap into a service that previously could only be accessed by the wealthy—Fine's promise to democratize design was no idle boast. Especially when clients made a personal connection with their designer, Laurel & Wolf worked very well. The problem was turning hundreds of happy clients into tens of thousands of happy clients.
One big hurdle was simply logistical. Laurel & Wolf fans could rave about the company to friends all they wanted, but the recommendation was useless if the friend wasn't undergoing a design project at the moment. This factor alone made the service tough to grow: Despite a high net promoter rating, Laurel & Wolf had trouble gathering steam.
The other way to bring new clients in is to spend, and Benchmark's investment allowed Laurel & Wolf to spend heavily. During its peak, the company had ads in print and online, paid search, commercials, billboards and more. It worked, but once clients finished their project, they weren't likely to spend more money through Laurel & Wolf, and the company had to start all over again. "We had to continually resell the product again and again to new customers," Dave Arthurs, a former vice president of engineering at Laurel & Wolf, told BOH. "We couldn't build any momentum, because every single month we had to start fresh, marketing to a new audience."
One former employee noted that, during the peak of Laurel & Wolf's Benchmark-funded buying spree, the company was spending as much as $1,500 to acquire one customer. For a service that cost users only a few hundred dollars, most of which went to the designer, the math was brutal. Still, it was a legitimate expense. Not all of the company's money was spent as strategically.

Lavish Spending Conceals a Still-Troubled Business
In the summer of 2015, a team of professional makeup artists descended on Laurel & Wolf to prepare the staff for a photoshoot. Fine had decided on a Mad Men theme, so employees were decked out in their midcentury finest. After a few hours of primping and styling, the team hopped into a fleet of Ubers and headed for the hills. Fine had rented out a stylish house at the foot of the iconic "Hollywood" sign that would serve as a set. The shoot, which was catered, lasted into the night. This wasn't for a print ad, or a commercial. This was a company photo.
Laurel & Wolf spent lavishly on marketing, branding and events. In the wake of the Benchmark investment, Fine bulked up the company's creative staff, hiring an event planner and video team. Soon after, the company underwent an expensive rebranding process, sent a tiny mobile home to South by Southwest as a PR stunt, hosted a tech summit, and produced countless photo and video shoots.
Though a design-oriented company could justifiably invest in its image, many employees privately wondered if Fine was putting the cart before the horse. It struck some new hires as odd that the company, ostensibly a tech startup, had more people in marketing than engineering.

Clients were shown Laurel & Wolf designers, but rarely shown the Laurel & Wolf process. At least one of the
'
Before & After' photos was of Fine's own house.
The VC funding also lead to an uptick in company parties, which had already been frequent. When asked by BOH to recall some of these events, former employees all had difficulty keeping track of the many get-togethers. There were pajama parties, barbecues, bowling outings, karaoke parties, holiday parties and dinners for the "Badass Ladies" networking group Fine had started.
Though these events could be classified as morale-boosters or legitimate marketing expenses, Fine's 30th birthday party could not. She originally pitched the event, which several employees told BOH was largely funded by company money, as a "white trash" party but changed the theme to "Talladega Nights" after being told the theme was inappropriate. Held in the company's offices, the event featured a DJ, photo booth, open bar, props, costumes, camouflage upholstery, and catering.
The party became a legend for future employees, an example of Fine's theatrical excess, partially bankrolled by venture capital. Lesser-known was the raise Fine had quietly given herself. Two former employees said that, on the heels of Benchmark's investment, Fine doubled her yearly salary to $250,000.

A Public Spat
In addition to cash, Benchmark gave Laurel & Wolf a new imprimatur of legitimacy, and the press took heed. In 2016, Fine was chosen by Forbes for the magazine's annual "30 under 30" list. National outlets began covering the site more regularly, with Laurel & Wolf's name appearing in The New York Times, Los Angeles Times, USA Today, Architectural Digest, House Beautiful, Vogue and Glamour.
The attention, however, had an unforeseen consequence. Fine's early claim about her title at Martyn Lawrence Bullard's firm reared up again—with a new wrinkle.
In December 2015, a story appeared in Business Insider in which Fine was reported to have designed Elton John's house while employed by Bullard (according to Bullard, Fine was not involved in any design work for John). When the article appeared online, with the headline "A woman who designed Elton John's house now wants to help you design yours," Fine received an angry call from Bullard, who threatened legal action unless the claim was retracted. Frantically, Fine attempted to negotiate an edit.
The headline was changed to "A startup that's raised $25 million is helping celebrities like Christina Applegate design their homes." However, Fine's claim to have worked on Elton John's home stayed in the piece, alongside a note stating that Bullard disputed Fine's account. In future interviews, Fine generally didn't bring up Bullard by name, but the bridge had been burned.
Over time, the news made its way around L.A.'s interior design community. Some Laurel & Wolf employees began to receive a cold reception when they met a professional designer who found out who they worked for: "Oh. Her."

Cost-Cutting Measures Prompt Designers and Clients to Walk
Rumors may have been spreading through the rarified air of the local high-end design community, but Laurel & Wolf's own designers had other problems. The platform they had come to rely on was changing.
Early on, the company allowed designers to buy product from wherever they liked. This was great for clients, who were able to take advantage of the full range of their designer's creativity. For Laurel & Wolf, however, giving designers total freedom was a losing proposition. If a designer bought through a source that had no connection to the platform, the company made nothing from the sale.

In the early days, the top designers had been able to earn close to six figures if they stayed busy. By 2017, those numbers were a pipe dream.
To incentivize designers to buy through its partners, Laurel & Wolf created a sourcing guide, and offered designers a commission sliced out of its own markup. However, since the company's margin on furnishings was already slim, designers didn't make much money on these commissions. Hence, they didn't take them seriously, and continued to use whatever sources they liked.
As Laurel & Wolf struggled to make a profit, designers that shopped with outside sources became an increasingly worrisome problem. In 2016, what had been a carrot turned into a stick: The company began punishing designers who failed to buy through their partners, suspending them from projects for weeks at a time.
Soon Laurel & Wolf began outright culling its ranks, firing designers who failed to buy through its sourcing guide. The company also slashed the fee it paid designers, down to $125. In the early days, the top designers had been able to earn close to six figures if they stayed busy. By 2017, those numbers were a pipe dream.
Next the company slammed the gates closed entirely, forcing designers to buy exclusively from its own sourcing guide, which was plagued by glitches. Though the move undoubtedly made financial sense, it made life difficult for designers, who were suddenly working with an extremely limited palette and getting paid less for it. Many left Laurel & Wolf. "They sucked all the creativity out of it," said one former designer. "It stopped being fun."
What was bad for designers turned out to be bad for their clients as well. Some began complaining that their rooms were sourced entirely from Wayfair, or that their designer wasn't giving them enough options. Venture capital's demand for growth and profit had overruled a central tenet of interior design: Keep the client happy.

A Growing Rift Between Expectations and Delivery
As time went by, client dissatisfaction became more and more common at Laurel & Wolf. Much of it stemmed from inflated expectations. The company would frequently post stylish projects on its blog and website, enticing customers with magazine-ready photos. However, many of these images only represented the company's product on a technicality.
The projects had been created by interior designers who worked through Laurel & Wolf. However, many of them had been completed using the traditional design process, with a designer coming into the client's home. Clients were shown Laurel & Wolf designers, but rarely shown the Laurel & Wolf process. At least one of the "Before & After" photos was of Fine's own house.
As a result, customers expected House Beautiful and got something considerably less ambitious. Some were confused. Others were upset, and asked for their money back. A handful threatened to sue.
The company's clunky internal processes also contributed to client woes. The purchasing team was always buying blindly, without direct input from designers. This lead to chaos whenever there was a mistake in an order, with the purchasing team frantically attempting to triangulate between the designer, client and manufacturer. "I would get in at about 8:30, and I wasn't leaving until about 9:00 at night," one former Laurel & Wolf employee told BOH. "I thought it was because we were so busy, but actually the way we did things was just really complicated. … We weren't set up for success."
Efforts to streamline the process and more accurately market the experience largely failed. Fine had a knack for selling her site, but brushed aside concerns about process and logistics. There was never enough money in the budget, it seemed, to invest more deeply in the platform. The goal was always growth—getting more projects, signing up more designers and more clients, getting them to shop more.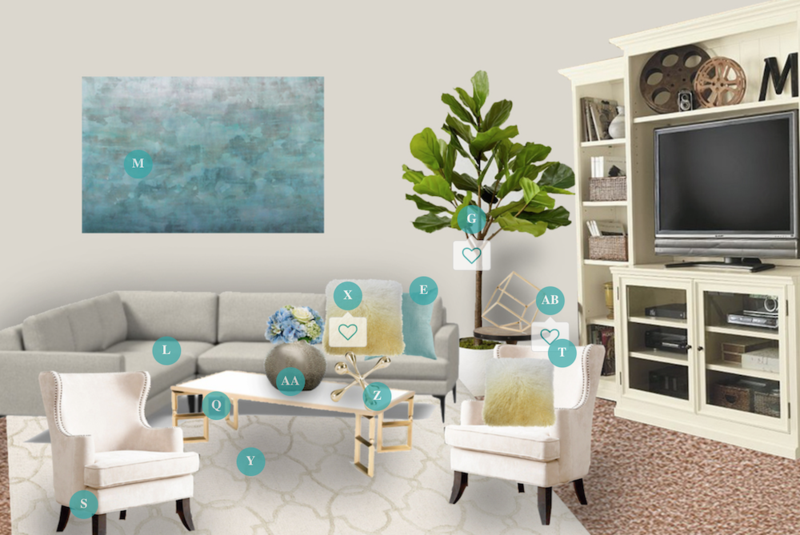 After a deluge of complaints from Laurel & Wolf clients, one employee was encouraged to try another e-design service, Havenly, to find out what the competition was up to. The employee was dismayed to find that the experience went smoothly; the rival company was educating clients clearly and delivering on its promises. It was a disheartening revelation: Interior design could be done smoothly online. It just wasn't happening at Laurel & Wolf.

A Culture of Fear and Distrust Builds
The video begins with a spinning parasol and the company's logo. A beat drops. Then Fine welcomes the viewer into Laurel & Wolf's headquarters with a twirl of her black ball gown. Soon, she's lip-syncing to a version of Taylor Swift's "Blank Space," the lyrics reworked into a recruitment pitch to potential new hires:
Cuz we're young and we're fearless, and we're headed to the top
Our days are endless, to make our product pop
A long list of potentials, they might just take your place
Got a blank space baby, so just sign your name
Fine had enlisted the company's in-house production crew to create a recruitment video, which took two days to film (it was never widely distributed). She stars, sashaying through the company's office, making eye contact with the camera as she sings along with the rejiggered hit. The company's young staff also participates, donning costumes and lip-syncing along with varying levels of enthusiasm. Some can be seen in the background, shaking their heads—What exactly are we doing here?
In one respect, the video presented an accurate picture: Laurel & Wolf was always hiring. But the lighthearted portrayal of the company's culture—We're just a bunch of goofy millennials building a dream!—contrasts with what many former employees told BOH was a toxic, tense environment.
Certainly, Fine would not be the first CEO of a tech company to make tough demands of her staff or issue harsh critiques. However, several former employees said Fine's treatment of her staff crossed professional lines. They described a frequent ritual of Fine ascending to the second floor of the North Croft office, singling out an employee and berating him or her in front of the company's staff, who all shrunk in their chairs and pretended not to notice. Former staff members said Fine would often critique employees on personal terms, and, in an effort to control the flow of information around the office, would tell certain people not to speak to each other.

Burdened by rent, payroll, marketing and ad spend, Fine's company was careening towards the end of its investment runway at an alarming rate
Most tried to weather Fine's moods as best they could. Some made themselves scarce whenever she built up a head of steam. Though many found themselves temporarily in Fine's good graces, when they fell out, they fell hard. According to several former employees, Fine threatened legal action against a member of her staff who left to join a competitor; when Laurel & Wolf's in-house attorney refused to help her, Fine contracted an outside lawyer to pursue the case.
Employees who left frequently took to the employer review site Glassdoor to vent. The earliest negative reviews began trickling in late in 2015, eventually increasing to a deluge in 2016 and 2017. Though employees acknowledged the startup-style perks of working at Laurel & Wolf ("dogs and snacks" were frequently cited), the criticisms came hard:
"The benchmark for how a company shouldn't be run."
"Lies, Deceit, and Incompetence: The Leura Fine Story."
"Every time I stepped into the office I was on the verge of an anxiety attack."
"CEO is a micromanager without empathy, composure, or tact."
"Management by intimidation is paralyzing for everyone involved."
"Aggression. Dictatorship. Passive Aggression. No Transparency, No Leadership."
In response, Fine began pressuring employees to post positive reviews to the site. Some did, but high turnover continued. Employees arrived on their first day with a pile of work inherited from their short-lived predecessor, who had inherited it from their short-lived predecessor. It was difficult to fine-tune internal processes or to build momentum with such a quickly revolving door.
One employee, a new recruit, was dismayed to see several people leave within the first few months of her start date. Concerned, she approached a co-worker when the two were alone and asked for advice about how to navigate the office culture. Expecting a casual reassurance or a few pointers, the reply startled her:
"Just get the fuck out."

Business Slows to a Crawl, Precipitating Layoffs
Though high turnover and low morale took a toll, as Laurel & Wolf passed the anniversary of its Benchmark funding, the company had a bigger problem: It was running out of money. Burdened by rent, payroll, marketing and ad spend, Fine's company was careening towards the end of its investment runway at an alarming rate.
In an effort to cut back on costs, Laurel & Wolf began slashing its ad spend, trying to get the customer acquisition cost down to $50. The company saved money, but experienced a precipitous dropoff in new clients. Tacking the other way, Laurel & Wolf began offering deep discounts on its services. Going on promotion brought in new customers, but the discounting cut into profit and dragged down the brand.
At its peak spend, Laurel & Wolf was tackling a few hundred projects at a time. During the leaner periods, when the company was neither spending nor discounting, the count dropped radically, hovering around 100 at a time. Though Fine always projected confidence and success in interviews, behind the scenes the company was struggling to bring in work. Several former employees said, during the worst times, it was tackling fewer than 10 active projects at a time.
The lack of projects was a double-edged sword, limiting Laurel & Wolf's revenue potential and cutting into its negotiating power with retailers. Without volume, the company wasn't able to command deep discounts, meaning margins stayed razor-thin. Laurel & Wolf did eventually shift to focusing more on wholesale furniture. The margins were better, but the system the company had built to deal with wholesale product was buggy, and the change came too late to make a significant impact on the bottom line.

Over the summer of 2018, customers began taking to Yelp to vent their frustration with the service.
Toward the end of 2016, it became clear that cutbacks were required. The day after Trump's election, with the mood in the liberal-leaning office already low, several department heads were independently asked to let a handful of their subordinates go, in what turned out to be a coordinated layoff of more than 10 employees.
Fine had arranged to be out of the office. Despite her often combative stance toward employees, several sources told BOH that Fine was squeamish about doing the firing herself. More layoffs followed in 2017. Those who survived the cuts began whispering that Laurel & Wolf only had a year left.

A Culture of Secrecy
In a last-ditch effort to save the company, Fine focused on securing new funding throughout 2016 and 2017, flying up to Silicon Valley to pitch potential investors. Venture capital was a topic of much discussion around the office—most employees could see that, with profitability a distant goal, an infusion of cash was Laurel & Wolf's most likely path forward.
However, Fine was tight-lipped about progress. Though startup culture generally prizes transparency, employees at Laurel & Wolf frequently got evasive answers when they asked about the company's financial health. In general, the company maintained an air of secrecy, occasionally requiring press outlets to sign nondisclosure agreements before sending news out on embargo. According to several former employees, Fine rarely allowed others to attend company board meetings, acting as the sole conduit of information about the company's strategy and finances.
Stymied, employees would sometimes get creative in trying to suss out how Laurel & Wolf was doing—and Fine would get creative in dodging their inquiries.
The company's monthly all-hands town hall meetings were part business, part team-building exercise: Department heads discussed goals and progress, but there was time set aside for more lighthearted activities. New recruits were asked to say where they were from and what their spirit animal was. During "snaps," employees would shout out to co-workers who had helped them, and the audience would snap their fingers in approval.
During these meetings, Fine occasionally answered pre-submitted employee questions that had been written on slips of paper and placed in a glass jar. During one such session in 2017, employees watched as Fine pulled softball questions and offered jokey answers. Many noticed her silently reading one slip of paper, crumpling it and tossing it back in before carrying on. After the meeting ended, an employee fished the offending note out of the jar. It read:
"Can we get an update on funding?"

Tragedy Strikes at Laurel & Wolf
On Friday, August 4, 2017, Greg Friedman got up from his desk at Laurel & Wolf and left the office without explanation. The 27-year-old Chicago native had been at the company for more than two years and was beloved by co-workers, many of whom considered him a close friend. When Friedman didn't return quickly, his officemates became concerned, especially because he had left his dog, Rhodes, behind at his desk. They called his girlfriend and began wandering through the neighborhood, looking for him without success.
For many, it wasn't until the next day that they learned the tragic news: Friedman had fallen from the roof of a nearby building and died. (Friedman had no known history of depression, and his death had no connection to working conditions at Laurel & Wolf. Many came to believe that a reaction to a recreational drug had caused him to have a mental break—his family established a foundation in his honor to raise awareness of the dangers of occasional drug use).
Fine called many employees personally that Saturday to break the horrific news. She also offered her house as a gathering place for staff members to mourn. However, many former employees told BOH that the goodwill was overshadowed by the discovery that Fine had posted Friedman's job online later that day, fewer than 24 hours after his death.
Fine took down the posting. Later, she hired a grief counselor to speak to employees and flew to Chicago to attend Friedman's funeral personally. However, the damage had been done. Some left the company. Some were laid off. Those who remained experienced a sharp drop in morale, which had already been low. The office was beginning to feel desolate.

Operations Grind to a Halt
Near the end of 2017, Fine hinted to employees that a new round of funding might be imminent, but it soon became clear that the new money was only a bridge loan from an existing investor. To lighten overhead, Fine made another round of layoffs early in 2018. However, one of the biggest drains on the company's bank account, rent on the North Croft office, was more difficult to unload.
Fine tried to entice another company to take it off her hands, but it was difficult to find takers on the extravagant lease. That summer, the company held a fire sale to get rid of its office furniture and generate some quick cash. Former employees attended the event to rubberneck and commiserate with those who stayed behind. Soon the staff was reduced again and Laurel & Wolf finally abandoned the Croft Castle for a WeWork space, where the company carried on as a skeleton crew to maintain its existing clientele.
Working with a small staff and running out of money fast, Laurel & Wolf tried to shuffle funds between projects to keep them running. However, the strain began to show. One client, Brittany Parker-Vaughan, recounted an abysmal customer service experience to BOH, culminating in the discovery that a long-overdue pair of chairs wasn't being delivered because Laurel & Wolf had failed to pay Crate & Barrel for the order—she eventually had to rely on their credit card company to intervene. Parker-Vaughan wasn't the only one. Over the summer of 2018, customers began taking to Yelp to vent their frustration with the service.
"This business is completely dysfunctional and a scam."
"This company is a complete joke."
"I am going to open a claim and dispute the charges if I don't hear back by tomorrow. This is totally ridiculous."
"I have never been more disappointed with a company."
"Never again. Awful."
Designers too were feeling the pain of the company's slow death. Paige Vos, an interior designer who had been with Laurel & Wolf for three years, was in the hospital giving birth in November 2018. Knowing that the company demanded that designers return client emails within 24 hours, she had brought her laptop to the hospital. Throughout the labor and recovery period, she continually asked her husband and mother to check in to make sure that any notes on her two active projects were answered.
Vos came home from the hospital to a note that Laurel & Wolf was being acquired, but details were vague. Payment for her final two projects never arrived. She began reaching out to whoever she could find, eventually receiving the runaround from Fine herself. (Vos still hasn't been paid for her work.)
Behind the scenes, Laurel & Wolf was down to a handful of employees, all of whom left around the New Year. Within weeks, its website had shut down operations, the phone lines were disconnected, and emails began bouncing back. Laurel & Wolf had ground to a halt.
Fine turned down several requests from Business of Home for an interview. The firm handling the sale of Laurel & Wolf's assets told us that her company has not yet found a buyer.
Making Sense of the Downfall
Ironic for a company that suffered from rock-bottom morale, many former employees told BOH that they made close friends working at Laurel & Wolf—call it trauma bonding. The joke was that Fine, for all of her idiosyncrasies, hired great people. Many of the company's former staff have continued working together in some form, or at least stayed in touch. Some keep a secret Facebook group for Laurel & Wolf alumni where ex-employees can vent and commiserate.
Generally, they blame Laurel & Wolf's demise on Fine, pointing to the extravagant parties, the frivolous marketing spend, the turnover, the harsh treatment of subordinates, the constantly shifting strategy, the micromanagement. Fine, they tend to agree, lacked the necessary perspective to lead the company she founded. "I think she believed her own hype," said one former staff member simply.
The continued survival of competitive e-design companies like Havenly and Modsy suggest that Laurel & Wolf's former employees have a point, and that management problems clearly contributed to the company's downfall.
However, though her company eventually shuddered to a halt, it's important to acknowledge that Fine had, through drive and ambition, created a platform that gave work to hundreds of designers and made their craft accessible to a new audience. As Fine herself wrote in response to a particularly negative Glassdoor review in 2018:
"Laurel & Wolf is 14x larger in revenue today than when it launched. We have achieved massive growth and built a product that thousands of people all over the country love," she wrote. "I haven't had the luxury of making popular decisions but they were the right ones for the business."
And while other e-design services have outlived Laurel & Wolf, none of them have become household names. Successful or not, they remain relatively modest businesses—not category-obliterating juggernauts. The dream of radically scaling interior design and disrupting the home furnishings industry remains just that—a dream.