The 50 States Project is a yearlong series of candid conversations with interior designers across the country about how they've built their businesses. This week, Oahu, Hawaii–based designer Sachi Lord tells us about running a part-time design business while working as a nurse, why she never hesitates to ask for help, and how the Hawaiian spirit has influenced her approach to life and work.
I know you had an interesting journey into the design world. What were your earliest memories of being drawn to design?
I'm an only child and my parents were pretty strict, so I didn't have a lot of freedom growing up, but what I did have control over was my room. I had the ability to rearrange my room and paint the walls whatever color I wanted—even bright orange curtains and bright green curtains and switch that every month. That was my space, and my parents let me do that. Growing up into my high school years, the more moody and angsty I got, so did the colors of my wall. At the peak of my teenage angst, they reached a very, very dark plum. So from a young age, that was always my way to express myself.
But you didn't end up studying design at school.
When I went to college, I wanted to become a nurse, so that creative side of me took a backseat. I worked in Los Angeles at the UCLA Medical Center in the ICU for a little bit, then decided I wanted to go back to school for anesthesia; that is what I did as my first career, and what I still do part-time now. But during the pandemic, as I was caring for all of these people with COVID, I realized that life is short—and my true passion, and what got me really excited, was transforming spaces.
I wanted to pursue the creative side of me that I had neglected for a couple of years. I was doing a bunch of projects for myself and for a couple of friends, [when] a few people had started to inquire about design services, and I thought, 'I'm just going to launch a business—there's no time like the present.' I know it's the middle of a pandemic, [but] life is short, and I was seeing that firsthand. So I quit my job and launched my business last year.
You grew up in Hawaii, and now you're back.
I lived in L.A. for a couple of years, and then I moved to Washington, D.C., for a couple of years, which is where I met my husband. Once we got married, I knew I wanted to be back home near my parents and start a family. So a couple of years ago, we moved back, had our first child, and bought a house here. This is where we're setting down our roots—we plan on staying for a while.
What was the pull to be back in Hawaii?
A big special part of Hawaii is this concept of "the aloha spirit," which means that everybody is your auntie, [your] uncle—everybody is family. It's like the South, where you have dinner and you're inviting people over and you have this big sense of community. That was a big part of my memories growing up—always having this warm and welcoming extended family. I wanted to give my son that opportunity. It's a little bit of a simpler life, too. There are a lot of tragic events and major things that happen on the mainland, but we are fortunate to be a little immune at times, because we're on an island in the middle of the Pacific Ocean. Things take a little longer to happen here, and we're a bit removed, so there's a little bit of that innocence. Growing up, you have a little bit of a simpler life. I loved that, and I want that for my kids, too.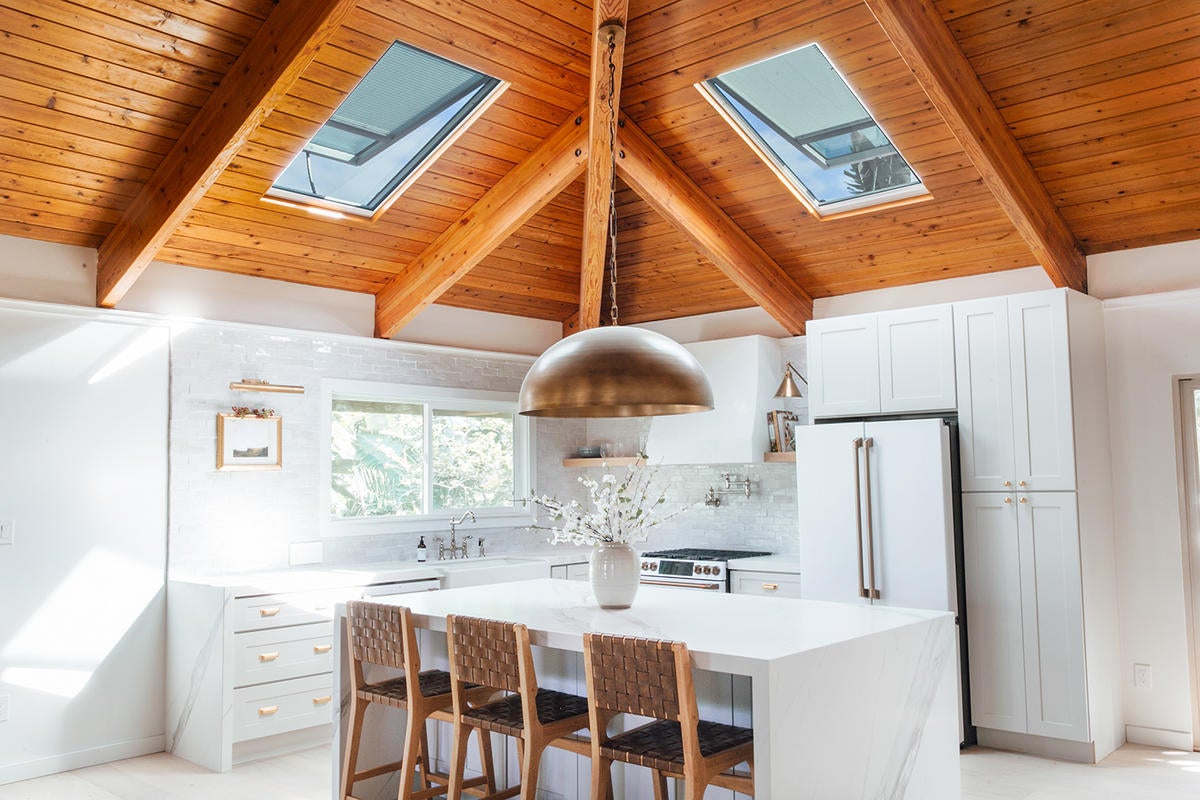 How does that sense of the aloha spirit come into the design work that you do?
It plays a huge part in my interaction with clients and what they are looking for from me as a designer and a professional, and also what they're looking for in their space. In Hawaii, the housing prices are out of control—the median single-family home price is now over $900,000.
Do people who are buying have big budgets, then, or do they have no budget for interiors because they spent it on the house?
Both. You have people who have a lot of money, who buy these million-dollar houses and still have room to spare. That's where I come in. Obviously, that's my ideal client base.
But you also have many people who have extended family living at home—it's not uncommon to have your kids living with you until they get married.
I know that's really unusual for a lot of [Americans], but in Hawaii, it's pretty common to live with your parents until you're in your 30s. And even then, you get married and maybe move into the back extension, because you can't afford to buy a house. So you have a lot of people who have an extended living situation and are looking to create spaces that are inclusive of maybe Mom and Dad moving back in, or maybe their kids moving back home, and maybe they have a kid or two. So a lot of people are looking for multigenerational homes and still trying to make it unique to them, without feeling like a hodgepodge of different extensions tacked on year after year.
Is the work more decorating, renovation or new build?
Most of my work happens with renovations. Because there is such a fixed market of houses in Hawaii, since we're on an island, it's not uncommon to see people buying houses built almost 80 years ago—and they want to totally redo all of it. So sometimes we're dealing with single-wall construction. We're dealing with termite-infested homes because termites are a big issue here, as well. You're dealing with a lot of rust, especially in the beach communities. So [there are] a lot of structural issues and flood zone issues. A big part of [our job] is renovating and taking these old homes that have been in the same family for generations and bringing them up to date. We have a lot of older plantation homes in Hawaii, and people really like that old Hawaii feel, but they see all these new homes on HGTV or Pinterest or Instagram and want to marry the two, blending the old with the new. It's a fun challenge.
What are some of the hallmarks of that old Hawaii architecture?
We see a lot of homes that are raised-up, plantation-style homes. A lot of the electrical and plumbing is right underneath the house. And then we see a lot of single-wall construction homes [with] all of this detailed trim on the inside of the house where all of the electrical is run. And a lot of termite-infested eaves and surprises when we open up walls, especially with one of our homes that we purchased a couple of years ago. It was totally termite-infested. Back in the '70s, they came up with a new technology to run the termite treatment through pipes weaved into the walls of the house, so none of the studs were treated for termites. So you have a bunch of these homes in this one area [with] this failed termite treatment system, where the homes need to get tented every couple of years.
As far as decorating goes, we walk into a lot of houses that have a really badly done tiki bar, palm trees, pineapples, and a lot of old Hawaii motel vibes that people are wanting to get rid of. And rightly so.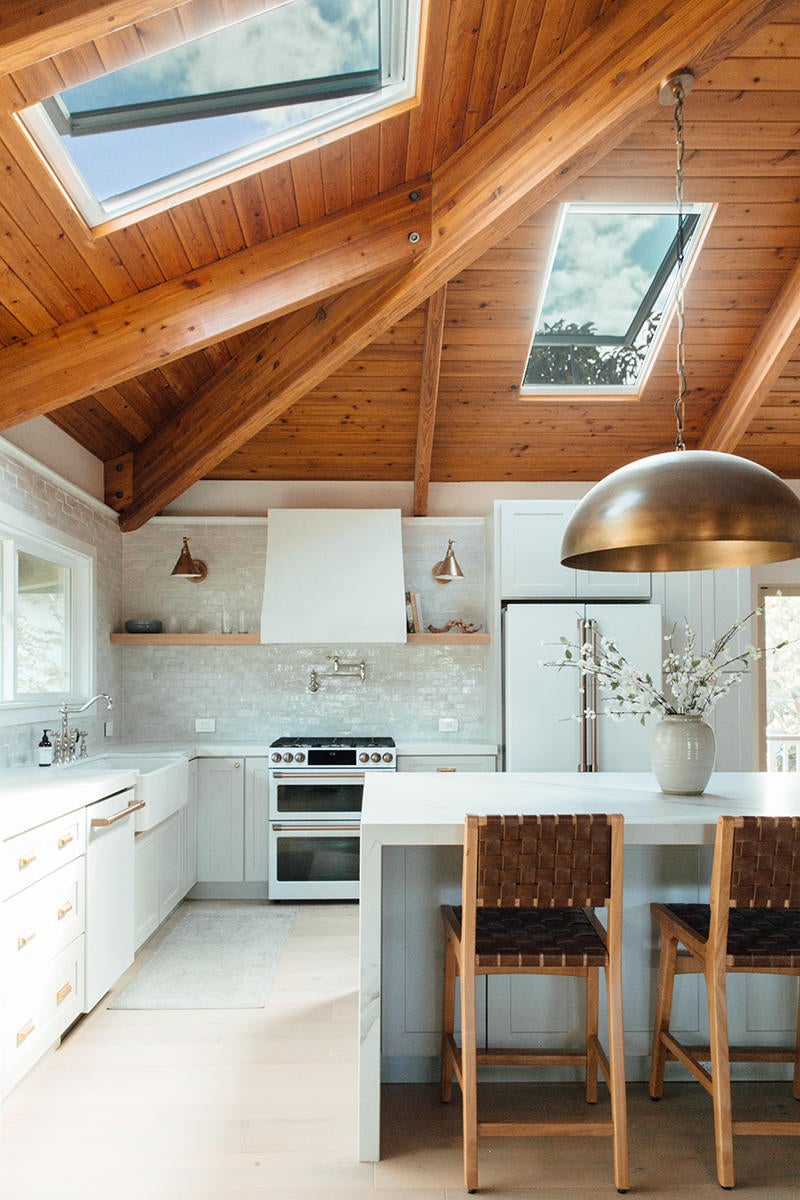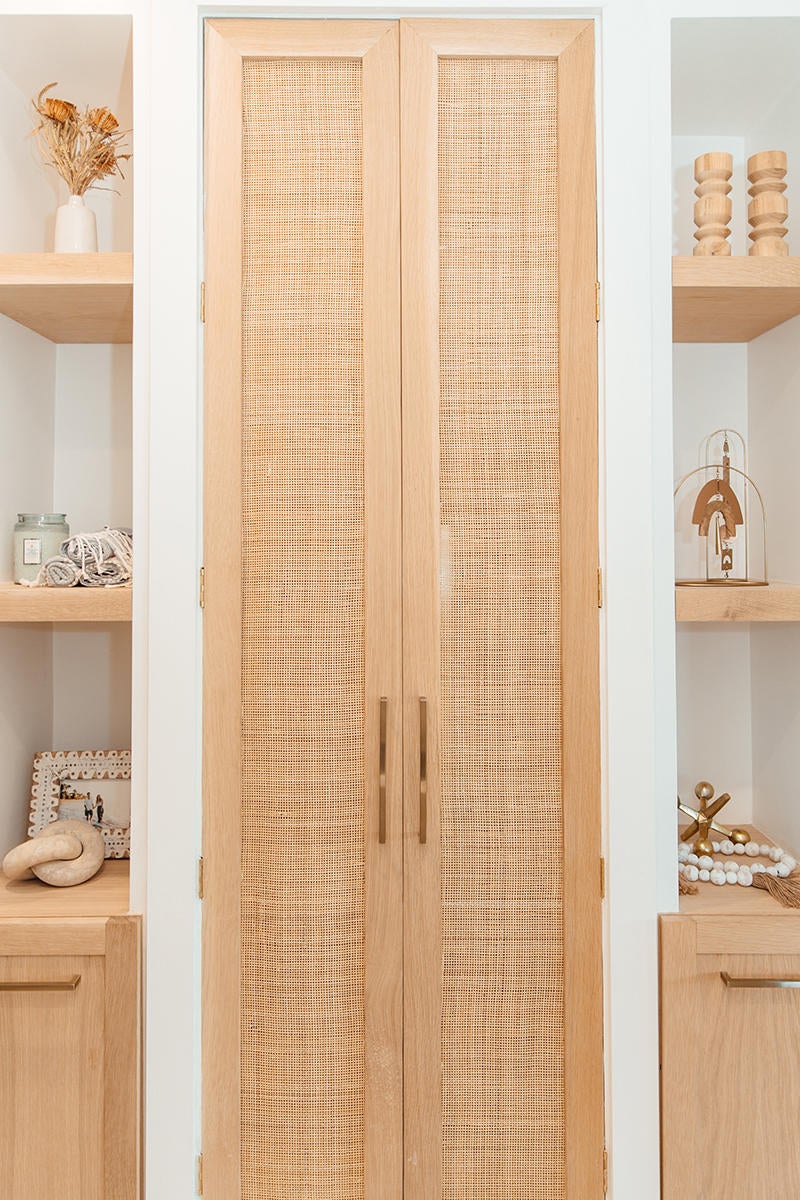 You were redoing your own home when you got your first client—how did you meet them?
I've worked with some co-workers from my nursing job and some friends on the mainland who call and ask me for advice. I'd tell them what I saw and help them come up with a layout [on a casual basis]. But my first official client wasn't somebody that I knew. They had reached out to me on Instagram, and basically told me they bought a house and had a $100,000 budget and [would] love to work with us. It sort of fell in my lap, fortunately, and she's been an amazing client.
This was after you launched the business?
Kind of simultaneously ... I don't think she knew I was in the middle of launching it. My website was under construction at the time. She just reached out to me on Instagram and said, "Do you do design work?" And I was like, "As a matter of fact, I do."
How did you figure out what the business side should look like for your firm?
I had a pretty long commute to and from work, about 40 minutes each way, so I would listen to a ton of different podcasts. I did a lot of Googling and calling. I would call one friend all the time—she's also a nurse anesthetist, but she has her own booming design business. I would ask her basic questions that I'm sure every designer goes through. I looked at other people's websites and tried to analyze why some people offered a certain design service and some didn't, how they structured their inquiry process, and their social media presence. I did a lot of stalking of other people.
To figure out what bits and pieces you wanted to incorporate?
Yeah, to find out what I thought they were doing well and how I could bring something different to the table. In a world that's to be saturated with Instagram pictures and pretty photos, how can I stand out and bring something unique to a market that is blooming?
Where did you end up on that? What do you feel is your perspective or voice?
People I work with want to feel included in the process of making their house a home. I know there are people out there who have money and just want to give it to a designer and want their house to be complete, and that's great. But a lot of people I work with have seen me on Instagram, have found a picture on Pinterest, have seen the process behind transforming the space, and they want to be a little bit involved with that. They're willing to take on some small DIY projects to save some money in one area of their renovation. They're looking for a friend to go through the process with, and I tend to have that personality—I get super-excited about tearing down walls and building it back up again. My clients are looking for somebody who can relate to having a family and having to live in a construction zone, who gets what it's like to have drywall dust instead of dry shampoo in their hair. They are looking for somebody who has been through it themselves and knows what it's like. I can bring that reality to them and empathize with the process.
This is a pretty new endeavor for you. When did that first client come on?
We're still working on her house now. It's been about a year since I launched the business.
How many projects are you working on now?
I've maxed out at three for now, and even that is a little bit of a stretch for me, given that I am doing this business part-time—I'm still a nurse half of the time, and I have a 2-year-old. But it's been great because as more inquiries come in and I have to tell people I'm not available until summer, it's shown me that I really have to hire somebody. So I was able to hire an assistant designer, who has been helping me a lot with projects and drawings. That was a huge step for the business, because now I have the ability to take on more projects—it's been a really good but scary step.
Your husband is on your site as the firm's project manager. What's his role?
I dragged him into the business. I knew that he was going to be the better business person of the two of us. He majored in finance, and he is killer at spreadsheets and crunching numbers and timelines and organization and Google Drive folders. The fights we get into are because I did not put the proper client document in the proper Google Drive folders.
With the proper file name and everything?
Yes, exactly. It's, "I can't find the one document related to this project because you didn't put it in the right folder." He is the one who keeps us on track with budgets and invoices and tracking—the big-picture logistics are his forte, so I rely heavily on him. I can handle all of the creative design aspects, but not the [administrative side]. Or when I'm like, "I really want this to be done this way, but why isn't that coming across?" I get feedback from him, where he's like, "If that's what you want, you need to say A, B and C." He has been a huge part of the success of the business so far—we work so great together as a team, and he excels in the areas that I am just totally terrible at. He also has a full-time job, so he spends a lot of weekends and evenings with me working on our business. One day, the dream is for me to do this full-time, but as we're just getting our feet underneath us, we're doing the hustle.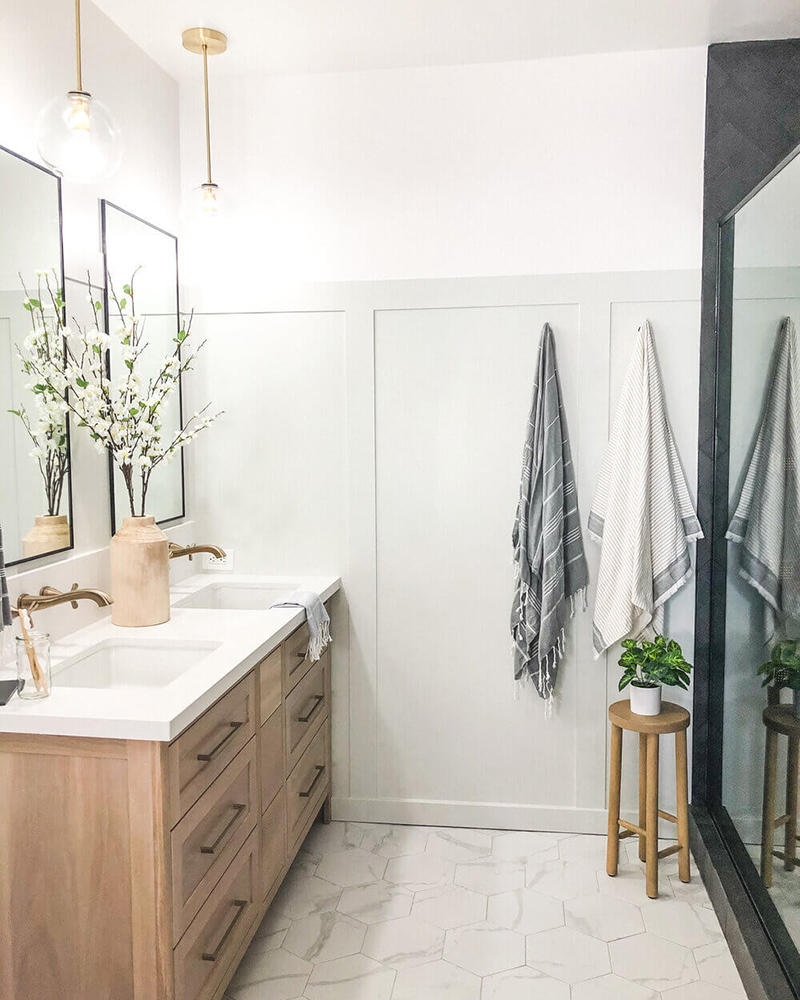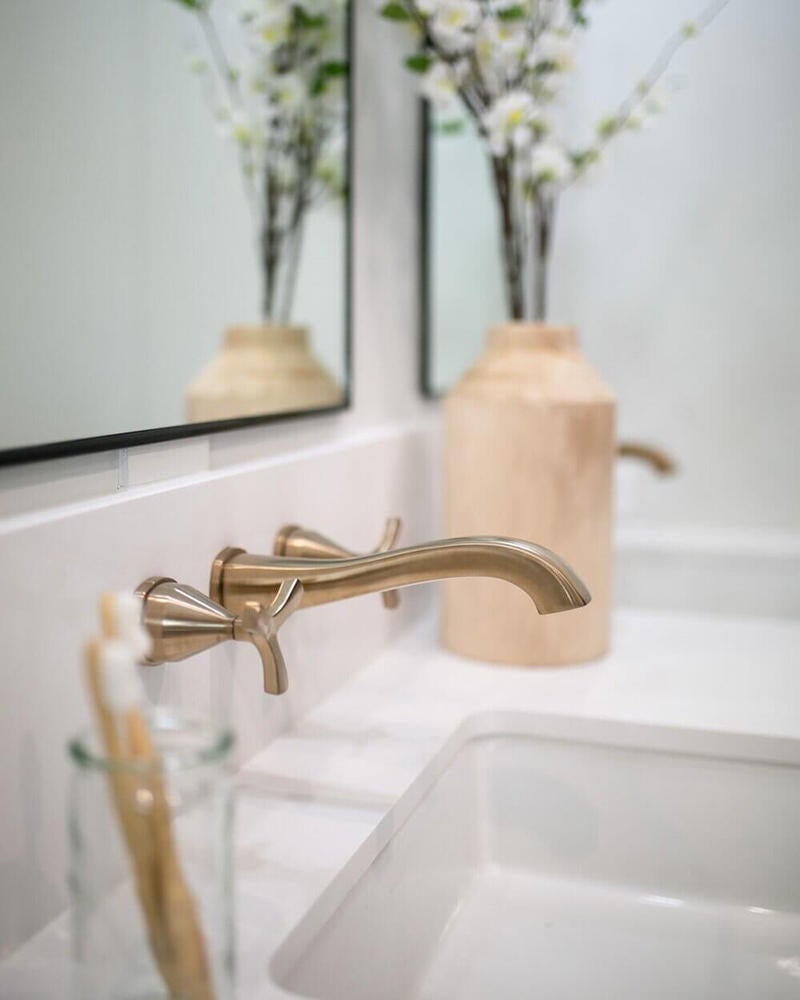 What's one of the biggest challenges you're facing right now?
We have to be intentional about what we're outsourcing and what we're holding on to. There's so much of the business [where] I'm still trying to develop and put these systems in place and figure out what is the best way to get from A to Z. But at the same time, I'm realizing that you can go through this process with 50 clients and every client is going to be different, and you're going to have to evolve that process every time.
That's one of the big challenges of the design business.
I think that's a huge part of being a business owner, to try not to put so much pressure on yourself to be a perfectly well-oiled machine, because I don't know that that ever exists. I've come to realize that I don't have to have everything perfectly in place before I hire somebody, or before I ask for help from somebody more experienced. There's no shame in being honest and saying, "Hey, I'm new," or, "This is only my fourth time doing this type of project, but I know you have more experience, and I want to hire you to help me grow and get through this process."
As I was interviewing people to bring onto the team, at first, there was this side of me that wanted to project this super-experienced, put-together business person—I wanted to convince them that I was worth teaming up with. [But I realized] it's going to become immediately clear as soon as they start on the project with me that I am doing my best and growing every day. So I was just honest with people I was interviewing and they were like, "I have this experience, and I want to help you work on your process and systems." So that has been really eye-opening to see what problems [can be solved by] being honest. The people you're hiring are still going to respect you because you went on your own, started a business and put money into it. They're going to be thankful that you're giving them a paycheck every month. So I think being honest and outsourcing earlier, for me, has been a huge help and a good decision.
How did you decide what to keep doing yourself versus what to outsource?
I was looking at what was taking me a lot of time. The first thing was the organizational part of the business, which is why I outsourced that to my husband and hired him. That was step one. Step two was a lot of the detailed drawings that we were creating for buildings—very mathematical computer work. Working in AutoCAD and SketchUp is not my strong suit. I said, "I can spend all these hours learning it, or I can commit and pay somebody who's really good at it and just get them to do it for me." So that was another thing to outsource.
When it comes to the procurement side, how do you shop? I know that it's not quite as simple for you as it is for designers in other states.
Getting things to an island has its own set of unique challenges, probably similar to designers in Alaska or Puerto Rico or somewhere like that. I try to use as many trade programs as I can. That's been my main lure to get people to purchase through us—basically, they can get a retail price, but they're getting shipping for free. That works for us here in Hawaii because people know that nothing ships free to Hawaii. So a big part of it is telling people, "Hey, we can get you this sofa, and it retails for this much. We can get it for you about the same price, but you're going to get free shipping instead of having to pay $600 in shipping."
So you're using your trade pricing to cover the shipping?
I am definitely still making a profit off of the trade pieces, but a big chunk of what the client would be paying for shipping—if they had purchased at retail—they save on with our trade discounts. We give them a little bit of a kickback, but we don't give them our full trade discount—we still pocket most of that profit. There's a huge logistical part, which is when my husband or our administrative assistant comes in: We have to get everything that we purchase to a port in California. We ship everything to a freight forwarder in Compton; everything gets consolidated there and then put on a freighter to Hawaii. That takes about five days across the water, and then it gets delivered to the residents with a third-party moving company.
There are a lot of moving pieces, and damaged goods are a real concern coming across the Pacific Ocean. I've developed a pretty good relationship with my freight forwarder, and they'll send me pictures. I ask them to open up boxes and examine for any broken glass, and they're good about doing that. For the most part, I haven't had any issues, but it does add an extra layer of complexity.
Do you do the installation, or is the product going directly to the homeowner to install themselves?
We do the installation ourselves. But there's no real white glove delivery service here. I am responsible for contacting different moving companies and getting quotes and seeing if they're available for install day. Then I have to coordinate picking up all of the furniture from the dock and moving it into the client's home and hauling away all the rubbish—it's a lot.
Once it gets to Hawaii, everything has to happen on a certain day, I would imagine, since you can't leave it there indefinitely.
Yes, exactly. We can only store things in California. Once it gets to Hawaii there is no storage. [Our freight forwarder's] warehouse is small, so as soon as it gets to Hawaii, they're calling the next day for us to come pick it up. So I have to plan well in advance for the moving company to come and pick that up immediately. We try to do it all in one install day, but with the last couple of installs, we had one or two pieces yet to arrive, because it was going to take another eight weeks for the product to get here.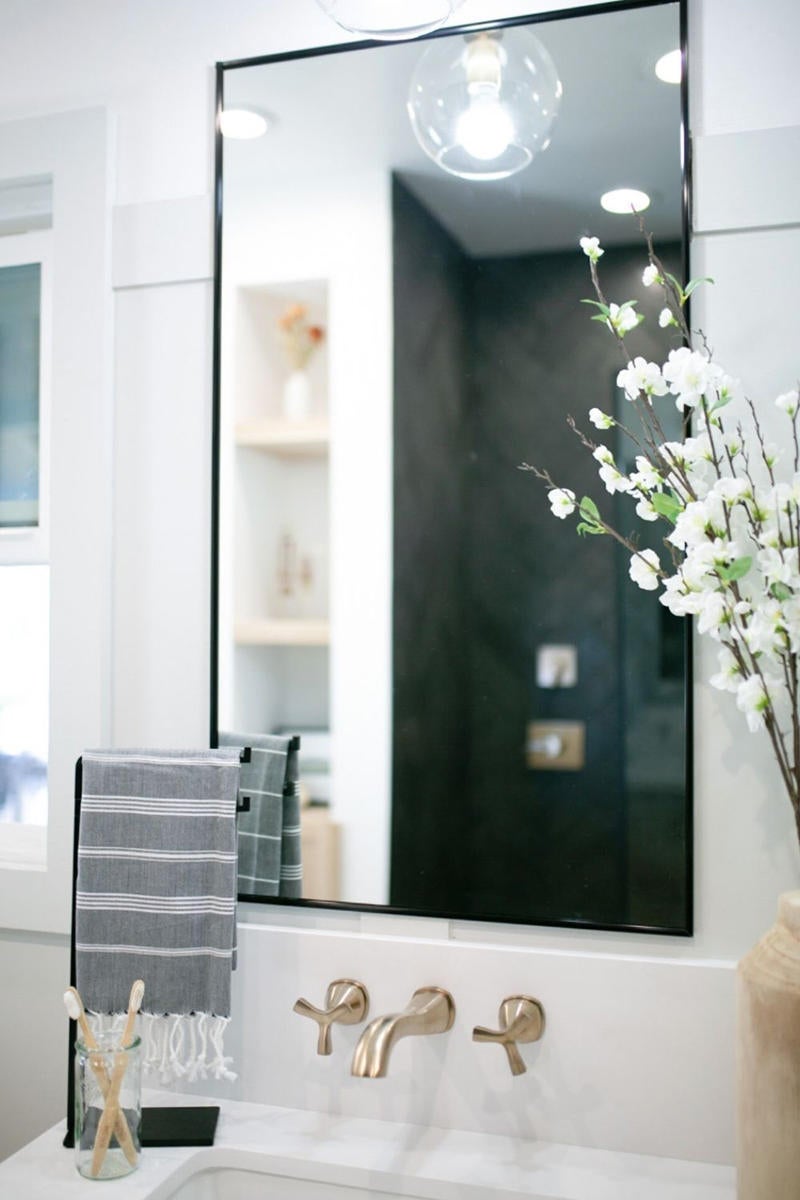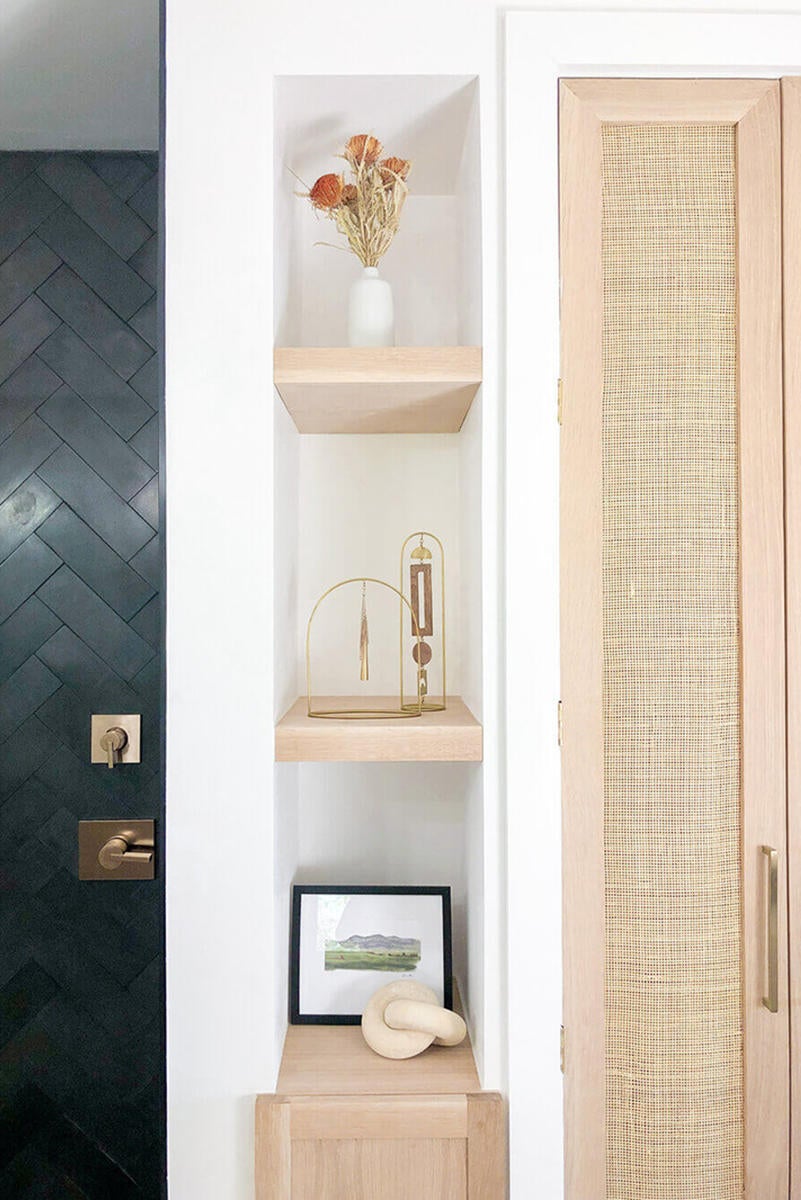 While setting up the business, where did you land in terms of what kind of services you wanted to offer and how you wanted to charge?
My services and pricing structure are still evolving. I thought that because of the pandemic, e-design was going to be my thing. But I realized that with e-design, there doesn't seem to be the same profit you make with trade furniture [because] you're sourcing retail items for people to purchase themselves—and while it's great to have very little face-to-face contact with clients [because of the pandemic], you're not getting those finished photos of the project, either. And when people want renderings, those take a lot of time, and I don't enjoy doing it.
I have found that the in-person full-service design option has been the biggest hit, which I think is partly because people in Hawaii are tackling huge renovations, and because the people who are my ideal audience have the budget to have somebody come in and take care of the bulk of that. So I'm considering removing e-design from my services and just focusing on what I like to do, which is full-service design.
What's your pricing structure?
I am billing hourly. I would probably severely underprice if I billed with a flat fee.
Where do you see the most opportunity to grow?
I would love to hire more people to take on more projects. I would love to one day have a storefront—a little shop where we could do all of our client meetings. I envision it here in Hawaii, right down on the main street.
You've talked some about your ideal client—who are you targeting?
I want to work for people who have a good budget, like pretty things, and have an idea of what they want. They've narrowed down their Pinterest boards, but they're too busy to make it happen. I don't want somebody who's hovering over every detail of the project and agonizing back and forth—that would be my worst client nightmare. My job is to agonize over every detail, right? I don't want somebody to do that for me. Basically, a young professional couple who makes a good amount of money and is just too busy.
How do you speak to or connect with that person?
Initially, when I started sharing projects, I had a lot of DIY-focused stuff. I quickly realized that sharing DIY projects was great, but you're really marketing to budget clients when you do that.
Budget-conscious people.
Yes, and I think that's great—I still have a lot of budget-conscious aspects to my design, because I get it. The housing market prices are insane here, so I get that you have to be conscious of that.
So what do you do instead?
What I've realized is that a lot of great interior design firms are awesome at that trust factor with their ideal audience. That's what Instagram is great for; you can share a sneak peek into what it would be like if this person was your client—this is what we would do first, this is how our meeting would go, this is a breakdown of an ideal timeline. Sharing those bits and pieces on social media is one of the ways I'm working on attracting my ideal audience—because I've noticed that my clients are silent stalkers on social media. They don't message, they don't write many comments, but all of a sudden, out of the blue, I'll get a message or an email saying, "Hey, I've been following you on Instagram for a while, and I wanted to reach out."
A lot of the people I engage with on Instagram are more like my social media friends. They're people like me, doing DIY projects, too. And they are a great community, but those people are not my ideal clients. As I'm transitioning into a business that aims to attract higher-end clientele, I have to share more about what it would be like if we worked together—this is what you're going to get from me, this is what you're going to see, this is the beginning of the project, this is the middle, and then this is the end. This is the sort of luxury experience that you're going to get by hiring a designer. And look, it is worth the investment!
I think everyone needs to do that.
As I was growing my business, [I noticed the] Instagram Stories I was clicking on. The ones I kept clicking over and over were the designers who were sharing their client process, not just for other designers, but showing their target audience what they would get by working with them.
And educating them, too.
Yes, because I think a lot of people are very unsure about whether it's worth the money. A lot of people want to start off with one room, see how that goes. They're tentative. But by sharing all that stuff and being transparent, you really can learn the [process of designing the] whole house—not just the one room.
When you talk about that future storefront that you're hoping to create, where do you see your firm fitting into the design community in Hawaii?
It's a very small design community. The growing trend in Hawaii is contracting companies who offer design services built-in. It seems like everybody wants to be a contractor and everybody you talk to has an uncle who's a contractor. And then when you reach out to these contracting companies, they're like, "We can also offer the design part." They sort of just add that on and help you pick finishes, so people think that they can get the designer experience just by working with a contractor. It's something I'm trying to work on with people: Yes, you can get that contractor look. Great. But we could do something totally cool. You can customize it to exactly what you want. We don't have to just pick the same old finishes.
To learn more about Sachi Lord, visit her website or find her on Instagram.
Homepage image: Courtesy of Sachi Lord Design Co.