For most entrepreneurs, 2020 was a brutal year to get a new business off the ground. For Outer—a direct-to-consumer maker of outdoor sofas—it was a gold rush. Yes, there was a one-week cliff-dive in March as the country reeled from skyrocketing COVID infection rates, but as soon as it became clear that we'd be spending a lot of time at home, the orders started pouring in.
"Sales went dead, then things started normalizing, and by the middle of April we sold out of everything forecast through May and we were just out of stock," co-founder Terry Lin tells Business of Home. The trend continued: Last year, Outer's sales grew a jaw-dropping 1,000 percent over 2019. Though (knock on wood) we won't be spending quite as much time at home in 2021, co-founder Jiake Liu believes the momentum that has carried the company through a banner year will keep on rolling. "Real estate has been booming, people call it 'The Great Reshuffling.' Homes that are worth $1 million have doubled compared to the year before. A lot of those homes are waiting to be furnished in 2021, especially the backyard as the weather gets warmer again. There are a lot more new homes to be furnished. … We forecast even stronger demand this year."
Perhaps no surprise, then, that the Santa Monica, California–based company has just announced a $10.5 million Series A round of funding, led by Sequoia Capital China. The round also includes a number of recognizable names in the DTC world (the founders of Harry's and Scott Tannen of Boll & Branch participated) as well as a curveball: Alex Pall and Drew Taggart, the electronic DJ and production duo better known as The Chainsmokers.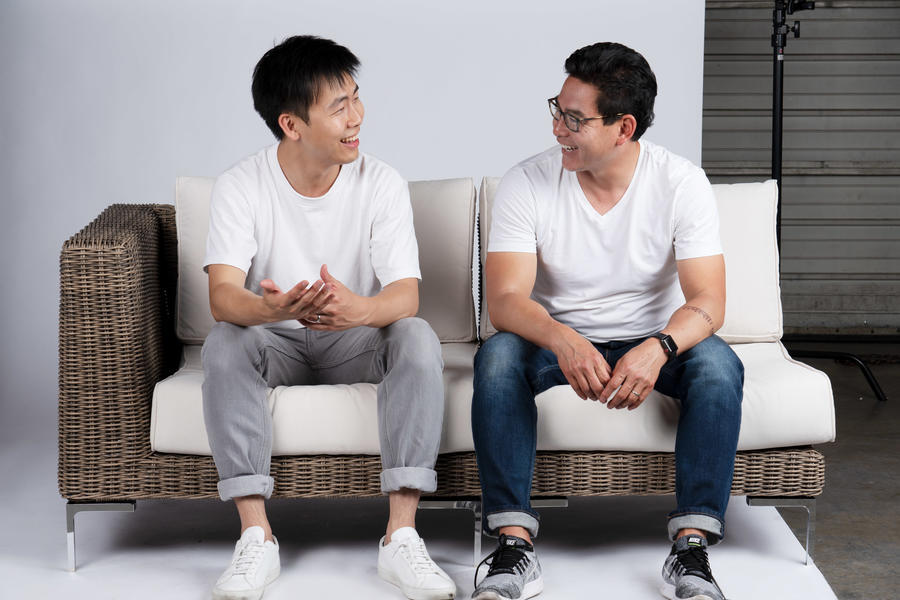 Liu and Lin are planning to do a few things with the money. For one: Hire more people. Last year the company grew from 10 to 30, and both co-founders see that rate of growth continuing. For another, they're hoping to make more stuff. Though Outer recently launched a line of outdoor rugs, right now it is essentially a one-product brand.
"What we found last year is we've cultivated a loyal customer base, they're coming back to us and saying, 'Hey, I got your sofa, and I'm thinking about my outdoor dining area as well, but I want to wait until you come out with your collection,'" says Liu. "We want to go into those other functional areas in the backyard."
Conspicuously absent from their plans: a big marketing spend. Generally, venture-backed direct to consumer brands invest heavily in customer acquisition online, spending millions to draw in customers through ads on Google, Facebook and Instagram. Liu and Lin do buy online ads, but they're hoping that Outer's unorthodox backyard showroom concept will help them win converts without spending a bundle.
We've covered the subject the subject at Business of Home, but a quick refresher: Outer customers can opt to save 10 percent on their purchase by volunteering their backyards as a kind of showroom for potential customers. Once they make it through a vetting process, they post pictures of their space and allow the curious to make an appointment to swing by and check out the merchandise. (Outer pays these "showroom partners" a small fee for each visit—not a commission.)
COVID has put the in-person aspect of the concept on hold, but, like everyone else, Liu and Lin have introduced a "virtual visit" functionality that has temporarily replaced backyard drop-ins. Encouraged by a positive early response to the program (before the shutdown, Liu says in-person visits led to a 33 percent conversion rate), they're planning to spend a healthy chunk of the fundraising to grow the network from 500 to 1,000 backyards nationwide.
The concept requires a good deal of digital infrastructure to work (it's almost like a mini Airbnb), and it certainly has its challenges—for example, customers can get the 10 percent discount, then drop out of the program without consequence—but it's an innovative way to spin up a nationwide network of "retail" locations without signing a single lease. Moreover, Liu says it turns customers who might have merely been fans of the brand into enthusiastic evangelists.
"It's amazing how much our hosts become our ambassadors," he says. "We tell them specifically, 'Don't sell the product, just let people browse,' but they get really excited to show off the product. I think that builds into the loyalty component on both sides, The host gets to engage with our brand and almost become part of our organization, so they'll come back and engage with us and buy more products. On the other hand, even if the visitors don't buy, it's probably a pretty positive impression we've made on them."
Outer is mostly a consumer company, but its founders are eager to grow their designer audience. Though the tight margins of direct-to-consumer commerce don't always make for the most lucrative of trade brands, Liu and Lin are exploring an option that would allow designers to earn a deeper discount through cumulative purchasing (as opposed to merely applying a markdown for one particularly sizable order, designers could earn the greater discount over time).
"We're thinking about it like a frequent-flier mileage program," says Lin. It's yet another unorthodox approach from an unorthodox company. "I don't think anything is sacred in the way we're thinking about things," he adds.
Homepage photo: Outer's 5-Piece Outdoor Sofa |Courtesy of Outer