The new Nordstrom Home store at the brand's midtown Manhattan outpost is getting a lot of attention, and has many things going for it. But let's be clear about one thing: It is not a home furnishings department by any stretch of the imagination.
That may be OK, as the new store is all about gifts and home accessories rather than the traditional full array of furniture and furnishings found in department store competitors like Bloomingdale's, Macy's and Dillard's. While different, the approach syncs with Nordstrom's ongoing strategy of including a small niche home department in most locations—usually 1,000 square feet or less—primarily focused on giftable and home accent products. Indeed, the New York flagship has had a similar department on its lower level since opening its doors in 2019, shortly before the pandemic. (Online, Nordstrom has had a more extensive home offering for years.)
Occupying a prominent location on the corner of 57th Street and Broadway, steps from Central Park, the new Nordstrom Home stretches over two floors, making it the company's largest physical home representation. The merchandise mix is clearly targeted at gift buyers and those seeking home accents or accessories rather than shoppers trying to furnish a home. The first floor, especially, is gift-driven, with an assortment heavily weighted toward tabletop, candles, cooking accessories and books. It features some well-known national brands like Baccarat and Fornasetti, but also some smaller niche brands, often with a New York provenance, like Beverly's and Thompson Street Studio. Great Jones, a direct-to-consumer cookware brand, has a feature wall on one side of the department. There is also a section with merchandise from the nearby Museum of Modern Art, as well as a botanical display that includes live plants and gardening books and paraphernalia.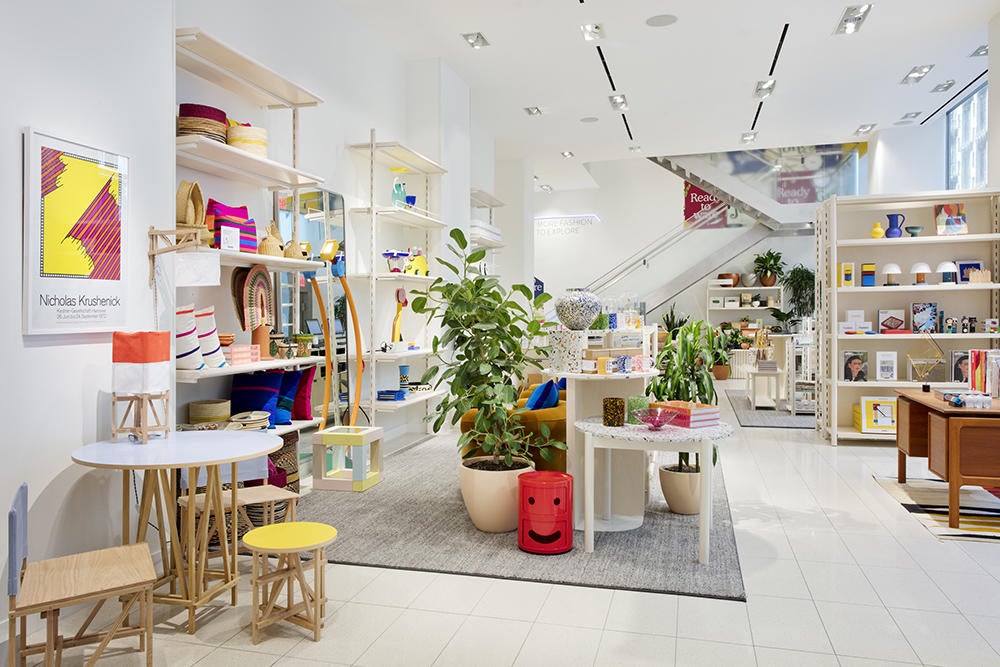 While the first-floor area is accessible from the rest of the Nordstrom store, the second floor can only be reached by a staircase within the department. Upstairs, the assortment is dominated by soft home products, with bedding and bath from a mix of national brands like Matouk and Ugg and specialty New York labels like The Citizenry and Hawkins. The second floor also has a fixture featuring products from Boll & Branch, the direct-to-consumer bedding brand, as well as some appliances from Dyson and Balmuda. A small kitchen setup seems to suggest demos, but may be more of a static display given there are no signs of functionality. Likewise, the Dyson lamp is prominently displayed but not wired up to be tested, which seems to be a miss for a premium product that touts its capabilities.
There is one display bed on the selling floor, but essentially no furniture—not even mattresses, which have been part of other Nordstrom home areas, even much smaller locations.
As this section will likely attract a larger number of tourists and visitors than residents—especially once pandemic conditions finally ease—its assortment makes sense within the department store's broader New York strategy. But competing Manhattan department stores and other players in the category, like Bed Bath & Beyond and HomeGoods, can probably breathe a sigh of relief that Nordstrom Home is not a full-scale competitor in what is already a crowded marketplace.
One could say it's another gift from Nordstrom.
Homepage photo: The new home department at Nordstrom in Manhattan | Photo by Connie Zhou