New York Spaces was acquired from DAVLER MEDIA earlier this week by MOD MEDIA, joining the group's stable of regional luxury publications. The home design mag's existing editorial team will remain aboard. MOD Media founder Shannon Steitz says, "We are thrilled to acquire New York Spaces, a magazine that has had a loyal readership in the New York metropolitan area."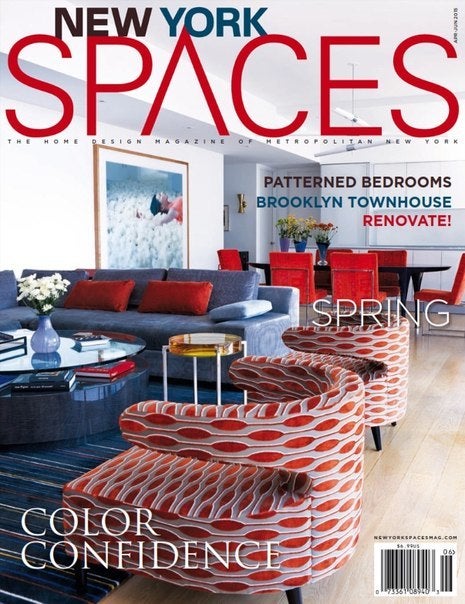 "MOD Media has earned the reputation as the voice of modern luxury with premier titles such as HUDSONMOD, CHICAGOMOD and Highways," she continues. "This new endeavor will further extend our reach into Manhattan, in addition to enhancing the portfolio with a niche high-design publication serving consumers and the trade alike. I am eager to see this long-standing brand and publication continue to prosper under MOD Media's direction."
New York Spaces is the third magazine to be added to MOD Media's portfolio this year. Editorial content will largely not change under the new ownership, and the magazine notes that its Top 50 Designers, Spring Into Design, and What's New, What's Next programs will continue. There will be a newly increased focus on events, multimedia and key partnerships, among other initiatives.
"New York Spaces is metropolitan New York's premier luxury design magazine. After 10 years of publication, we are excited to join forces with MOD Media. We look forward to producing exciting and progressive editorial and to creating new ways to celebrate our partnerships with luxury brands and the top designers in the industry," says Jason Kontos, editorial director.
Lisa Ben-Isvy, the magazine's publisher, says, "I am delighted that New York Spaces has found its home with MOD Media, given our unique ability to custom-tailor multimedia programs with our client needs at the forefront. I look forward to utilizing my combined experience and passions for luxury lifestyle and premier design to help propel the New York Spaces brand even further."
Follow EAL for an upcoming, in-depth look into the magazine and what the acquisition means for the brand.