Exuberance, a New York–centric and LGBTQ-focused brand and quarterly publication produced by MOD Media, which also produces New York Spaces, debuts this month. Interior designer David Mann is featured on the cover of the first issue, published last week.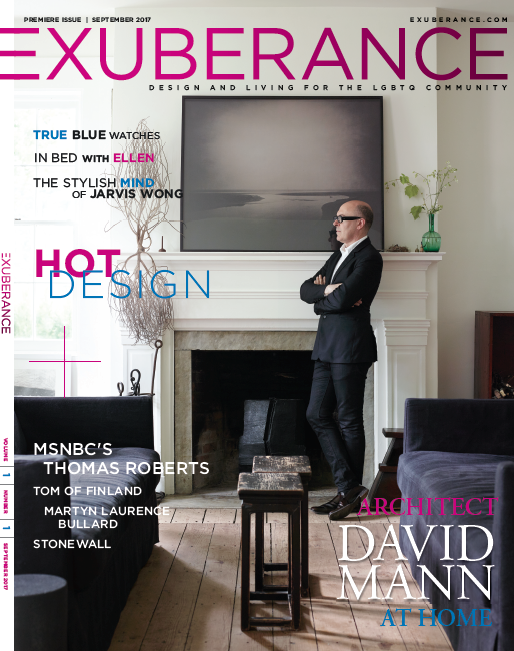 "I am thrilled that Exuberance has finally come to life after years of being just an idea in my head," says Jason Kontos, the magazine's editorial director. "This publication is a celebration of the LGBTQ community, and I believe that New Yorkers have been waiting for a media brand like this for some time. With the launch of a niche publication, we wish to acknowledge the contributions of this community, and by doing so, encourage and promote inclusiveness and understanding."
The magazine launched in October, in recognition and honor of LGBTQ history month, and each issue will include a section called Touchstone, which features LGBTQ culture moments. Touchstone will spotlight Stonewall in the first edition of the magazine. It plans to have a circulation of 40,000, including mailed copies to the homes of LGBTQ community members, and distribution to LGBTQ organizations, design showrooms, social events, retail locations and newsstands.
"Having spent years immersed in both the fashion and design industries, surrounded by fabulously talented LGBTQ friends, coworkers and peers, I am beyond thrilled to support and encourage the community's creativity through Exuberance," says, Lisa Ben-Isvy, the magazine's publisher. "I want to extend a heartfelt thank you to all of our partners who are making this beautiful magazine possible through their unwavering support."
"MOD Media has grown exponentially in 2017, and we view the addition of Exuberance as a natural extension of our ever-growing portfolio of niche publications and media brands," says Shannon Steitz, MOD Media president and group publisher.