As publications go, the Ikea catalog probably ranks just below the bible in its global ubiquity. Soon, that will change.
The giant Swedish home furnishings retailer, which does business in more than 50 countries, announced this week that it will discontinue its annual catalog after the current 2021 edition, which was released in October. Though the company said that it will continue to publish smaller print pieces, this marks the end of perhaps the best-known marketing vehicle in the entire global home furnishings business.
"Turning the page with our beloved catalog is in fact a natural process since media consumption and customer behaviors have changed," said Ikea spokesperson Konrad Grüss in a statement. "In order to reach and interact with the many people, we will keep inspiring with our home furnishing solutions in new ways."
Catalogs are expensive to print and mail, but as retailers increasingly shift to digital and direct sales rather than purchases made in physical stores, it's a curious—one could even say risky—move for the Swedish company.
As recently as 2016, the retailer printed some 200 million copies of the catalog, which was designed in 69 versions and 32 languages for distribution in 50 markets; its publication has been an annual ritual for the company and its customers since 1951.
The 70-year run is substantial—comparable to some of the other talismans of retailing, including legendary catalogs from retailers like JCPenney, Montgomery Ward, and Sears, Roebuck. Each of them found a significant amount of sales generated through their catalogs; in fact, Sears in its early days was much better known for its catalog than for its stores. Like Ikea today, each of these big national chains eventually discontinued their annual catalogs, with JCPenney the last to do so, about a decade ago. Montgomery Ward, of course, is long gone; Sears is now down to less than 75 stores (from a high of more than 3,500 U.S. locations), while JCPenney is just emerging from bankruptcy.
And while catalogs fell out of favor with these failed or ailing retailers, they continue to be an important part of many company marketing plans—perhaps none so more than RH, which has for years made its massive Yellow Pages–sized catalogs the centerpiece of its merchandising strategy. It continues to publish a large annual book, sometimes topping 700 pages, in addition to smaller publications devoted to sub-brands and style classifications. Williams-Sonoma has also continued to use catalogs as a tool for its brands, including Pottery Barn, West Elm and its namesake kitchen and gourmet unit. It now generates more than half its business outside its stores and has long reported that catalogs are an important element in its sales, even if the actual orders are eventually placed online.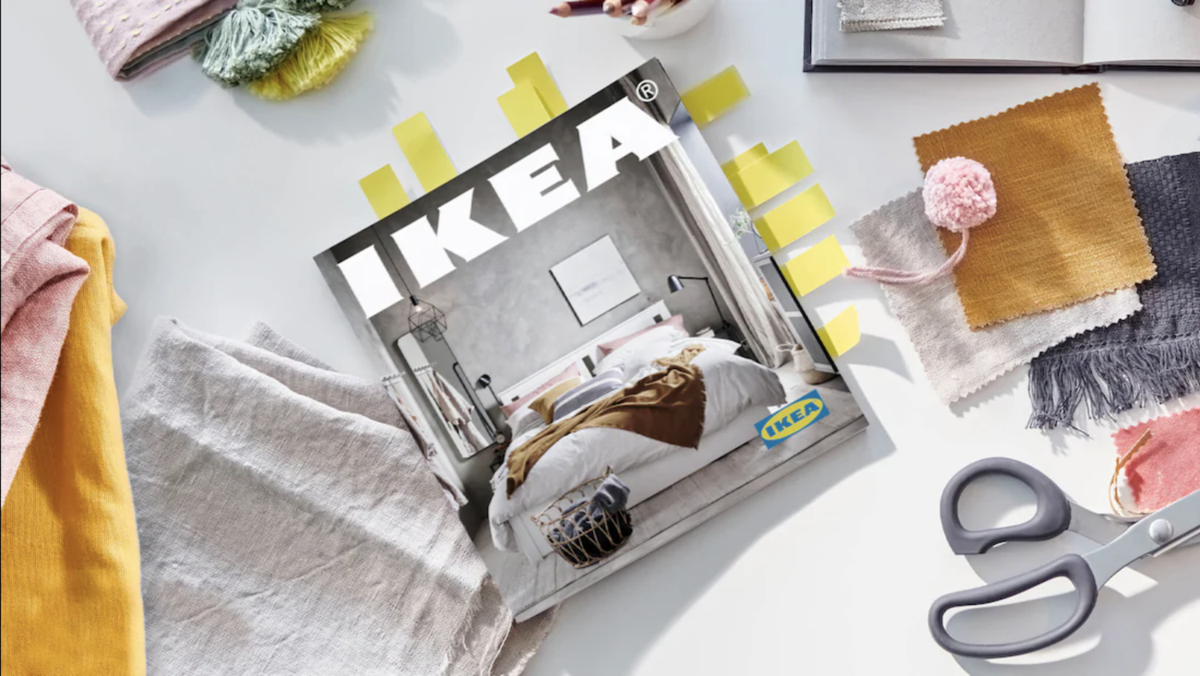 Ironically, Ikea has become much more focused on its online business the past few years after being a digital laggard for so long. That's one reason the abandonment of its showpiece catalog could be risky, especially given the success other home furnishings retailers have had with their omnichannel efforts.
A telling but cautionary tale could come from outside the home business: Victoria's Secret. Several years ago, the company ended its entire catalog division using similar language to Ikea's about shifting consumer shopping habits. The retailer has subsequently had a serious downturn in business, and while there are several other contributing factors for its decline, one has to wonder if the elimination of the catalog played a consequential role.
Ikea says it will continue to issue smaller print efforts, but it's unknown if these will be on an annual basis or dropped throughout the calendar year. Either way, the end of its most high-profile marketing showpiece will no doubt save a lot of money—but the potential downslide in its business-driving role also needs to be considered.
Like any good book, the Ikea catalog story is not an open-and-shut situation.
Homepage photo: A collage of past Ikea catalogs | Courtesy of Ikea
____________
Warren Shoulberg is the former editor in chief for several leading B2B publications. He has been a guest lecturer at the Columbia University Graduate School of Business; received honors from the International Furnishings and Design Association and the Fashion Institute of Technology; and been cited by The Wall Street Journal, The New York Times, The Washington Post, CNN and other media as a leading industry expert. His Retail Watch columns offer deep industry insights on major markets and product categories.