The 50 States Project is a yearlong series of candid conversations with interior designers across the country about how they've built their businesses. This week, Chantilly, Virginia–based designer Sallie Lord of GreyHunt Interiors tells us about the challenges of living in a political hot zone, how her definition of success has evolved, and how she's handling the COVID project backlog.
What are your earliest memories of being drawn to design?
I grew up in Haymarket, Virginia—it's about an hour outside of Washington, D.C., right where the mountains start. I was about 12 when my aunts opened a store called The English Cottage. My family is from England, so they were selling British foods, but also reproduction and antique pieces. They were both very talented in how they displayed things, and that just seemed like so much fun to me. I started working there when I was 15, and I loved it—it made me so happy to work with the displays, the products, everything. It was more the retail end, but that introduced me to the world of design. Plus, of course, I love Martha Stewart!
So you knew from the get-go that interior design was what you wanted to do professionally.
Yes. I went to Marymount University in Arlington and got my B.A. in interior design. While I was there, I started interning, and later working, at my friend's mom's store. The store was moving to another location, and I ended up drafting floor plans and electrical plans—and then from there, I became a buyer for the store, so I started going to High Point Market when I was 22 or 23. I ended up staying there for 12 years.
How did your role there evolve?
They had an art gallery, custom framing and furniture, but they'd never done interior design. After I graduated from college, I opened a design studio there—I opened up fabric accounts and all of that, and we created a design center, and it turns out that those design services were making a lot of the money. I did that until I had my first son, Hunter. I went very part-time from that point until the store went under. The business was struggling, and I knew they were going to close. About a year before that happened, I told the owner, "I'm going to stay on and ride this out with you as long as I can, but I'm also going to open my own business." So that's what I did in 2009. My second son, Greyson, was 3 months old when I started GreyHunt—the firm's name comes from my boys.
What did those early days running your own business look like?
I was part-time for a few years while my kids were little. Then I ended up going through a divorce, and as soon as I walked out that door, I went from part-time to full-time. I gave myself a few months: I thought, If I can't turn this into a full-time job, I'm going to have to go get a big-girl job. At the same time, I was like, Hell no, I'm going to make myself a big-girl job. After I went full-time with my business, I was busy enough that I started hiring within that first year.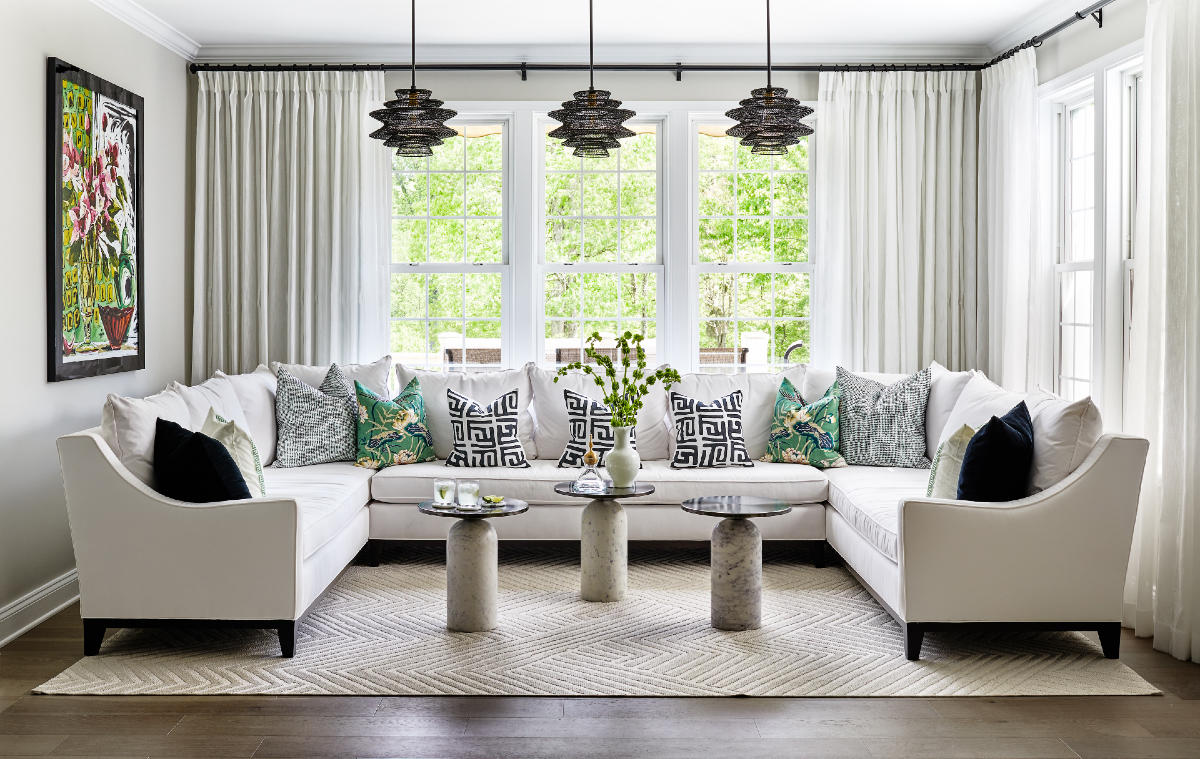 How did you know that you were ready to make that first hire?
I just couldn't get it all done myself. It was not possible. To a fault, I am still someone who thinks that I can do everything. So when it's like, Maybe you can't do it all—it was definitely a challenge ... but I knew I needed help. And then it went from getting more business and needing more help to realizing what I was good at and what I'm not so great at. Project management, for example, isn't what I'm great at. Design is what I'm great at, and dealing with my clients.
There are still times when I bite off more than we can chew, but I will kill myself to make a deadline—I won't miss it—and now I have wrangled a whole team of women to do that with me. I buy them lunch often—food is a good healer—but I feel very lucky to have this team.
What does that team look like?
I have a project manager and project management assistant; an interior designer, a junior designer and a design assistant; a bookkeeper; and an intern from Virginia Tech that I keep pulling in every time I'm like, "We need help."
As the firm has grown, what are the things that you never want to delegate?
I still have control of the designs, and that's very hard for me to let go of—I am still selecting the majority of the projects. I feel like I have grown internally to share more of my team with my clients, and have them work directly with clients, but I'm always part of that. The relationships are most important to me, and making sure that people feel taken care of and heard.
What does it mean to make sure clients feel heard?
To me, nothing is worse than calling a business and nobody calls you back. That drives me insane. But more than that, it's when I meet with clients and say, "I want to know how you want to feel in your home. Don't tell me a color that you want or a particular piece of furniture or wallpaper. I just want to know how you want to feel, and I'll figure it out from there." I think it's important for them to recognize that I pay attention to the details, and that I'm listening to those things.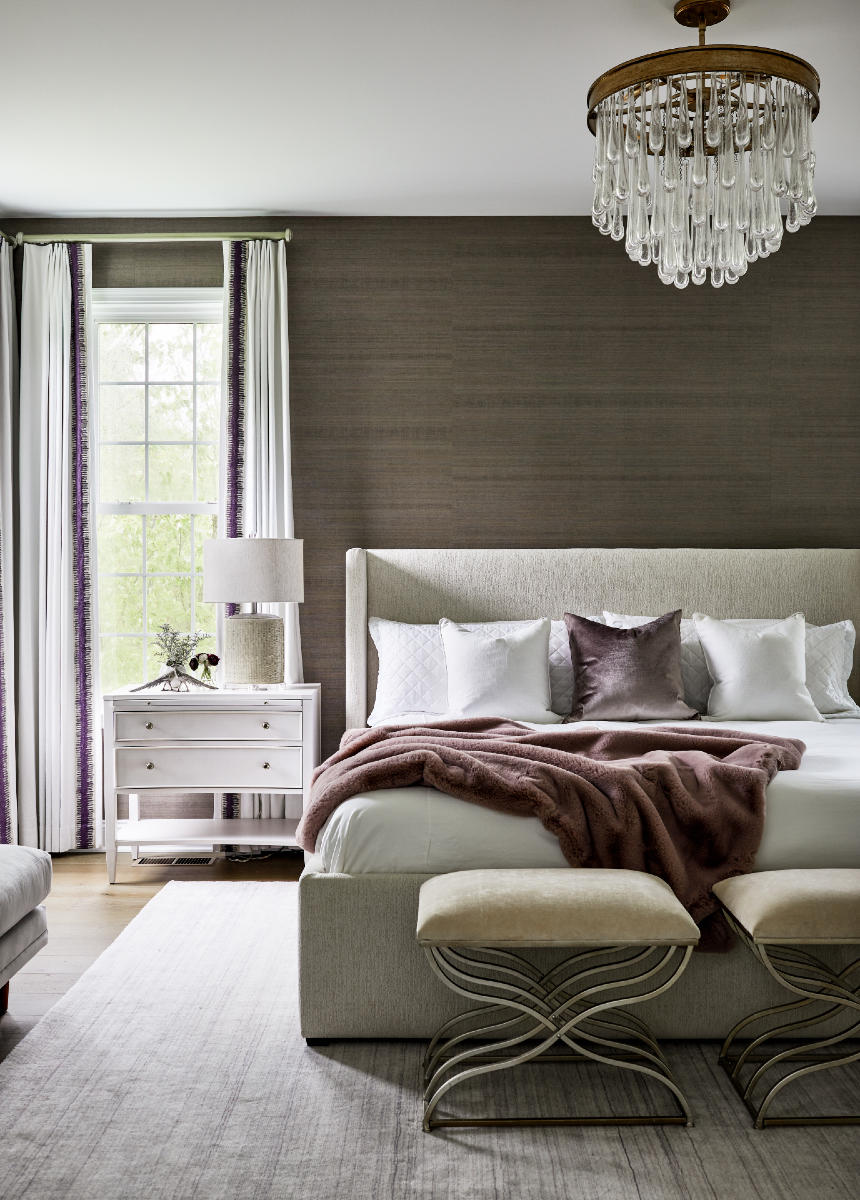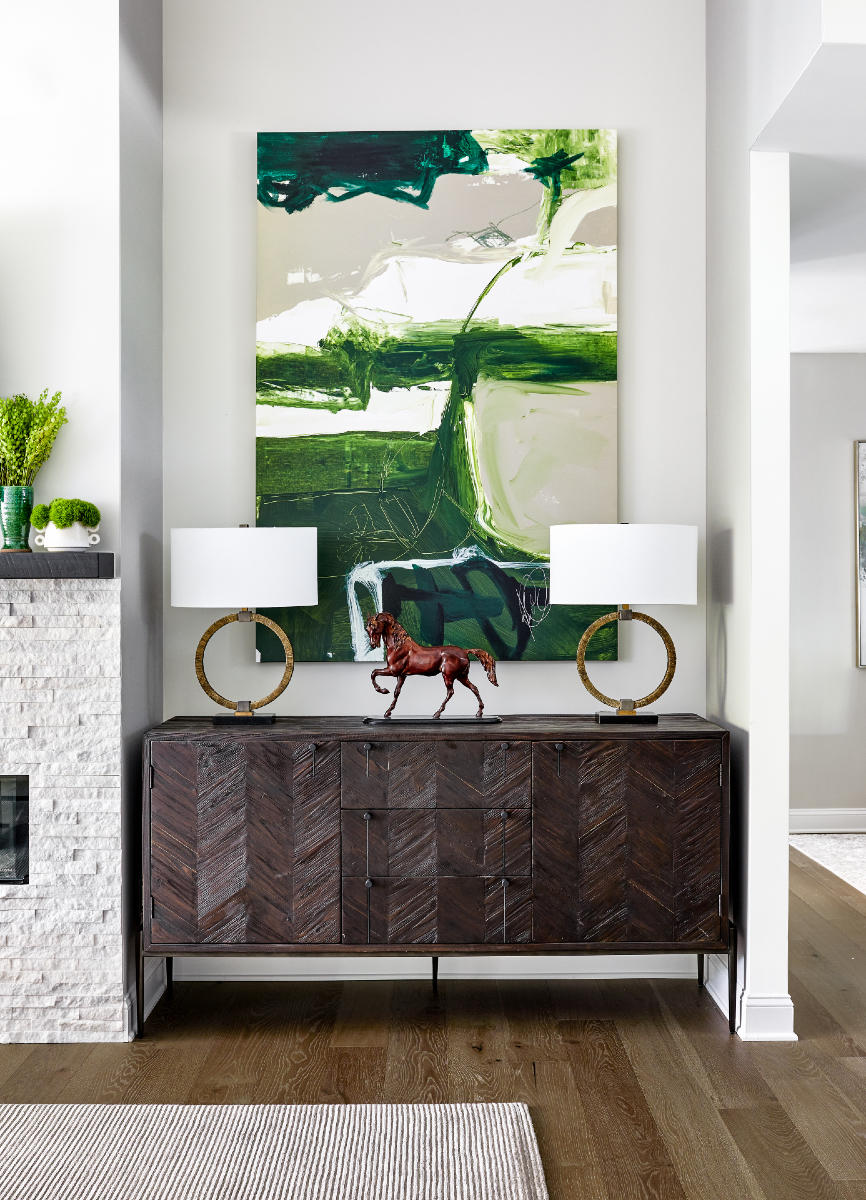 You mentioned you have an interior designer on your team. What is her role, and how does she augment what you're doing on the design front?
She'll build the entire floor plan in SketchUp, and then the two of us will start talking about furniture placement and layouts to find the best way to maximize the spacing. Once we get that hammered out, she goes back to building and I go back to selecting the products, and then she starts dropping them in and building them visually. Her SketchUp skills are amazing, and the renderings she does are just beautiful. She takes it to a different level.
From there, she does the vision boards [for the presentation], and then we work with the clients together on presentations and revisions of final selections. At that point, the work kind of blurs into project management because we meet and then [my designer] deals with sending the contractors punch lists. She does a great job bringing our vision and what is in my head to life for the clients and then making it functional for the contractor.
How do renderings change your presentation and the experience of showing a client your vision?
Tremendously. We started doing those about a year and a half ago. We were always doing beautiful vision boards—we still do them—but you can't beat being able to walk someone through the space virtually. We have found that there are a lot fewer revisions when people see the designs in 3D, because they understand the space, whereas it's hard for them to understand the scale from a vision board.
So it gets you to a yes a lot faster?
It gets me there a hell of a lot faster. We had a client presentation earlier today, and it almost felt weird because they're just like, "We love it. We just want to do it." It was really fast. And we did one a week ago—it was for almost an entire house, which they had just moved into, and the client was like, "No revision meeting necessary. We want it all." And I'm like, "Well, we still have to have that meeting, but OK." And it's all because they can see it.
Are there any downsides to showing the work that way?
The ridiculous amount of time it takes to build it.
Is it a big investment on your end?
It is, and they don't realize that these can take 60 to 70 hours to build because we put so much detail in there. If we use a Kelly Wearstler light and it's not an easy grab in SketchUp, [my designer] actually builds it herself virtually. It was funny—the other day, she told me that she almost bought [a model] of a light to save time. I had no idea what she was talking about, and she was like, "Oh, there's a marketplace where other designers sell the things they've built in SketchUp."
The downside is if a client wants a revision and thinks it's easy—like, "Hey, can you just pop that in?" I have to tell them, "Changes don't come that easy." It's like having a painting and then erasing the chair and asking us to sketch a new one. There are going to be eraser marks.
Is that time billable?
I don't bill it separately. We bill our clients for a package, so it's a flat fee: X amount per room. That comes with 3D renderings, vision boards, design selection, plus choices. We give them two to three options—if we put a lamp in the room, they're probably going to get two to three options so that they feel like they're part of that creative process. For the rendering, we put in our top pick so that they know where our guidance is. As part of that flat fee, we will do one revision. After that, it's billable—and we're billable by department.
In terms of project management?
Exactly. Project management is also part of the package: With your design fee, you're paying for the design, and it comes with design support. When we place the orders for clients, that little bit that we make on a product is what pays for the project management support—so if a client decides to take our design and go shop it themselves, we're going to be upset—but only because if things come in and there's a problem or they have questions, then we end up still having to provide design support, but we're not making any money on it. So then we will bill for the project management.
So you will let clients shop it themselves if they really want to?
We have in the past, but not anymore. Everything has changed so much that we can't. What happens is they're like, "Oh, I'm going to order this this month." But they don't, and by the time they get around to placing an order, it's not available anymore. Well, of course it's not. We have to have control of it. It used to be that we could be more flexible with that, but I've literally wasted hundreds of hours this past year [providing] design support [on] things that shouldn't have required design support if the client had followed our processes in the first place. We had to draw a line in the sand and say, "This is it," and know that it's ultimately to give them the better end result.
It's already a frustrating process right now because of COVID, and we're already getting slammed—designers are the middlemen right now, and we're taking all the heat for our manufacturers. When they say, "Just kidding—it's going to be another 10 weeks for that to come in," we're the ones taking the brunt [of the frustration] from our clients. So that conversation and control have to be there.
What does business look like today? How many projects are you working on at a given time?
Too many. We have a board [of active projects], and our big thing is that right now, we cannot get people off of our board because of delays. We cannot close out anything, so it's just backing up. It's like the first three people in line stopped, and now everybody's running into their backs. Right now, we generally are running about four big projects and up to six small- to medium-sized projects. The problem is we have other projects that are just sitting there.
We [organize active projects into] phases one, two and three. Phase one is brand-new projects—that's where we average 10 to 12. We used to have an average of 10 to 12 in phase two, and then four or five in phase three, but phase two is now like the purgatory of design. That's where they're sitting, waiting for revisions, and then waiting for their products to come in. We can't get people out of phase two because of COVID and all of the delays.
What happens in phase three?
In phase three, their stuff is in—that's the time to just get it done and photograph them. That's why we don't have many in that phase. Once we get them there, it's just whatever it takes to get off my board.
What do the different project sizes entail?
The small ones are typically existing clients I've had for years that are coming back for more. So these are like the seconds: You already paid for the big meal and just want another helping. There are times where I will take on small projects that I think are going to turn into big projects—clients are dipping their toes in, but I know that it's going to be great. It could be a new construction house; they're just moving in and need help with two rooms to start because that's where their budget is, but they ultimately want to do the whole house. I did that with a fabulous couple, and in that initial conversation, I realized it was going to be one of those clients that we're going to have for years and years and build on over time.
Do you like working that way?
Sometimes, those types of projects are like desserts. When you're only designing one or two rooms, you're making these jewel-box statements. You can put a little bit more soul into it each time because you're not spreading it out everywhere at once.
What is the budget for something like that?
If it's a small project, we're looking at a minimum of $50,000 to $80,000.
Can you tell me about the design scene in Virginia?
It's obviously very political in the sense that you have those professionals here. We have a lot of technology here, as well, but really a lot of government contractors and stuff like that. And our housing market is ridiculous. I mean, it's insane.
My husband actually lives in Indiana and I'm here in Virginia—he works for Delta Faucet and has to stay there, and I'm here because I have my kids and my business here, so we do this divide-and-conquer marriage. We're always talking about how different it is here in Virginia than somewhere like Indianapolis. Our housing market is healthy and huge—it's really booming now, but even when things do settle down, or even tank, it really doesn't change much around here.
I'm guessing you just can't talk politics with the clients.
Correct. I don't talk politics with anybody here. I mean, my husband and I do, and a couple of our friends—and, look, we are not all on the same side. But to me, we all should be on one side for each other. I can step back and look at both sides, but some people just can't understand why anyone would have a different opinion. So, no, I do not talk politics with my clients. I even have some clients that have become my friends throughout the process, and I will not talk politics with them. Even if they ask me, and even if I agreed with them, I would not tell them. I think you have to be that way here a little bit more—and it's not just being protective over yourself; it's being protective over them as well. I don't know if they would see it like that, but that's how I see it. You just don't know where people stand, and I genuinely care so deeply about a lot of my clients and want them all to be very happy. I wouldn't want to taint the water.
What resources are available locally? Or where do you shop?
I still do most of my shopping at High Point Market. This past year, I've become an accessory hoarder. I went a little overboard because I felt like the stores around here were not great resources when it came time to fill in our projects with accessories. And I'm so grateful that I went crazy and ordered a ton of stuff, because I have all of these installs coming up over the next few weeks, and I'm probably going to use every single thing I've got.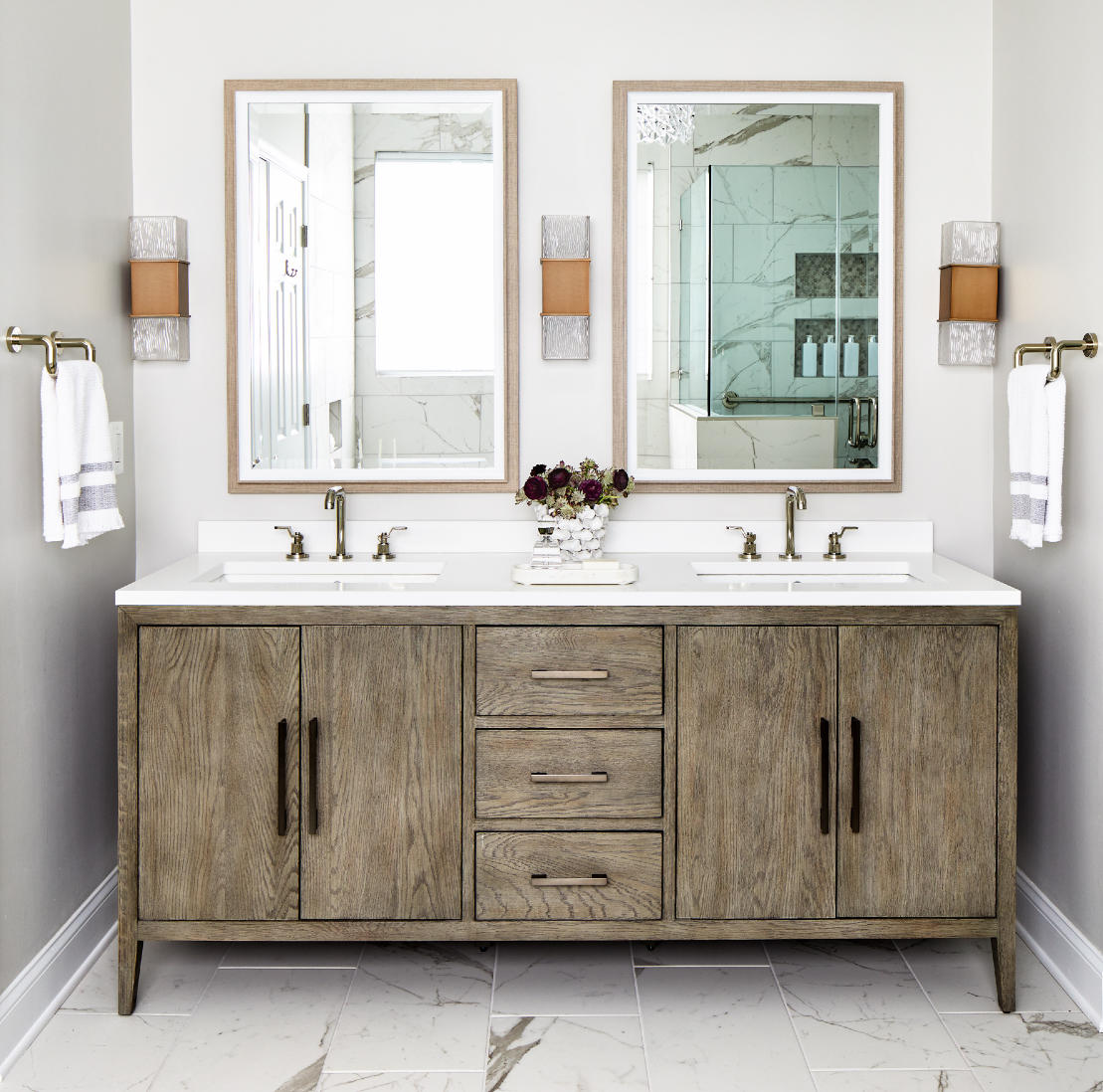 Where do you see the most opportunity to grow as you look ahead?
I want to expand into the Carmel-Fishers area in Indianapolis and have two locations for the firm. I'll never not be in Virginia—I mean, my life and my family's here, and so is all of the business I've had for almost 22 years. I'm not going to let that go, but I do see us growing and getting to that next level, expanding to where we are traveling more for projects, that sort of thing.
Does that mean hiring more people? Do you have an optimal firm size in mind?
No more than 10.
Why is that the magic number for you?
Because I feel like if I go past that I will completely lose intimacy with my projects.
Where you're taking on so much work that you can't be involved in each one?
Yes. I actually said this to my husband last week: "Just because you can doesn't mean you should." At what point do you say, "I have to value my own personal life"? Like right now, I'm working a lot. And because my husband lives in Indiana half the time, I'm taking care of my kids by myself while running a full-time business. It's a lot. There isn't much downtime for me, and my downtime is scheduled time. I very much value my friends and family, so if I've got a three-hour slot, I'm putting one of them in there, because people and relationships are super important to me. My brother [passed away suddenly] when I was young, so I learned very early how important the people in your life are. So I'm kind of like, I could grow and grow, but at what point do I not?
You started your design career in retail stores. Would you ever open one on your own?
I thought about it years ago and that was my goal, but I also knew how hard it was. It's so much more work than people realize—just like it is to be a business owner. My team may feel stressed because we've got all these projects, but I'm like, "It's nothing like running the business and having all those projects." It's a lot more work. So I thought about it, and there was a brief blip of a moment—about a year—when I actually did it. I rented space in two different stores: one in Totally Vintage Design in Manassas, Virginia, and another, using my name, in this building in horse country, in Middleburg. But I was still designing, and I quickly realized that's where my priority and focus needed to be. It was enough to wet my whistle and confirm that this was not the path. It was a lot of work, and I couldn't do it the way that I wanted to. I decided that you're either in retail or not. You're either all-in or you're out. So I had to make a choice, and my choice was my clients.
What is the biggest thing you wish you would've known when you started your business?
To respect the value of my intellectual property.
Tell me what you mean by that.
It's like knowing a doctor [socially] and saying, "Hey Doc, I've got this rash on my arm. What is it?" They don't ever get a break. People are always asking me for information for free, or they think it's easy for me, so I should discount it—that sort of thing. I started to realize that I needed to have healthy boundaries for people to respect what I do, and to understand that I'm not a machine. It's about acknowledging that there's a value to what I do. I've tried to respectfully and kindly draw that line and say, "This is my job. Please respect what I do, and here's my fee for that."
Is that hard to learn how to do?
Yes. It's so hard because it goes against the other part of me. There are two sides, right? There's Sallie and then there's GreyHunt. And Sallie is like, "Oh, my gosh, please never be mad at me—I love you, I want you to love me, and I want you to think everything I do for you is so great." That's the Sallie side of me: I'm a people-pleaser. But the other side of me is like, "I'm exhausted. Everybody's asking for all of this stuff, and I need to get paid for this. We want to make you happy, but nobody's really caring if I'm happy." That's the turning point, I think—standing outside your situation and seeing it for what it really is.
When I first met my husband, his dad sold Chevrolets in Illinois, and [my husband] told me, "My dad used to say, 'You've got to make money on your friends and family, because your enemies don't buy from you.'" I actually wrote that on a Post-it and I have it on my pin board here at work.
What does success look like to you?
A healthy work-life balance. Success to me is learning to be successful enough that I can enjoy the fruits of my labor without feeling the guilt of not working. And I feel like I'm on that path. Success is also being able to continue to love what I do, because there's no point in doing something if you don't love it.
To learn more about Sallie Lord, visit her website or find her on Instagram.
Homepage image: Sallie Lord | Christy Kosnic