The 50 States Project is a yearlong series of candid conversations with interior designers, state by state, about how they've built their businesses. Today, we're chatting with Chanae Richards of ọlọrọ interiors, who splits her time between Philadelphia and New York. She tells us what it's like running a family firm, how she developed a filtering system to find the right projects, and how plants tell her everything she needs to know about a client.
When did you know you wanted to be a designer?
I have a background in public financial management—I am an operations expert, and that's what I did for 15 years. I didn't know I wanted to be a designer. But five or six years ago, my friend asked me to curate his gallery for him on the Lower East Side. I thought that was a cool opportunity to work on something that I had never done before. But after that, lots of friends—people left and right—started asking me to do their places, a room here, a room there. And I thought, This is cool, this is fun!
Because they had seen the gallery?
The gallery was the jumping-off point, and then they started to see my home. I had no firm, but did three or four projects in 2015. The next person that asked me, I was like, "You have to pay me." I was thinking, They will say no—there's no way someone's going to give me money to do this, right? I had no idea someone was going to pay me to do this. After the first person said yes, I figured, OK maybe I can do this as a side hustle. I was a finance and operations director at a charter school at a public-private partnership school in Harlem, so I started to do the design work part-time—I took a couple of gigs on the Upper East Side, one in Harlem. But I had no portfolio—no one [outside my social circle] could [find and] hire me!
My partner and I had a commercial space in Brooklyn, and at the same time, we decided to rent it out for people who wanted to have baby showers and parties, but we ended up getting interest from TV stations. We had it listed on this platform called Peerspace, and we were one of the first of three listings in Brooklyn at that time. So first CNN wanted to come and run an interview there; after that, more studios started to call, and then folks started asking if I would be able to do some set design on those spaces. So I started doing the production side of things—I was getting hired by Vice to have a three-hour interview in this space, and I would curate whatever set they wanted. These producers would come out and shoot in the space for three or four hours at a time, or three or four days at a time—we had a movie one time.
Was the Brooklyn space raw, or were people touring a furnished, homelike environment?
It's a 1,500-square-foot raw factory space in the Navy Yard with huge open windows and these beautiful columns. We had minimal furniture in there: a sofa, two chairs and a desk. People could rent it like that, but if folks wanted prop styling or set services, I would upsell them and have them pay for that. I shopped Craigslist, thrift stores, antique sales, trade outlets, and [borrowed from] friends who collect things and my own [collections]. That [set design work] funneled folks to the interior design side from 2016 to 2018.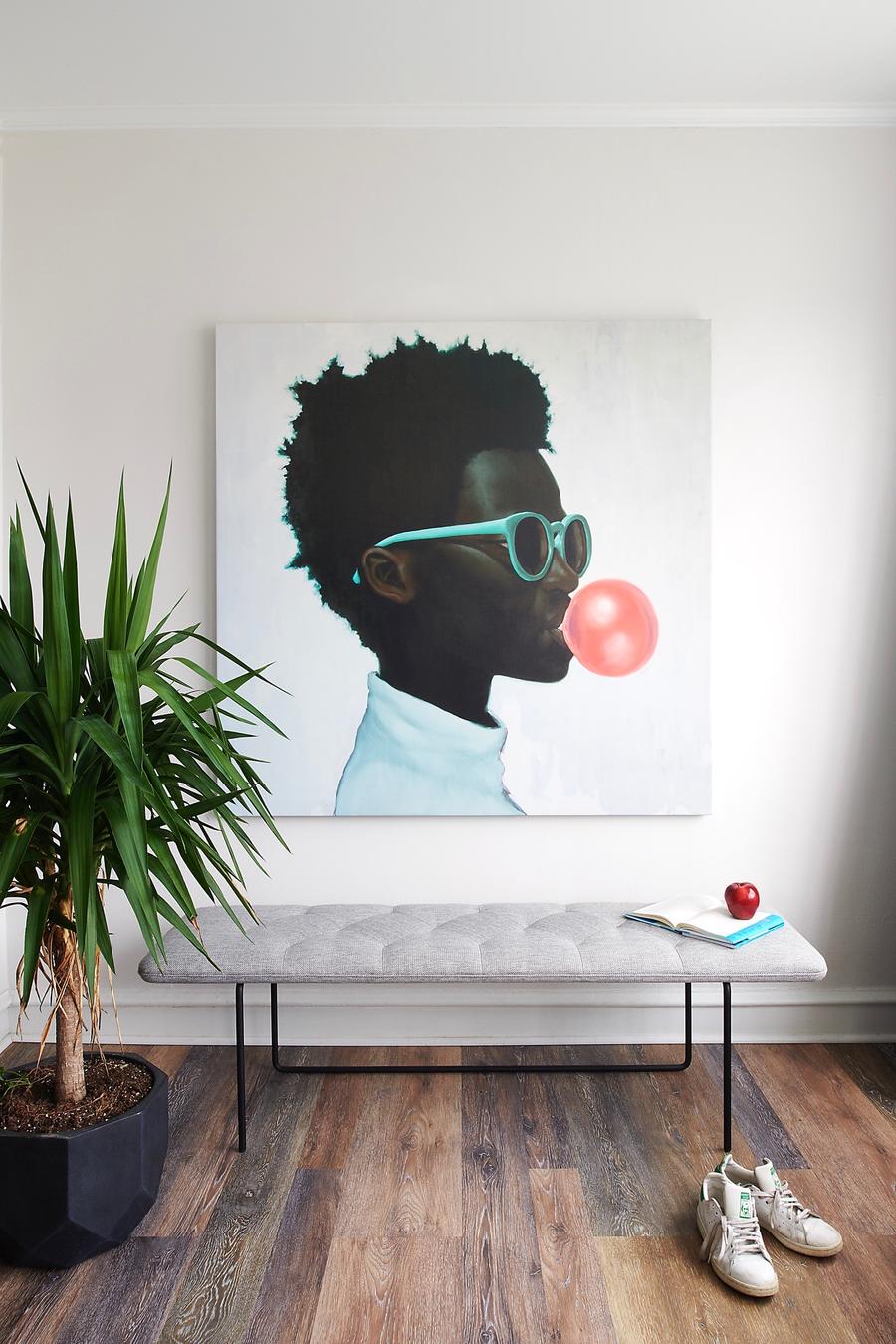 How did you transition to full-time designing?
One thing that really turned the corner was that National Geographic shot Tarana Burke, the founder of the #MeToo movement, in one of my spaces in 2018. After that, the residential work started to pick up a bit. But then, after a really glowing review at my job, I was asked to leave. I had started to make waves about the fact that I was the only Black person on a staff of 30. We were working in a charter school in Harlem, so all our kids were Black, and then there was me. It was one of the most devastating times in my life. I didn't work for two months.
Then, I figured, Well, this design thing is going to have to work, because these student loans aren't going away. From then on, I took it more seriously. For me, that meant going back to design school—so yes, I have two master's degrees, and yes, I'm still paying those student loans, but I didn't want to walk into this blind. And after pivoting a couple times to find exactly what I wanted this firm to look like, I'm here, my firm is profitable, I'm getting the dream clients that I want and am turning people down for work. I just can't believe it.
That's a huge accomplishment. Why was going to design school an important step for you?
I am not one to believe that you need education to work in interior design—I believe intuition will take you further than education in this field. But I had a finance background, so [I never studied] color theory and didn't know anything about Baroque style. Where am I going to learn that? Instagram's not going to teach you. This is serious work to me—this is not just throwing pieces together. I needed to understand the methodology behind this stuff, so I went to NYIAD.
What was that process like?
It can take six months or it can take three years. It took me about nine months and a pandemic to finish—I just have my final to submit.
How did it shape your practice?
The pieces that I feel like were most essential happened in the beginning. I think it introduced me to nomenclature that I wouldn't have known had I not taken the courses—styles of furnishings and period pieces that I wouldn't know about or understand if I hadn't gone back to school.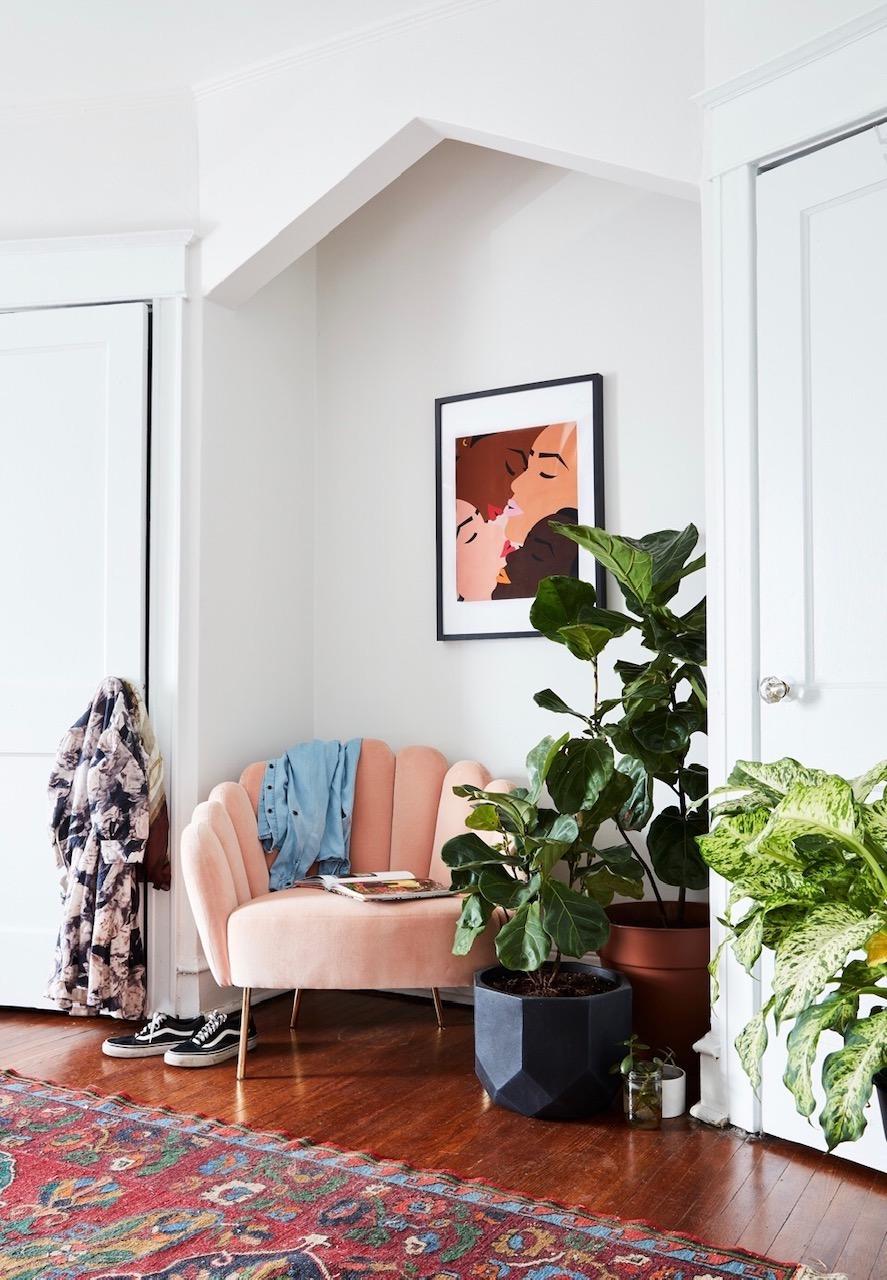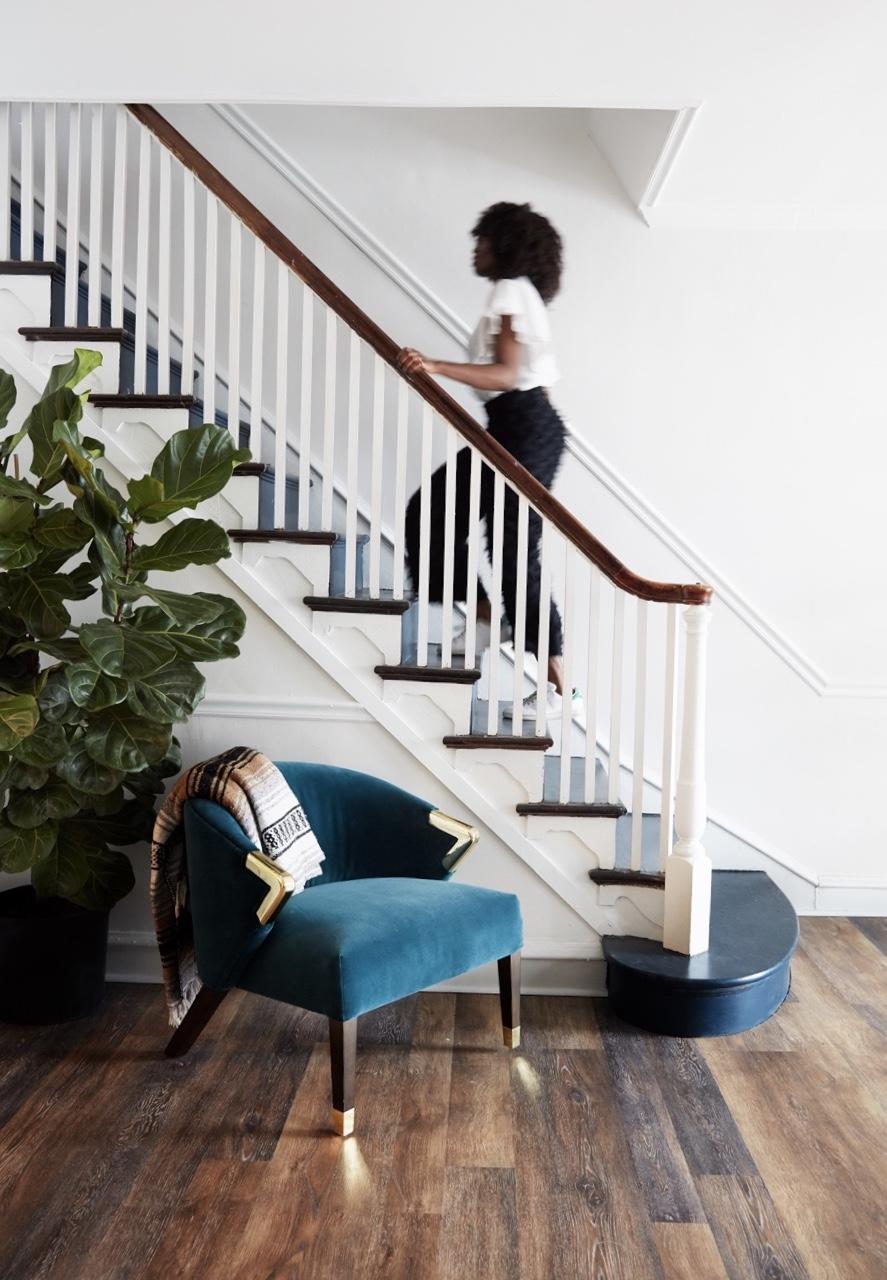 You split your time between New York and Philadelphia. How did that come about?
I have a love affair with Philly. I am originally from the Bronx—I am a New York girl through and through—but I came to Philadelphia to go to undergrad at Temple University. I had planned on going back to New York after graduation, but I had a mentor here in Philadelphia who said, "You can always go back to New York and do the same thing, but what kind of life can you create for yourself in Philadelphia?" I was like, "What are you talking about?" And she goes, "Well, why don't you buy a house?" And here I was, 22 years old, thinking, What are you talking about? This is why I think mentorship is particularly important, because had she not guided me, I probably wouldn't have bought a house at 22—the same house I have to this day.
I bought the house in 2005, but went back to New York after a few years, and [rented the house] while I worked and lived in New York. It became empty in 2018 after tenants left, and I figured I would flip it back over and have more tenants move in—and then I got a really skilled contractor. Not only did he do an excellent job, but it was so excellent that I decided to move in and keep it as my second home. His work changed the entire trajectory of my life, because had he not been the one, I would not live here. And that's how Philly came to be for me. I realized I needed a place to [get away from the news] and be quiet, and this was it.
What keeps you in the city? What do you love about it?
I love that it's a big city with a small-town feel. I come from New York, where it's incredibly fast-paced—one of the busiest places in the world. And I love that. I love that drive, the energy that can bring—but I also value sleep and rest. Here in Philly, there are houses and trees. It's slower. I know that downtown Philadelphia is going to give me more of a city feel, but here, outside of it, is lots of hiking trails that are pristine. Farm-to-table is not just farms that end up in your local grocery store; they're farms run by Ed and Anne, and they can tell you how fresh your bread is or when the cherries are likely to peak. I feel like disconnecting is easier here, too, in a quieter place. And Pennsylvania has such a rich history as part of the Underground Railroad, and just knowing that piece of history is only a couple blocks away is significant to me.
Do you have clients in both cities?
My clients are in New York and Philly, plus I have had a strong interest in my work in Washington, D.C. It has all been through word of mouth—I am primarily on a referral basis now. It's been like that for the past year.
What was the moment where you felt really established as a business?
That was very recent—January or February this year. I started working with my dream clients this year—and by "dream clients," I mean that they value the process and understand the sensitivity of certain things. This is not HGTV, and it does not happen overnight—and if you do want overnight, you have to pay for that. Look, there are some folks that need that. There's a woman I worked with last month who called and was like, "In three days I'm going to be interviewing Kamala Harris in her first interview as the vice presidential nominee, and I need my background to be staged." So I made that happen in three days. Understanding the value of that service is important, and I feel like, while I did have clients that understood the value before, the level of that this year has matched what I want the firm to be.
What's brought that about?
It was really driven by me. I think I changed, what I wanted in a client changed, and who I worked with changed. I hired a strategy firm, and we figured out what the ideal client I wanted looked like, and if that didn't align with the inquiries that were coming in, I decided I wasn't going to move forward with people. Saying no to anything that wasn't what I knew would be a yes in my heart just made life better.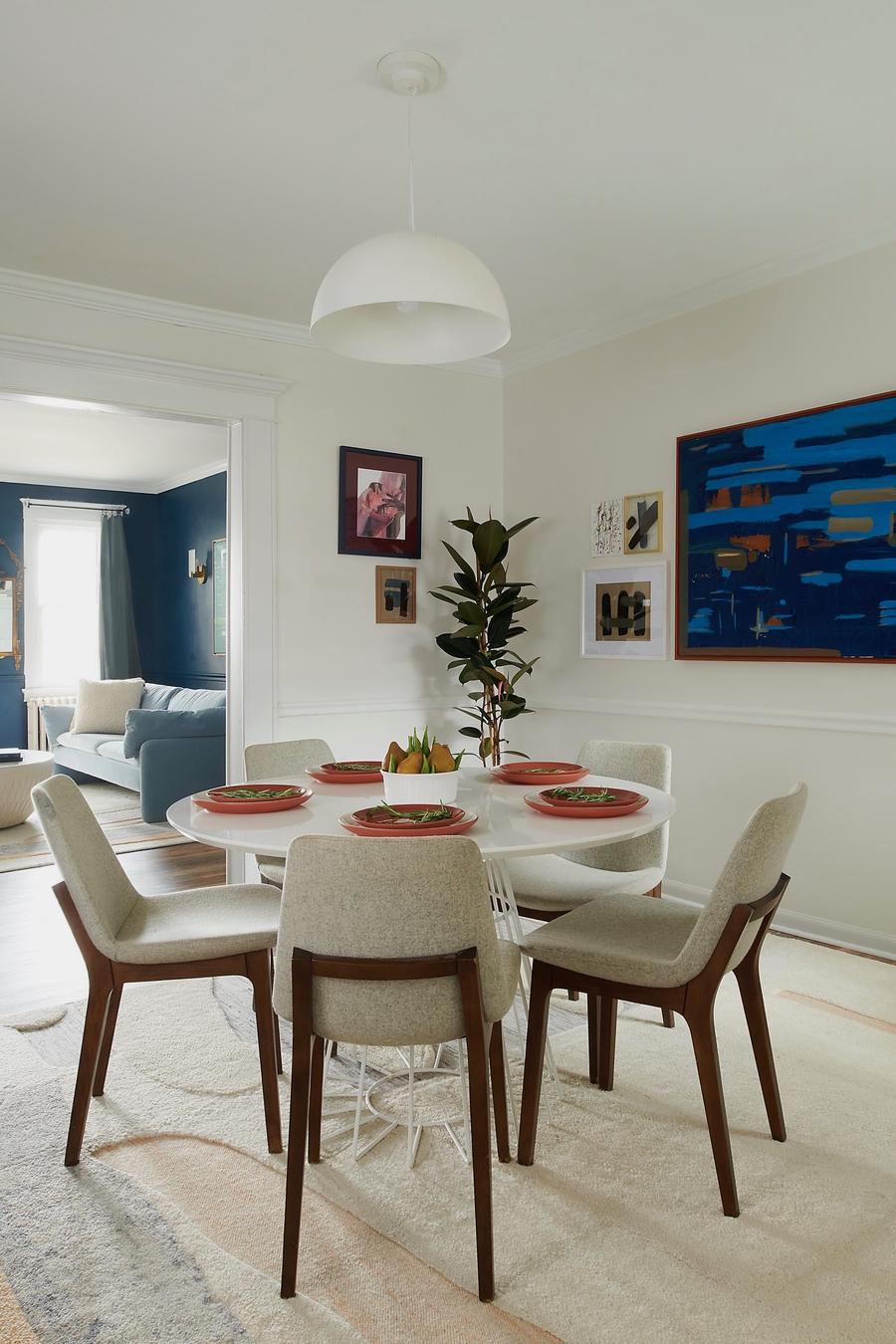 How do you get to a point where you can say no? I feel like in any business, that can be one of the hardest parts.
You can't, especially in the beginning. You say yes to everything! I said yes to everything, and that's a part of it—putting in the work, saying yes, the late nights, the projects that aren't practical, the projects that don't get any shine. It's all of that, and all of that's OK. You may not feel it at the time, but it's OK. And then it's recognizing when you need help and getting that support when you need it in areas that are not your strengths.
How many projects are you working on right now?
Three.
Does that feel like the sweet spot for you?
No more! Well, it depends on the level of support that's required. There's one full-service client who is high-touch—she needs everything done because she's not here. We're talking concept to completion, her assistant working with my assistant so that everything can be installed to be ready when she arrives. And then I'm consulting for a home project that they're thinking about in a couple months, and one project that I'm finishing up here in Philadelphia—we had the install, but there's some refinement that needs to be done and it needs to be shot.
What does your team look like?
This is a family-run business, so other than my assistant, everyone else is related to me. My dad is my runner, my brother is my head installer, my sister does my marketing, and my best friend and another sister do light styling for me when I have full-service clients. And then I will hire out for things as necessary—if I need a TaskRabbit, for example. If I need to source some things, I'll sometimes ask another designer, Mary Stewart, who is based in Delaware, to help with research.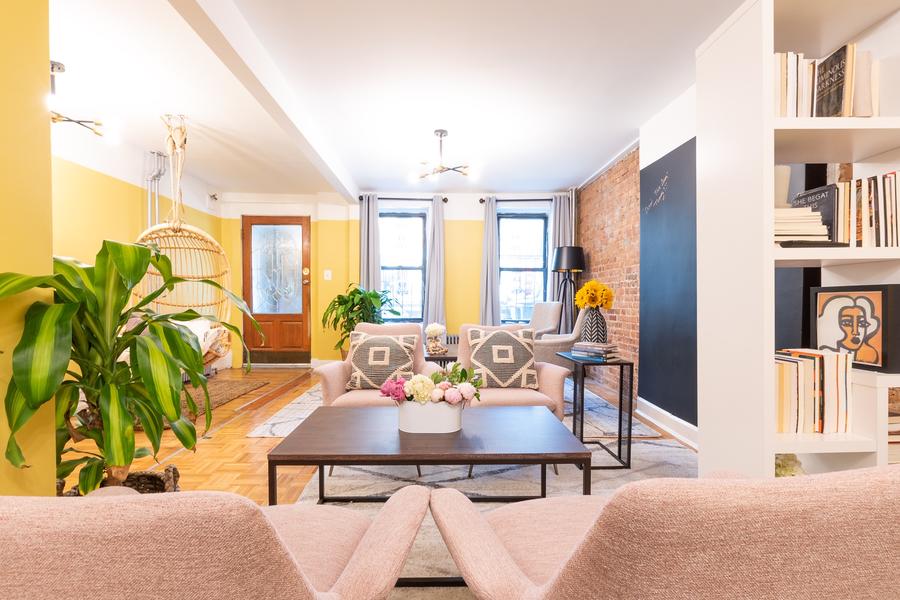 A partnership with another firm—how do you build that kind of relationship?
I think it's understanding what your needs are, and the other firms' needs and goals, and how those two things align—and sometimes they work out really, really well. Right now, Mary isn't necessarily interested in doing the hands-on day-to-day client work, but she does enjoy research and sourcing—she's so good at finding pieces that are out of state or out of the country and getting them here quickly. She's a logistics expert. I've had other partnerships when I didn't have a trade account or couldn't meet the minimums that many vendors have, where [another designer in town] allowed me to use her account.
In the finance world, perhaps it was a little more cutthroat—even in nonprofit finance, there could be some weirdness—but not here. It's been great. In the tight group of designers I know and love, I haven't experienced anything but support. Keia McSwain, the head of the Black Interior Designers Network, is phenomenal. When I needed referrals for wallpaper installers when I first got to D.C., Kiyonda Powell shared that information. I haven't gotten this far on my own, I know that.
When I had my first big shoot last year at my own home with HGTV, Jeanine Hays of AphroChic was there, and Kiyonda came in from Washington to help me style it. Dominique Calhoun [of ReMix Living in Philadelphia] was here first thing in the morning even though she has her own showroom—by the way, she's the only Black woman with a retail furniture showroom in Philadelphia. She came here instead of going to open her showroom to help set me up for the shoot. And I'm not just talking about setting me up with last-minute styling touches. Dominique was on the floor putting paint on the radiator because it needed to be touched up. That is the kind of dedication that she has, and I've felt that within the design community with the folks that I'm around.
That's such a great community to have! Did you always know you'd tap your family, too, as you built your business?
I've always known that I have a built-in team ready to go. I'm one of eight, so life has always been this way. Whatever project folks [in my family] are working on, it may not be the interest of everyone, but there's always one of [my] siblings that is a fit. I always knew it was going to be us. My firm's name—ọlọrọ—means "rich" in Yoruba. I wanted my family name to be incorporated into the firm, so "rich" for "Richards," but also [the idea of] prosperity for my family has always been the goal and the source of our strength. There is no firm without my family.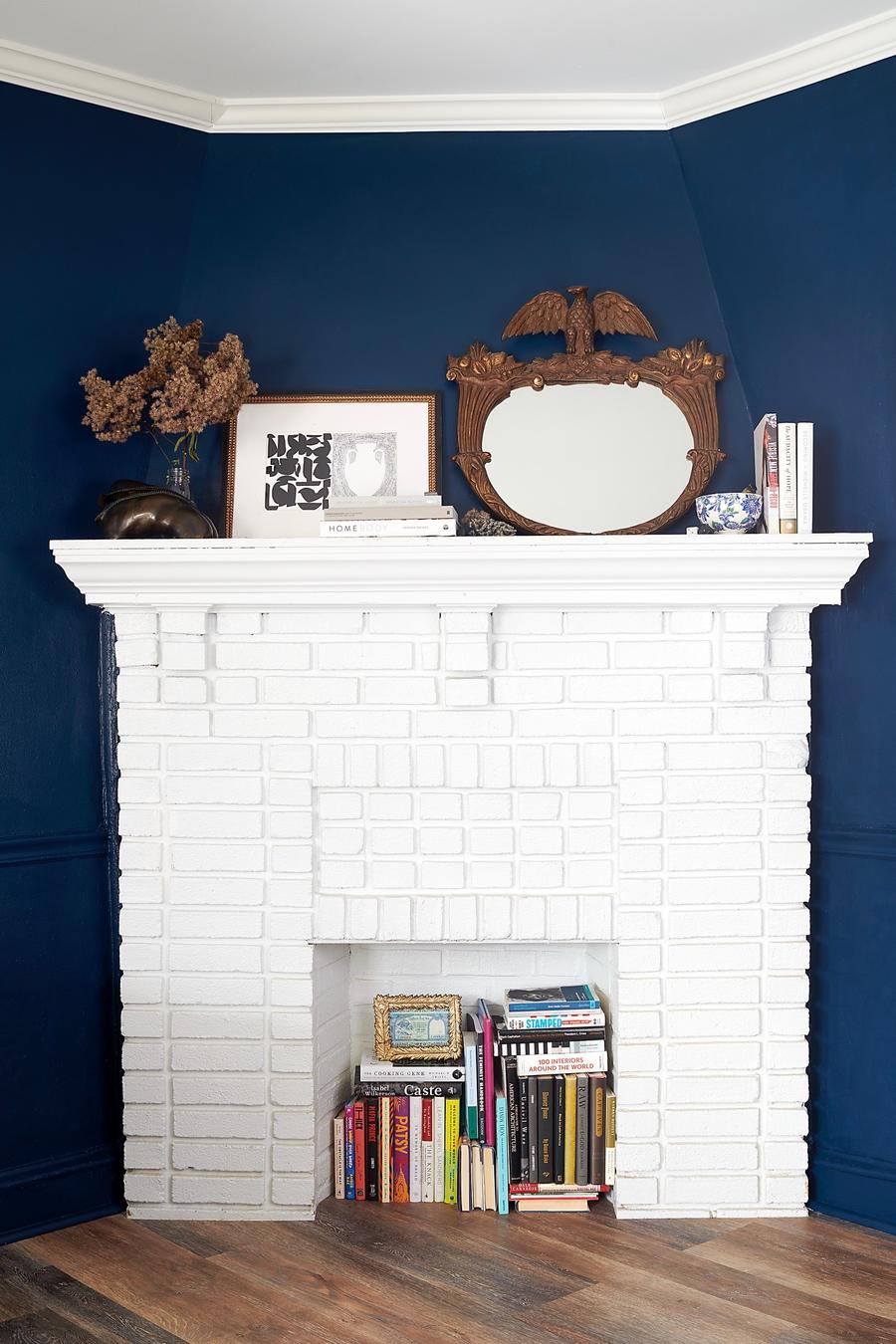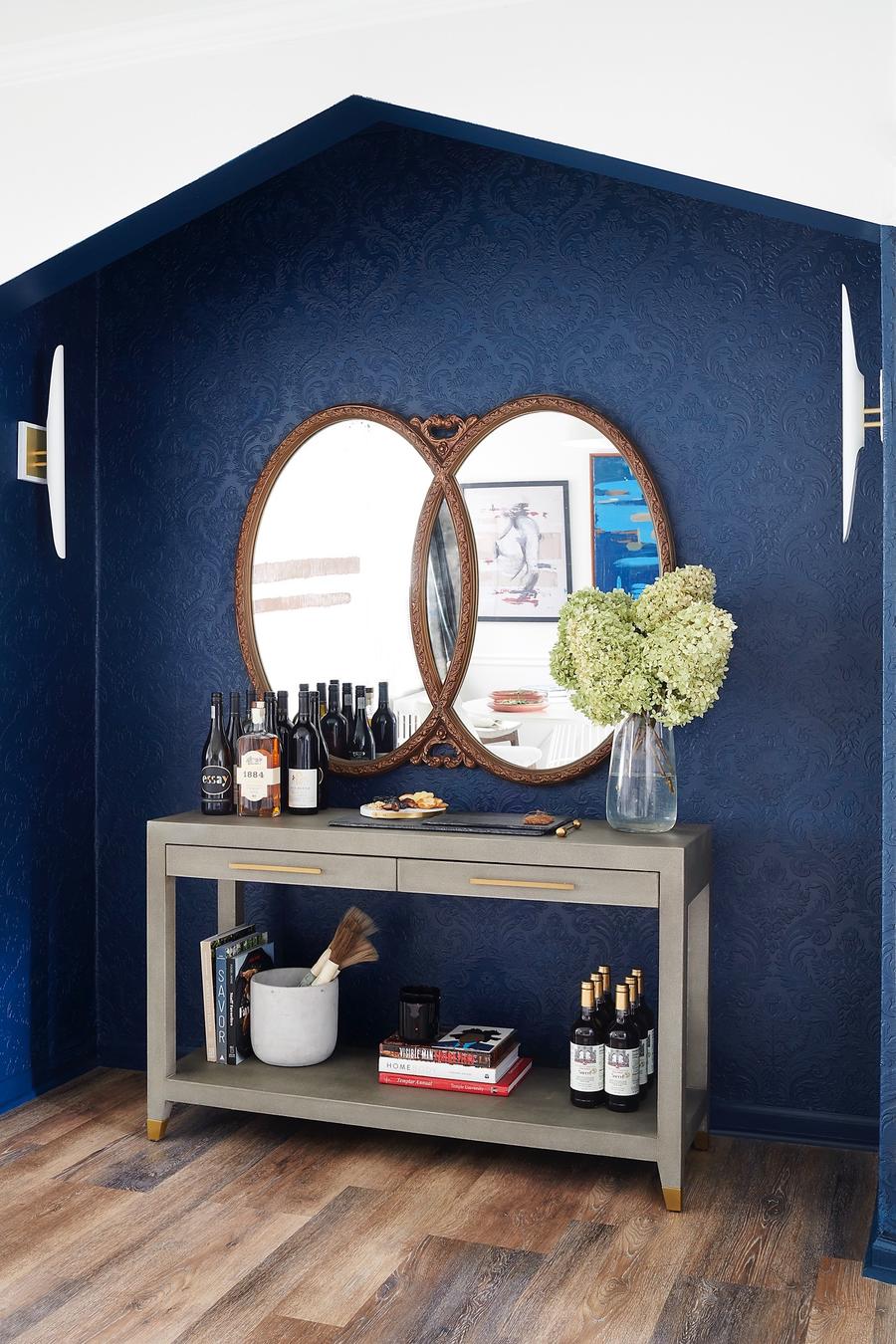 On Instagram, you showcase your own home, but not your client work—why is that?
I'll tell you where I got [items] in my home, but I'm not doing that with a client's house, because they paid me for a service. I think there's a difference between my internal portfolio and what's shared with the public. There are projects I'll share with a prospective client who wants to see my work, but that's not for Instagram.
You mentioned hiring a strategy consultant. When you outlined your dream client, who was that, and how do you know what to say yes to?
We created a profile of the folks that I wanted to work with based on the one I was working with at that time who was the dream client. I patterned my dream client off of her because it was just going in the right direction—everything felt right and was firing on all cylinders. But then if we leveled it up a notch, what would that look like? So I created a second dream client based on the first one. Because the first one was in living color—I had her! That's what made it easy, was just knowing, I want more of this—and also, I want this with a different budget. I set that intention, and then the next client I got was that second type of ideal client, and it blew my mind.
How do you start to get the client that's the next level up?
I have cultivated really good relationships and have a friend circle that has supported each other as we have been grinding on our own—those are the people that are hiring me now. I have writer friends who are now award-winning and on bestseller lists, but they weren't three years ago. We're all just coming up together, and that's really been the source of my referral base.
How have you approached billing and talking about money—especially with clients who are friends?
Before this, I had a background in nonprofit finance, so that part of my brain works very well. When I first started, I knew I didn't have a great rate. I knew my hourly rate was trash, but I also knew I needed to get the work done. Within a year I doubled my rate, because I knew the value I was bringing. At the Black Interior Designers Network conference last year, Corey Damen Jenkins [gave a keynote] and said that after two years, you should be making at least $150 an hour. I'm like, "All right, it's been two years, and my rate is now $180—let's go from there." Year by year, as my value increased, my requirement increased. And that is what's required to work with me. You don't have to work with me. I know that there are some folks that will not understand the value, and that's OK. Those just aren't my clients.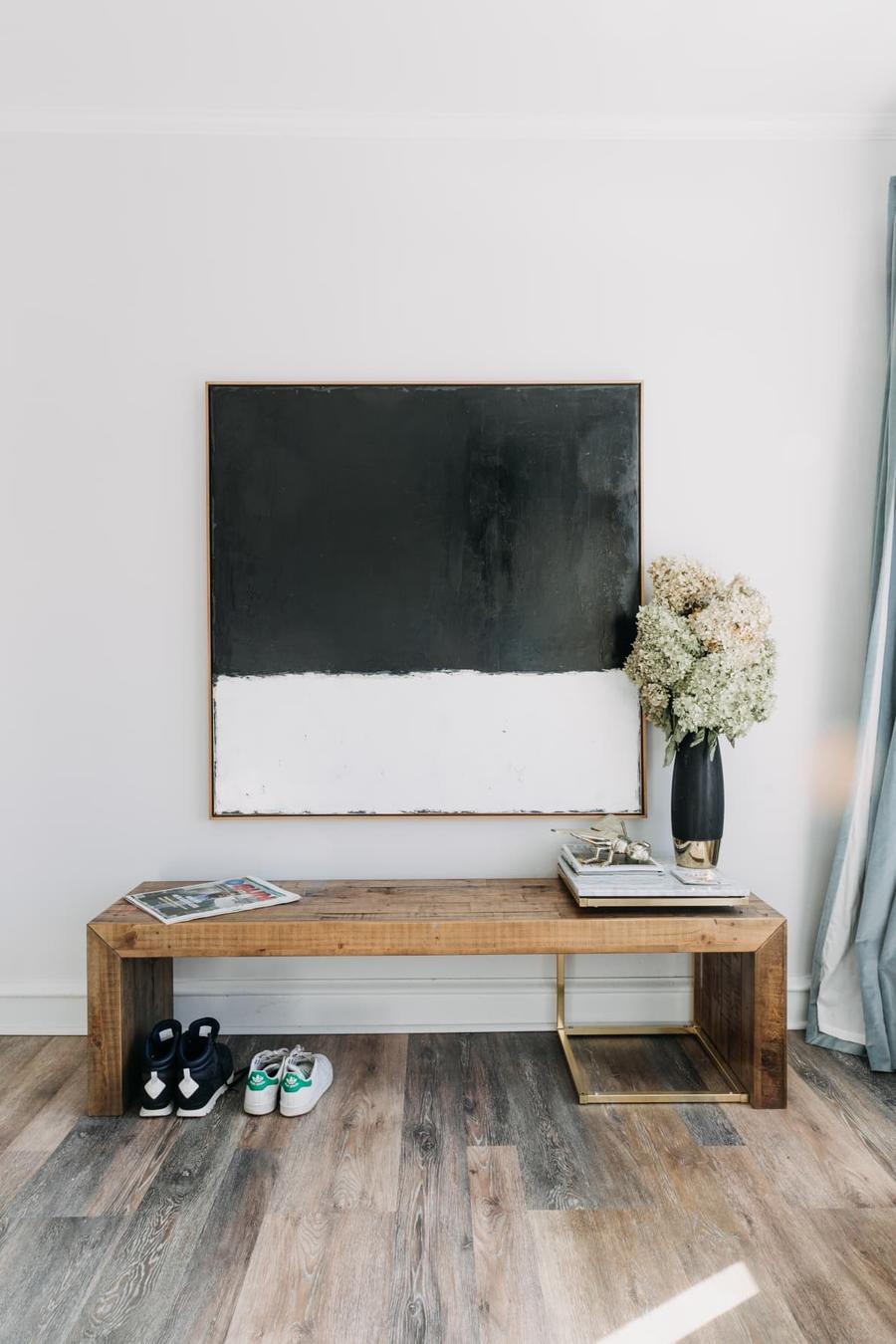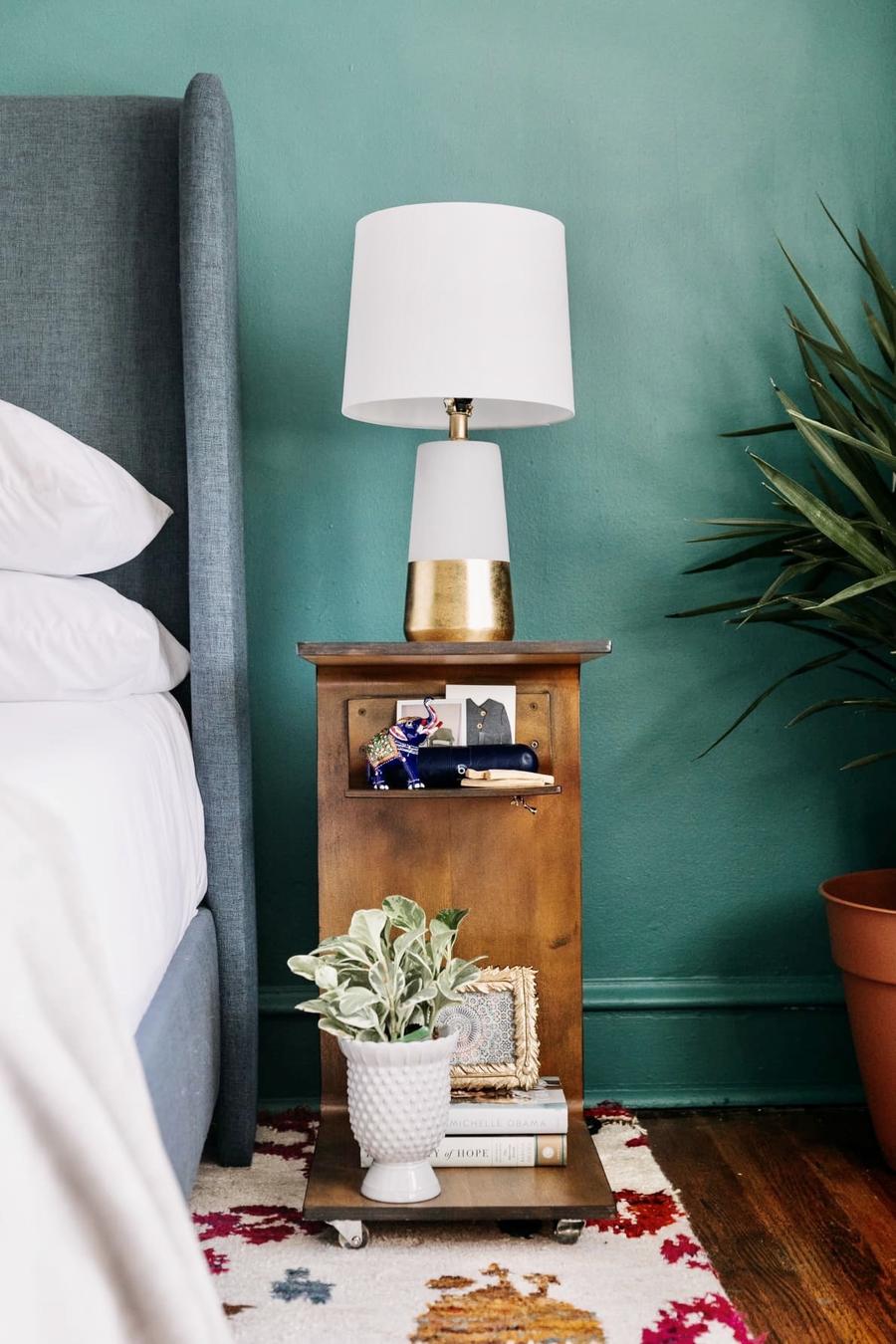 What does success look like for you?
I will tell you, I feel successful now. I woke up this morning, I had breakfast, and I spoke to my grandmother, who is staying in my apartment in New York. This time last year, she was fighting stage 3 bladder cancer at Memorial Sloan Kettering Cancer Center; when she came in for a checkup this year, it went badly at first and they had to do emergency surgery. But this week, she's all clear—there is no sign of the cancer recurring—and she asked to stay in my apartment in New York for another two weeks because she says it gives her peace. I define success as a feeling, and the feeling that my grandmother, who just had her 84th birthday, can ask me to stay in my apartment because she wants peace? That sounds like success!
Last week had some incredibly high highs. I have been working with this high-profile client for a little bit, and you know I'm generally quiet about the folks that I work with, but she posted on Instagram that she was looking forward to sharing my design with the world.
I saw that!
I haven't told anyone that I'm working with her, but the fact that she's looking forward to my design [and posting about it]—it's probably a great thing to happen in a week. And my client who's here in Philly, we had our install. But nothing really compared to my grandmother being OK. Right? Nothing compared to me and my sisters cooking for her on her birthday—we made her her favorite short ribs, mashed potatoes, macaroni and cheese, and potato salad. I was in the kitchen with my sisters cooking together, and that feels successful. I feel successful.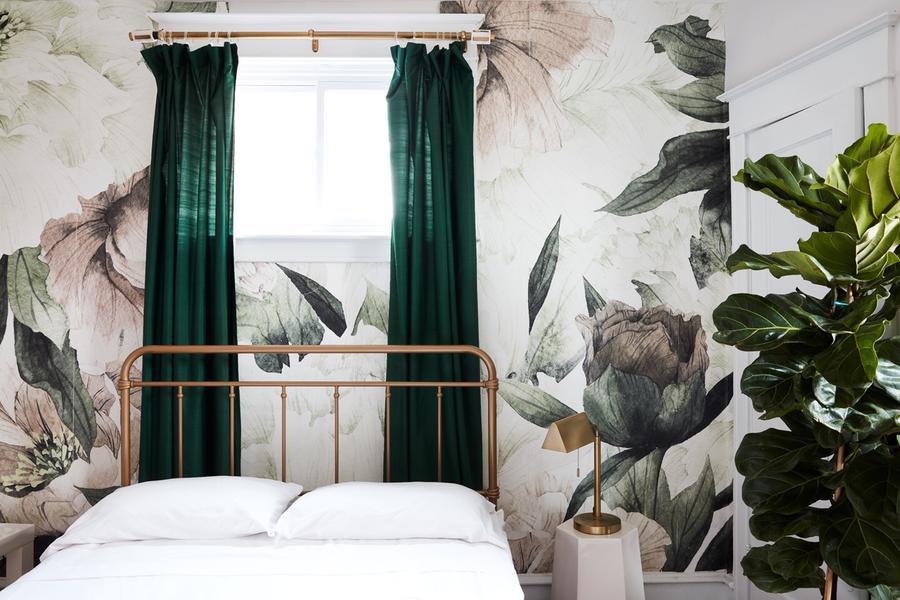 That's amazing. On a granular business level, what is the biggest challenge that you're looking at next?
So I'm growing, right? Hiring more support is something that I'm going to need—I've run out of siblings that want to be in this line of work, so knowing that I have to hire someone outside of our family is a hurdle that I have to get through in order to get over this growth hump. The other challenge, logistically, is [geography]—having projects in New York, Philly and D.C. is fun, and they're kind of close to each other, but what happens when another client in Denver calls? What happens when a Los Angeles client happens? And it will happen. These clients are everywhere. So what does it look like to create systems that work in multiple places? I'm just getting ready for what I know is coming. I'm putting out heat, I love the work that I'm doing, and I know I'm only getting better. It's just what happens next.
You post on Instagram about plants quite a bit. When did that become an important part of your life?
It's an interesting question [because] I can't remember when—I literally can't put my [finger] on it. I know that there were plants in my aunt's house growing up. In my own house, there were too many kids to take care of plants—they were growing and feeding us, so we were the plants. And full disclosure, I don't even think I'm that great with plants. My plant journey is lined with pots of dead shit that just didn't work, but I see that there's a lot of growth when I do take care of my plants. If there's not a living plant in someone's house, I don't trust them. I mean, if there's not a living something, that's not my ideal client.
That's a great compatibility test. Why is that?
It's understanding the benefits that plants have for us. Also, plants—and the way people take care of plants—says something. A fiddle leaf fig, yeah, they're really pretty, but they will also teach you patience. And if you have an ego, a fiddle leaf fig is right for you, because just when you think you're doing the right thing, all of the damn leaves fall off and you have to live with the fact that you just tried your best on this expensive-ass plant and it's dead.
I give plants to my clients at the beginning of our relationship to see what kind of plants they will need at the end of the project. I give them an easy plant like a bird of paradise or a snake plant or a rubber plant. Let's see how you take care of this in 30 to 60 days, because that will tell me what you need for your install.
Do they know it's a test?
Nope. Well, I guess they'll know now!
What, in this moment, is keeping you inspired?
People. The resilience of people. The creativity of people, the curiosity of people. And their willingness to adapt and push through. This is an incredibly sad time, but there is a level of beauty that is not really hard to see that's coming out of this time, and so I appreciate that.
To learn more about Chanae Richards, visit her website or find her on Instagram.
Homepage photo: Chanae Richards | Rebecca McAlpin