Once you're in the door, there's plenty of advice floating around about style, project management, budget and all the rest—but how do you actually get the job in the first place? We're asking designers to peel back the curtain and walk us through how they landed a project, step by step. Here, Charleston, South Carolina–based designer Cortney Bishop discusses how she pulled out all the stops to convince investors to grant her the project of her dream: the renovation, design and branding of a boutique hotel in the firm's hometown.
The result is The Ryder, a bohemian, distinctly youthful "escape-meets-experience" that's worlds away from the stately hotels Charleston is known for, where "you felt like if you were going to have brunch, you had to be dressed to the nines," as Bishop put it. "We can decorate something all day long, but is that something we want to be a part of—or do we want to design something that has a story behind it, that's something that we stand for, that we're excited to unveil to the public?" says the designer. With The Ryder, the firm found all that and more.
Does your firm work on a lot of hospitality projects?
We have always dabbled in hospitality. But have I made such a drastic stride into it? No. I had done a smaller boutique hotel many, many years ago, and I've had the opportunity to propose a lot of hotels. As you can probably imagine, it's very competitive. We are a boutique design firm, so do we want to take on a 200-room Hilton? No. It's not the right fit for us. We are driven to do something really unique and creative. And for the capacity of this firm to really dive in at the level that we like to, it has to be the right fit. We hadn't found the right project until The Ryder came along.
How did the project come to you?
It was really serendipitous. And that is my whole philosophy—that things actually happen when they're supposed to, and at the right time in your career. Luckily, most design firms are word-of-mouth. Referrals mean a lot in this industry. You get a bad referral and we might not find another job in the town, right? In this situation, we had several successful projects with a development team by the name of East West; they're in Charleston and Colorado. The Charleston office had seen some of the work that we had done many years ago, where we did this really hip, edgy development community with a pool club, visitor center and market. They then asked us to partner with them on several of their projects, other multifamily and residential communities, and those were successful.
Usually, hotels are owned by a group of investors, so when a development team running in those circles recommends you, you stand out: "We've worked on four of these large-scale projects [with] this firm; [they] can handle it creatively, logistically and internally, with the books, the bookkeeping and execution." When all those align, I think these larger financial institutions start to pay attention to a more boutique experience.
What drew you to it personally?
Internally, I had a team of four or five girls in the studio, and we're always talking about ideas: What if Charleston had a more laid-back approach to a hotel? Would we be a great firm to interpret that? Where it still has a lot of elegance and refinement, but it took all of that formality out of the equation. We had a concept that we'd already put up on our board, and it had been sitting in our minds for four or five years before we even had a name for it. Having this conversation ahead of time really helped us land this project. Because, to be honest, these groups came through our door, and it was 12 men: architects, engineer, contractor, and then all the finance people. And they're great at what they do, but do they have any idea what to do with the property creatively? I was able to present these ideas that we'd already been tossing around internally and say them with confidence.
Now, the property itself was a renovation. It wasn't like we had 14-foot ceilings and a grand hall—it was more like a motel hotel. It had this really quirky pool in the center of the common area, and to me, that was really romantic and exciting. Before they walked into our door, they sent over the project. We looked at each other and were like, "Oh, my God, this is the project we've always been talking about." You wish for something, you pray for something, and you pray long enough and it happens. And you just got to know when that door opens to walk through it.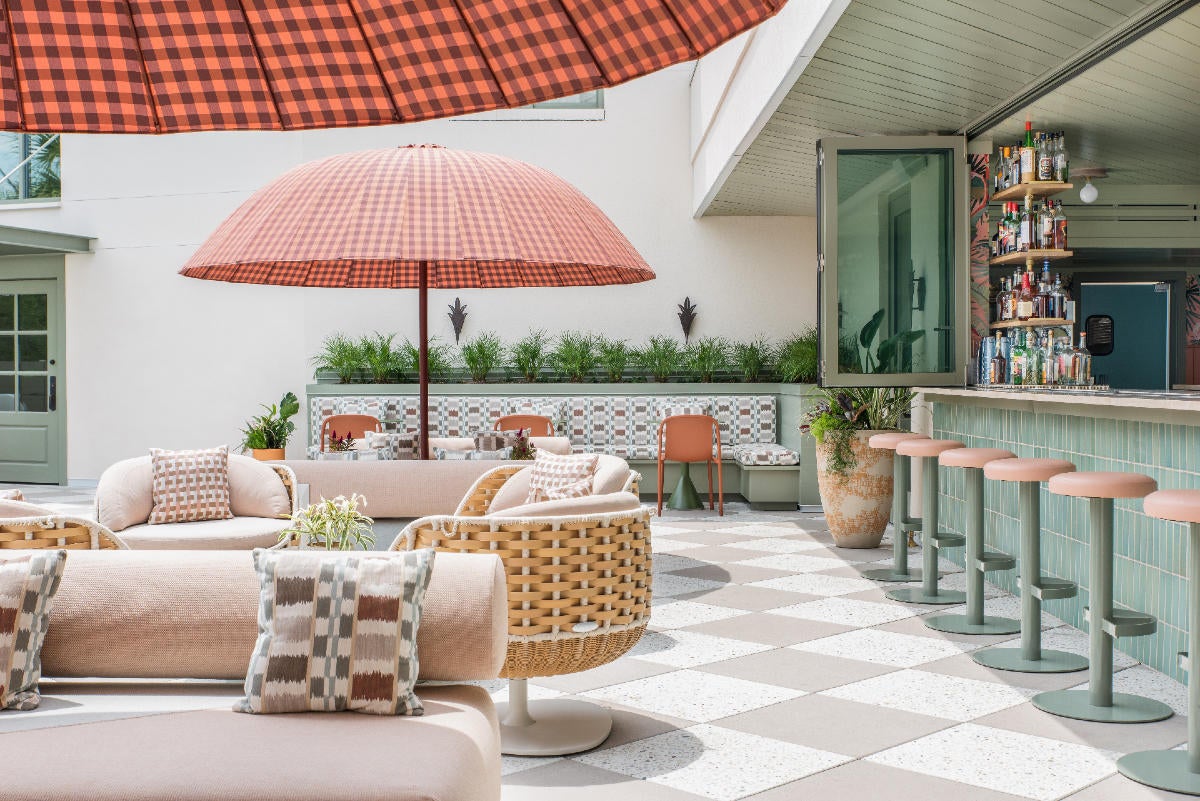 How did you win them over?
I grabbed everybody in the studio at that time, and we stayed until 9, 10 at night for 30 days off and on and nailed this presentation. We gave them the full monty: We named the hotel, we branded it, we came up with a merchandise package. We gave inspiration images for every area—the mezzanine, the coffee shop. We had two 10-foot boards full of imagery, materiality and renderings that the firm worked really hard on. Because I didn't see another opportunity where the vision we had been tossing around would be implemented better—and not only that, it was in my hometown. This was a risk from our perspective, financially. We wanted to knock it out of the park. Our very first hotel in our hometown—it was the perfect opportunity for us. If you look at pictures of The Ryder now, you can see that it was a smaller, homey, inviting experience. It's not your typical hotel.
How much of that original presentation is what we see now?
I'm not kidding, 90 percent. And I still have it. I mean, not to be braggadocious, but I take it as such a compliment to our team. To hear the investors say, "Never have we seen the actual outcome mirror what was presented to us at the very beginning conversation." I'm not saying I would do that again—but this was our big break. It was an opportunity to gain recognition in our hometown.
That's such a fun feeling, the energy of preparing for the job interview of your life: "I will not let you not hire me." There was a huge celebration that day after they left, popping champagne. We didn't know we got the job, but we sure felt good about it.
What was your vision? The color palette, the woods?
Boho modern organic. We wanted it to feel like somebody's living room, or patio with a pool. The old hotel was just so shiny, glossy and formal, with a marble floor. Even though it was not an architectural masterpiece, it did have all the formality of an old Charleston hotel. We gutted that hotel—and the investors were happy to, once they knew where we were going. It's a very craft-driven, artisanal space. We used quirky, fun vendors. We gathered all of our best artisanal friends and said, "Hey, let's do this together, and let's really do something special." So, in the end, it really becomes that energy, that happy place. The motto of the hotel is "the good-time state of mind." It's about leaving everything behind and enjoying the time with your family and friends.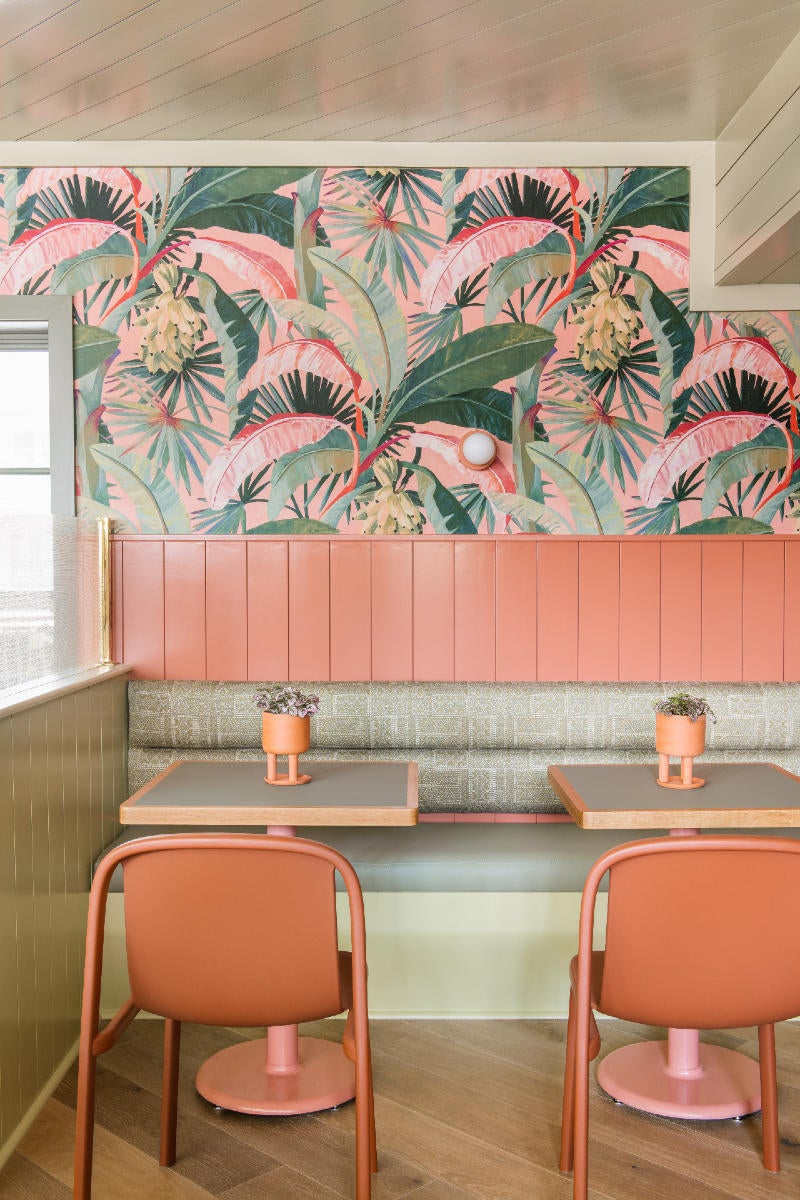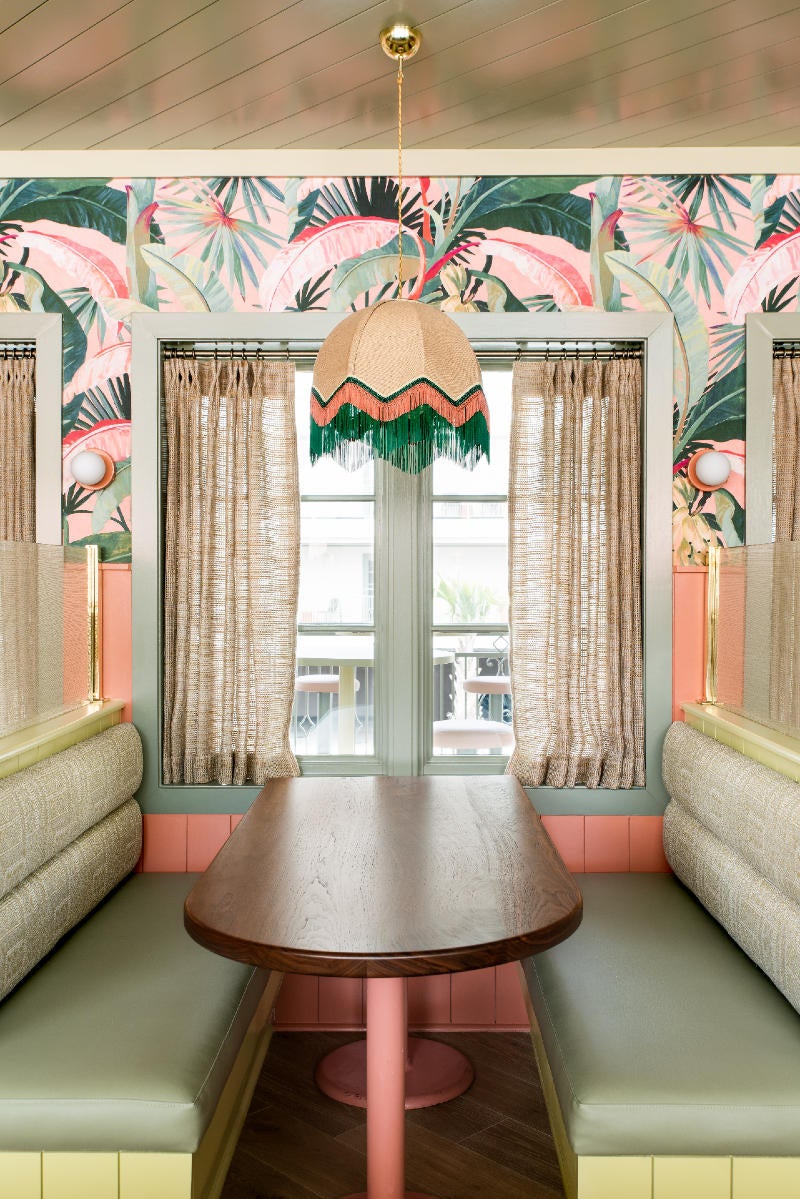 What are some of your favorite details or spaces?
The Little Palm [pool bar/restaurant]. The pool can be seen from all the common areas where people are walking in and out of the hotel. You can sit in the lounge under an umbrella, and you can have full service; the restaurant is open until about midnight. I just had one of my dear friends spend the night there, and she said she never left the hotel—she was just going from one environment to the next. All of the common spaces, to me, are awesome.
How did you land on those pool chairs?
There's limited space out there, and we knew that it was going to be a multifunctional space. I was thinking, maybe nine cool loungers and everything else would be a sofa. I wanted it to be modular; I wanted opportunities to change it up. Those [typical] singular vinyl or netted chaise lounges, although they're functional and light and stackable, they're just not what we needed to ground this space and create a really cool vibe. We needed something earthier—something that we could put either linear or vertically, and reorient the space in different ways when we wanted to.
Tell me about this watermelon pink. It's such a bold choice—and it's so unabashedly feminine, it made me realize how much hotels tend to be masculine or commanding in their design.
The stained-wood mezzanine lobby was a very important feature to this project. "Organic" is a big word that we used in the presentation, and I really wanted to have the vertical stained wood right when you walked into the entry of the hotel. We were able to line the coffee bar in the mezzanine in the wood, but then at some point you've got to create another texture or another contrasting or tonal palette. You've got to transition.
We went through an array of colors, and white was just not an option. It needed as much personality and weight as the stained wood. We brought in combinations of larger print wallpapers—just the trick to make all these materialities speak to each other—and we thought, What an opportunity to make something fun out of this mezzanine hallway. How do we create an energy on the way to the restaurant? And so we picked the red earth, all those gorgeous pinks and tonal colors, as a complement to the wood. The palette just took off from there.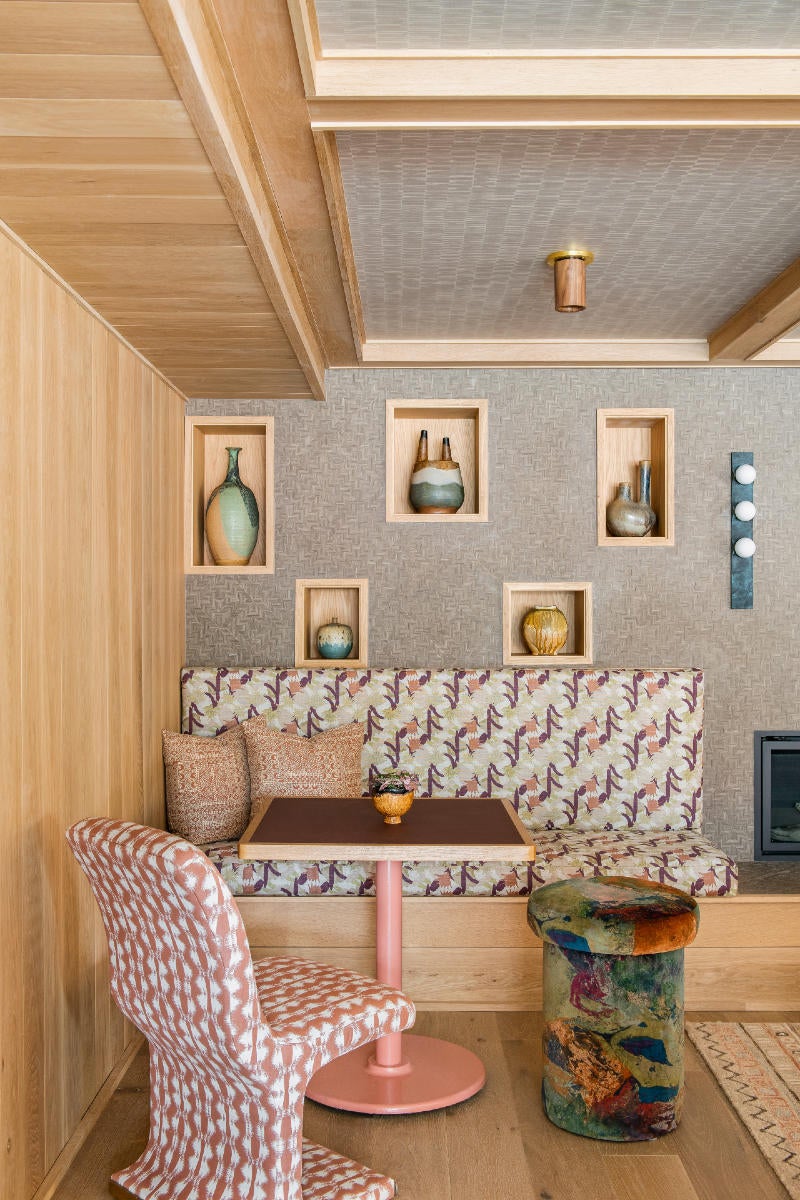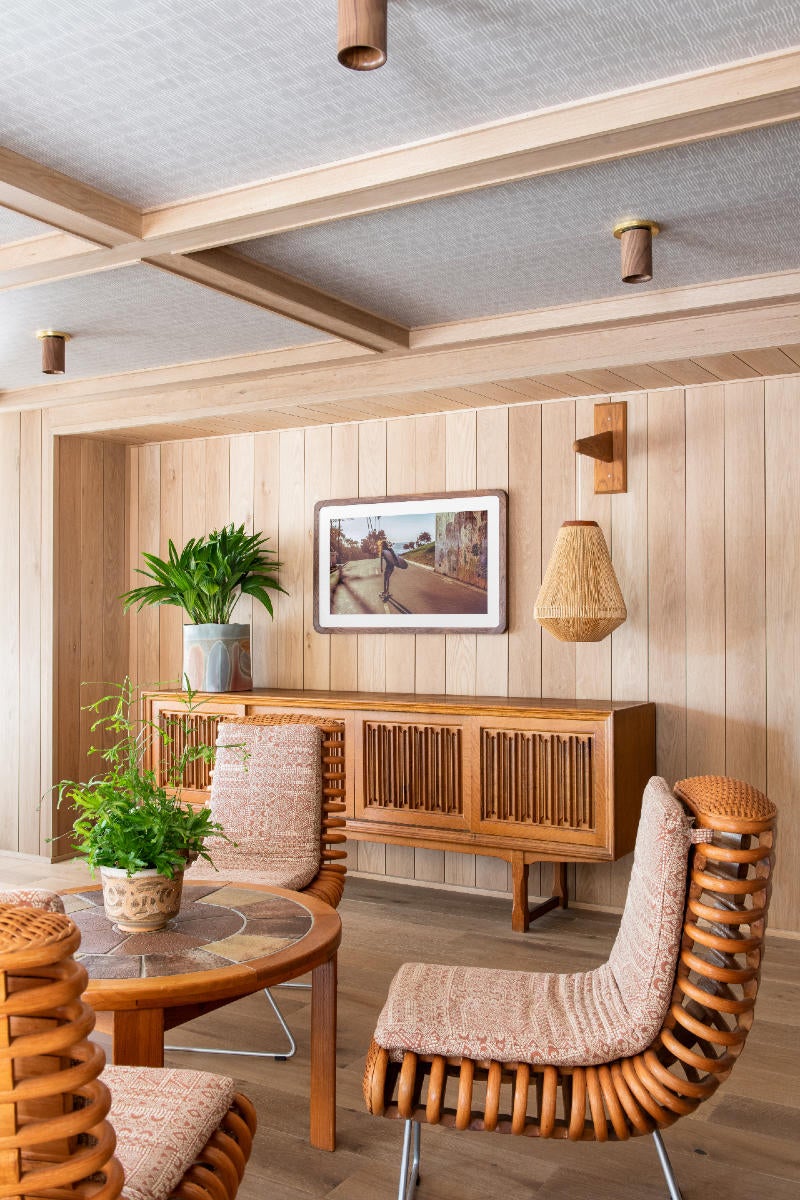 What is your typical first interaction with a client?
It's in my studio, so they can see the inspiration within our four walls. There's just so much opportunity to bring things in your office into the conversation. "Well, have you ever used this product? Oh, yeah, I have these samples here. Let's look at them." When you bring them into your world instead of going to them, it's a perfect opportunity to show them how creative you can possibly be.
What do you wear to a first meeting with a client?
I typically wear nice pants and a heel, and then a pretty silk blouse with a collar. A lot of pointy-toed shoes. And [sometimes] a blazer with a men's collar sticking out of it.
Do you google clients before taking them on or meeting with them?
If it is a really unique project, specifically a commercial project, we feel like we have to google to understand if they've done the work before. Are we getting into a relationship with a newbie, somebody who's never done this before? Are we getting into work with somebody who's actually done this 30 times, and they tracked us down and know that we would be a great fit for their company? Googling is a big deal to understand their work background. Hooray for Google. I'm not the one that does it, but [project managers] will tell me, "Oh, this is a finance company that did the development for," let's just say, "Blackberry Farm." And then I'll be like, "Oh, what a great opportunity!"
And our information form has a question: How involved do you want to be with the project? We give them three options. If they check "I want to be involved in every decision," that's a bit of a red flag. If you're hiring us, I'm hoping you have a little bit of trust, and once we get your approval, we're all on the same page. I definitely don't want a micromanager situation at this point in my life, and I don't want my girls to have to deal with that either.
How do you present design concepts?
We have this internal inspiration board for every project we're working on. Every project has a 10-foot board. Some presentations and some projects get two boards. We start to pin our ideas, renderings and materials on our boards with these long clothing pins. That way, when the client pops in, they've got a physical [object] to look at—we walk up to the board, we talk it through. And then we sit down, and they have a printed copy and a budget next to it. They get the fun part first, and it makes the second part, the numbers, a little easier. If it's a Zoom call, they're getting the presentation digitally—but man, if we send the presentation before the call, things don't go so well. If we send the presentation right as we call or at the same time, and we're in control of the Zoom conversation, it goes unbelievably better.
Homepage image: The Charleston, South Carolina, hotel Ryder, designed by Cortney Bishop | Katie Charlotte