When Jiun Ho was a boy growing up in Kuala Lumpur, his mother had a saying: "It's OK to be poor, but you have to be rich in experiences." His parents would prioritize travel, saving up money to take yearly trips—backpacking through the Himalayas, traveling extensively in India and Japan. Ho has very much lived his life by that principle, but one of his most meaningful trips was from Malaysia to the decidedly unexotic destination of Ames, Iowa.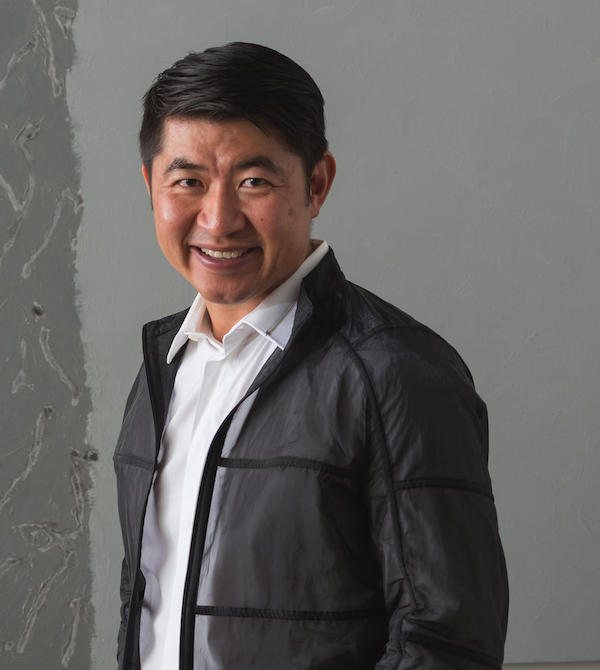 "I'd never been to America before, and I thought every city in America looked like New York and Los Angeles, because that's what we saw on TV," he tells host Dennis Scully on the latest episode of The Business of Home Podcast. "When I tell people I started my journey in America [in Iowa], they look at me with a blank face and say, 'How did you end up there?'"
Ho was there to attend Iowa State University for a degree in architecture and design, and he was on a mission. "When my professor would ask us to build a model of a house, I would say, 'Why build a house if you can build a skyscraper instead?'" he recalls. "I would always push the boundary and want to be better and stay hungry to learn. I think it had to do with my insecurity. Halfway into the program, my classmates gave me the nickname 'Mr. Overachiever.'"
The architecture and design took Ho to Chicago, where he worked at Crate & Barrel, then to showrooms in what was then known as The Merchandise Mart. After graduating, he worked as a commercial designer, but it wasn't meant to be. "Sitting in a cubicle designing more cubicles is really not my calling," he says. He took a job as a hospitality designer, but that wasn't meant to be, either—he got caught moonlighting on a residential project and was let go. Fortunately, he had the residential client, now his sole focus.
"In a matter of weeks, I decided to start my own design studio," says Ho. "Thankfully, the client was very happy with the interior architecture work. She came to me afterwards and said: 'OK, now that we finished the architecture work, we need furniture and lighting, and everything [else] that goes into the project,'" he says. Rather than just buying it all at High Point, Ho decided to design it himself.
"I did 35 to 40 watercolor renderings that ranged from sofas and chairs to case goods and tables, all the way to lighting and carpets. I showed them to her, and to my surprise, she loved them and said, 'Let's make all of them,'" he says. "I was like, Shit—now what? Doing a sketch is easy. Making a piece of furniture and creating a prototype, I know none of that. I never even took a furniture class before."
That was the humble (and extremely stressful) beginning of Ho's career as a furniture maker. In the process of getting his client's furniture built, he connected with Thomas Lavin, who was then only getting started as a showroom owner. Representation by Lavin led to other showrooms, and soon Ho's brand was nationwide.
Growth came with a few bumps in the road. Early on, Ho felt his work wasn't up to his own exacting standards and he started over with entirely new manufacturing partners. It also took him time to arrive at a design process that felt more inspired by his perspective than by the demands of the market.
"I received a lot of criticism saying my design was not original enough. … I was very driven by the market—I was trying to think about what it wanted and what the client wanted," he says. "As a creator and designer, you should be able to create something truly unique and tell a more original story of your own. That's when I decided to make a change."
In the long run, it paid off, and Ho now oversees a comprehensive brand that includes furniture, textiles, lighting and more, represented in some of the best showrooms in the world (including a few of his own). In the episode, he tells Scully his thoughts on pricing transparency, explains what designers want now, and discusses his new book, Jiun Ho: Experience.
Listen to the show below. If you like what you hear, subscribe on Apple Podcasts or Spotify. This episode is sponsored by Atlanta Market and The House of Rohl.