Arfitecture is the brainchild of 14-year-old Sagaponack local Luke Louchheim—it's a collaboration between architects and builders who design and create a collection of doghouses and "cat condos" for the nonprofit Animal Rescue Fund of the Hamptons (ARF)'s summer fundraiser, the Bow Wow Meow Ball.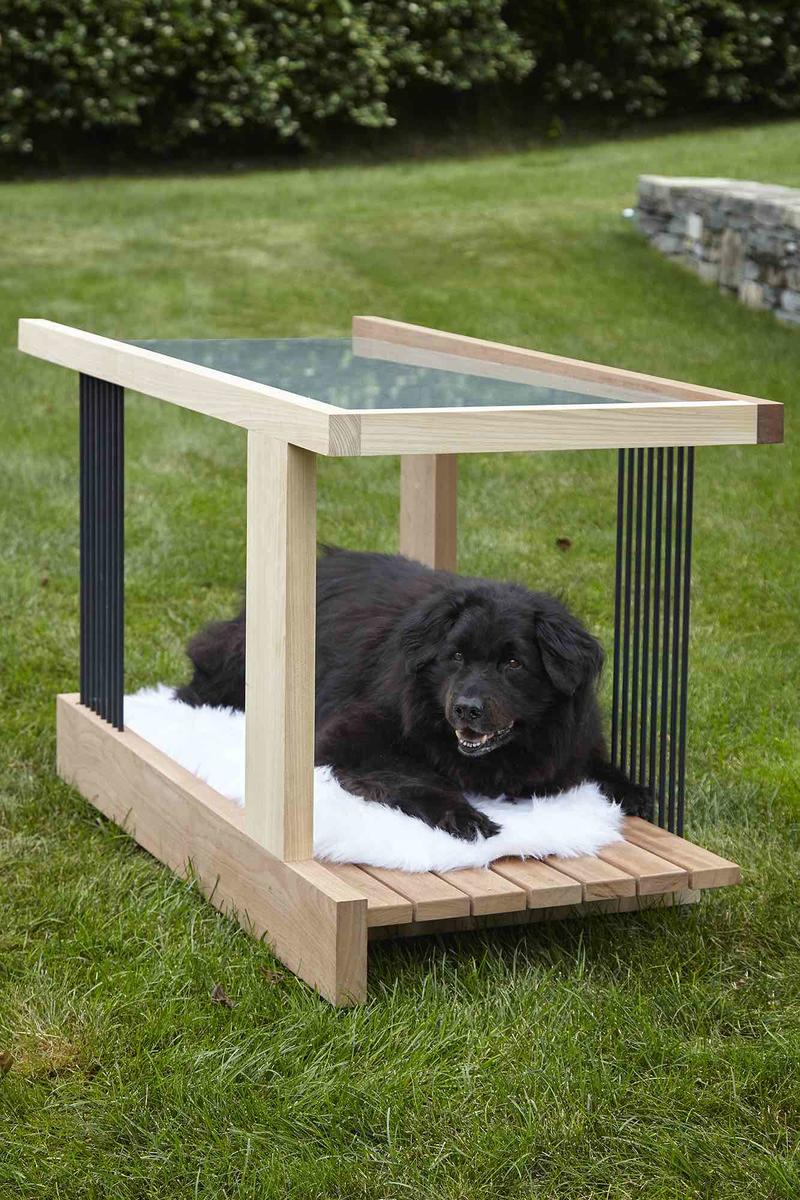 "ARF is one one of the most beloved and recognized charities that truly loves its mission to save animals. Their involvement has not only established stable and enriching homes for some 25,000 rescues to date, but is tireless in making the public knowledgeable about healthy means to care for their animals and about other animal human partners. Martin Architects is located directly across the street from the ARF thrift store and our office staff includes Barnaby, a golden who helps every day keeping up morale in our family at the Martin Architects team," says Nick Martin, who is one of the local architects participating in the event. His doghouse was built by JJK Construction and is called "The Snoozer."
"We wanted to create a great-looking and functional place for a dog or cat to relax and chill out in their own style, thus The Snoozer was born," Martin says. "Concerned with environmental issues, we designed for protection from the elements and quality of airflow in a balance of materials within our vernacular. Elevated off the ground to improve the view and cut down on ground heat and cold air to circulate, The Snoozer features rhythmic metal chords, inspired by the tectonics of musical instruments. Etched glass provides an elegant protection from the elements in a cloud-like tone. The black metal contrasts with two rich Forest Stewardship Council woods. The lounge is finished with a plush rug for ultimate doggie luxury."
The full roster of participating architects and builders includes:
Stelle Lomont Rouhani Architects and Artisan Construction Associates
Blaze Makoid Architecture and Wright & Co.
Kathrine McCoy Architecture and Walter Sternlieb of Studio 449
Robert Young Architects and Fountainhead Construction
ARAPC and N. Zappola & Associates
Estudio Ramos and Bulgin & Associates
Beeton & Company and Landscape Details
Martin Architects and JJK Construction
MB Architecture and Michael Davis Design & Construction
Luke Louchheim and Joseph Louchheim
Among the event's supporters are Amagansett Building Materials and Florence Building Materials, which underwrote building supplies, and Tria Giovan, who photographed the houses, as well as Speonk Lumber, Riverhead Building Supply and Water Mill Building Supply.
The Bow Wow Meow Ball will take place August 18 at the ARF Adoption Center in East Hampton, and will be presented by Peter Marino and Katharina Otto-Bernstein.