A few weeks ago, I bumped into a design industry acquaintance on the street, and he blew my mind by taking a picture of my feet.
A little context: To explain how his startup was taking accurate kitchen measurements on the fly, my friend was demonstrating an iPhone app called Canvas that quickly generates 3D models. There was no kitchen handy on the sidewalk, so he waved his phone around and captured a few square feet of the pavement. Quickly, a strikingly detailed three-dimensional model began to appear on his screen—a few recycling bins here, a fence there, and my two feet centering the image in a dazzling little bit of digital magic. (Also, I wished I hadn't been wearing sandals.)
The technology powering this kind of on-the-spot 3D modeling is lidar, short for "light detection and ranging." It works by sending out invisible pulses of light that bounce back to a tiny sensor, which uses that information to calculate depth. Simplistically put: Cameras take 2D pictures; lidar takes 3D pictures.
Lidar is not new. In fact, the technology dates back to the 1960s. What is new, and what promises to change the design industry, is the fact that a lidar sensor now comes as a standard feature on the most advanced iPhones and iPads, and will likely be rolled out to a wider range of smartphones in the years ahead. When lidar is everywhere, a new suite of tools will emerge that are poised to change the way designers do business.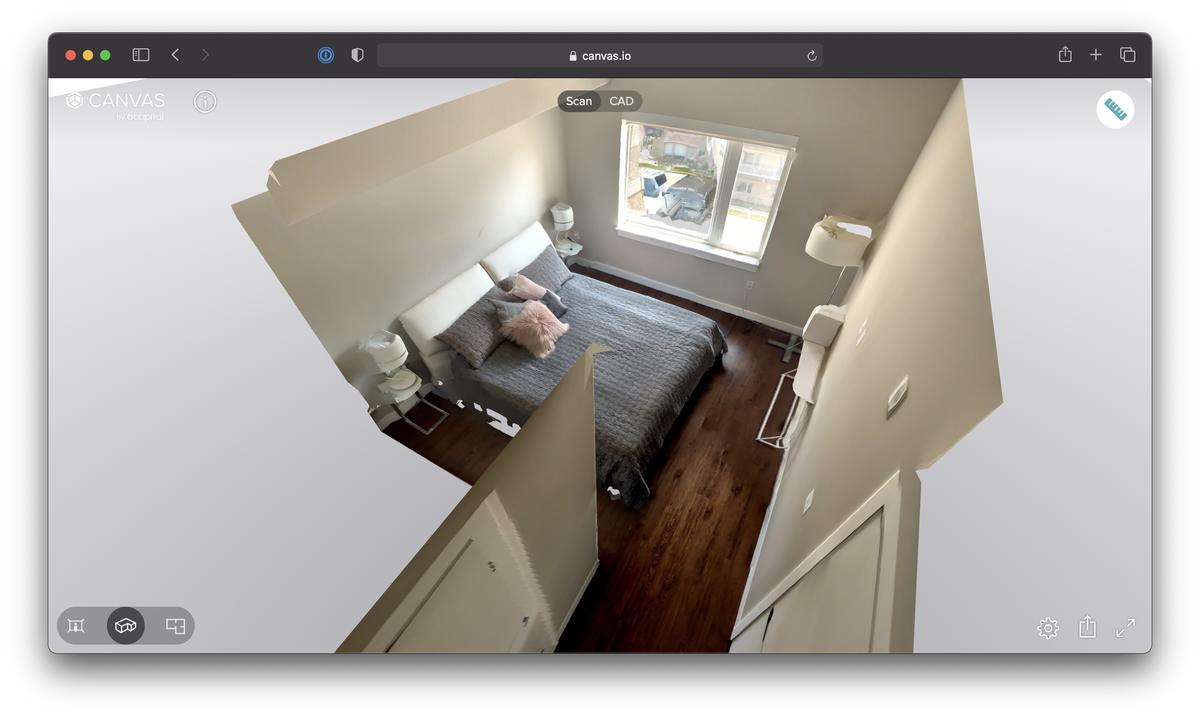 Canvas, a Colorado-based startup that specializes in imaging technology, is one of the most well-positioned to take advantage of the coming ubiquity of lidar. The company launched in 2016 with a set of software tools that allowed users to take an accurate 3D model of a room, with measurements that the company says are 99 percent accurate. (The designers I spoke with say the claim is justified.) Originally, Canvas's technology required an expensive and somewhat clunky plug-in sensor that attached to an iPad. Now, the sensor is inside the phone.
There's a wow factor to Canvas, as I discovered on the sidewalk a few weeks ago, but quickly generating a 3D model of a room is only so useful. The company's central business proposition is that it will take that data and, within a few days, convert it into a CAD file that designers can plug into their software of choice—a lineup of platforms that currently includes SketchUp, Chief Architect, Revit, and 2020 Design Live. The basic premise: Instead of spending hours with a tape measure, then more hours replicating the measurements on a computer, designers can spend a few minutes with their phone, then zip the file over to Canvas for the heavy lifting. ("It basically takes out the boring stuff you didn't become an interior designer to do," says Ben Petuchowski, Canvas's director of marketing.)

Canvas has its challenges. The imagery it produces is not high-quality enough to show off in a portfolio or a real estate listing (for that, most still rely on competitor Matterport, which uses a specialized camera to capture a space). And while the dimensions it captures are extremely accurate, for designers who crave specs down to an eighth of an inch, it's sometimes necessary to supplement Canvas models with in-person measurements. Especially for high-risk installations like cabinetry, designers will still want to break out the tape measure.
However, Petuchowski notes that it's rare to find millworkers who will install cabinetry without measuring themselves anyway. And even measurements taken by hand, he points out, are subject to user error.
Canvas is also not inexpensive. A basic model is free, but to generate a usable CAD file, the company charges on a per-square-foot basis: 15 cents for 3D modeling, 10 cents for 2D. (At those rates, modeling a 2,000-square-foot home costs $300.) Depending on how much time it takes a designer to measure a space, and how reliant they are on CAD modeling for their creative process, the price may not justify the expense for everyone. Still, Canvas is clearly poised to catch the coming lidar wave—and even though Apple only added a depth sensor to iPhones last year, Petuchowski says the app already has tens of thousands of users and processes tens of millions of square feet per month.
Kelly Finley, principal of Oakland-based design firm Joy Street Design, is a fan. "We use it for every project now—I don't even take my tape measure to meetings anymore," she says. While she acknowledges the cost, the time savings and the accuracy of the models have been a godsend. "It captures things we always forget—the outlets, and details of the trim. It's more exact [than doing measurements by hand]."
Of course, Canvas is only one company. As lidar spreads, it will be fascinating to see how on-the-fly 3D imaging changes all corners of the design industry. Other companies are already working the technology into their sales tools (just last week, BOH partnered with Lightology to spotlight its lidar-powered visualization app).
Lidar is probably most likely to change e-design or any kind of remote work with clients. Imagine, instead of that always-awkward ask—"Hey, could you hold up a ruler to your window and take a picture?"—if designers could task their faraway clients with capturing an accurate series of measurements for an entire room via a quick pan-and-scan on a smartphone. (Indeed, Canvas, sensing an opportunity there, has a program that allows designers to buy "credits" for their clients to use.)
Petuchowski kept mum on Canvas's immediate upcoming plans, but it's not hard to imagine the general trend: These kinds of tools are going to get better, faster, and cheaper. On that point, he was clear: "Things are rapidly advancing."
Homepage photo: Courtesy of Canvas