"There must be something that makes you smile or laugh. Otherwise it becomes a museum," Scotti Sitz says of her Los Angeles–based showroom, Garde, and the chickens who also call it home. Garde recently opened its second location in Santa Barbara County, two blocks away from Summerland beach. Part concept store and part Airbnb, Garde Summerland is located in a newly renovated farmhouse that features an outside patio and a coop with Silkie chickens.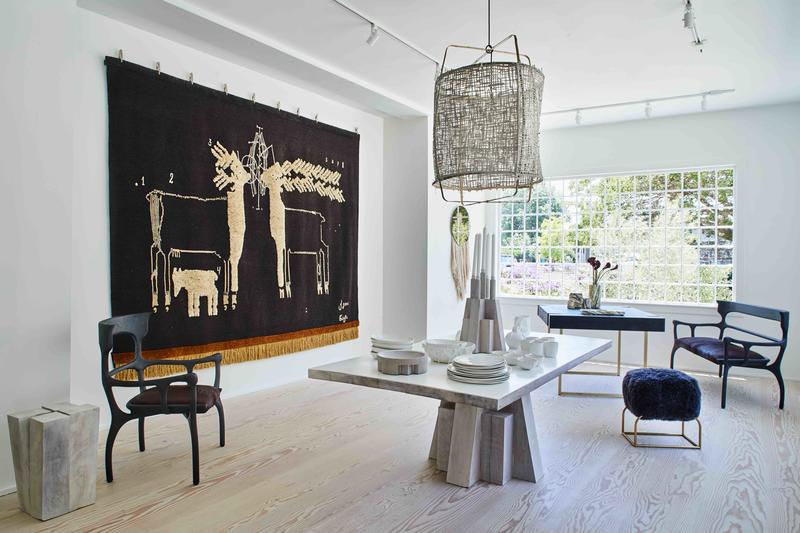 The retail space has furnishings and accessories in stock, offering works by Apparatus, DIM Atelier, Gubi, Karen Chekerdjian and Arno Declercq, among others. In conjunction with the opening, the store launched new collections, including Garde's first in-house furniture line, House Sofas, which were made with Los Angeles designer Mandy Graham.
When Sitz was making a merchandising plan for Summerland, she refined her list of brands from the Los Angeles store—not to drop any one in particular, but to focus on creating the look of the new store. Declercq typically makes collections in what Sitz calls "dark and moody" iroko wood, but for Garde Summerland, he made a whitewashed, white oak table to fit with Sitz's lighter aesthetic. Sitz gave London-based ceramicist Claudia Rankin a list of her favorite animals and colorways, and the artist came back with platters featuring leopards, pigs and greyhounds.
After Sitz told him, "Whatever you come up with, I'm gonna love," architectural hardware designer Peter van Cronenburg created a cabinet and door pull, which is displayed on cabinets and doors throughout the two spaces. Additionally, Ryan Silverman of Studio E&R provided douglas-fir wood coverings for the first floor and white oak herringbone for the second.
The showroom also marks Garde's first foray into hospitality. Available as an Airbnb rental starting in early August, the 1,000 square-foot, second-floor space was made into an apartment decorated with Garde furnishings. Amenities include lighting by Apparatus, Workstead and Anglepoise, Lefroy Brooks kitchen and bath fixtures and a Garde House Sofa, along with Hale Mercantile bed linens.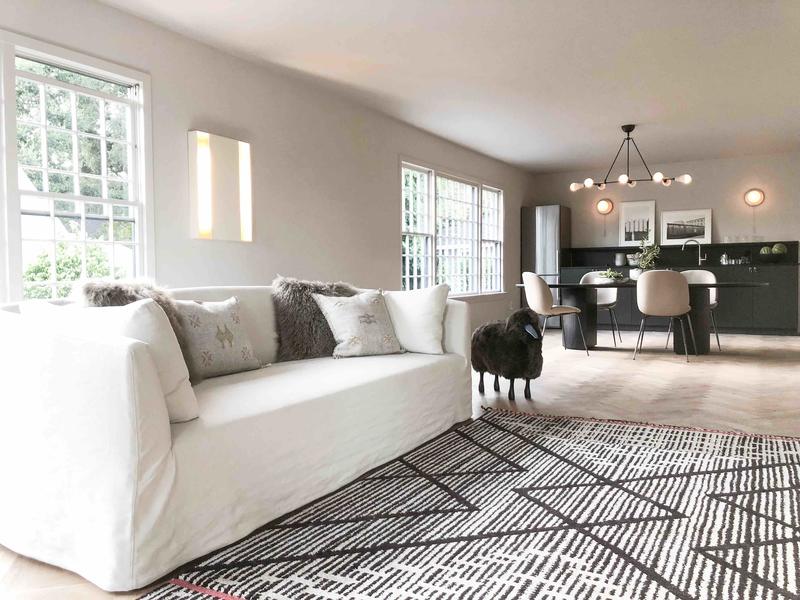 The original Garde store opened in Los Angeles six and a half years ago. Since then, Sitz says she and her husband, co-owner John Davidson, have worked nonstop. When they would "get a moment," they would go to Summerland, letting their whippets roam the beach. Now they hope to help revitalize the Santa Barbara community after it was devastated by the wildfire and floods earlier this year. You "don't know if, when you walk into a new community, whether you're going to feel like an outsider," she says. "These people are grateful. They've said to me, 'Thank you for believing in us.'"