With names like Ant, Swan and Egg, Arne Jacobsen's furniture has always had a playful side. Capitalizing on that spirit and the universality of the legendary Danish designer's work, Fritz Hansen has added a child-size version of the bestselling Series 7 chair—but at table height, so that kids can have a chic seat at the grown-ups table. Titled the Series 7 Junior, it joins a smaller children's version that the brand launched in 2005—and which saw a surge in popularity last year when three colorways joined the original black.
"The Series 7 is probably Fritz Hansen's most iconic chair for adults, available in almost countless versions," says Christian Andersen, head of design at Fritz Hansen. "Given its success, we thought it would be interesting to look to the higher children's chair. We sell beautifully designed dining tables and chairs, so why shouldn't your kids also sit in a good-looking and well-designed chair?"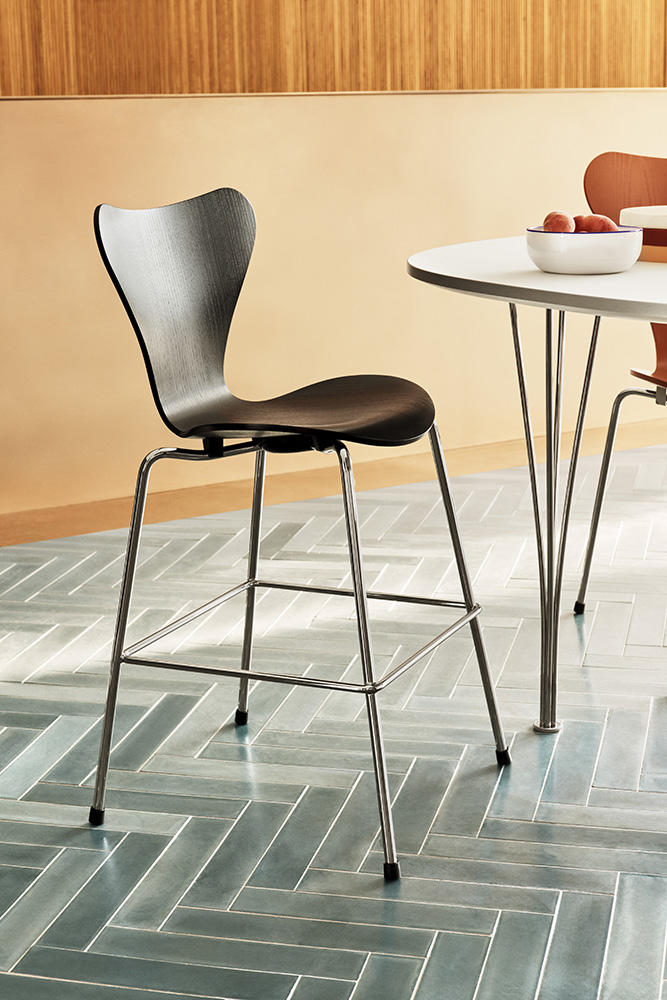 This addition is significant in a category that is largely flooded with lower-end options. Even mass-market retailers at a higher price point, like RH or Pottery Barn, tend to skew traditional in their designs, leaving parents with a shortage of styles. "I think it's important when we're living as creative, considerate adults and families, to know that you don't want to have this massive drop in style and taste just because there are kids around," says Lora Appleton, founder of Kinder Modern, a vintage furniture gallery in New York that specializes in children's furniture. "The biggest misconception I find in this category is that you can't have nice things and have kids."
A child-size version of a legendary piece of furniture gives design-minded parents the chance to not only thread their style throughout their home, but also teach their children about the value of good design. "I think materiality is one of the key components that influence a child's mind," says Appleton. "Little fingers notice things like where the metal meets the plywood on a chair like the Series 7. It intrigues their minds. Design is a great way to encourage development."
Though the Series 7 has been on the market for 64 years, the process of bringing this new version to life was not as easy as it might seem. "You don't just downsize a chair—a lot of engineering goes into finding the perfect match between the size of the shell and the height and width of the base," says Andersen. The height, for instance, was a crucial decision. They wanted to add a beam where children could rest their feet, without compromising the design of the original Series 7. There was also the challenge of creating a new mold for the plywood shell that would fit perfectly on the metal frame.
With the chair now officially on the market, might we see children's versions of other Arne Jacobsen classics in the future? A tiny Swan, perhaps, or a miniature Egg? "Nothing is planned," says Andersen. "But I [have] learned never to say never."
Homepage photo: The adult-sized version of the Series 7 | Courtesy of Fritz Hansen