The new kid's room is as unique, bright, and imaginative as the child it's made for—a fitting upgrade for modern families.
Good children's design is more than simply scaling down "grown-up" furniture. There are size, material and functionality requirements to consider—food will be spilled, kids will trip, and bodies will grow—in addition to meeting mandated safety regulations. Not so long ago, furniture for kids was largely a nonissue: Children's rooms were often found in the least desirable corners of the home, like a dormer or the attic. "The idea of playrooms, and of a child's space being designed, are very new, 20th-century things," says Megan Brandow-Faller, the editor of a collection of essays about the the role of toys and commercial culture on childhood that will be published in March. Upper-class families pioneered the notion of the modern child's room in the 18th century, which was then widely adopted throughout the 19th and 20th centuries, she says. "Today, it is not uncommon for children to have the best room in the house." That shift is reflected in a handful of innovative companies that are pushing children's home goods to the forefront with customizable furniture, transformable pieces and decorative elements with staying power. The impetus for many was a desire to escape from the commercialized characters and ubiquitous gendering so prevalent in the marketplace. They're all also firmly rooted in the belief that children's home goods should be lasting, worthwhile investments and future family treasures.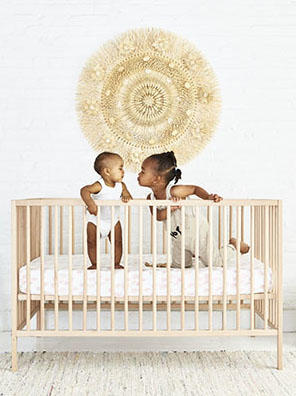 For the Pattern-Loving Parent
Lewis  
"Instagram gives us a glimpse into so many homes—and, more and more, you can see a conscious effort to make nurseries cozy for a baby, yet somehow mature for the parent: vintage pieces mixed with contemporary furniture, rugs that would work in any room in a house, more neutrals and less-aggressive gendering," says Lizzy Ott, co-founder of kids soft goods company Lewis. "Childlike but not childish is always the goal," she says of her company's mission. With a background in interior architecture, she founded the company with illustrator Liz Libré to create baby bedding that was whimsical enough for a nursery, but also fit seamlessly into the design of the rest of the house. "We don't want to compromise our taste level," says Ott, solely because the pieces will only be used for a brief time. Cartoon-emblazoned bedding, for example, has a limited shelf life. Her brand's organic, nature-inspired linens instead use classic motifs; recent collections feature gender-neutral sea creatures like stingrays and oysters, as well as vegetables like parsnips and radishes.
For Collectors 
Kinder Modern
"The key component of Kinder Modern is 'few of a kind,' creating heirloom pieces for the family home and making work that stands the test of time with all ages," says Lora Appleton, who launched the company at the first Collective Design Fair in 2013. "We really think about where these kids are developmentally, and create pieces that work both for different age groups and for the whole family." Appleton had set out to design her unborn son a room that was reflective of her tastes as a longtime design collector—one that didn't scream, "Blue means boy." Disappointed by the options she found, she decided to launch Kinder Modern, which began as a gallery with a collection of vintage children's pieces and work by a few contemporary designers.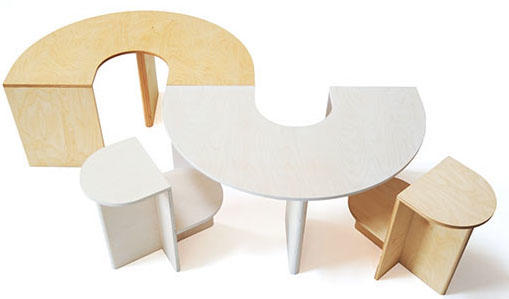 Now, Kinder Modern is the exclusive United States distributor for a handful of European designers. Appleton launched a modular rug collection in 2014, and has since expanded into other categories with her new in-house design studio. The latest pieces include the Lunar table, which can be used in multiples to create a unique "S" design, and the Eclipse chair, designed to be stackable when not in use or to nest into the Lunar tables to create more surface area. (The chairs can also be used as stand-alone side tables.) The result is a piece that is sophisticated and versatile enough to be used throughout the house. "It's a timeless piece and a good investment," says Appleton. "It's really about buying things the next kids will use, that can transition into a beautiful piece in the house, and that you will want to pass down."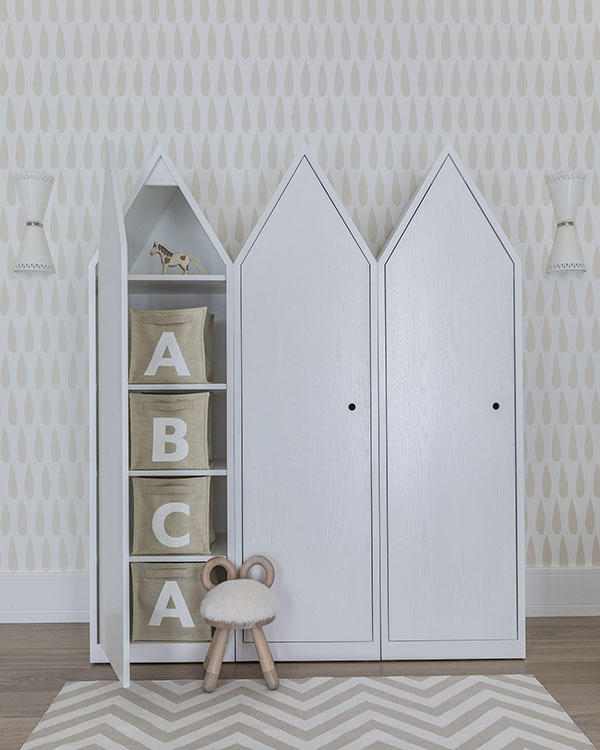 For the Uber-Stylish
Ducduc
"We talk to moms, families and kids about the things they like, then design everything in-house," says Brady Wilcox, co-founder and chief creative officer of children's furniture and accessories brand Ducduc. The company's made-to-order, handmade furniture and accessories—from bunk beds and cribs to wallpaper and lighting—put safety and craftsmanship at the forefront. Ducduc manufactures all of its products in a refurbished 1890s facility in Connecticut using solid, not engineered, wood, and hand-applied, low-VOC finishes that contain fewer harmful chemicals. This past fall, the company partnered with interior design firm Sissy+Marley on a playful new collection, which includes a corkboard, a bench, a desk, stools, a book ledge and storage. "Clients are experimenting and really treating the kid's space as an extension of their homes," says Chelsea Reale, co-founder of Sissy+Marley. "They are no longer stuck ordering pieces from a catalog that all of their friends will have, too. It's nice to see them have fun with wallpaper, custom art and playful furniture that will spark their kids' imaginations—and speak to their design sense, as well."