Pride Month has kicked off, and Riedel, the 300-year-old Austrian glassware company, and icon Elton John are teaming up to both celebrate and raise awareness with the debut of the colorful Riedel Ayam Rainbow Decanter, in honor of the 25th anniversary of the Elton John AIDS Foundation.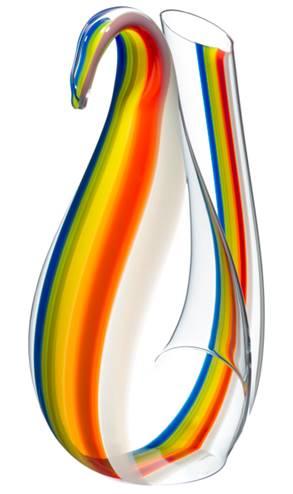 Riedel will donate €25,000 (about $29,000 USD) to support prevention, direct care, and support services for people living with HIV—plus, from the limited release of 75 decanters, the company will donate five to charity auctions around the world supporting the foundation's mission.
"Sir Elton John established his foundation 25 years ago. Since the 25th anniversary is the silver jubilee, we wanted to pay tribute to this by adding a striking silver streak to the rainbow in this strictly limited series of decanters," says Maximilian J. Riedel, the 11th-generation CEO and managing director of the family-owned company.
"Usually, our limited editions comprise 50 units," says Riedel. "In this case, we have added 25 decanters, to express our respect for 25 years of Sir Elton John's immensely important work." Each Ayam Rainbow Decanter is signed by John.
Influenced by the fowl-inspired form of the brand's original Ayam Decanter, the limited-edition version can either stand upright or hang off the edge of a table. The rainbow effect is achieved by the addition of manganese, heated to 1200°F, and then pressed between layers of crystal.
"The rainbow has so many wonderful associations—from hope and promise to inclusion and tolerance," John said last year at the foundation's initiation. "We are delighted and honored that Riedel is donating funds from this beautiful piece to support the work of the Elton John AIDS Foundation, funds we can use to promote compassion in the fight against HIV and support services that will bring us closer to an AIDS-free future."