New York Spaces magazine's first-ever Spring Into Design program, presented by Benjamin Moore CENTURY, unfolded on May 1, revealing the winners of the inaugural Leaders in Home Products Design Awards.
The magazine's editors nominated about 250 firms and individuals across 10 categories; then thousands of designers, luxury homeowners, local style devotees, and readers of New York Spaces and NewYorkSpaces.com voted on the nominees to narrow the field to five finalists in each category. Finally, a panel of eight industry stars—Joshua McHugh, Louise Phillips Forbes, Martin Kesselman, Janice Langrall, Bruce Tilley, John Barman, Gisue Hariri and Matthew White—met to choose the final winners.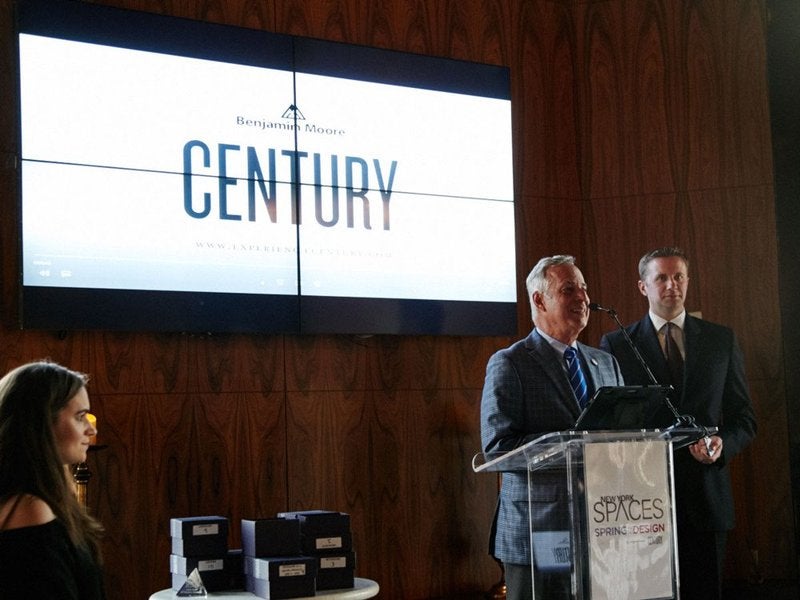 The winners include:
Architects: GRADE New York
Art & Antiques: Ralph Pucci International
Bathrooms: Duravit
Designers With a Product Line: Drake/Anderson (for Theodore Alexander)    
Fabric: Kravet
Flooring: Studium
Kitchens: Scavolini
Landscape: Piet Oudolf
Lighting: Apparatus
Furniture: Dennis Miller Collection
"We're delighted that Benjamin Moore lent its support to [the] first-annual Spring Into Design party and award ceremony, by sharing their innovative new paint product CENTURY with the guests," said New York Spaces publisher Lisa Ben-Isvy. "Benjamin Moore developed CENTURY specifically for high-end designers; we are proud to say more than 50 top designers attended the event and can't wait to use this product."
"A year in the making at New York Spaces, the Leaders in Home Products Design Awards culminated...by shining an industry-wide light on winners who brighten the lives of style-centric New York home renters and owners, through their creations and their work," said Jason Kontos, the magazine's editorial director.