Euro elegance arrives stateside as seven new Italian ceramic and porcelain tile collections debut from Diesel Living and the Fiandre Group brand Iris Ceramica. The collections draw influence from industrial, fashion and design trends, and are available for both commercial and residential use. The Diesel Living interiors collection also includes brand collaborations for furniture, lighting, kitchens, wooden floors and home accessories.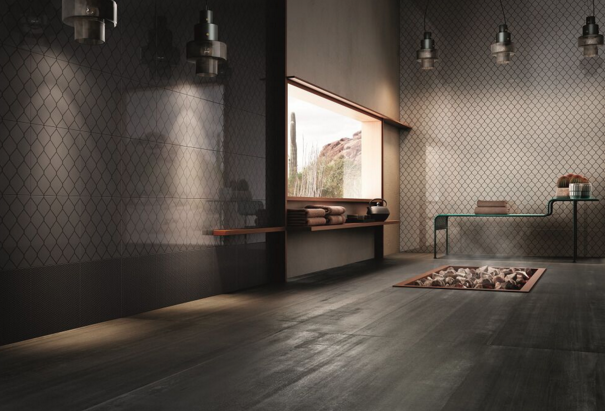 Eugenio Megna, director of sales and marketing at Fiandre Group distributor Transceramica, answered a few of EAL's burning questions:
How did the collaboration come about?
Iris Ceramica and Diesel Living entered into a partnership for Diesel Living's first foray into porcelain and ceramic surface solutions, since the brand wanted to expand their interiors collection, which already includes brand collaborations for furniture, lighting, kitchens and home accessories.
We are proud to enter into this partnership with Diesel, one of the leading players in the fashion and lifestyle industry. Iris Ceramica's expertise in prototyping technology and manufacturing products and Diesel Living's trendsetting styles are a winning combination of unique interior design solutions.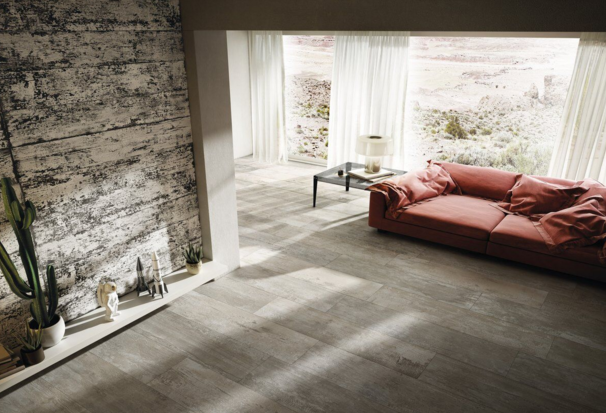 What are the parallels between the two brands?
Both are global brands known as cutting-edge innovators with a rich and defined brand heritage, including our shared tradition of fine Italian craftsmanship. In addition, we have created synergies based on our combined values of creativity and technological expertise utilizing high-tech, unique materials that converge with the latest fashion-forward design concepts. The result is a dynamic collection of sleek styles and surface solutions that appeal to both the high-end design community as well as luxury consumers daring for something different.
The Iris Ceramica/Diesel Living brand collaboration was inspired by trends that show an increasing correlation between industrial, vintage fashion and interior design trends for a raw, metropolitan cutting-edge look. The new tile collections are in sync with Diesel's fashion brand attributes, including the use of rough materials like metallics and concrete, contrasting shapes, geometric patterns, iridescent colors and textured treatments.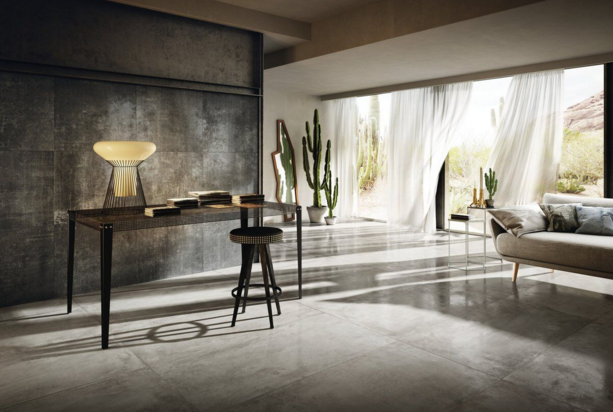 Are there other partnerships in the works for the brands?
Fiandre, Iris Ceramica's parent company, recently collaborated with Milan-based architect Matteo Nunziati for our "Intersection" booth design concept at Cersaie, the global exhibition for ceramics. The "Intersection" concept highlights Fiandre's innovative solutions and the important role that ceramic surfaces play in many areas of application.
Fiandre surfaces are presented as the point where three guiding themes converge: Architecture, Interior Design and Customization. The entire external envelope, inspired by Herzog & de Meuron's VitraHaus, symbolizes the link between Fiandre and architecture. The long central corridor is its heart, featuring the dramatic display of the new Eminent Wood Maximum large-format slabs. The result is an amazing work of art!
Available for the U.S. market through the Fiandre Group's own distributor, Transceramica, as well as through its nationwide network of distributors, the collection will also soon be on display in Fiandre's Chicago showroom.