Design on a Dime, the annual fundraiser hosted by Housing Works, returns to New York City over April 26 to 28 with a focus on raising awareness for HIV and AIDS in Texas, which has one of the country's highest rates of HIV diagnoses. The event features vignettes from designers—including special Houstonian guests Nina Magon, Marie Flanigan, Meg Lonergan and Aaron Rambo—and it will overlap with Texas Design Week Houston.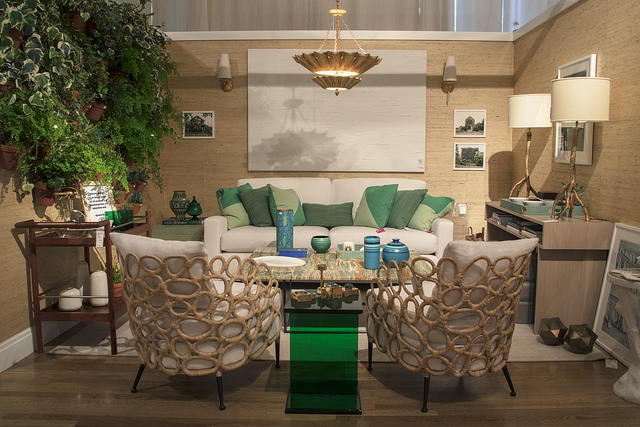 "Houston is the city with the largest number of HIV and AIDS cases in Texas, so this cause really hits home for me," says Magon, creative director and principal of Contour Interior design. "I truly believe that Houston's design community has enormous potential to become a powerful force for good through Design on a Dime. I'm honored to be a part of an organization striving to stop new infections in Texas and end the AIDS epidemic in the U.S."
Designers will create shoppable vignettes with furniture, art and accessories totaling more than $2 million, and attendees will be able to shop the vignettes at discounts of 50 to 80 percent off retail prices. The event will kick off on April 25 with the Groundbreaker Awards Dinner—set in the vignettes—where Robert Chavez, president and CEO of Hermès USA, interior designer Bunny Williams, and actor and singer Javier Muñoz will be honored for their leadership in fighting to end HIV and AIDS.
The money raised from the public sale and the dinner will go toward Housing Works' mission to end homelessness and AIDS.
Among the other participating designers this year are Beth Diana Smith, Calligaris, Carl Barnett Design/Studio, Cathy Hobbs Design Recipes, Claudia Giselle Design LLC, Foley & Cox, Halden Interiors, Jae Joo Designs, JDK Interiors, Joy Moyler Interiors, Justin Charette Design, Katie Ridder, Kellie Franklin, Kirsten Yadouga, Laura Bohn Design Associates, Mark Cunningham Inc., Miles Redd LLC, Natalie Kraiem Interiors, Nicola Rosendorff Interiors, Patrick James Hamilton Design, Peti Lau Inc., Peter Sandel Design, Phillip Thomas Inc., Ron Marvin Design, Saudah Saleem Interiors and Timothy Brown Studio. The full list is available online.